How To Start An Online Tutoring Business And Make $10,000 Per Month?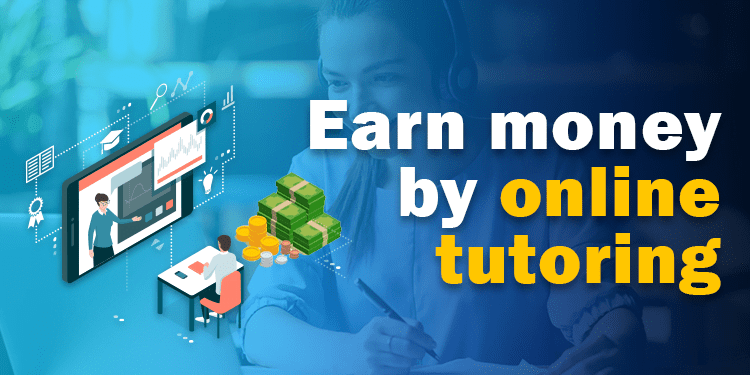 Private tutoring was an in-person business earlier. Fast forward to the digital age, in-person tuitions have given way to online tutoring. Online tuitions are revolutionizing the way tutors reach out and teach students.
Today an educator with the right skills and valid teaching experience can deliver classes from the comfort of their home to students who are spread across the globe.
Online tutoring is not just a disruptive technology for educators but for parents as well, who used to rely on overpriced education centers to supplement school lessons for their kids. 
Beyond all that, online tutoring makes a great business idea that can help you make a significant amount of revenue. Not surprisingly, an average online educator can earn anywhere between $10-$100 an hour or even more depending on their academic qualifications, experience, and technical expertise. 
Are you looking for how to start a tutoring business from home?
Do you want to become an online tutor who wants to earn $10,000 per month?
But not sure how and where to get started? 
We have put together this comprehensive guide for tutors and educational institutions to start and establish their online teaching career. Let's get started. 
Online Tutoring- The Billion-Dollar Business
What was unimaginable a couple of years ago is now a multimillion-dollar business- Online tutoring. If you take a look at the statistics, the global online tutoring market is accelerating at a CAGR of over 15% with incremental revenue growth of $112.14 billion.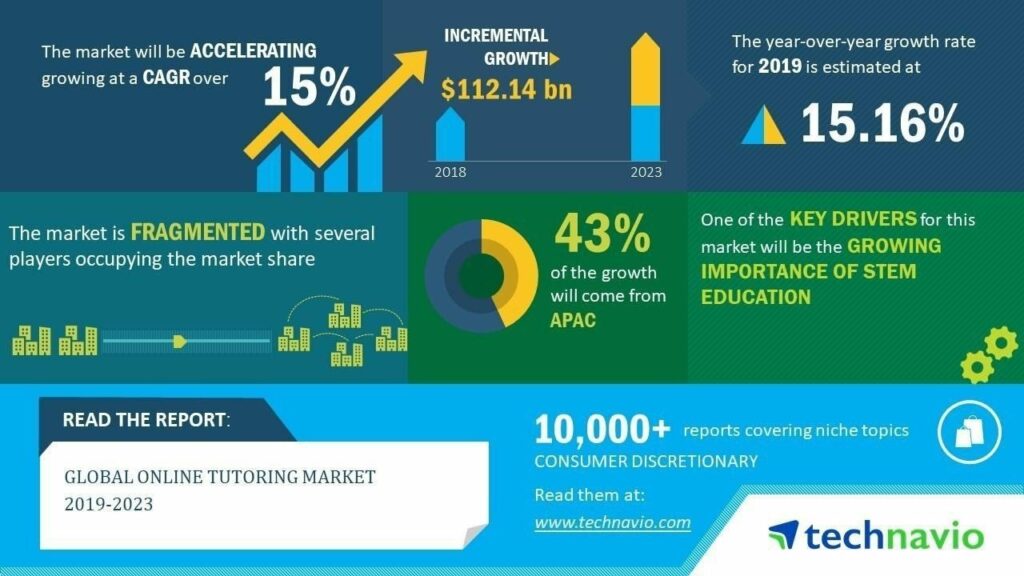 When you consider online tutoring, the first form is to deliver classes through self-paced lessons where tutors pre-record every lesson and offer it to students via online channels. The learners can watch and study the lessons whenever they want. 
The second form is a lot more popular and convenient than the former one – Live online tutoring. Thanks to the modern advanced technology that we have today, live online tutoring takes online education to the next level. It facilitates teaching in an online environment with tutors and students interacting in real-time regardless of being in remote locations. 
The rapid penetration of smart digital devices like smartphones and tablets and the growing demand for personalized learning has led to an increase in the popularity of online tutoring. Online tutoring programs offer a low cost for both service providers to set up classes and for students to pursue education offering more flexibility as compared to in-person tutoring services. 
Moreover, as COVID-19 is creating panic, all businesses that can be moved are shifting online, and that includes online education with educational institutions shutting down around the world. The coronavirus outbreak is driving greater awareness and global adoption of online tutoring websites that make it easy for students to connect with teachers while avoiding face-face contacts. 
Experts believe that online tutoring will continue to gain momentum even after coronavirus fades as more learners are now being introduced to the concept, and getting more comfortable with the convenience it offers. To take advantage of this highly profitable market, the most significant thing you want to figure out is how to start an online tutoring business. 
Designing an online tutoring website takes far less money and time than it might seem. Considering the popularity of online tutoring and its transformation from a niche market to a primary way we educate learners now is the best time to enter into this billion-dollar industry.
Advantages of starting an online tutoring business 
Demand Is High
As higher education is becoming more expensive and learners face an increased level of pressure to pursue higher education along with their 9-5 job, online education is becoming more significant. Considering the high demand, you will have a sustainable and rewarding business in the long term once you start an online tutoring business.
It's Convenient
Being able to start a teaching business online from the comfort of your home will be incredibly convenient. You can control the hours you work which offers a huge amount of flexibility when it comes to running your business around your existing community. You may even be able to run your online tutoring business as a part-time career alongside your regular job.
Technology Gives You The Flexibility
Thanks to technology and online educational tools, you can achieve the same results with online tutoring just as traditional tutors do. You can use platforms like FaceTime or Skype to interact and build relationships with your students as if they are in the same room with you.
Alternatively, you can also integrate a live streaming feature to your online classroom. You can easily create and send academic resources and other useful educational documents for your students using digital tools.
Highly Profitable
Online live tutoring is a booming market both locally and internationally. If you are not into online tutoring yet, you are missing out on big opportunities. Be among the first in your niche and you will never regret it. But the question is, how much do online teachers make?
When it comes to the amount of money you can make with online classes, the profit you get from your classes can vary widely. Depending on the uniqueness of your classes, and the niche you are operating in, you can make more money in less time. 
The below infographic gives a detailed comprehension of the online tutoring sector, requirements to start an online tutoring business, how to market it, and many more. Have a look at it.  

Steps To Starting Your Online Tutoring Business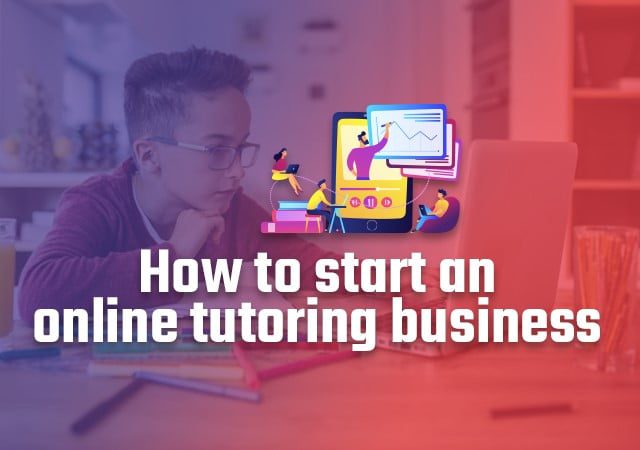 When you understand the value of online tutoring, the next question is, how to start an online coaching business? Online tutoring has become an advent avenue to start and make a business out of it for both freelance teachers and professionals. 
The following is a standard process for starting an online tutoring business. 
Setting Up A Business Plan
A strong online tutoring business starts with a solid business plan. It's your vision of how you will start an online tutoring business and how you will operate it. Prepare a business plan as it will help you develop a vague idea to a full-fledged plan to accomplish your goals. 
When you are just getting started, your business plan does not have to be incredibly in-depth. Instead, you can use the basic business plan as an opportunity to set goals, create your operational and marketing strategy, and predict your overall expenses. If you are a business owner, decide what type of online tutoring website you want to create, how many tutors you would be hiring, etc. 
Know Your Target Audience
It is important to determine your target audience. Research and analyze different niches and understand who your target audience is. Start with conducting market research to know the needs and requirements of your customers.
Evaluate and find who are the students who need your help. Are there any existing opportunities for your target audience in the market? Determine the characteristics of your audience based on their behavior, age, location, etc. Target these requirements and wing with your innovative business idea. 
You need to select a subject or area you want to focus on. Ask yourself what are the subjects you are expert at or you like to teach the most if you are well versed in multiple subjects? Choosing a niche is one great way to stand out from the competition and greatly improve your chance of being selected as an online tutor in a specialized subject that not many others are offering.
For example, you might choose to build an exclusive online maths tutoring platform like EweMathsworld.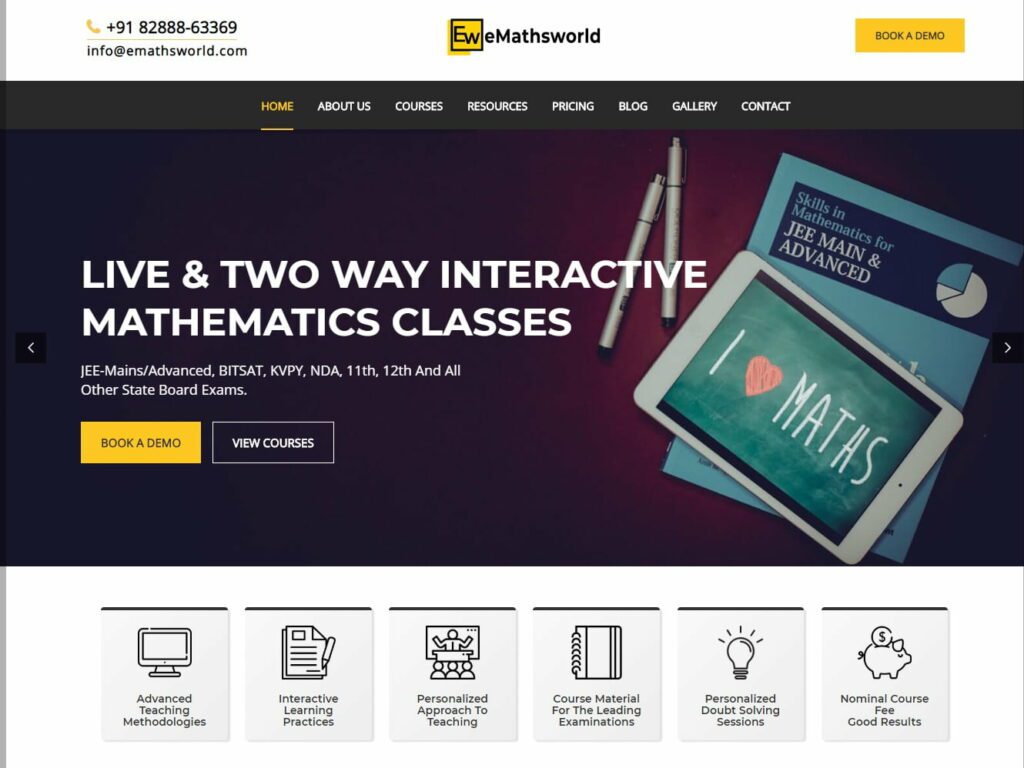 Or probably a live piano tutoring website that features a classic, Jazz, pop, or rock piano lessons like Piano teachers connect for all levels and ages.
Or probably an online tutoring website that offers online classes on a wide variety of subjects like Fab tutor.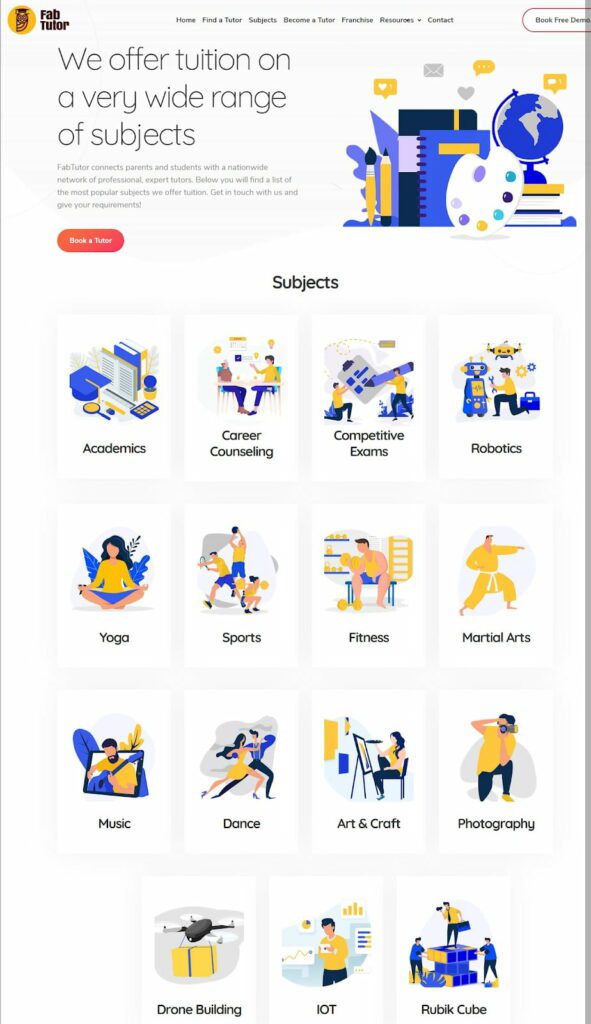 Choose The Perfect Tutoring Software
Once you have gained knowledge on how to set up an online teaching business, you need to choose the best platform or the perfect tutoring software to run your online classes. Your choice will depend on your target audience and your ultimate goal for online tutoring.
An online learning platform offers educators and learners with the information, resources, and necessary tools to aid and enhance the delivery and management of online tutoring.
It is essential to create a rich learning environment that could simulate a great learning experience where teachers and students can interact, take part in discussions, and indulge in collaborative projects.
Why Create Your Own Online Tutoring Platform?
While there are a variety of learning platforms to choose from, nothing can replace the convenience of having your own online tutoring platform.
The website must not only be appealing in looks, but it must also feature, both basic and advanced functionalities like delivery of live classes, dashboard, analytics and reporting tools, managing access of tutors, processing payment, accepting reviews, etc.
Moreover, you are not encumbered by the restrictions of a third-party platform that has the features that you might not probably need.
Let's look into the advantages of building your own learning management system.
By building your online tutoring website, you can fully customize the platform by adding or enhancing the essential features and functionalities. You can improve the existing layout, authoring tools, ways of deployment, reporting capabilities, etc. in alignment with your business requirements.
You can choose individual components that will make your online tutoring system functional to suit the users learning capability and skills.
Integration Of Your Branding
With your own online tutoring website, you will be able to customize the overall look and feel of the site in a way it suits your color scheme, company logo, etc., which can be a very powerful branding tool. By integrating your branding into your learning platform, you reflect the image of the brand in all aspects.
Cost-effective – Pay Only For The Feature You Actually Need
Creating your own tutoring site means that you only have to pay for the features you need instead of paying for both features you need and you are not going to use. You can add the essential functionalities you need to make your tutoring website more streamlined.
Building Your Online Tutoring Platform?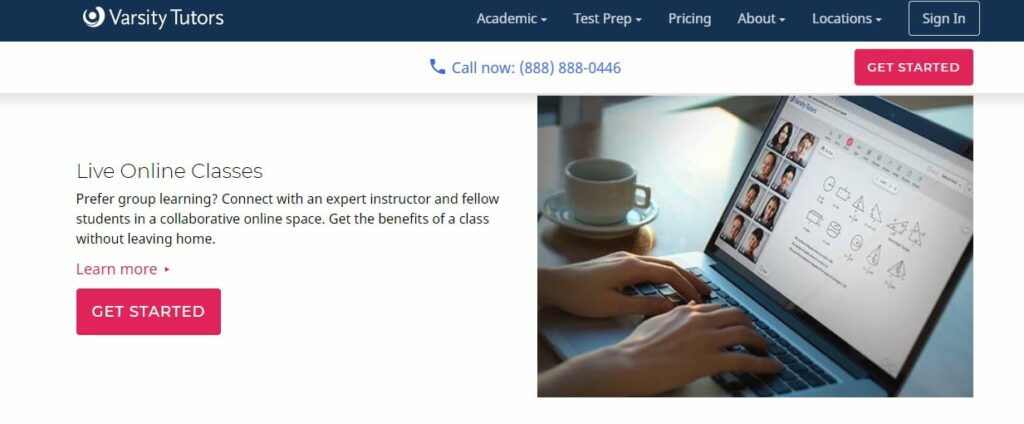 To build your own live online tutoring website like the above-mentioned tutoring website Varsity tutors (shown in the image), there are different approaches. Building your website from scratch is a traditional method and the best approach to launch a large scale learning platform.
However, this method is time-consuming and takes a lot of effort and resources to complete the development process. Building your online tutoring platform from scratch is going to take twice as long as using a white label solution and at least 10 times the price. It takes a long time as you need to decide on the concept, scope out the entire profile, build, test, learn, innovate, rebuild, and repeat. 
Another good alternative is to build your own customized live tutoring platforms which is the easiest way. Custom solutions are ready-made scripts available in the market for a reasonable price. 
For example, Pinlearn is a professional white label solution to create your online tutoring website and you can customize it according to your unique business needs as you get access to the source code. The white-label solution comprises all essential features discussed below that will enable you to run a successful online tutoring site.
The Core Features Of The Online Tutoring Platform
What are the ideal characteristics your online tutoring website must have? Let's explore what Pinlearn offers. 
Create And Manage Webinars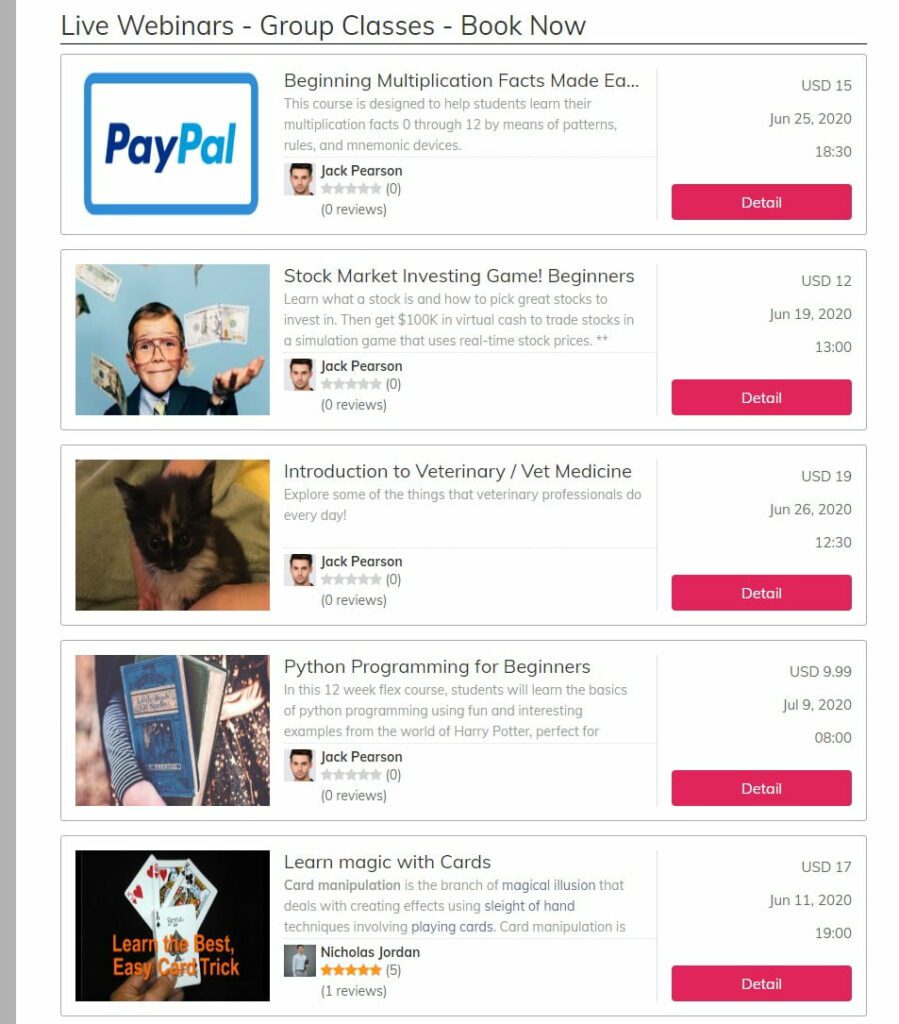 With this feature, tutors can create topics, set prices, set the maximum number of participants, add images, and description of webinars. 
Dedicated Tutor Dashboard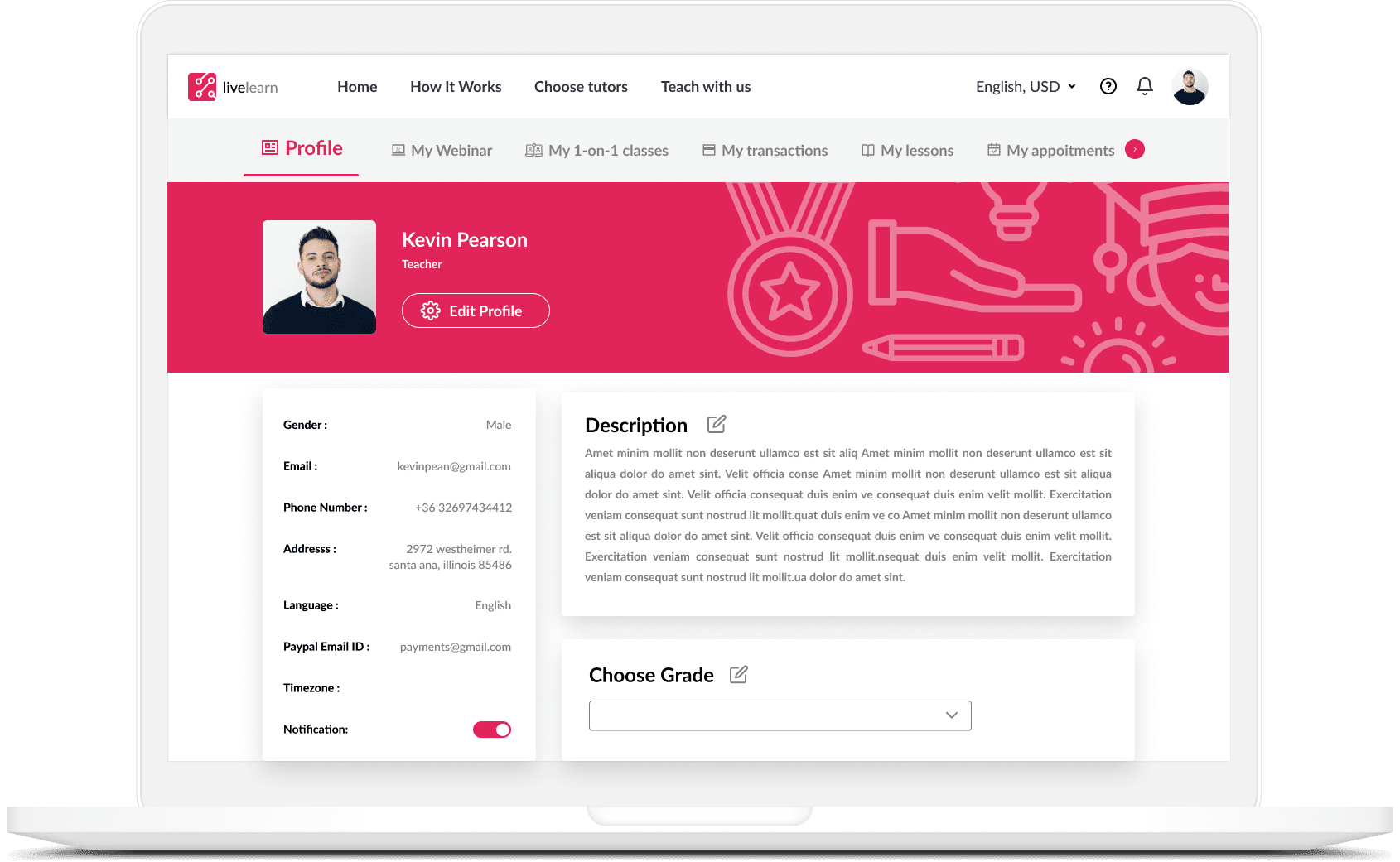 A dashboard for tutors gives detailed reports on appointments and earnings made from each class.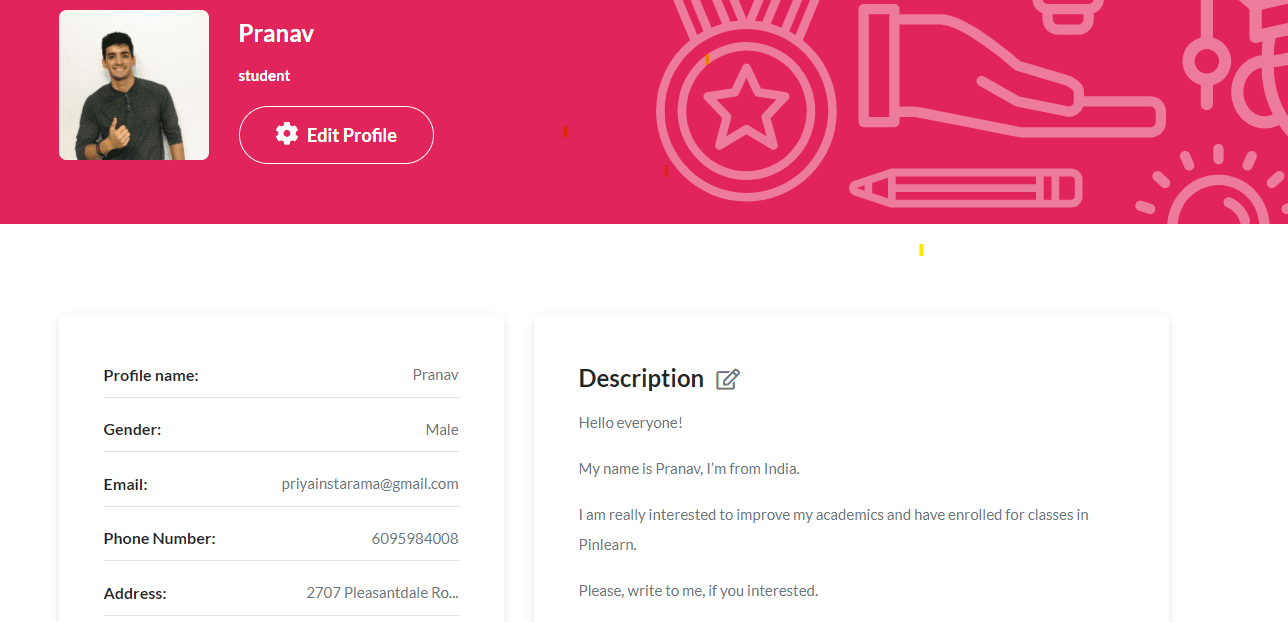 Student dashboard features functionalities like searching for subjects, browsing and filtering tutor profiles, booking an appointment with a tutor, choosing free or paid sessions, managing settings, etc.
Interactive Whiteboard Tool
An interactive whiteboard tool is an essential feature that makes sharing, organization, communication, and real-time collaboration easy. For subjects like math and science, it is very important to stimulate the experience of in-person teaching and a virtual whiteboard helps to cover it to an extent.
Integrate the whiteboard feature to use it as a flexible canvas to upload any document to be used as the background for the classes.
Class Scheduling And Management
This particular feature allows tutors to schedule classes and modify them according to the unique requirements.
Live Streaming For Live Video Tutoring
Live classes allow tutors to take classes in real-time, facilitating interaction with the students in a better way. Live video tutoring can be conducted for a single student or as many students using API integrations like Zoom for real-time viewing.
One-one live sessions in HD quality can be specially conducted for online tutoring and coaching. Tutors can share the content of all types of documents including images, videos, PDFs, and rich media with students for interactive real-time learning. 
Payment Gateway Integration
Integrating a secure payment gateway to your online tutoring website will make it easy for your users to pay for the classes without leaving the site. 

Admin dashboard is another essential feature you might require to gain full control of the online tutoring website set up like accessing details of both students and tutors, managing appointments between educators and tutors, handling discounts and payments, etc.
This is one of the essential features of an online tutoring website which helps trainers to track their classes and improve for the better. Tutors must be able to compare the performance of classes with the goals to measure the viability.
Analytics help you make data-driven decisions and position your brand ahead of the fierce competition. It can also help to track student engagement and retention and offer personalized experiences to your students.
This feature serves as a powerful tool for educators to get relevant feedback from students. Good reviews on your platform can help you gain new customers.  Genuinely good reviews empower users to enroll in your online classes which is an additional advantage.
Cost Of Setting Up An Online Tutoring Website
When building an online tutoring website for your educational business, keep in mind that the overall cost depends on the features and functionalities you want to integrate.  If you opt to create the learning platform from scratch, it might cost you a fortune as many factors like the hourly rate for developers, front-end development, back-end development, your location, and a lot of other factors.
Considering the cost part, the most affordable and cost-effective solution is a white-label software like Pinlearn which would cost you just $399. Check out our pricing.

How To Make Money From Online Tutoring Business?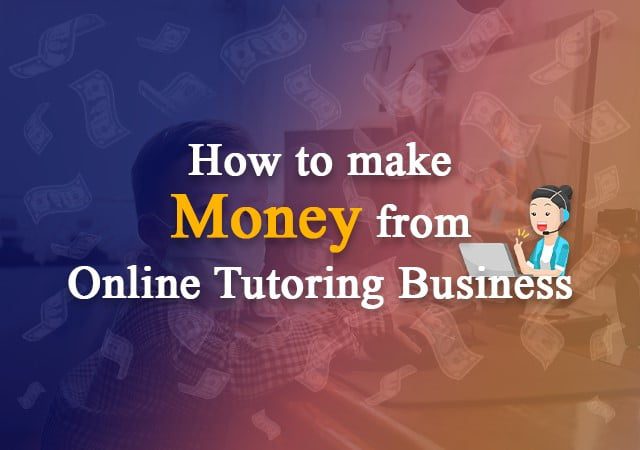 Growing demand for live online tutoring has led to the increasing availability of opportunities to make money with online tutoring. If you wonder how long it takes to earn money as an online tutor, it can vary depending on several different factors. 
Across the board, online tutors get paid depending on the following factors:
Experience

Expertise

The uniqueness of the subject

And, a lot of other factors
For example, it makes a real difference depending on whether you are just beginning to learn about how to start an online coaching business or already have an established online tutoring brand of your own.
If you already have an established presence in the market, it is easy to start making money from your online tutoring business. But, if you are just starting, it may or may not take more time considering the uniqueness of your niche and the demand for your online classes. 
If you create an online tutoring website of your own, you can keep all your earnings for yourself by avoiding third-party commissions making it easy for you to reach your $10,000 a month target.
Here are some of the ideas you can implement to make 5 figures with your online classes.
It's All About The Money- How Much Should You Charge
If you are looking for how to make money tutoring online, the important part is to set your online tutoring rates. If you have never taken online classes before, it is a good idea to conduct a market search to understand how much other online educators with similar experience to yourself charge for the same subject.
Generally, online tuition needs to be slightly cheaper than the normal face-face classes as there are fewer overheads to the teacher. However, the rates can considerably vary across all subjects and levels and the price can be high if your offering is of high value. 
When beginning, most educators have a practice of setting their online teaching rates low to attract students. But keep in mind that the rates you choose must reflex your experience and value as a tutor. Take into consideration the time and effort that goes into creating your classes instead of just considering the hours you spend online with your students.
Even when you are starting, price your classes slightly higher, maybe at $199 with a launch price of $99. If you get 10 pre-orders, you can earn a revenue of $1000 easily.
As the number of pre-orders goes up, the money you make also goes up. With this tip, you can validate your idea and confirm that your classes have a valid market. Even if your sole objective is to make money, you need to have a great level of passion and hard work to be successful in what you do.  
Monetization Ideas
Online tutoring is a lucrative market, but with all the competition, finding the right ways to make a profit off an online class is important.
Here are some of the proven ways to make money selling your classes online.
Charge For Individual Classes
A one-time fee for classes is usually the easiest to implement and for students to understand. Paying an upfront fee is less intimidating than spending on recurring payments, especially for learners who are new to your platform. 
Offer Classes For Free And Charge For Certifications
This is another effective monetization strategy where you basically offer the classes to students for free and just charge for certification. This works because you are giving the most significant aspect of the class for free.
It helps in building trust and getting information to build an email list of interested learners to market to. Give the benefit of free learning to your students and then charge for certification alone, which most of them would be willing to pay for.
When a learner trusts that they will gain value from your online tutoring website, they would be willing to pay a recurring membership fee for ongoing classes. Create an ongoing learning program that will help to keep your students coming back to your online tutoring website.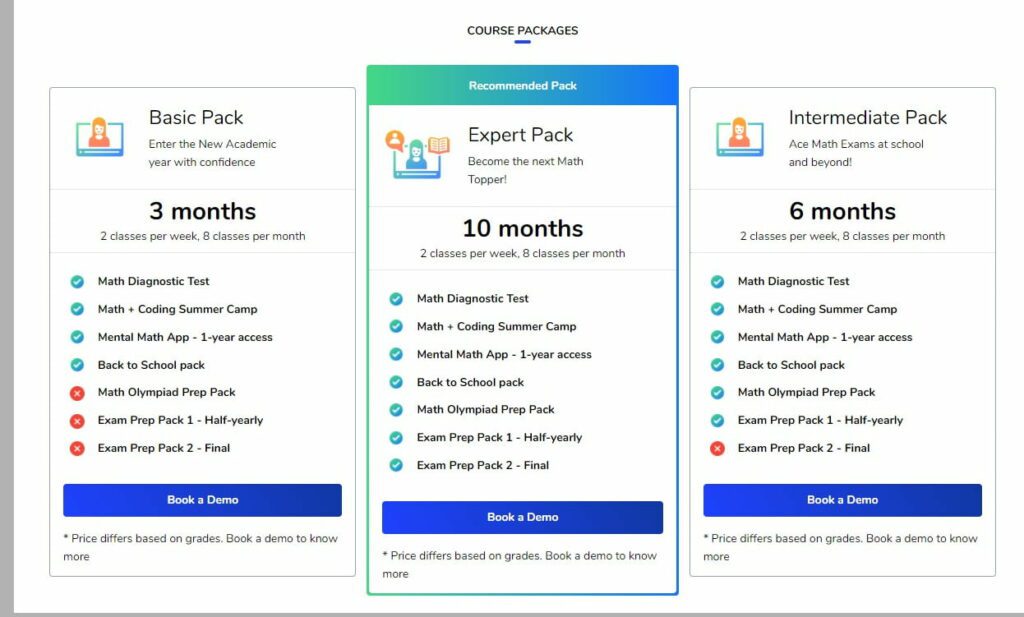 Marketing Strategies
Once you have your website set up, it's time to start promoting your online teaching business. Marketing online classes are one of the biggest challenges faced by educators when you are just beginning with online classes and planning on how to make money tutoring online.
The marketing strategy you choose must take your current network and intended audience into consideration. The following are some of the promotion ideas you can try out. 
Here are some of the common marketing techniques you can use to promote your online classes.
Before beginning with marketing your online classes, offering value to your users is the fastest way to embrace growth. If your audience finds your classes are unique and interesting, they will come looking for more.
You can leverage Facebook, Instagram, Twitter, LinkedIn, etc. to promote your live online classes. Advertising is also one of the popular marketing strategies to increase your reach and generate money from sponsorships.
Email marketing is another marketing strategy you can utilize to drive a great amount of traffic to your online tutoring website which will, in turn, have a significant impact on the money you make.
To make your emails more effective, personalize each email you send out to your students. Use the analytics to understand user interests based on their browsing history, or send out emails to remind them about the classes they have checked out.
Customized email campaigns always win and bring incredible results. If you already have a large network of students, use email marketing to notify your community about your new business.
You can use email marketing tools like MailChimp to reach out to your family and friends with information about your online tutoring business.
Influencer marketing is yet another marketing strategy that is easy to establish. Once you have established identity as an authorized online tutor, you can start gaining momentum by inviting popular personalities from the industry and offer appropriate invitations and links to your students.
You can also offer them an affiliate deal and share 50% revenue of the enrollments done via influencer marketing.
Set Up Ratings And Review System
Ratings and reviews are critical to your organic ranking of online tutoring websites. Search engines continuously monitor reviews and 5-star ratings which bring a big difference to your ranking in search results and increase the willingness of your potential students to enroll in your classes.
Word-of-mouth is really powerful and goes a long way. Leverage it the way you can. And when you have got great customer reviews, you can post on social media as well to spread the word as shown below. 
There's never been a better time to become an online educator. Stop waiting for a brilliant idea and start teaching the skills you have today. No matter how small your audience is, constantly delivering online classes will improve your understanding of the subject and thereby increasing your audience base, and your revenue as well.
Read on to find out how much money you could possibly make from online tutoring and build a rewarding career from this lucrative industry. 
Further read: How to start an online school
How Much Could You Make From Online Tutoring?
Ever wondered how much do online professors make on average? There is a lot of work that goes into creating your online tutoring business and the revenue you generate from the business can vary wildly.
For instance, online educators can earn from a few hundred dollars every year to a six-size-figure income every month. In fact, you could even make $10,000 or even a six-figure number when training your online tutoring business as a part-time job. 
One method to make money even before you actually launch your classes is to offer a discounted price package on your classes. For example, if your classes are normally priced at $99, put a price of $199 and offer a 50% discount.
If 10 students enroll in your classes, you can make $1000. Once you have a good number of consistent customers, that amount goes up. Later, you can start investing in advertising to generate more revenue as well.
If you get over 5k impressions and over 20 clicks, and at least 2 sales of $99 each, your revenue would be around $170 with an ad spend of around $20-$25. Try different types of ads and test it by increasing the ad spend to find the best bet. 
When calculating the amount of money you can make, take into consideration the payouts for your tutors (if any)  as well. By strategizing your money-making this way, you can easily make $10,000 per month. 
The revenue you can generate also varies according to the following factors. 
Do you already have a loyal follower base on social media or other networks? Do you have access to partners and their personal networks? The bigger and engaged your community is, the more clients you can expect to sign up for your classes. It is recommended to begin with building an email list to promote your new business and earn more clients. 
The Price Of Your Classes
What is the average price for your classes? Are you selling a $50 class or a $500 one? The price of your classes has a significant impact on how many customers you need to sell your online classes to meet your revenue goals. 
Current Customer Loyalty And Retention Rate
How loyal are your clients? Do they usually keep coming back to your platform looking for your new classes or disappear after a single class? How engaged is your customer base? This is also an important factor that contributes to how much do online tutors make from online tutoring business. 
Check: How to sell fitness programs online
How To Build An Audience For Your Tutoring Business?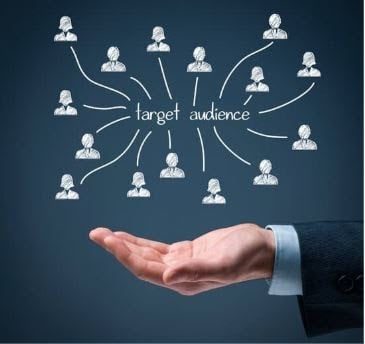 One of the effective ways to build a loyal audience base for your online tutoring business is to increase the value of your online classes. Here are some of the factors that can affect your ability to increase your audience base. 
Personal Brand Recognition
It is important to build your personal brand by establishing an approachable presence on the web and social media platforms. 
The more experienced you are in your niche; the more quality content you are producing. Also, the easier it is for you to emerge as an expert in your field. 
One of the other factors that contribute to the value of your classes is the amount and variety of content you have created for your learner base including webinars, books, blogs, vlogs, audios and videos, and podcasts. 
The Size Of Your Audience
As discussed above, having a big fan base on social media or having a vast email list of your business contacts is important. Online educators with a great follower base like established professionals, reputed educators, bloggers, or celebrities have an advantage over others when starting their own tutoring business. This unique brand recognition will help to boost your sales. 
The Market Size And Competition
When starting your online tutoring business, think about how many customers need your classes. Research to analyze the market size and competition in your niche and analyze how your competitors are using this information. In-depth market research will help you determine if there is an actual market for your niche. 
The Effectiveness Of Your Tutoring Website 
Analyze how your clients arrive at your business platform and how well they interact with your web pages like a landing page and sales page. If you feel these factors need improvement, work on those to promote your business and gain better exposure to your online community. If needed, improve your marketing strategies to see a significant improvement in your class sales. 
Skills To Become A Successful Online Tutor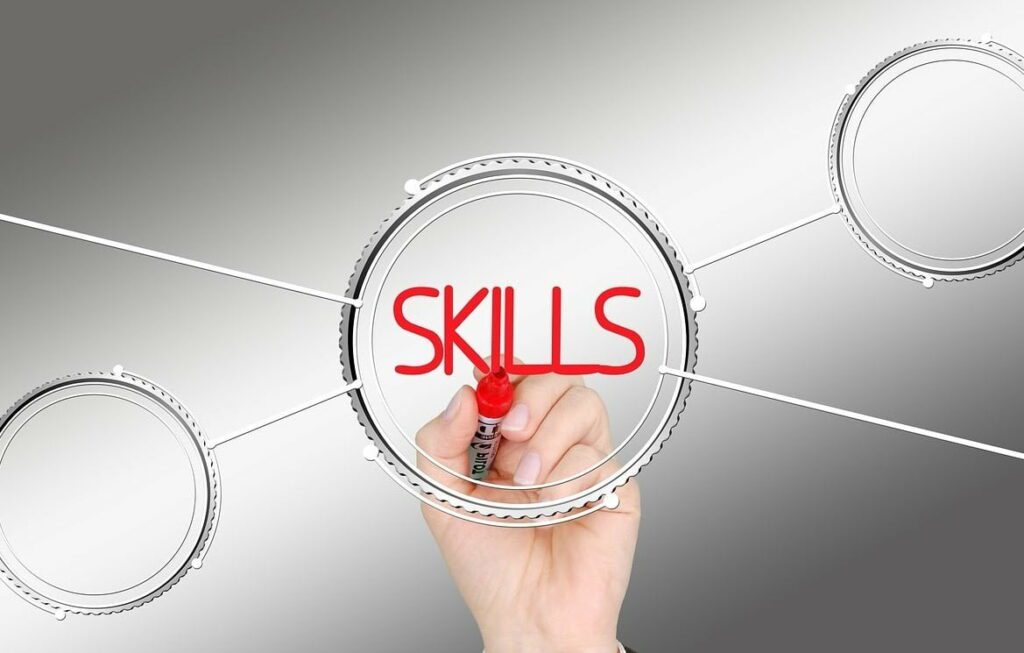 Teaching is an art that is not easy to master, you need to be creative and skilled along with being a good teacher. As each student and their learning style are different, you need skills to adapt according to the student's way of grasping concepts. 
Here are some of the essential skills an effective online tutor needs to become better at what they do.
The first and foremost thing you need to have when figuring out how to start online coaching is the passion for online tutoring. If you are an enthusiastic online educator, your ardor will naturally show during your classes.
Enthusiasm in teaching improves your personal qualities like self-confidence, patience, and professionalism. You also need to be passionate about the subject you are teaching so that you can adequately communicate with your students with confidence. 
Online educators must have an exceptional understanding of a specific subject. Leverage your expertise to develop a deeper understanding of the subject at your hand. Before creating rewarding live online teaching experiences, you need to be an expert in a particular area. Display a reliable and updated set of knowledge during lessons to build your reputation as an online teacher.
Verbal And Written Communication Expertise
When taking online classes, you are going to spend most of the time communicating with your students verbally. However, it doesn't mean that you should disregard the power of written communication.
Written communication is equally important as you would be preparing teaching materials to get your points across to your learners. Combine these two expertise to simplify learning experiences, outline learning objectives, and communicate effectively with your students. 
This is one of the important characteristics that differentiate online educators from classroom teachers. Online tutors must be well-versed with the use of technology during online sessions. You need to possess a certain level of technical knowledge in how to create live online classes, install apps to simplify the online tutoring process and deliver lessons to your students. 
Empathy and compassion are two essential qualities an online educator needs to have. When you are compassionate to your students, they will start trusting you. Adjust your teaching habits and skills to assist students in understanding subject matters. Combine your expertise and skills with your ability to empathize with students so that you can build a reliable relationship with them.
Ending Thoughts!
Online tutoring is an easy industry to enter and thrive. You don't need to be an expert in your field to launch a profitable online tutoring business, but you need to understand the problems your clients face and what you need to do to solve them. As an online educator, you have the chance to generate revenue by delivering online classes to multiple sources and make a living teaching online from your own online tutoring platform. 
The real question is are you ready to create your own online tutoring business and harness the power of the industry? If you need any help and assistance in creating your online tutoring platform, we are here to guide you through the entire process.
More read: how to start a cooking business