How to build your online teaching brand?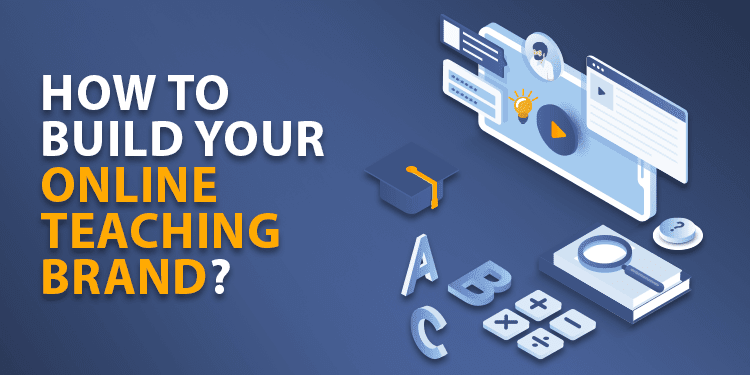 When you want to take your teaching from the classroom to the Internet, you must have the right tools at your access to make the experience as easy and interactive as possible for you and your students. Online teaching starts with managing your online identity and building a brand for yourself. No matter how lucrative the tools may seem, not all are suitable for your teaching requirements. Striking the right balance between what is needed and what will improve the value of your online presence is significant.
Best tips to build your online teaching brand
To start with, start simple and keep things simple. If students have difficulties using all of your fancy digital tools, flash videos, and audio effects, tools will become a liability than improving your user experience. As an online teacher, you need to cater to as many students as possible. An important tip would be to go slow on technology. Be careful of analyzing what is necessary to achieve your online teaching goals.
Analyze your market
Once you have finalized to build your online teaching brand, you need to decide who your target audience is, how to deliver the lessons to them, and determine what you want to teach. Leverage an all-in-one training platform where you can teach your students from anywhere across the globe.
Deliver blended courses to learners to learn at their own pace to deliver individual or group classes in real-time. If you already have an idea about what you are going to teach, look for an audience who would sign up for your courses. Your audience can either be as broad as an industry or can be a narrow niche as well.
Choose core skills to teach
The core skills you teach is one of the major reasons your students will enroll and be willing to pay for your courses. Who will be ready to pay for content that is already available for cheap or free somewhere else? In short, even if you are running courses on topics that are already available on the web, make sure it delivers a lot of value to your students.
If you are building courses based on a particular category, divide your courses into a couple of skills which makes delivering knowledge easier. To choose the best courses, consider the requirements of your target audience and how you can deliver it.
Don't compromise on visual appeal
Students like to learn in an attractive and engaging environment, especially when it comes to the virtual classroom. That is why it is really important to focus on your visual appeal of your online classroom and your online courses. Add visual elements in your virtual classroom to see a significant impact on enrollment and retainment of students.
To understand the industry standards, you have to analyze some of the popular eLearning platforms and adopt the standard elements they use if it suits your audience and your website. You can adapt small things like adding appealing images, changing the UI/UX, adding eye-catchy thumbnails for your videos, organizing your courses, etc. A visually appealing virtual classroom helps your learners to engage with your resources effectively.
Define your expectations
When you are delivering online courses to your students, you simply won't give resources in text form alone. Even if your courses are in written form of text, you need to provide instructional videos to your students.
Most students grasp the content easily when viewing interactive courses. That is explanatory videos about learning concepts work better than a simple form of text-based course. However, make sure you don't go overboard with lengthy content and unnecessary instructions that your students won't even read.
Offer live webinars
With virtual classrooms, learners can get a real-time educational experience from teachers rather than just watching videos and getting answers via email. Instead, when you offer live classes or webinars, your students will get answers from teachers in real-time with high definition audio and video conferencing features.
You must brand your online classroom to match your online teaching brand's look and feel to be more professional. Work with your students or allow them to learn themselves by leveraging the collaborating features of your virtual classroom.
This is a better way to flip a classroom by allowing your students to work together in an online classroom. Upload your courses, resource materials, documents, share videos, and collaborate in different ways in your virtual classroom.
Assess the performance of your students
To understand the performance of your student's progress, you need to create online tests and assessments that measure the progress of your students. If you are offering online courses on your platform, use the tests to understand how much your students have learned and offer them the chance to relearn if required.
Provide your students with a rich and engaging experience of learning your virtual classroom so that they will spread the word about the positive experience they have learned from you. Your online classroom will start to take off when you utilize the best technology in course hosting, online collaboration, and live learning.
Market your online classes
Advertising your online classroom on relevant places on the Internet so that you get the right exposure you need. When you are promoting your business, make sure you highlight your major benefits to make the learning experience of students engaging.
Leverage social media tools to share the news with your colleagues and potential students and encourage your peers to spread the word. Use automated messaging, newsletters, and marketing emails so that you can send out information about new courses and other important information and track the performance of your classes using built-in analytics and reporting tools.
Steer your marketing and online teaching branding efforts towards your target market. When you do your promotions, it is important to consider the age, location, and areas of interest of your students. Improve your brand awareness by building a consistent online presence across major social networks. Understand what motivates your target audience to use your platform and sign up for your courses. Modify your digital marketing strategy to suit the unique needs of your learners.
Use marketing tools effectively
Create and list your eLearning courses on your online platform to sell it to a global audience. Leverage advanced features like promotion codes, discussant coupons, and offer one time or recurring subscriptions to your users to improve your sales. Like any other business, to run your online teaching brand successfully, you must be able to maintain a competitive edge in the market.
To price your courses better, see what your competitors are charging for similar courses and try to understand your position in the market. Encourage your students to give honest feedback about your courses and enable reviews for all your courses. Finally, make it a practice to answer all the questions of your learners efficiently to improve customer loyalty.
Frame your educational activities in an interactive way
To make your online classes effective and interactive with your students, make sure you add engaging educational activities to your courses. You need to make a conscious effort to model the concept of the subject you are teaching to your students. Share real examples with your students and try demonstrating learning concepts for a better understanding.
Explain the concepts clear to help your students understand the concept better through projects, tests, and online assignments. The best type of concept models doesn't always happen in an online classroom as real-time communication is limited. Provide unique opportunities for your students to learn the subjects just like they would do in a traditional classroom.
Make your virtual classroom a pleasant place
To build a successful teaching brand of your own, you need to make sure your online classroom is pleasing to learners. Your virtual classroom must be a pleasant place to be for all the instructors and students. Analyze your online platform and ask yourself whether you enjoy your classroom as an educator.
If you don't enjoy your classes, your students will be struggling as well. Unlike a traditional classroom, delivering classes in a virtual classroom is not quite easy as the opportunities for interaction are limited. Hence, you need to take a deliberate effort into your online classes to make it pleasant for your students as well.
Invest in recording
The production phase is one of the most important parts of creating your online courses. How you deliver your courses will depend on your target audience. It is important to present it more professionally and effectively for your students.
Use the best quality camera and microphone to shoot your videos to give a professional appeal. You can choose a style to deliver your content like screencasting on adding a webcam type of video on top of the screen. Additionally, use professional editing software to edit your videos to give a cleaner finish to your video lessons.
Strive for constant improvement
To build a successful teaching brand online, you need to commit to the constant improvement of your eLearning platform. Incorporate the same interaction and engagement you will bring into your traditional classroom. Take efforts not just to make your virtual classroom, but focus on improving your teaching strategy as well.
Leverage modern technology and tools at your fingertips to improvise your online classes. Make changes in your teaching style to suit the online teaching standards Incorporate fresh ideas to your teaching strategy to suit the online teaching style.
Choose the platform for your online courses
If you are working as a freelancer educator, you need to find students on your own. You can either choose to upload your courses on popular eLearning platforms like Udemy or create your own website and promote your courses. While creating an online training software of your own takes time and effort, the efforts will pay off at the end.
Having a website of your own will give you the freedom to price your courses in a way that it is profitable for you as an online teacher. In addition to uploading your courses on your eLearning website, you can upload it to platforms like Udemy and Coursera so that your courses will get better exposure and will be out in front of thousands of students.
Conclusion
When you are trying to improve your teaching brand and your skills, you might get overwhelmed by doing everything you can do. But, it is recommended to start small by taking each step at a time to make your online classroom better and successful for your learners.
Try integrating courses and online eLearning services that your competitors are not offering. Add interactive elements like animations, audios, and videos, eBooks, etc. to make your courses interactive and engaging. Improve your online course content to cope up with the constantly changing interests of the eLearning industry and your student preferences. Following the best practices and integrating professional strategies will ensure building a great student community and emerging yourself as a successful online teaching brand.