How To Conduct Live Online Classes- What Tools To Use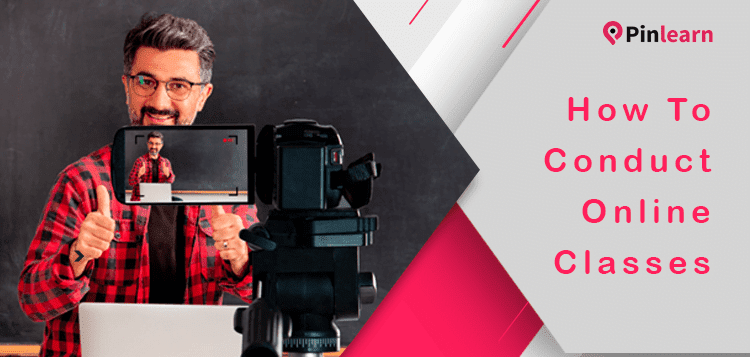 With learners preferring to access education on the go, the online education industry is witnessing an incredible growth. Moreover, as COVID-19 is changing things around us upside down, educators are coming forward and are ready to adopt online tutoring. If you are running a tutoring business that revolves around physical classes, moving online during times of social distancing would be a lucrative opportunity.
According to Statista, the total market size for online eLearning is forecasted to reach over $370 billion.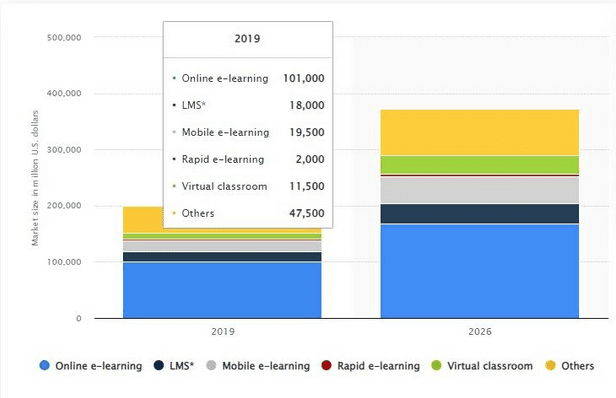 The statistics show that now is the right time to invest in the online learning industry. If you are looking for how to teach live online classes, this blog contains all the necessary and valuable information you would ever need. Let's get started right away. 
Essential Equipment For Live Classes
If you want to interact with your learners live, you need a video conferencing or live streaming setup. Unfortunately, not all video conferencing pieces of equipment are created equal. Some accessories perform better than others, but you need to find the best equipment for your goals and budget. 
So here are some of the essential tools you need for conducting online classes. 
Stable Internet connection
An upload speed of 3-6 Mbps is required for broadcasting a quality live stream. Choose a wired connection rather than Wi-Fi to ensure smooth and uninterrupted streaming. 
Laptop
You can either choose a normal PC or a Mac or even stream from your smartphone. It depends on the desired quality of your streams. For example, a modern laptop with at least 4 GB Ram and an i5 processor or anything equal to that should be good.
Webcam
If you are teaching from a PC, it will probably have an in-built web camera. However, the laptop's camera tends to be of low quality, so it is recommended to buy an external webcam. Select a webcam that can stream in 1080 quality and 30Fps. This ensures your live streaming will be smooth and of high quality. 
Microphone
A good-quality microphone is one of the important pieces of equipment needed for online tutoring. You must also decide whether you want to choose a headset with a built-in mic or get a headset and microphone separately. The audio quality might not be as great as the sound quality with dedicated external mics. 
Tech requirements for conducting online classes
If you have never conducted a live class online, the whole process might seem a little intimidating to you. However, the adoption becomes simple with the right technology and tools at your fingertips. If you wonder where to start and how to teach live online classes, this guide could be your savior. 
1. Zoom alternatives
Now let's jump into the most important section of this blog. For example, if you are a tutor who wants to know how to conduct live online classes, the first and foremost thing you need is a video conferencing software to help you broadcast live to your learners. 
Speaking of free video conferencing software suitable for live online classes, the first choice is the go-to-software Zoom. It comes with a whiteboard for screen sharing where all participants can write on. While Zoom has lots of great capabilities, if it's not technically robust for your business operations, here are some other alternatives you can try on. 
GoToMeeting
GoToMeeting is a simple-to-set up and handy video conferencing tool that offers scalable solutions. The cheapest plan accommodates 150 attendees with an unlimited meeting time. The next pricing package extends to 250 members with 3,000 members in the premium tier. 
Google Meet
Formerly known as Hangouts, Google Meet is a video conferencing software aimed at business users. It is fully integrated with top-notch live streaming features and security features which integrates seamlessly with Google Workspace. 
The basic version is free and accommodates up to 100 users for a meeting of 1 hour, while the enterprise version allows 250 attendees and 300 hours and 1 lakh viewers for live streaming. 
BlueJeans
BlueJeans is a cloud-based video conferencing software suited for smaller businesses. It features essential communication functionalities along with the most important feature, Dolby voice, which ensures extremely clear audio. The lowest price plan accommodates 50 attendees, whereas the premium packages allow up to 200 users. 
2. Whiteboards
For anyone looking to teach live online classes, one of the key tools you might utilize is an online whiteboard. However, you can be overwhelmed with the N number of options out there. 
To make it easy, here is a rundown of some whiteboards that we think might be useful for you. 
LessonSpace
LessonSpace is an all-inclusive functional whiteboard that offers a wide range of tools that comes in handy for tutors who cover a large variety of subjects. The whiteboard features all standard capabilities you would require, including:
   

Voice call and video call and chat functions 

   

Screen sharing capabilities

   

Drawing and annotation

   

Importing function and Zip export

   

Sharable unique lesson URL.
Besides traditional tutoring capabilities, the whiteboard provides users with several functionalities catered towards a specific type of tutoring. For example, LessonSpace has an easy-to-use equation tool for anyone teaching maths.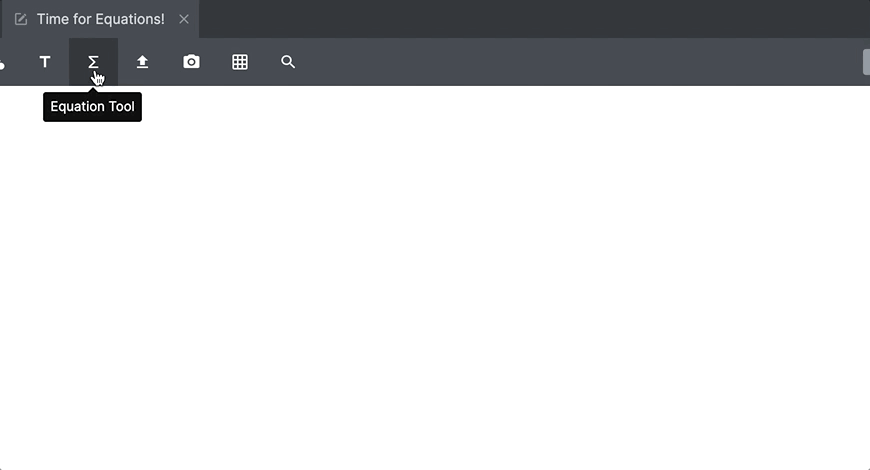 It also features advanced troubleshooting features, meaning technical difficulties can be addressed easily. Although the software does come with a wide range of capabilities, it is a more premium product priced at $99/month for a full-time tutor package. 
Bramble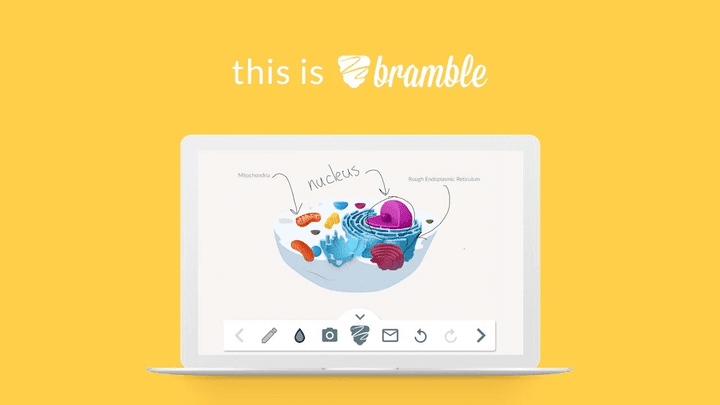 Bramble is a great option for tutors looking for a premium whiteboard and willing to shell a couple of bucks on the same. Bramble is packed with all standard whiteboard tools you would expect, including:
   

Live voice and video chat

   

Resource sharing of images and PDF's

   

Real-time annotation and sketching

   

PDF exports

   

Easy URL access

   

Screen and live session recording
Along with the basic whiteboard features, Bramble also has unique tools to help tutors manage their learning materials. It also features its own reporting tools that allow teachers to track tutoring time and other important aspects. The whiteboard also leverages artificial intelligence to add captions to videos and create transcriptions automatically. Due to COVID-19 Bramble is a free service now, but they might reintroduce pricing in the future. 
Liveboard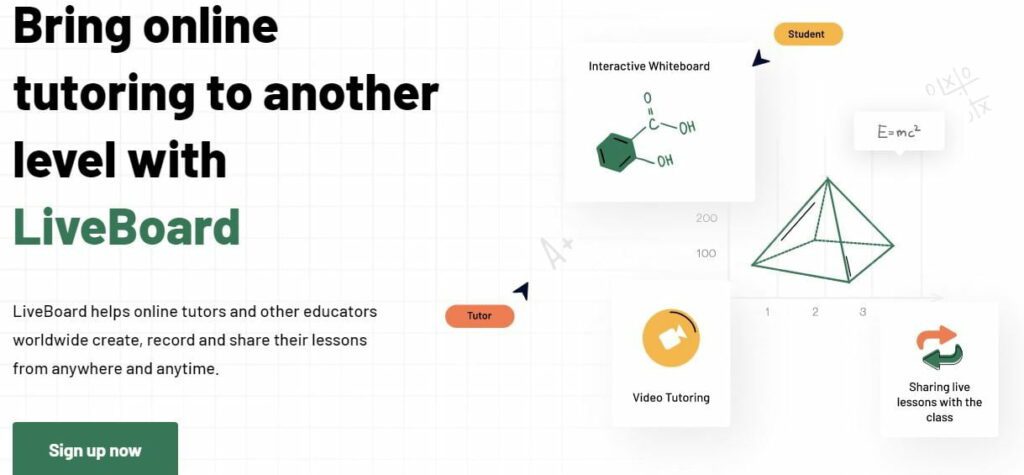 Liveboard is a simple, reliable, flexible tool for online tutors. Tutors can create virtual classrooms and groups and have full control over users who access their boards. Liveboard comes in 5 different packages, including a free package. The free package is a fundamental one that has only two participants per session. However, the basic version does give you unlimited boards, unlimited groups, and supports PDF export. 
Ziteboard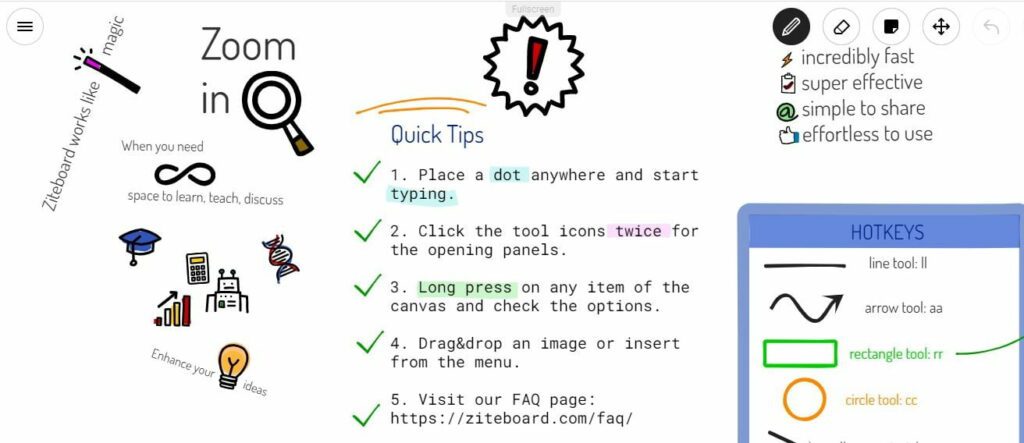 Ziteboard is a web-based collaboration platform that allows tutors to conduct audio/video conferences and share files with learners or colleagues. The whiteboard has a free version that has words and images that you have to delete away to get started. It has a starter account priced at $9 per month, which gives you access to 3 boards, unlimited shares, unlimited collaboration, limited data traffic, and more. The solution allows tutors to integrate low-resolution images and chat with audio and video. 
3. Class scheduling and calendar software
Here are some of the best meeting scheduling software for tutors to make the most of it by automating your live class scheduling. 
Calendly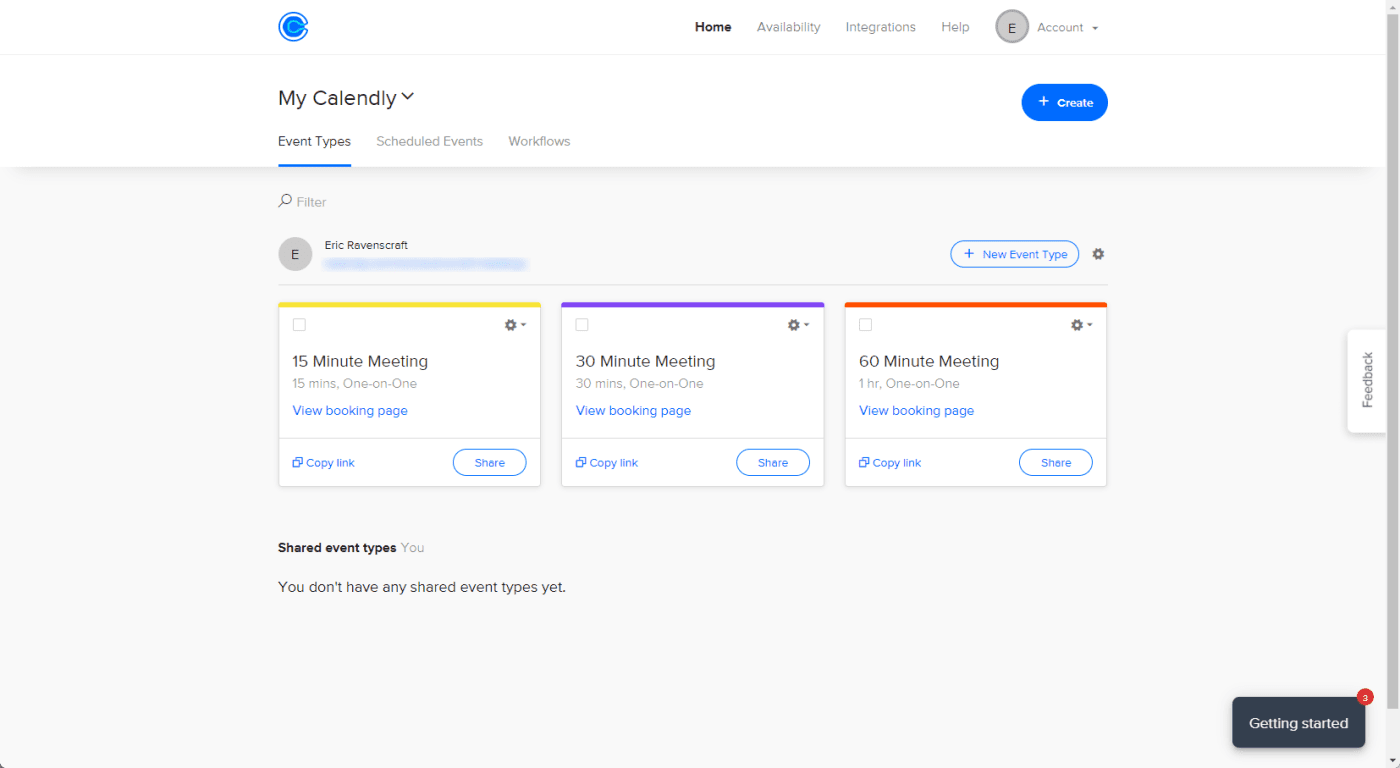 Calendly allows tutors to schedule meetings with students by showing availability. It is easier to get started with Calendly; you just have to connect it with your iCal or Google calendar and give insights into when you are free. It offers a free plan that supports one type of meeting and premium plans where you can create different types of meetings according to your unique requirements.
Calendar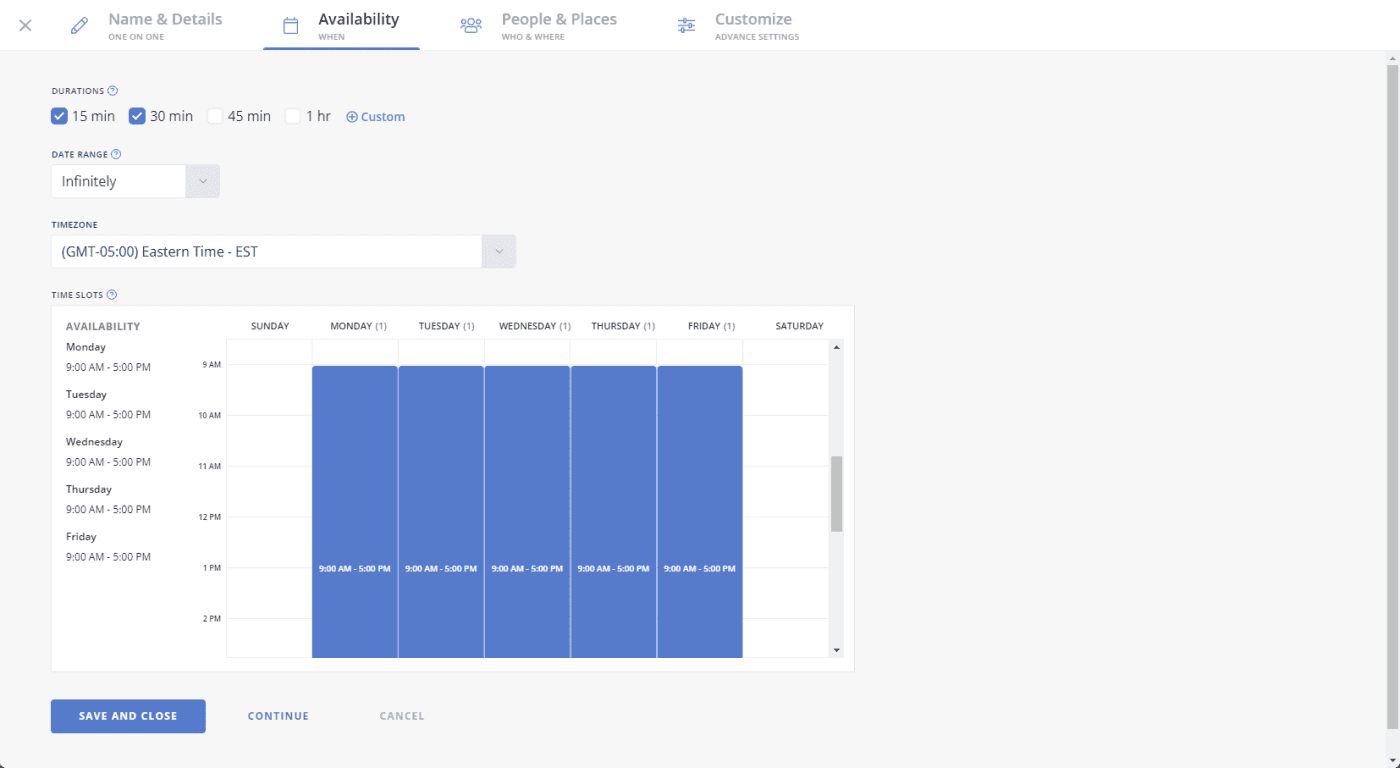 Calendar is a full-fledged calendar app that has a similar interface to Google calendar. It offers meeting scheduling features that allow tutors to create custom time slots and shareable class booking links. In addition, it offers a free plan where users can create up to two personalized scheduling time slots and connect the app to existing calendars. 
ScheduleOnce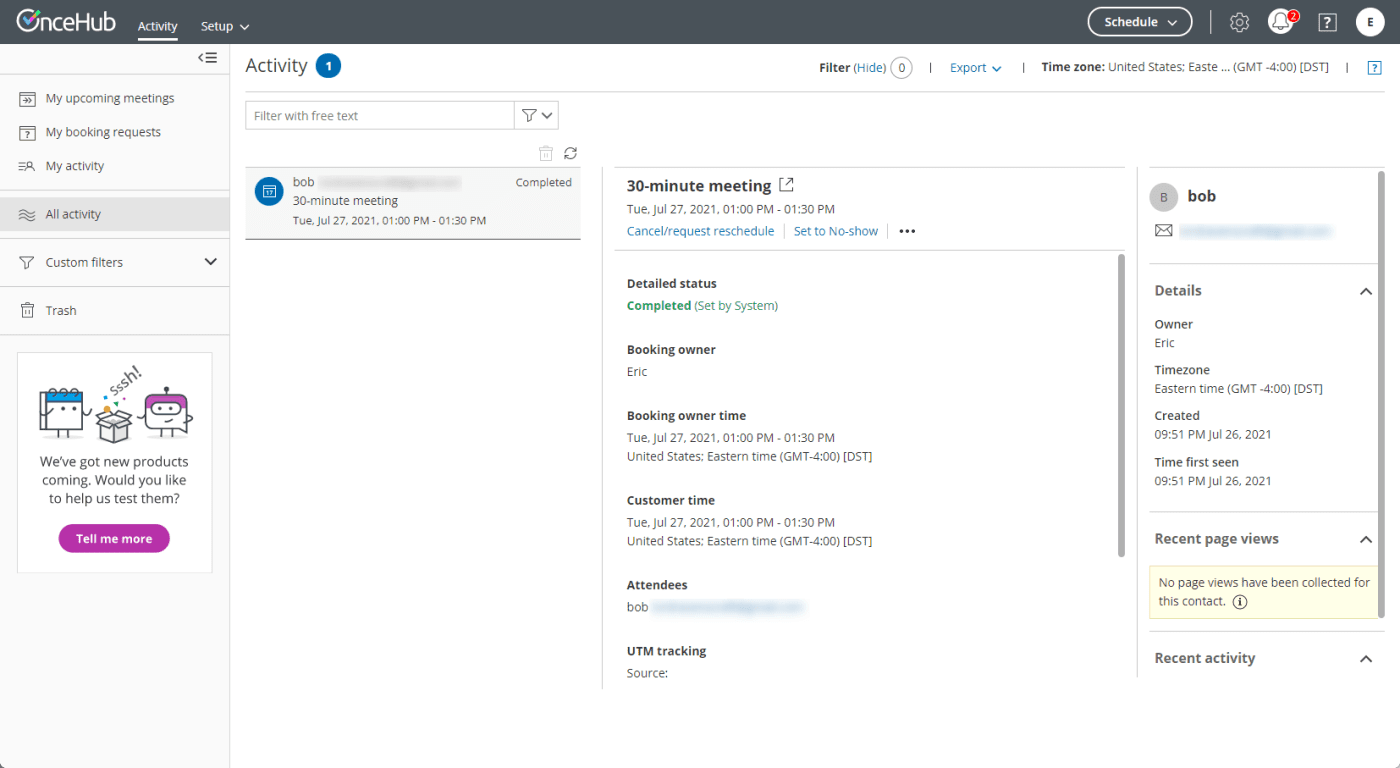 ScheduleOnce is a scheduling software that allows you to create multiple default 15 minute, 30 minute, and 60-minute meeting types. You can share one link that your participants can use to schedule a meeting with you by picking one of your available time slots to book an appointment. The solution allows you to enjoy its services for free for up to 25 users, unlimited meetings, and synchronize with video meetings. 
Payment processing solution
Payment processing solutions are important for simplifying the process of accepting customers' payment data and getting paid. It also helps set up recurring billing, protect against fraudulent activities, and secure customers' payment information again. 
Some of the best options available are PayPal, Stripe, Zelle, Venmo, Helcim, Square, etc. When choosing a payment processing solution, look for a clean and attractive UI, its usability, prebuilt integrations, and a transparent and flexible pricing structure. 
Using Pinlearn for Live Classes – An all-in-one tutoring solution
Pinlearn is one of the best online tutoring software (White label solution) that is perfect for hosting one-to-one live classes, group webinars, and self-paced courses. The all-in-one tutoring software can replace all the above-discussed software for video conferencing, appointment scheduling, payment processing, etc. 
Here are some of the benefits of using Pinlearn to conduct classes online. 
Organize your content
Organize all your content into online courses with Pinlearn's course selling features. In addition, you can add course subjects and specific categories to sell your courses to learners, just like in eLearning marketplaces like Udemy. In addition, the software features a dedicated tutor dashboard for course creation and sales management.
Schedule weekly or monthly Live classes
Educators can take one-to-one live classes via video conferencing and related interactive features. In addition, students can easily book live classes after browsing through teacher profiles and their expertise. 
The multi-channel internal communication system
Pinlearn features a multi-channel messaging system to connect all users, including tutors and students. 
Multiple monetization channels
Pinlearn, the powerful LMS, is loaded with multiple revenue methods to make money by taking live classes. In addition, the software facilitates tutors to set commissions on courses. 
Secure streaming
Pinlearn allows tutors to stream live classes, securely run self-paced online courses, and grow their tutoring business online. 
Conclusion
The EdTech landscape has been brimming with technological advancements and one of the popular features being seen is to conduct live online classes. Online live classes bring learners and tutors from around the world together under a virtual roof. 
The online classroom is a one-stop solution for live classes, real-time doubt clearing sessions, and enhanced user interaction. Use white-label tutoring software to establish your online tutoring business in your own design and branding. If you need any assistance in achieving your business goals, get in touch with us right now.