How To Sell Online Courses From Your Own Website
How are you doing today?
We see that you're quite a bit into the research mode! And if we're right, it's about knowing how to sell your online course!
Or is it about selling online courses from your own website? 
Okay! Both mean the same thing! We just wanted to start with a bit of humor! Not sure if it worked out, but anyway, let's continue with the read! 
Being one of the best eLearning platform solutions providers around, we had a lot of clientele of ours coming up with the questions,
How can I sell my online courses?

How to sell online learning courses?

How to sell online courses

?
We've been receiving the same question (with different modulations) for quite some time now and thought there's something serious out there to be addressed! 
Yes! There are platforms like Coursera and Udemy that allow you to sell online courses in the blink of an eye!
But the question is, how to sell online courses from your own website? 
And that's what we are going to look at in this read! We've done our bit of research and came up with this read here! 
So, let's dive in, shall we? We'll start with the most obvious question!
Is Selling Online Courses Profitable?
You do know the answer! But the real question is how profitable is selling online courses. 
Let's start with this! 
Jose Portilla, a popular tutor in Udemy, teaches students about Python. And one of his courses, "Complete Python Bootcamp: Go from zero to hero in Python," had more than 470,000+ enrollments. 
The income estimate is somewhere between $900,000 – $4,000,000!
Now, isn't that profitable? 
How much you can make selling online courses depends on many factors like your course subject, target audience, market competition, your pricing, and more. 
But an average tutor who sells online courses from their website can easily make somewhere between $1000 – $5000. 
This is the least amount we're talking about during the initial stages of learning how to sell your online course, but going forward, you can make significant revenue! 
If you still do not believe us, hear this stat! The eLearning market industry is expected to surpass USD 1 trillion by 2027! 
How does that sound to you? The market is so huge that you can venture out all brave and bold! 
So, yes! Selling online courses is profitable! This brings us to the next question – how to sell courses online!
How Can I Sell My Online Courses?
Honestly speaking, if we did tell you that right away, it's going to be out of the blue and alien language! 
We'll cover the basics, let you know everything you need to sell your courses online, and then get back to this part. You can sell online courses in two ways! 
Sell Online Courses Via an Online Course Marketplace
We're talking about marketplaces like Udemy and Coursera here. Though these are ideal options for selling your courses online, it comes with a lot of downsides. 
You're pinned down to a commission model where you have to pay a percentage of whatever your online course makes. Also, these platforms have huge competition (more courses for the same topic), which makes it even more difficult for you to sell your course online. And you don't get to build any long-term assets during the process of selling digital courses. You can sell your online course as long as it is on the platform. 
The benefit is you get the necessary support from these platforms, including marketing activities. Since you already have a huge audience base, you can drive registrations to your online course with little effort. 
The other method is what you're here for! 
Selling Online Courses Using Your Own Website
If you wonder where to sell online courses, one of the best ways to sell courses online is to sell from your own website. 
When you sell an online course using the website you build, you're not only creating a business, but you also get to keep 100% of your earnings. 
There's no dependability factor or a particular set of rules you need to follow. You get full freedom to manage your business and make decisions. 
Of course, it comes with a lot of marketing activities you should take care of, but in the end, it's all going to be worth the time and effort invested! 
So, to sell your courses online, you're going to do three things first! 
Build an eLearning Course Selling Website:

This is the first step to

selling online courses

. You need a website (

more like a platform

) to upload and sell the courses you create. The website should have basic features like search & filter options, a shopping cart, payment gateway options, log-in features, discount coupons, and more.

Create Your Online Course:

The next step is to create an online course to sell. This takes quite a bit of work and time. Only when you do this right you're going to have sales and revenue later.

Marketing Your Website:

Traffic isn't just going to pour in out of nowhere! You've got to invest time, money, and all your creative energy to make heads turn and eyeballs pop! Once when you've managed to do it, the quality of your online course drives your business in the long run. 
Now that you know the three things you need to sell your online course, let's start looking at them in the same order we mentioned. 
How to Build an Online Course-Selling Website
Again, you've got two approaches to create a website for an online course. But we're not going to discuss both here – only the one that's more suitable and affordable. 
But, just in case you need to know, it's building your website from scratch. The huge cost and the timeframe you need to invest here go without saying! 
So, when you want to sell online courses from your own website, the other alternative is to use an eLearning platform script. One such solution you should consider using is Pinlearn. Here's a quick overview of Pinlearn. 
Pinlearn – Online Tutoring Marketplace Software
Like the title says, Pinlearn is an online marketplace software that lets you create a course-selling website with ease. With Pinlearn, you can build websites like Udemy, UrbanPro, Coursera, Verbling, and more.
The platform comes with built-in features like 
Options to Sell Courses

Internal Messaging System

Live 1-1 & Group Classes

Discount Coupons & Push Notification

In-depth Analytics Dashboard

Highly Responsive & Fully SEO Optimized

PayPal & Stripe Payment Gateways

Options to Gift a Course and more
Pinlearn is 100% white label, and you can customize it according to your needs. Also, you get lifetime access to the source code, which makes it easy for you to customize in the future. 
The steps to create and sell online courses from your own website are pretty simple. 
Step 1: Buy a domain name for your online course-selling website 
Step 2: Choose an appropriate hosting provider for your website. 
Step 3: Purchase the Pinlearn script and install it on your server. 
Step 4: Customize the website to your expectations 
Step 5: Set the payment details, add banner images, double-check the basics and launch your website. 
What's super cool here is, the Pinlearn support team takes care of everything, including the installation and the customization process. On the other hand, you can sit back and watch your online course-selling website getting built!
So, that's how you build your online course selling website. We're done with the first phase of selling your courses online. 
The next step is to create an online course to sell!  
How to Create an Online Course that Sells
This is the part that requires your utmost attention; to sell digital courses. Because once created, your online course is going to do the talking for itself. And you'll just be there to promote it and take it to places. 
So, when you create your online course, make sure to give your best because the competition out there is fierce!
We've split the entire process into multiple steps for a better understanding! 
Step 1: Choose a Niche that Has Demand
When there's no demand for your online course, however hard you try, the candlestick sales chart is going to take a long time to show some colors. 
Make sure you choose a subject that sells in the market and people are ready to learn the skills you're about to teach. 
To know if your course has demand, you can simply head to popular eLearning marketplaces and check if they have the courses relevant to what you're about to create. 
The more stuff you find about your online course idea, you can simply conclude that there is demand. Honestly, it all depends on how hard you market your online course. 
Also, make sure that you go narrow and not broad. 
For example, if you're a digital marketing expert, start creating courses about specific topics in it – Social Media Marketing, Content Marketing, SEO Basics, SEO Intermediate Level and more. 
Doing this way, you can even create multiple online courses and even if one course doesn't do good, the other one will help you out! 
If you choose to go broad, the competition will be heavy and you'll find it hard to drive sales! 
So, when you pin down a particular online course idea, move to the next step! 
Step 2: Create Your Online Course
Once you choose your course idea, and you have decided you want to sell online courses from your own website, it's time you create it. To create your online course, you're going to need a couple of equipment! And they are, 
A Green Screen

Standard Camera Equipment with a Tripod

Good Noise Cancellation Microphone

Video Editing Software like Filmora

Lighting Equipment's

Script for Your Online Course
A green screen can be helpful when you swap your background for something better. And the lighting equipment helps with better video quality.
Since you already have a good amount of knowledge about your online course, there's no need for a script. But you can just use it to note down the vital heading to ensure that you go with the flow.
Before recording, make sure the tripod is set correctly and your voice is clearly transmitted and recorded. Double-check or even triple-check when the video is rendered and make sure you've given your best! 
Once done recording, use video editing software to insert elements or any course-related materials into the video. 
Step 3: Set the Pricing for Your Online Course
When your online course is ready to ship, it's time to set the pricing for it! 
Now here's the tricky part when it comes to selling an online course! You need to consider many factors before you come up with a final price for your online course. 
An overpriced course will not drive enough sales, whereas an underpriced course might drive sales initially but will not do any good in the long run. 
Here are a few factors you should consider when you want to sell an online course and set a price tag, 
Competitor Pricing – Check out your competitors' pricing and try to offer a tad lower than that! 
Invested Time & Money – Whether it's time or money, take a measure of the efforts you've put into creating your online course. 
Targeted Audience – Know who your target audience is and how much they can afford. For example, a school-going kid cannot pay $100 for an online course. Make sure you consider this as well. 
Simply said, when you want to sell online courses from your own website, put yourself in the shoes of a consumer and ask yourself whether you'd purchase your course for the set price. 
If yes, then you're good to go!
Step 4: Set the Payment Model for Your Online Course
Another thing you should consider!
Come up with a payment plan for your online course! 
Usually, there are three payment models you can choose from, 
One-time Payment – You give your users the option to pay the lump sum in one shot.
Subscription Model – Your users can pay the course price in regular installments on a subscription basis. 
Flexi Payment – Course buyers can pay the fee whenever they want to within the course completion period. 
That's pretty much about how to create an online course! 
Let's look at the part where you get to know how to sell online courses! 
How to Sell Online Courses From Your Own Website?
So, you now know how to create website for online course and create your online course! Great! 
With everything you need onboard, here is what's missing – the steps you need to take to market your online course! 
Create Course-Related Blogs
Blogs are by far the most effective online marketing strategy that's free and the one that drives extensive results!
Almost all websites today have a blog section on them. Don't believe us? Head to the website that comes to your mind and check out whether they have a blog section! 
8 out of 10 websites do have one! And so should you! 
Use blogs as a way to reach out to people. Write blogs related to your online course and promote them in a subtle way! 
Remember, every conversion is a conversion! 
Create Course Landing Pages
If you think a user will barge into your website and purchase without any second thoughts, you're totally wrong then! 
The buyer journey is going to be quite long and a landing page is the endpoint of the journey. If you are looking for how to sell classes online, this applies there as well. 
A course landing page should typically consist of information like: 
What your course is about

Why should they pursue the course and how beneficial it is going to be for them

What the user is going to get out of the course

A bit about your expertise in the field
Try to communicate with the audience using your course landing page in such a way that they should feel "Yes! I am going to need this course!"
Also, when selling online courses from your own website, make sure you add other important landing page elements like, 
Social proof & testimonials

A quick introduction video about yourself and the course

Multiple Call-to-action buttons

Value inhibiting headlines and more. 
Here's a quick example from Coursera letting us know the details of its social media course,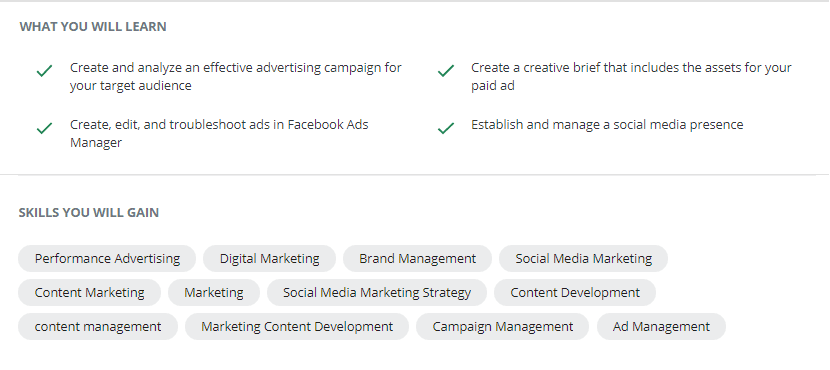 And during the later sections of the page, Coursera has also come up with testimonials, 

Make sure your course landing page also has the key elements of conversions – without fail! 
Social Media Marketing
You don't have to be a social genie to do this! 
Initially, you can start by promoting the blogs you publish on your social media handles. And later, you can slowly start improving by running social media campaigns, social ads, IG stores and more. 
A social media presence is very important when it comes to growing your business online. And when you learn to do it like a PRO, there's no stopping you! 
Take a look at your competitors and know how they are performing. Maybe even take a couple of ideas from them and try selling your online course! 
It sure works! 
Here are three latest posts from Udemy's Instagram handle! 

As you can see, the first one is a post promoting one of their web designing courses, the second is an informative post and the third one is an update on the courses they've recently added! 
It's a mix of everything! 
Similarly, look at other competitors like Coursera and Shaw Academy to grab some cool ideas and use them to sell your courses online! 
Run a Podcast
Podcasts are becoming the new way to learn things around! 
The world audience have become so occupied that they've started listening to podcasts while doing other work. 
You can use this as an opportunity to drive traffic to your online course selling website. Though you're going to have to spend some time and money during the beginning, it's going to be worth it! 
Also, you can appear as a guest on other podcasts. This helps you drive a chunk of free traffic to your website. 
Make sure you know the audience of the free podcasts you're going to attend. If they seem to be a somewhat relevant target audience, you can a participate without thinking much! 
Give Freebies
Freebies are powerful stuff! No matter what, when you give something free to your audience, the engagement and conversion rates are going to skyrocket! 
Offer your audience freebies like, 
Free Courses

eBooks & PDFs

Checklists

Whitepapers and more
You can even use this to grow your email list. The audience enters their email address and you give them the freebies for exchange – it's that simple!
Create an Affiliate Program
One thing you've definitely got to do to sell your courses online is to create an affiliate program. 
Affiliate programs are very powerful and before you even know, they end up doing half the job! 
All you have to do is, create a simple affiliate program and promise your affiliates a 30% – 40% commission of the entire course fee! 
Your affiliates do the job of promoting your online course in every place possible! They might even end up creating a custom landing page for your course! 
Remember, the more affiliates you have onboard, the better it is for your online course selling mission!
Offer a Money-Back Guarantee
If there's one thing more powerful than free stuff, it's the money-back guarantee! 
It's a promise to let your course buyers know that their money is safe and they can get it back if they're not satisfied with the course! Usually, a 14-day money-back guarantee would get the job! 
But before you offer a guarantee, make sure that your online course is worth the money! Because you don't want a chunk of your course buyers requesting their money back, do you? 
To ensure the quality of your course, offer your online course for free to some of the industry experts and get feedback from them! 
Run Paid Ad Campaigns – Google & Facebook
You're going to compete against the giants which make this a necessary marketing effort. Though running ads takes a bit of practice and knowledge, you have to use them to sell courses online. 
Here's a quick example! 
When we typed "social media marketing course", these were the results!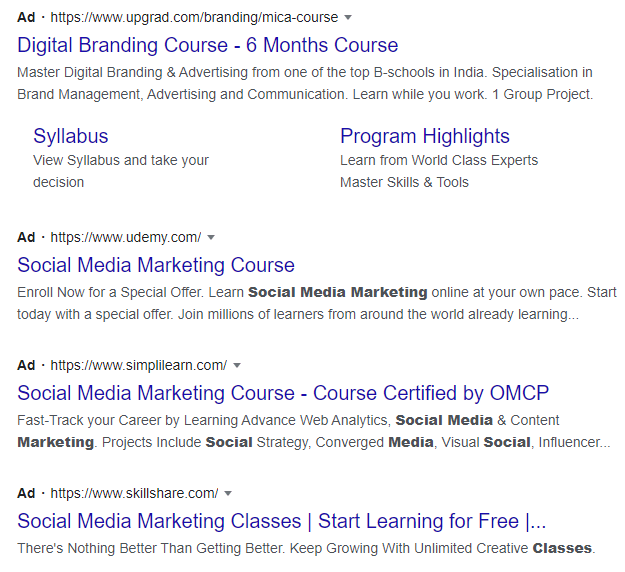 These are only the ads from the first page. We were able to see ads on the second page of the search results as well! 
You have to invest money to run ads. Probably a tad higher depending on the competition. If you can afford it, ads are a great way to sell your online course. 
Answer on Social Forums
Social forums are also a great way to drive free traffic. But the only thing is, if you're trying to be over promotional, things might turn out bad for you! 
Be as generic as possible – try to offer solutions to forum users' questions and while doing so, build credibility in the space. Over a period of time, if you try to promote your online course, you might not sound promotional. 
Users will actually want to see what you're up to! And a conversion happening this way is free! Forums like Quora and Reddit are ideal places to start with! 
There you go! We've come up with nine super cool ways to market your online course!
How does that sound to you? 
Great, right? 
So, yes! That's how you create and sell your course online!
Final Few Words
We felt kind of incomplete with the last sentence! And so we're here! 
Selling online courses from your website is a great way to earn money and build a long-term asset for yourself. 
With the eLearning industry growing larger than ever, selling courses online is a great way to earn some money! 
All you have to do is, give complete focus and attention while creating your online course! And the rest will happen on its own! 
That said, have a great day then! 
Cheers!