How To Create An Effective Online Course- Detailed Guide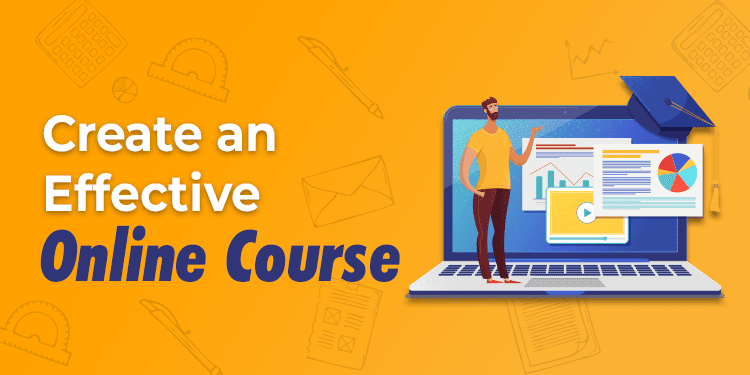 With the advent of modern technologies, online teaching and learning have become an important part of education. The growth of the eLearning market is majorly influenced by the rise in demand for cost-efficient training and learning techniques in both the academic and corporate sectors.
The digital method of content delivery enables these sectors to store and manage their course information on online websites or applications. 
The increased adoption of cloud-based solutions in the eLearning industry are offering flexibility, accessibility, content processing, storage etc. With the global eLearning market expected to reach $300 billion in 2025, there has never been a better time to join the growing market of online learning.
Moreover, the current COVID-19 global pandemic is having a strong impact on the eLearning market, and redefining the way education is conducted. 
While it is too early to see how COVID-19 will affect the adoption of online learning, it is evident that the wheels of change have been set in motion. 
Here is the impact analysis of COVID-19 on the global eLearning market 2020-2024.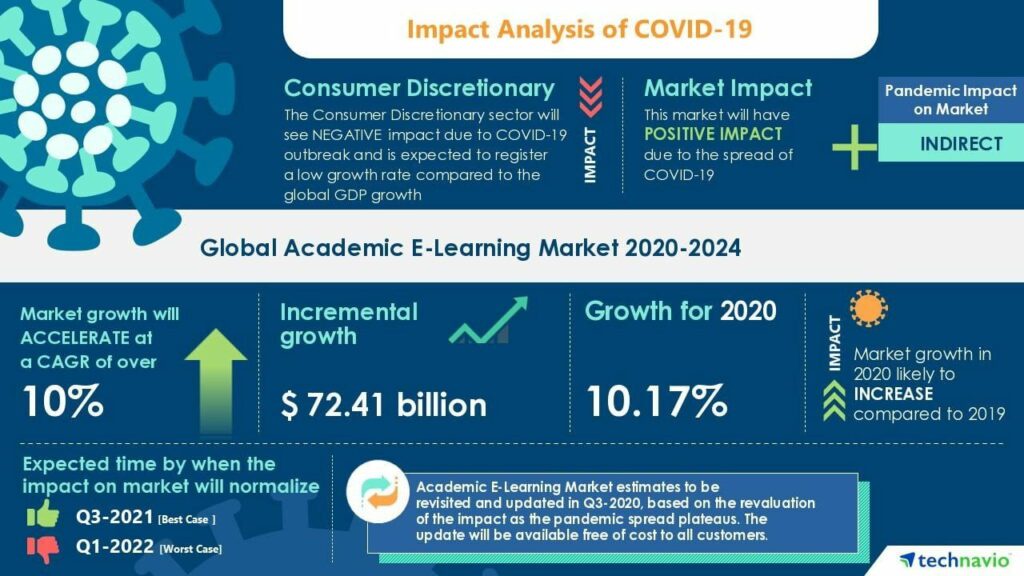 However, adapting to this new normal is easier said than done for both learners and educators. Teaching in a fully online environment can be challenging even for seasoned educators when it comes to creating online courses. 
But, do not worry, this blog is a detailed guide on how to create an online course, which will provide you with an in-depth overview of the things that have to be planned, operated for, and executed.
Once you complete reading this blog, you will be well-versed in creating successful online courses and you will know what to expect and how the journey will be like before you get started.
Detailed Steps In Creating An Effective Online Course
When it comes to building an online course, there are no right or wrong ways concerning how to create an effective online course.
But to engage your audience and make the best use of their time, there are some best practices and steps you need to follow. When you create an online course for the first time, make sure you follow this guide closely. 
Developing online courses or your learner base conveniently fits into most existing business models offering an incredible way to grow your audience or generate another income stream. 
It is also a great way to share specialized skills as well as generate additional leads for your eLearning business. Some educators giveaway courses for free to generate valuable leads. 
Additionally, online courses are also an additional opportunity to upsell additional products as well. Essentially, online courses are a natural extension to your existing business. 
Here is how to create an online course step by step.
1. Choose A Unique And Interesting Topic
If you are looking for how to create an online course outline, choose a course topic that you are passionate about. If the topic is something that you love, it will make your training interesting and engaging for your learners.
If you are not expertise at teaching in a particular area, think about the specific things you are considered as an expert. Are you an expert in a method that others want to use or are you skilled at solving a problem that you think others are struggling for? Think about the talents and skills you have. 
It is all about creating courses about anything you're passionate about and skilled at. Another important factor to look for is the profit potential of the topic you choose. If you are offering a skill that people would pay for, the profit potential of your course is high. 
2. Analyze The Market Supply And Demand For The Topic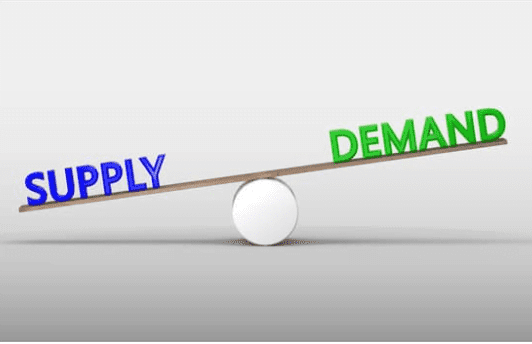 Once you have selected your online course topic, the next step is to conduct market research to see if your course idea has market demand or not. Many educators make the mistake of thinking that if there is a lot of competition in the online course topic idea, then they should change their course topic.
A lot of competition in the area of your course idea actually shows that there is a high market demand and therefore it is well worth developing your course around the same area. 
3. Plan The Course Outline
So you've chosen your course topic -Fantastic. Now it's time to think about how to create an online course outline. Creating a course outline is similar to the structure, but you are just going to create an outline of the main courses. You know what you're going to teach, but now you need to decide how you are going to teach. 
Simply put, this is how to create an online course outline-
Find The Primary Learning Outcomes
Learning outcomes refer to what your students will achieve after completing your online course. What skills can they now apply? This is helpful for both you and your learners. For you, it will help with organizing your course materials. It decides whether your learning material will serve the learning outcomes you want. 
For students, it will give them a strong goal to work with, instead of just consuming information without any purpose to put it forward. The key is to design an online course that has a direction and a definite endpoint. 
List Out The Skills Needed To Achieve The Primary Learning Outcome
In the quest of how to create an effective online course, you need to determine the skill list that is most crucial for your learners. Here is when the previously determined learning outcomes will help you with.
Identify the skills that are necessary to achieve the learning outcomes. Then, create a checklist that covers all of the knowledge, skills, and competencies which the learners need to achieve after completing the course. 
Use The Skill List To Create Individual Course Modules
Once you have created a list of skills, you can start creating online course modules. Group closely related skills in the checklist together as it will help you to create more effective modules within your course. After completing all of this, you have created a basic modular course outline. That's a great job!
4. Select And Gather Your Course Content
When creating the content for your online course, you need to create a final course structure with the content you have gathered in notepads and hard drives. By going through the piles of content, sort out what you need, and discard what you don't need.
Discard anything that is not directly related to achieving a learning outcome. Make sure every learning outcome you have listed does have relevant content aligned to it. 
5. Set The Learning Goals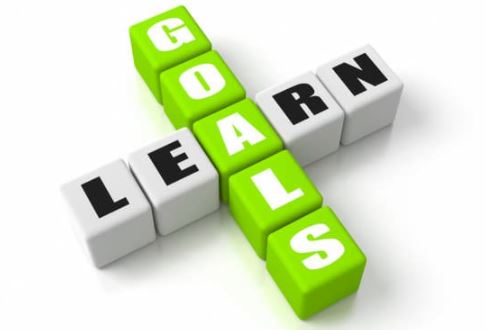 One of the important components of creating an online course is to set learning goals for your course. As mentioned above, each online course consists of several course modules or sections and each individual section must also have clearly defined goals.
Each course section in your online section must aim to transform the student in some way. Make the sections of your online course progress naturally with each section building on top of the previous learning materials. 
6. Decide On The Online Course Format
With the outline and learning goals in place, you are all set to start building an online course. 
Now you need to decide on the online course content, meaning how are you going to present your lessons. There are a lot of ways to present your courses. One of the pro tips would be to try using more than one type of online course content if you are looking for how to create an effective online course? 
Here are some of the main types of the online course format you can create. 
Text-based Documents 
Classic lectures mainly consist of text content. The least effort would be to simply deliver a series of text-only lectures. However, you should not avoid text entirely. Text content is a crucial part of most online courses. But, to make it more engaging, you need to add more types of content to your online course along with the text.
Not because text content is boring, but because learning by reading along is not very effective. Text-based documents include PDF, Google docs, and blogs. 
Presentations Or Slides
The simplest method of using image-based content in your online course would be constructing your online courses based on PowerPoint presentations. Add interesting images to your slides to stimulate your students visually. 
Video Tutorials
An easy way to make your online courses more engaging is to stimulate the content visually by using rich media like videos. When it comes to how to make an online course engaging, video is an integral part.
You can film your own videos and add your own voice to your visual element. Video-based online courses are some of the most popular types of content that are both easy to follow and captivating. Plus, they allow tutors to create a strong connection with the learners. 
Live Streams
Live classes are another best way to deliver your online courses. Using video conferencing technology, you can connect in real-time with your students to exchange ideas. 
Podcasts
Creating your online courses in talk and podcast format is another popular way of delivering your content. 
7. Pricing Your Online Course
Learning how to price online courses is an art and can be challenging initially. To price your courses the right way, you must find the sweet spot where your course price is attractive to your learners and profitable for you. 
There is a direct correlation between how to make an online course and price it the right way and the engagement level of your students. The higher you charge for your online courses with high value, the more engaged your students would be. At times when you offer a course for cheap, your learners might have low expectations for results. 
If you increase the price, they inherently feel that they are getting more value. However, once they buy your online course, they immediately feel compelled to compare with the return on their investment. So don't hesitate to price your courses as it deserves and not lower. 
8. Registering A Website And Getting An Elearning Software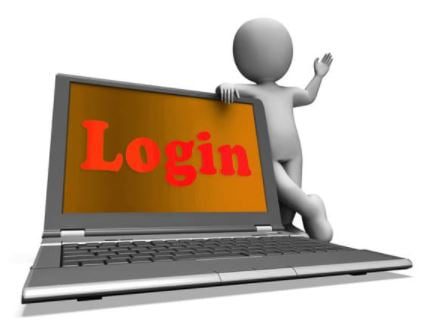 Once you have gathered all the tools necessary for creating an online course, you need to decide where you're going to put your online courses. For example, are you planning to put your stuff on eLearning platforms like Udemy or on an eLearning website of your own?
Considering your eLearning platform is an essential part of creating an online course. While each choice has its own advantages and disadvantages, having your own eLearning website is the most ideal choice. 
Creating your own eLearning website allows you to have more control of your site, your brand, the price, and even the cost to create an online course.
An existing marketplace is also good to place your courses, but the pricing options will be more restrictive and it will promote your competitor's courses just like yours. So, the best option is to create an eLearning platform of your own to have flexibility over creating and managing your online courses. 
To build your eLearning website, it is recommended to use an eLearning software that will help you create and launch your online courses quicker than ever. As the best things don't come free, you will have to spend some money to get your hands on the best software. 
9. Gathering Tools For Recording Your Online Course 
To gather the tools to create and record your online courses, you need to decide how you want to present your course materials.
For example, if you are planning to share text-based content, you don't need recording and editing tools. But, if you are creating more video tutorials, you need video and presentation recording tools.
Use professional video recording and presentation software like Screencast-O-Matic, Fillmora, Adobe premiere, and Audacity. 
10. Determine The Most Engaging And Effective Delivery Methods For Each Lesson
Now it's time to decide the way to deliver your online courses. Before that, you must be aware of the learning preferences and different ways that you can deliver your online courses to make sure your training is as interactive as possible.
You must make sure that you have a balance of visual, audio, and practical methodologies so that every student is offered with an optimum learning experience.
The great thing about choosing your course delivery method is that you can provide the selected methods that work best for your students. A mixed-method approach is best recommended. 
How Long Does It Take To Create An Online Course?
When creating an online course, educators will have a lot of questions and concerns and one of the major questions is how long does it take to create an online course.
Depending on the length and details of the online courses, it can take anywhere between a few hours to 500 hours to create an online course. For a mini-course that comprises just 4-5 videos, it can take a couple of days. However, an in-depth course that contains multiple modules could take around 8 weeks or more to complete. 
Factors That Might Influence The Time Taken To Create An Online Course
How long does it take to develop a course online depends on a lot of different factors which are as follows?
How Big Is Your Course?
The size of your course will have a huge impact on how long does it takes to create an online course as the size and depth of your online course is directly associated with the amount of time taken to create it.
A starter course that is just 2-5 lessons and covers a smaller concept of a big topic takes less time than a flagship course that might include 20-100 lessons and cover all aspects of the topic in detail with a lot of additional resources. 
While each lesson takes a certain amount of time to plan, edit, and create required resources, small courses take less time than creating a flagship course.
If you are creating an online course for the first time, it is recommended to start with smaller courses as it allows you to get started and taste success without spending much effort and time. You can always come back and add to the course content later to make a small course and flagship course later on. 
Are All Editing And Filming Done By Yourself Or Outsourced?
If you plan to do all the work like research, planning, preparing course material, editing the course content all by yourself, it is going to take a lot longer. But if you plan to outsource some of the process or all of it to others, it will take much less time.
If you are doing all the processes for the first time, it is going to take a lot of time as it involves conducting research and learning new skills.
As this might take a lot of time, a better alternative might be to outsource these works to freelancers who are experienced, can work faster, and likely do the job more efficiently than you. Editing your video, filming them, and setting up your learning site are some of the tasks that you might need extra help for. 
How Much Time You'll Work Per Day Or Week On Your Online Course
The more time per day you can spend working on creating your online courses, the quicker you can complete your course. It is totally understood that you won't be spending full time on creating your online courses.
You might have to manage this along with the existing work and other commitments you might have. Plan ahead and decide how much time you would be spending on creating your courses. Once you manage your time efficiently, creating your online courses is going to be a much quicker and more effortless process. 
How Much Does It Cost To Create An Online Course?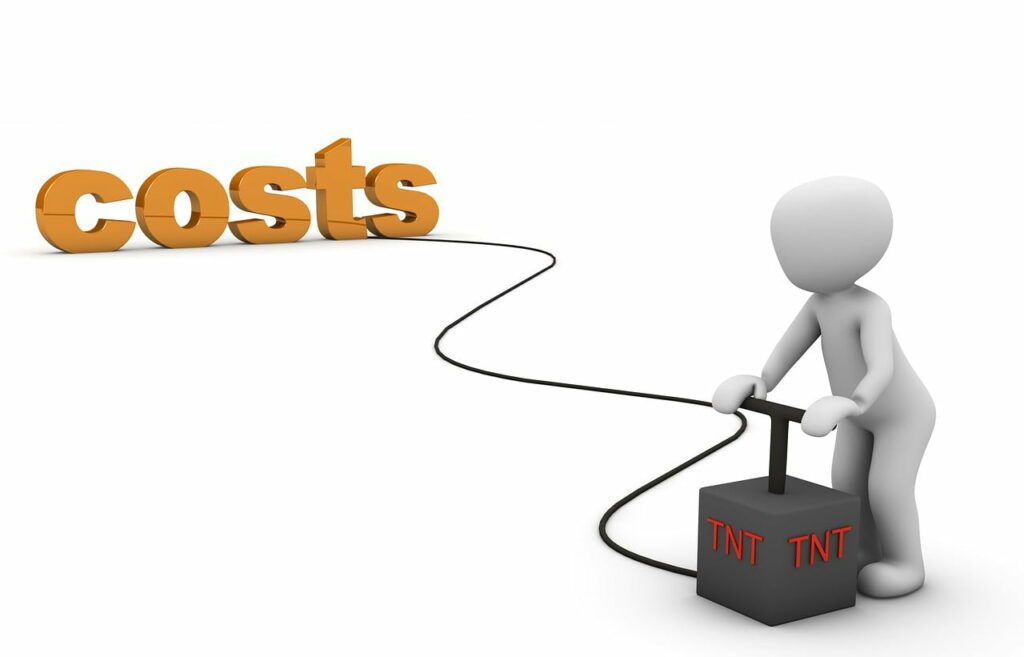 If you are an online teacher interested in creating online courses for your eLearning platform, you might be wondering about how much does it cost to create an online course. You don't want to go into building your first online course without knowing the costs, so it's a great question to ask. 
When creating online courses for the first time, you probably don't want to spend a lot of money on the production and the related resources.
The good news is that you don't have to spend a fortune on creating your online course, you can do it for much less than you think. It might cost anywhere between several hundred to thousand dollars to develop an online course, including the design and production costs, hosting expenses, and marketing-related costs. 
If you are looking to create an online course, you will have to create a visually appealing eLearning website as well. This might cost you anywhere around $399-$999 along with the customizations you need. Look for a white label solution that uses modern technology to thrive in a highly competitive eLearning industry. 
Besides the product development, there are some additional costs to create an online course you have to bear which are as follows. 
Domain Name And Hosting
For your eLearning platform, you need a brandable domain name that is unique to your website. 
You can get a unique domain from sites like Godaddy that helps you stay ahead of the competition, too which might cost around $10-$30 for a year. The domain name and hosting cost might probably go up in the second year once the first year discounts run out. 
SSL Certificate
Your eLearning website will also need an SSL certificate to ensure that your site is safe and secure for customers to use and to make sure your Google ranking doesn't get affected. 
Mostly it is provided by the web hosts as a part of the package or you need to purchase it separately. Assuming that you need one, it might cost another $50-$75 per year. 
Hiring Freelancers For Creating, Filming, And Editing The Courses
As already discussed, if you are not creating the online courses on your own, you might need to outsource the work to freelancers who are profound in the job.
In that case, you might need to seek help from professionals to create an online course format, film videos, and do the editing of the online courses which will add up to the overall cost. 
How To Make An Online Course Interactive?
Before we get into how to create an interactive online course, you need to understand what is meant by interactive learning. In the online education space, the term interaction is used to refer to the connection you establish with the learner through an active learning concept.
The concept is that students learn the best when they are required to participate in the learning process actively rather than simply watching a video. It is always better to have your learners actively participate in the learning activity than watching something. 
If you are brainstorming about how to make online classes more interactive, you need to prepare beforehand to craft a motivating learning experience. When you get it right, your students will have a better understanding of the topics you teach, higher completion rates, and the likelihood of you reaching your training goals will be higher as well. 
Now that you know the importance of creating engaging online courses, let's find out how to build an online course engagingly. 
Conduct Tests And Assessments
Before you begin trying to enroll learners in your online courses, make sure you conduct tests and assignments in different browsers with different user types to identify any problems related to the content or technical aspects.
Get the test users to complete the online courses and ask for their feedback. Also, assess results from assignments and quizzes to identify whether the course is engaging learners and delivering the learning goals that you have set during the preparation stages.
These insights will allow you to refine your course content making it more engaging. This will reduce the chances of learners abandoning your course before successfully completing it. 
Make Use Of Digital Storytelling 
Online courses must deliver an immersive, informative, and fun experience for students. One of the most critical elements to achieve this is to have a cohesive structure for your content. 
Leverage storytelling to break down the entire course step by step and visualize the final picture. 
This works, especially when your courses are too long with lots of information as breaking it up to several modules can help to simplify the courses. Structure your content by dividing your courses into modules and assign a storyboard to each module for your learners to follow. 
Integrate Gamification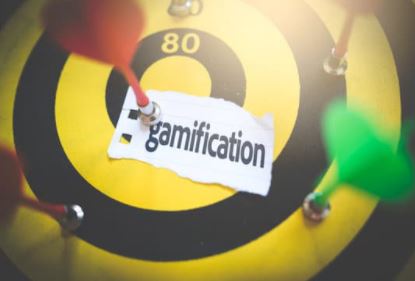 Another popular way to engage your learners when delivering online training is to integrate gamification. Games allow you to make your course content more fun and engaging.
Leverage badges, score points, levels, and the leaderboard to encourage your learners to continue the course. It also helps them to clearly see the goals they need to reach and motivates them to keep moving forward to achieve them.
Integrate games outside your courses to improve the interactivity of your online training, it is definitely a playful way to engage your students and keep them motivated. 
Ask Your Students To Complete A Survey After Each Module
Asking your students to complete a review will help you to collect their valuable feedback. 
You can use this information to improvise your courses so that you can hit the engagement you need. 
Use Discussion Boards For Students To Interact With Each Other
A discussion board is a digital tool that allows people to communicate with each other. Made up of forums, it allows learners to exchange messages related to a topic or a particular question.
It allows students to continue an in-class discussion outside the normal class sessions. This facilitates peer-peer learning opportunities taking off workload away from the educator. 
Why Do People Fear To Create Online Courses?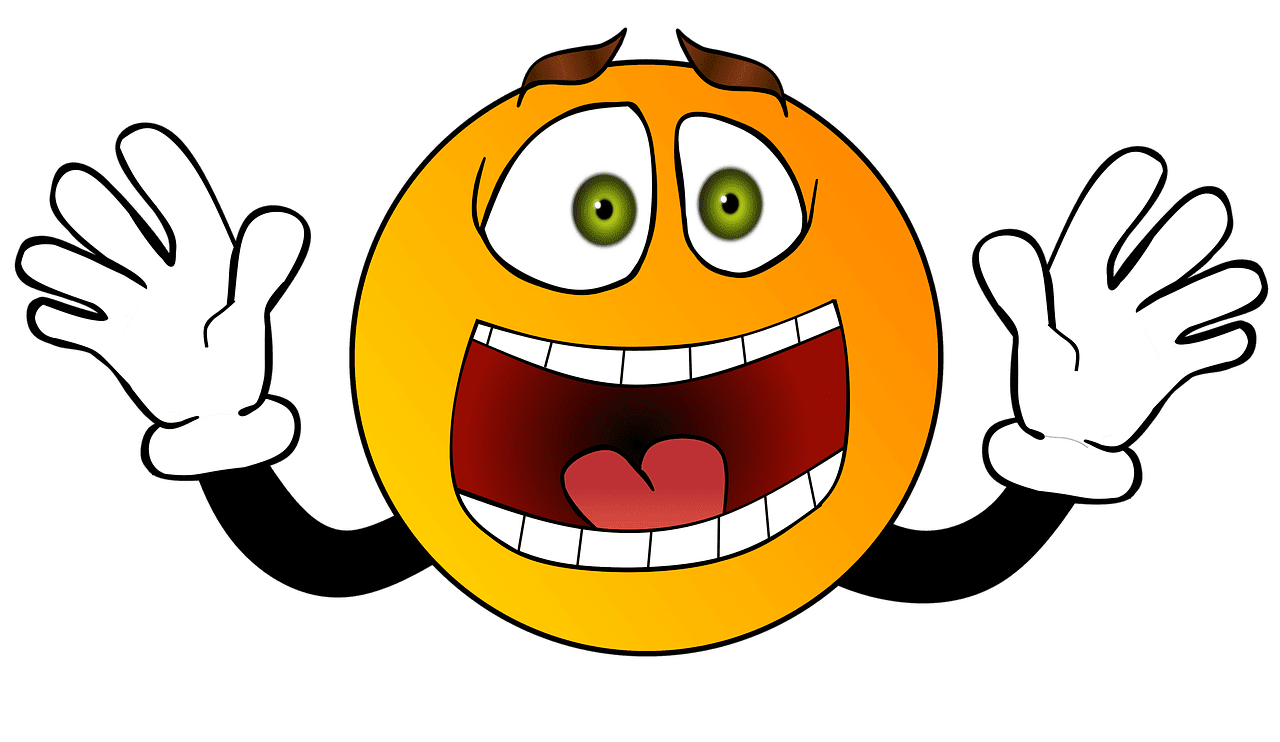 Engaging with new technology can be scary for even seasoned educators. It is quite natural to have all kinds of fear when you start developing your first online course.
The most significant thing you want to figure out when learning how to create your own online course is to overcome the fears you have in your mind.
The very first fear is usually that the course creation process might be too difficult. It is very common to be concerned that creating online courses will be an isolating experience and how you will become successful in it. 
While these are all valid concerns, they may not necessarily be merited. In the most digital decade where advancements in technology is there to back you up, you can successfully create your online courses overcoming these common fears. 
Now let's address some of the common concerns of educators who are creating online courses for the very first time. 
I Don't Have Enough Time
A majority of educators have misconceptions when it comes to how long does it take to develop a course. Most of them think that it takes a long time to create online courses.
However, if you do some preparation and planning beforehand, you can easily work through creating an online course without spending much time. 
I Don't Know Enough
Practical experience outshines theoretical knowledge. Do not worry if you are not an expert at creating online courses in the beginning. Once you start with it and finish a couple of courses, you will naturally become good at it. 
I don't think my audience will like my course
If you have some sort of expertise in any field, you are good enough to go. And if you have already had a good student base for your traditional styled classes, don't worry, you are capable of doing it.
Being unfamiliar with creating online courses doesn't make you a bad teacher. When you get a good grip over the techniques of creating food and engaging courses, your audience will follow. 
I Think Other Courses Will Outshine Mine
Your competition isn't just there to beat. They can also teach you how to get better at what you are doing so that you can beat them at what they are doing.
What you can do is to focus on creating good and engaging online courses that offer value to your learners. Instead of getting worried by seeing your competitors' courses, see it as a bar set for you to jump over and establish yourself in the industry.
In Conclusion
Creating an online course takes a great amount of effort, time, and a lot of flexibility. You might have to constantly adjust your methods, put in more effort, put in your skill and soul to your work to find success in the eLearning industry. 
Getting everything perfect on your very first online courses is practically impossible. Hope this blog gave you a good idea of what to expect from the journey of creating online courses. Always listen to the feedback of your learners and improve your online courses based on their feedback. 
Being ready to adapt, improve, and update your online courses on a regular basis is the secret to taste success as an online teacher. The future is wide open, create and design your online courses to help your students reach their training goals while achieving your training goals alongside.
Further posts to check out!