5 Best Platforms for Course Creators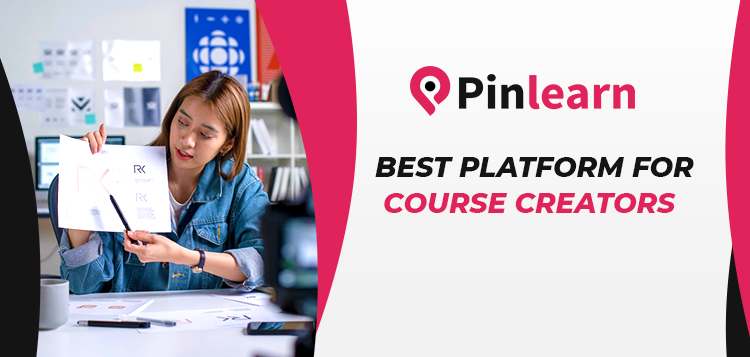 Following the pandemic-induced shift to remote working, people are looking to digital learning to develop skills to navigate today's constantly evolving work environment. 
Online learning platform Coursera elucidates in its 2021 Impact report that over 20 million new learners registered for online courses in the year. And in 2023, the eLearning industry that constitutes online courses continues an upward trend. 
So what are some online course creation platforms courses creators can rely on to sell their courses? A platform that helps you host your course has a robust setup to help you design course pages, build out a curriculum, and sell & promote your course.
We have researched some best platform for course creators to create and sell online courses and have finalized the list. 
5 best platform for course creators
Udemy 
Udemy is one of the best platform for course creators many educators use to sell their online courses. 
The platform tops the list as the world's most popular online course marketplace boasting a broad library of courses with millions of learners signing up for the platform.
Udemy is an online teaching and learning platform for course creators to sell their online courses and make money. It also presents a broad target audience and offers support for instructors to promote their courses. 
Considering its large learner base, many instructors have built successful career-selling courses on the platform.
For instance, course creators Rob Percival, Hadelin de Ponteves, and Andrei Neagoie have made 6 figured revenues as course instructors on Udemy. There are several who have made 5 figures and six figured income and more.
How Udemy works
In terms of the Udemy business model, you can host your online course on the platform and get a share of the revenue when a student buys your course. 
Based on the following scenarios, the revenue share can vary between 25% to 97%.
You could own 50% of the transaction money when someone finds you organically through search engines or searching on Udemy.
Whereas if you brought a learner to the platform through your promotion campaigns, you could keep 97% of the course revenue. 
Udemy also market your courses through paid advertising and an affiliate program, where you can keep 25% of the course price.
In addition, you will lose 30% of the fee of the course price to Google and Apple for in-app purchases.
Udemy has an exclusive service called Udemy for Business, a subscription service that is another great opportunity for course creators.
Pros 
Gives access to a large student base.

A quick way for beginner-level instructors to get started.

It provides lots of support resources like how to create videos, how to record high-quality audio, how to sell your courses successfully through Udemy, and how to engage your students.

Offers a free tool, 

marketplace insights

, to gather data and insights on the revenue-generating potential of new course topics.

It offers a great learning experience for learners.
Cons
You can create a personal relationship with students.

You can build your own brand.

Platform course pricing and policies aren't under your control.
Pricing
Udemy is free for course creators but has different pricing plans (Udemy business) for organizations of different sizes.
Here are the pricing plans for Udemy business:
Enterprise: Pricing upon request. 

Team- 5 to 20 users priced at $360
Pinlearn
While all of these online course creation platforms listed above are great, there are also several demerits. 
So what is the best alternative to relying on third-party platforms to create and sell online courses? 
That is creating your own online course platform and boasting 100% ownership. The best platform for creating online courses is your own website. 
With your website, you can decide every step of the user journey. 
If you are serious about building a course-selling business, brand building is one thing you must focus on. 
With that said, the next best platform for course creators is Pinlearn. But like other platforms in our list, Pinlearn isn't a course-selling platform ( an efficient solution beyond that) but an all-in-one tutoring marketplace software that helps you build your own course-selling website. 
Allowing course creators to host both self-paced online courses and live classes, Pinlearn is a professional readymade software to facilitate building websites like Udemy, and Coursera, with the unique customizations required. 
How it works
Pinlearn, the best course creation platform allows independent course creators and EdTech businesses to build their own online tutoring platform to host online and live classes. 
Pinlearn offers support for unlimited courses, teachers, and learners, all for an affordable price. You get complete control over the script so course creators can implement their branding based on their business requirements.
Pros
Supports both online courses and live classes.

Interactive Zoom whiteboard to facilitate classroom-like online tutoring experience.

Offers live session recording.

Easy deployment.

Includes multi-lingual and multi-currency features.

Affordable and cost-efficient pricing plans.
Cons
Pinlearn is a self-hosted software, so you must choose the hosting provider.
Pricing plan
Pinlearn doesn't have a free plan, but it comes with a one-time cost with no monthly or annual renewals.
There are two different Pinlearn pricing plans which are as follows:
The starters are priced at $699.

The Professionals are priced at $1499.
Teachable
Teachable is an online course creation platform with all the important features required for instructors to create and sell online courses effortlessly. 
With Teachable, instructors can build their course-selling website to sell their online courses to their prospective customers. 
How it works
As Teachable allows you to build a course-selling website, you will think it works like WordPress. You are wrong. 
When you create online courses with WordPress, you must choose a theme, hosting package, LMS plugin, e-commerce plugin and video hosting. 
 But Teachable has all the core features packed into one platform. 
In short, it is a user-friendly and integrated platform allowing instructors to sell courses from their own websites. The best part is technical skills aren't mandatory.
One thing you need to remember is that, unlike Udemy, teachable isn't' a course marketplace, and it doesn't help you promote online courses.
The platform has an exclusive offering for instructors who want to offer one-to-one coaching programs. Your students can schedule a session with you, send private messages and send files too.
Pros
Teachable is popular for its user-friendly interface. It has a clean interface, well-organized options, and more.

It comes with a course builder that supports different content types, including text, images, audio, video, PDFs, HTML code, quizzes etc. 

The platform provides unlimited hosting of your course content, including videos.

It comes with tools to drive meaningful engagement in your online courses. Includes Quizzes and assignments, create course completion certificate.

Content dripping and locking.

Reporting and advertising.

User roles: Owners who have full administrative rights over an online school. Authors who are admins whose authorities are limited to the designated online courses.
Cons
No built-in community builder.

Basic quizzing tool.

Limited website-building capability.

No custom payment gateway option.
Pricing plan
Teachable, one of the best platform for course creators works on a fremium subscription model, including course builder, content hosting, website builder, and payment processing. 
Here are the three paid plans:
The basic plan is priced at $59 per month.

The pro plan is priced at $159 per month.

A business plan that has custom pricing is best suited for users and bigger companies.
Thinkific
Thinkific is a hosted online course-selling platform that allows instructors to sell online courses from their websites.
With over 50k creators leveraging the platform to run their EdTech business, it is one of the established choices in the market.
How it works
Thinkific allows course creators to host videos and other content types, build a community, manage their students, and more. You can also develop your branded tutoring website, build a course sales page, price your online course and process payments. 
Thinkific also facilitates the integration of different tools and apps to create an LMS.
Pros
It comes with a course builder so that you can customize your online courses to match your branding.

Build sales pages.

Host unlimited students and courses.

Offers a free plan.

The platform allows course creators to integrate live sessions as a course lessons. 

It has direct integration with Zoom.

Excellent customer service experience, along with phone and email support.

Course creators can sell monthly subscription online courses with ease.
Cons
The platform doesn't have its own email marketing platform; instead offers third-party integrations.

No online marketplace.

Lacks sales funnel builder.
Pricing plans
Thinkific offers content creators flexible and affordable pricing packages.
The free plan allows instructors to create one course, but there is no limit on content hosting or the number of learners.
Here are the different paid plans:
The basic plan is priced at $49 per month.

The start plan is priced at $99 per month.

The growth plan is priced at $199 per month.

The expansion plan is priced at $499 per month.
Kajabi
The next one on your list is Kajabi, one of the most popular online course creation platforms to build and run your online course business. Leveraged by some of the big names in the industry, like Brendan Burchard, among other thousands of course creators, Kajabi allows you to host your online courses and deliver them to your students.
How it works
Kajabi allows you to build a full-fledged course website, run a blog, build marketing funnels, automate your email marketing, and more. Course creators can create a community space for students and charge a one-time fee, a subscription or different payment packages. 
It also allows instructors to build all types of sales funnels and run affiliate programs. The platform comes integrated with CRM tools and email marketing automation tools so that course creators can check the performance of marketing campaigns.
When selling online courses on Kajabi, you are creating " offers." You can make your course free, charge a single-time fee or leverage subscriptions or run different payment plans.
Pros 
An all-in-one

online course creation platform

with an extensive range of built-in features.

Beginner friendly; equipped with a wide range of templates.

Kajabi communities that support real-time chat, one-to-one classes, virtual meets, leader boards, accountability tools and more.

Kajabi automation to automate repetitive tasks to streamline your course selling business.

Comes with 24/7 live chat support.

Kajabi allows the creation of coaching programs, subscription sites, podcasts and other digital products.
Cons
Less flexibility in website building, making sites built using Kajabi look similar.

Integrations cost extra. 

It doesn't include a free plan, and the plans are expensive in general.
Pricing
Now coming to Kajabi's pricing, it offers three different pricing plans that provide unlimited bandwidth, zero transaction fee, unlimited video hosting and more. 
Here are the pricing plans for Kajabi:
The basic plan costs $149 per month.

The growth plan costs $199 per month.

The pro plan costs $399 per month.
Quick Comparison of the 5 Best Online Courses Platforms to Sell your Courses
Online course platforms

Key Features

Pricing

Udemy

Different categories; a wide variety to choose from.

Offers a teaching centre with support resources. 

Easy user interface for course creators; slick and straightforward.

Free but Udemy Business is chargeable.

Teachable

Unlimited online courses and students on all pricing plans.

Supports one-to-one coaching product. 

Offers services like automated affiliate and author payouts

The basic plan: $59 per month.

The pro plan: $159 per month.

The business plan: Custom pricing 

Thinkific

Good course compliance features.

Support live lessons

Excellent site and page builder.

Support bulk selling of online courses

The basic plan :$49 per month.

The start plan: $99 per month.

The growth plan: $199 per month.

The expansion plan: $499 per month.

Kajabi

Website and blog builder. 

Built-in sales funnel builder.

Email marketing tools

Multiple course player themes.

The basic plan: $149 per month.

The growth plan: $199 per month.

The pro plan costs: $399 per month

Pinlearn

Self-hosted online tutoring marketplace software. 

Supports self-paced online courses and live classes

Gives 100% control over the script. 

Any degree of customizations possible.

Integration of your own branding.

No Design skills needed. 

One-time fee; no recurring annual fee.

The starters: $699.

Professionals: $1499.
Conclusion
Venturing out into the world of online course business can be challenging. Trying to get enrolments for your courses will introduce you to popular platforms like Udemy.
Online course-selling platforms like Udemy are excellent places to test your online course. As it involves less work and the platform does everything for you, it is easy when you start out. 
But as you are relying on a third-party platform, you will be powerless. You neither own the audience nor your own offering, limiting your business growth. 
Instead, your website is basically your own online classroom where you own complete control. 
Pinlearn lets you transform your knowledge and efforts into an online course-selling platform.