How to Create a Website Like Udemy – A Step by Step Guide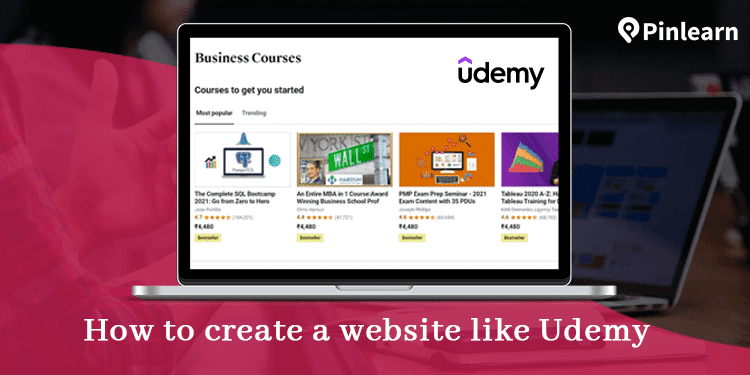 eLearning website development has caught the attention and new websites like Udemy are being built as we speak!
So, why do people want to create a website like Udemy?
Let's rewind a bit and know why this "build a website like Udemy" trend has gone viral, especially since 2020!
Back in 2015, the eLearning market was worth $107 billion. The major players were Udemy and Coursera then. 
Slowly, the eLearning market grew as tech became more accessible and during 2018, the market was worth $176 billion. 
And now, in 2021, reports say that by 2026, the E-Learning marketing value will reach an astonishing $398 billion. 
Since the pandemic hit globally, online learning seemed to be the only way to educate students. And people who saw this as an opportunity started going "how to create a website like Udemy" all around!
In fact, a lot of tutors have started eLearning platforms that work like Udemy today and are making significant revenue!
So, planning to create a website like Udemy is a great decision and this read has got everything you need! 
By the end of this read, you will not only learn how to make a website like Udemy but also in-depth details like the monetization model, the benefits, the costs to create a website like Udemy and more. 
So, let's get started, shall we?
How to Make a Website Like Udemy In 4 Simple Steps
The first thing you should remember when you build a website like Udemy is, you're going to need time and money. As for the question of how much, it depends on the approach you choose to do this.
We've split this "Udemy website creation process" into 4 different sections for a better understanding!
Step 1: Decide a Niche for Your Udemy-Like Website
It's all about niche today. You start with the wrong niche, you'll see yourself stuck with little or no students on your platform. 
But choosing a niche that's performing well can help your Udemy-like site perform well right from the beginning! 
Before you start to build a website like Udemy, you need to decide what courses you are going to offer on your platform. And to do this, you must start off with a bit of research. 
Here are a few things that should help you with the research, 
Analyze competitors and check how many of them offer the courses you are planning to offer.

Check the number of registrations for each course if possible or see the number of reviews. 

Check the age group of people who are interested in the course you offer. 

You can also conduct a quick survey by reaching out to people and know their interests in taking up such a course. 
By doing the above-mentioned, you'll have a basic idea about how well your niche is going to perform. 
The next step would be to choose a monetization strategy for your Udemy-like website. 
Step 2: Choose a Monetization Strategy for Your eLearning Platform
It's all about pushing your eLearning platform to make good revenue! In order to do this, you need to have a good monetization strategy in place.
We've come up with the most popular eLearning monetization models here for you. 
Paid Certificates 
Certificates go a long way in helping an individual grow his/her career, especially if your eLearning platform is popular. Your platform learners should pay an additional amount in order to get the certificate for the course they have studied. 
Coursera is a perfect example of this kind of model. Courses can be undertaken for free but to get the certificate, one has to pay for it!
Here's a course offered by Coursera where the learner has full access to the course materials for free but in order to get a certificate, he/she has to pay $49.
Subscription-Based Model
This is another popular eLearning platform monetization model.
In this model, your platform users should opt for a monthly/annual subscription model. Once they have subscribed, they get unlimited access to all the premium courses on the website.
The upside is, you get a significant monthly revenue and it increases steadily as the number of subscriptions goes up.
Premium Account
In this model, you give your users a taste of your eLearning platform. And just when they are lured in, you ask them to upgrade for a premium account. 
Skillshare does the same. In the free version, the user doesn't get extensive benefits but when they upgrade, they get features like unlimited access to thousands of classes (ad-free) and quality teachers.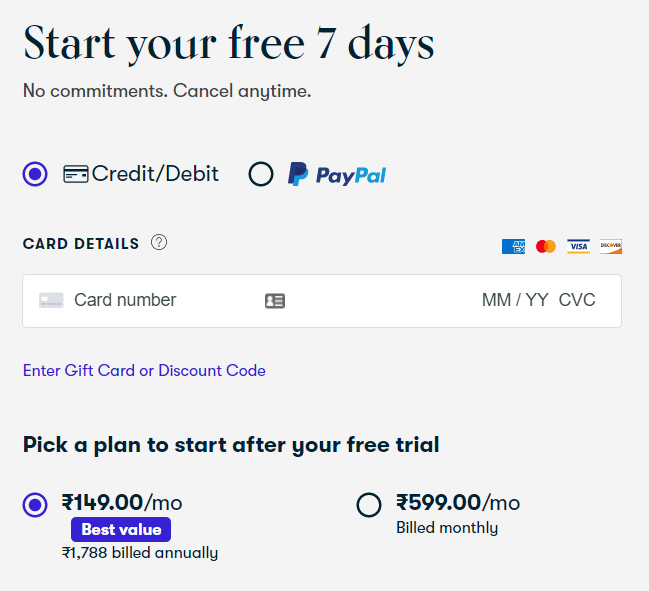 When the user gets to see the value behind the premium account, they won't hesitate to upgrade.
Tie-Up With Corporate Companies
Companies today want their workforce to be efficient and knowledge-packed. And they often tie-up with popular eLearning websites and their employees get access to all courses on the platform. 
Udemy is one of the popular eLearning platforms that has this feature. 
Donations
Donations are another way to make money on your eLearning platform but you never know how long it is going to go. Also, donations cannot be the single revenue source of any platform – it just doesn't work that way!
You can have it as the last alternative source of earning money!
So, mentioned above are the different types of eLearning monetization platforms. Understand the pros and cons of each model and see what would be an ideal fit for your Udemy-like website.
It's best if you choose to go with a combination of monetization models. Even if there's a slight downfall with one monetization model, the other one could hold you up! 
Now that we have the monetization models sorted out for your eLearning platform, let's look at the features your Udemy-like website should have.
Step 3: Choose Features for Your eLearning Website
Features can be classified into two categories, 
Features that are essential for running your eLearning website

Features that make the platform more sophisticated and fancy
We'll be looking at the first ones in this read – the ones that'll help your eLearning platform run seamlessly.
Registration Gateway
This is how both students and tutors are going to be a part of your eLearning website. And you've got to make sure that the registration process is as simple as possible!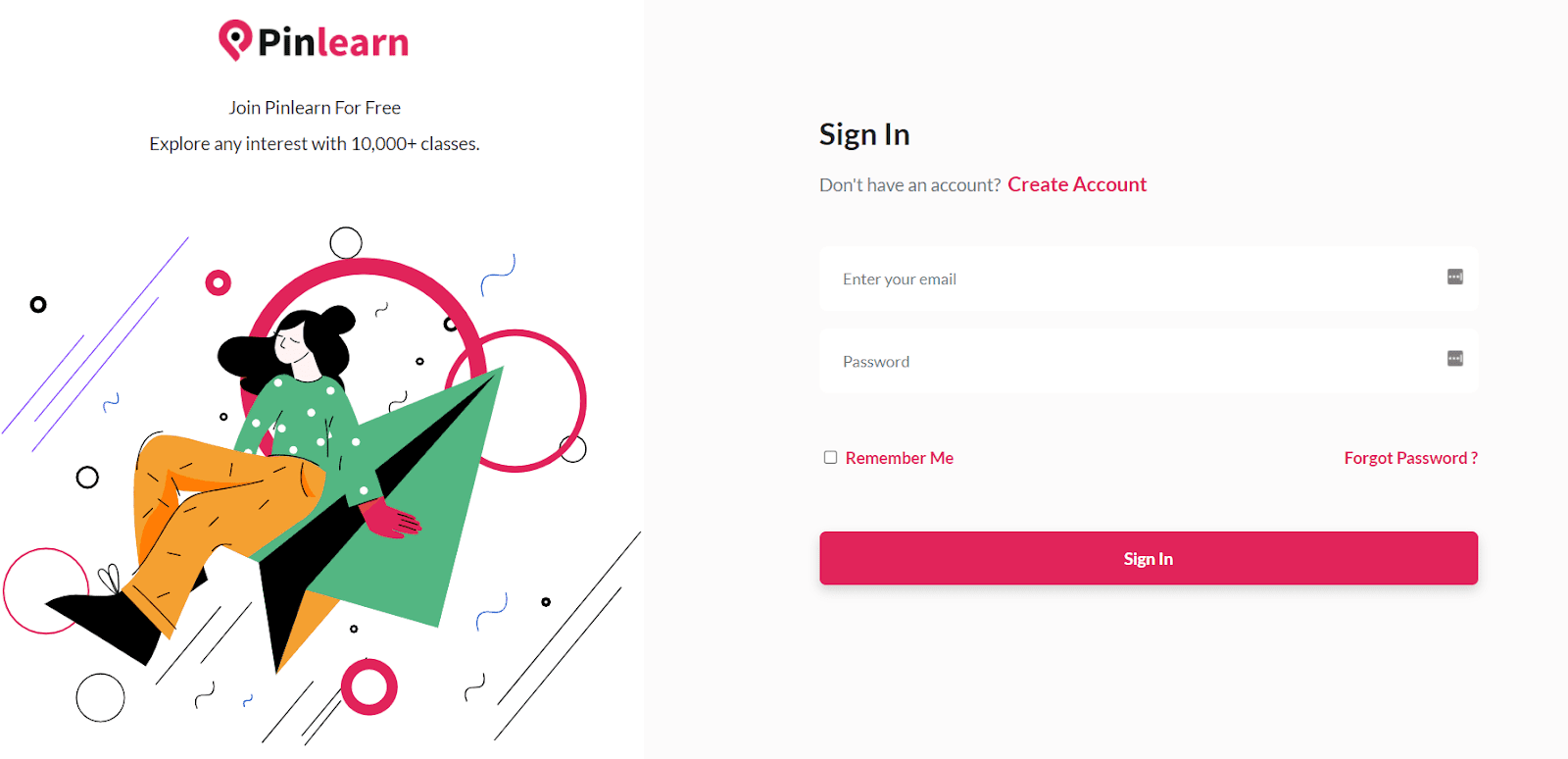 Make sure features like "Remember Me" and "Forgot Password" are present because you never know how useful a small addition can be! 
Tutor Profile Customization
Every tutor on your platform wants to showcase their experience. This helps tutors draw the attraction of students. Udemy has this tutor profile page where you can see the total number of students a tutor has, his/her reviews and a couple of social links.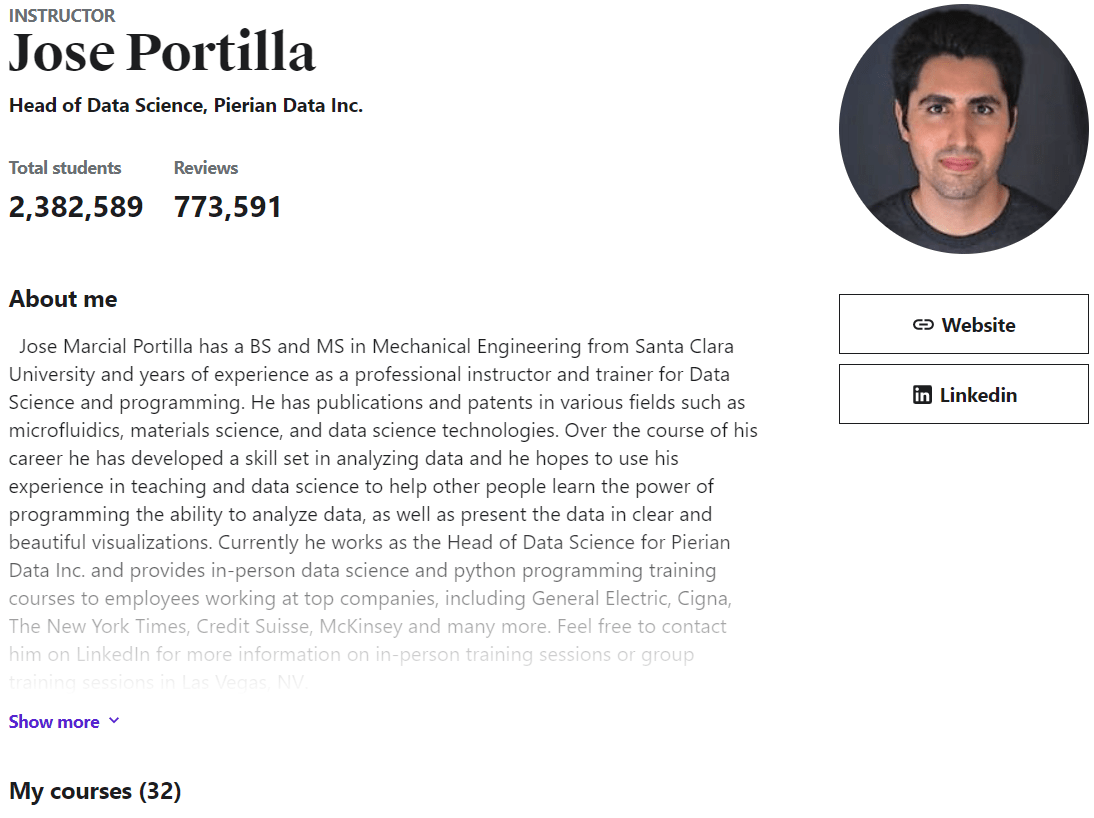 So, make sure that your eLearning website platform has the mentioned features. As a matter of fact, it would be even better if your eLearning platform has the option where tutors can upload self-introduction videos. 
Extensive Search & Filtering Options
Your platform should have the option where your students can find what they are looking for with ease!
Whether it be a course or a tutor, they should be able to apply a couple of filters and narrow down the results instead of going for an extensive search!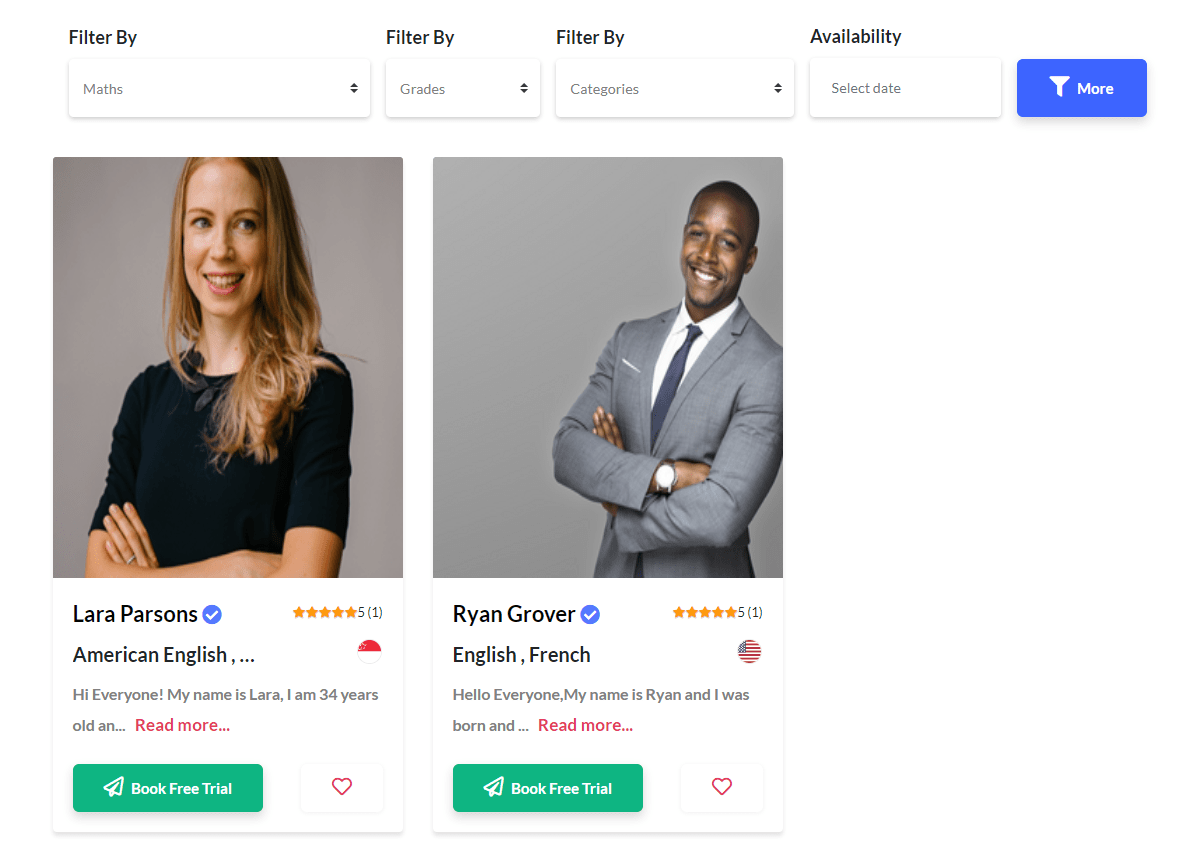 Adding filtering and search options like, 
Subject

Grades

Categories and 

Tutor Availability would be good to start with.
Dedicated Admin Panel
Since you're the one who is about to run the eLearning platform, you need to know what's happening on it. And for this, you need an admin panel that comes with a whole bunch of information. 
You should be able to know how much a tutor is making, the courses that are being sold widely, the number of students who have registered on your platform and more.
Multiple Language & Currency Options 
This is another feature you should be looking into.
Make sure your platform has multiple languages in it. Down the road, if you are planning to grow your eLearning platform to a global level, it is necessary that there are diverse language options available for your platform users.
The same applies to currencies as well – make sure there are multiple currency options on your platform.
Multiple Payment Gateway Options
The payment process is where the buyer journey gets almost complete. And if you haven't handled this part well, it's a total disaster then!
Make sure you give your platform users multiple payment gateway options so that they can enjoy the flexibility and go with the ones they feel comfortable with. 
Clean User Experience
That's probably the most important one of all!
A clean user experience is necessary for both the tutors and students to solve their purpose. So, make sure your eLearning platform is designed with the user in mind – visually appealing and aesthetically designed! 
The above-mentioned are things that are mandatory to create a website like Udemy. Of course, the course uploading option is mandatory! Do not forget to add that to your list. 
So, that's pretty much with the basics! You know how to choose a niche for your eLearning platform, the monetization models and the features your Udemy-like website should have. 
Now, to the next part!
Step 4: Choose the Method to Create a Website Like Udemy
This can go about two ways,
Building it from scratch

Using pre-existing eLearning platform solutions
Creating a Website Like Udemy From Scratch
We're going to go nowhere near the building from scratch method! 
Because for one, the costs would be too much and two, the entire procedure is going to take a lot of time.
But still, just to give you an idea, the total cost to create a website like Udemy from scratch would cost around $50,000 and the timeframe would be a month or two! 
You've got to build features like homepage, shopping cart, payments page, tutor profiles and more. 
Now for the better alternative!
Using eLearning Platform Solutions
eLearning platform solutions are scripts that are just ready to use. They follow a plug-and-play approach. All you need to do is, purchase one, customize it and go live! 
Speaking of eLearning platform solutions, Pinlearn is one such solution to go with.
Pinlearn is a self-hosted eLearning platform solution that helps you build websites like Udemy, Coursera, Verbling and more.
The platform is white label and allows a high level of customization. The script has got all the above-mentioned features and comes with a clean UI/UX. 
So, let's quickly look at the steps, shall we? 
Step 1: Buy a domain name for the website you're about to create. While doing this, make sure you go for a choice that clearly tells what your business is.
Step 2: Once done buying a domain name, choose a hosting provider for your eLearning website.
Step 3: Purchase Pinlearn and install the script on the server.
Step 4:  Customize the website the way you want to. Add features above the shelf – the support team takes care of that!  
Step 5: Once you are done customizing, it's time you set up the payment gateways.
Once done, with a little bit of marketing activities, your Udemy-like site is all set to go live!
As for the question of how much and how long it is going to take, here you go. 
When you build a website like Udemy using eLearning platform solutions, it's going to cost you an approximate $2500 and takes a week or two! 
That's how quick and simple it can be to create a website like Udemy using eLearning platform solutions.
So, that's pretty much about how to make a website like Udemy! Now that we're done, let's wrap it up with a final few words! 
The Bottom Line
In this "How to build a website like Udemy" read, we've come across the
Monetization models for your eLearning website

Features your eLearning platform should have

And finally, the steps to create a website like Udemy 
With the online learning marketing witnessing a steep rise in the past decade or so, there's no better time for you to create a website like Udemy. 
Remember, when Udemy was started by Eren Bali, it was rejected more than 30 times. But later, Udemy turned out to be one of the biggest online learning platforms today. 
Times have changed and there are a lot of examples to learn from today. And with the right learning platform solution onboard, you can build a website like Udemy with ease! 
So, why wait? Start Creating a Website Like Udemy Now!