AI Course Creator: Best AI Tools For Creators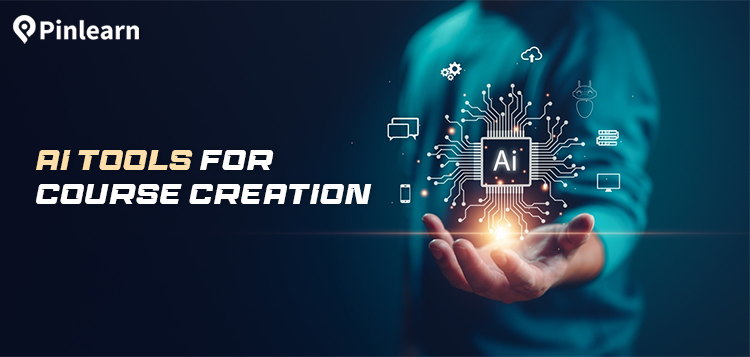 Online course business is lucrative; there is no doubt about it.
The global eLearning market is growing rapidly, with the prediction to reach $840.11 billion by 2030.
But as an online course creator, you already know the level of hard work it calls for and the time it would take to create an online course.
Deciding on a course that will sell, creating content, designing your landing page, promoting, and selling is a challenging task that requires strict attention to detail.
Imagine you have some sort of tools to simplify the entire course creation task- Yes, every aspect of it. 
That is what we are going to talk about in this blog- The best AI tools for creators.
AI Tools to Simplify Online Course Creation
As technology continues to advance, AI is becoming increasingly prevalent in our daily lives.
AI is everywhere, and there is an AI for everything- Online course creation is no exception.
With the breakout popularity of Chat GPT and the introduction of countless AI tools in the last few years, it is straightforward that AI will impact the work of online course creators. 
But there is no reason that it should scare you. 
You can tap the power of AI to increase your output and capacity as a course creator or educator. 
Let's look into the AI tools, including AI course creators, to create and launch online courses more efficiently than ever before.
Murf is an Ai powered voice generation platform that creates a human-like voice over for videos.
You can easily generate human-like voice over for e-learning videos.
Here is how Murf can help with online course creation:
Voice change feature
Along with studio quality voice over, you can change your voice for the preferred voice and accent by mimicking the real human emotions.
Customize Ai voice over
Creators can customize the AI powered voice over by adding pauses, and emphasis at required places to increase the human voice resemblance.
Multiple language support
Voice changer feature to change home recordings to professional AI recordings in your own language.
If you are into selling online courses, you can leverage the Mini-course generator to create mini-courses. Yes, it is an AI course creator that effortlessly creates complete mini-courses super-fast. 
Here is how course creators can use the mini-course generator:
Create short courses as lead magnets
Mini-course generator helps to create interactive mini-courses that can be used as educational lead magnets or micro-learning materials to educate existing communities or onboard newcomers.
You can customize your short courses with interactive elements like quizzes and surveys.
Use AI assistant to get help with content
If you don't want to use mini-course generate to create complete courses, you can use it to come up with short content when you are stuck with ideas.
Embed a mini course or a collection on web pages
Mini-course generator allows course creators to place interactive content anywhere on a webpage.
Synthesia is the top-rated AI video software many leverages to create videos without following the traditional recording and editing process.
It is perfect for creating videos for your courses, saving a lot of time and budget.
So what is Synthesia? Is it an AI course creator? 
Synthesia is not a tool to create courses with AI. It is a tool to generate avatars that helps you create training videos using realistic avatars like you hired paid actors to create explainer videos for you. 
With over 120+ languages to choose from and 85+ avatar images, it even helps you make real gestures and facial expressions to make it real. 
You can also have your avatar created from a short video of yourself.
Here's how course creators can use Synthesia:
Create training videos with no equipment.

Browse from 55 editable templates covering different use cases.

Scale internal training videos for businesses.

Integrations to add your videos to other platforms.
Learning Studio AI is an innovative AI course creator that simplifies the entire online course creation process. It comes with unique features and tools that enhance student experience and help course creators. 
So, how course creators can use learning studio AI, here's how:
Create an online course with unique features to enhance the learning experience.

Leverage the comprehensive flexibility in design.

Use the best-in-class learning analytics.
Circle or Circle.so is an AI-powered online platform to build and image online communities. 
The AI tools by Circle reduces the manual work of course creators by automating several aspects that consume the time, effort, and energy of course creators when selling online courses. 
The platform has tools like a writing assistant to create, edit and summarize content. 
Here is how course creators can use Circle:
Circles AI also helps creators to offer support with writing and pull together compelling content.
Circle also allows creators to upload videos, making it effortless for your online community to find the content they want.
Circles allow creators to track engagement measures and see how your community performs.
Is AI the Future of Course Creation
AI tools are a boon for online course creators, and at the same time, some consider it a threat. 
For experienced course creators, it could be scary how AI is excellent in replicating tasks and effortlessly matches human work. 
So let's address the most popular concern, of course creators.
Will AI ever replace online course creators or possess a threat?
AI tools aren't here to replace you as a course creator; instead, they can assist and enhance your creative process if you use them the right way.
Let's address it: Even if AI is faster, smarter, analytical and can process vast information, there are a lot of things AI cannot do.
Without human intervention, you run the risk of poor content quality from grammar errors, lack of clarity in information and more.
This is where AI falls short:
AI cannot deliver unique personal experiences and insights.

Lack of human element to communicate with learners and understand challenges.

Fails to build a community of learners and nurture them.
Conclusion
Yes, you can use AI to create courses. 
While it is never recommended to leverage AI to build the entire course if you are running an online course business.
It can't offer the same quality or value compared to the value your unique tutoring style and experience can bring. 
But you can use AI to address challenging tasks in your workflow, support your content creation, brainstorm ideas for new course topics, review your work and so on.