What are the best elearning platforms and their pros and cons?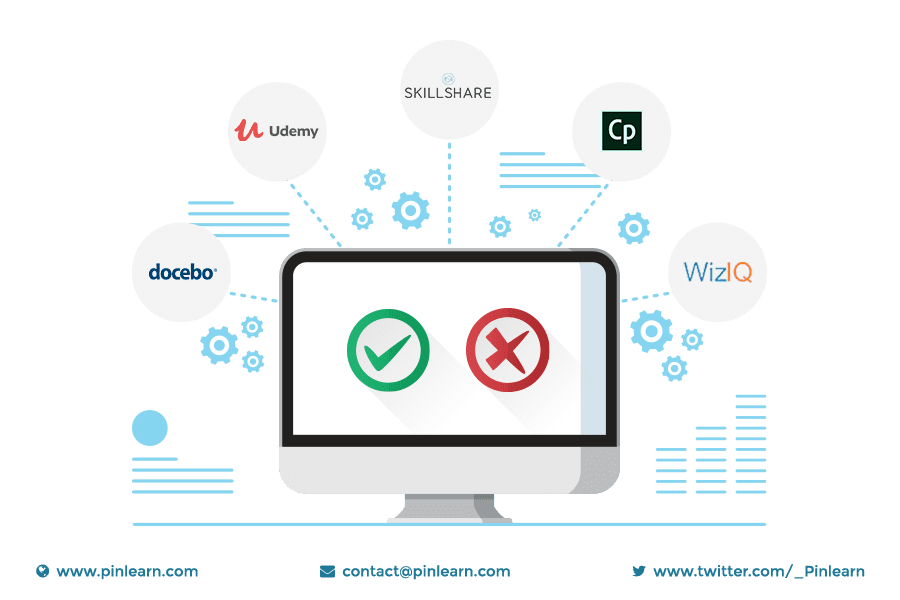 Do you have expertise in teaching? Did you love sharing your knowledge and insights to others? Do you have some innovative, informative, and valuable content want to share with people? Did you have core knowledge of your domain and want to offer?
Then, e-learning platforms are the best way to target the learners, publishing the courses, and earn money from it.
The e-Learning has blossomed at a fast pace over the past decade with an extensively increasing of educational courses online. This has not confined to only academic learning but also spread in the business development programs to widen the skills of corporate learners.
According to the e-learning industry, the online market is anticipated to be a $37.6 billion market by 2020. With the rapid growth of the Internet, a variety of e-learning platforms have come up in the market and gained massive popularity among the school and university students. The sophisticated education technology allows the students and tutors to gather, acquire, and update themselves with new skills.
What does e-learning educations consist?
E-learning education involves an online learning and teaching platform with the assistance of internet technology. It offers conceptual and practical learning through the platform which can take place inside and outside of classrooms.
The learning tools and technologies consist of prerecorded audio and video, animated videos, enhanced e-books, live streaming of teaching, multimedia-based learning, MOOCs, personalized tutoring and many more. The far most sophisticated e-learning education technology includes augmented learning spaces, virtual reality e-learning tools, and online training and certification programs, etc. The more extraordinary and easy for access, the best will be the platform.
For a wide variety of reasons covered in this article, e-learning has some important advantages over instructor-led training which means as a course delivery method it is here to stay and will grow in importance as technology improves.
E-learning has gained several competitive advantages in terms of flexibility, accessibility, and inclusiveness. But the challenge is to find an easy, convenient and friendly online platform not just for learners but also for tutors. If you want to upgrade your skills, this article will help you to navigate in the expanding world of education. Here are a few most popular options on eLearning platform comparison along with pros and cons. Let's choose the best match according to your learning style!
Best e-learning platforms:
Udemy:
Pros:
If you have proficient knowledge in a specific domain or topic, you can create an online class and submit your courses to Udemy marketplace.
All you need to solve the problem of potential students and learners with your real-time experience. The courses might be of technical or non-technical.
You can include your courses in video, audio, and text format as well. It will be available for sale once it is approved and promoted in Udemy marketplace.
This gives the instructor a great accomplishment and reward in the market place.
The best benefit in the Udemy market place is the community. It is helpful to be connected with real people who are undergoing the same challenges as you. This platform allows the folks to feel comfortable in asking questions.
It allows reaching thousands of people in a dynamic way through online courses.
The revenue system of Udemy is simple. If anyone joins the course through the marketing strategies of Udemy, then the instructor will get $50 off the course fee. When the instructor brings the learner, then he/she will get 100%.
The e-learning platform has many content creation tools like PDF, PowerPoint, Word and these tools are organized in such a manner to create and publish courses.
The platform can be used by instructors on free of cost.
Cons:
Udemy doesn't have control over the quality of courses.
Udemy doesn't provide course support. The authors are responsible for providing support if any issue occurs.
There is no standardization on the courses. Thus it is very difficult to compare the courses.
Teachable:
Pros:
Teachable allows you to host your course on a platform in which you can customize it to make it feel according to you.
Good pricing scheme and support integrating with a lot of instructional videos.
Setting up a course is very simple following by step by step process.
The sales pages, promotional videos, weekly webinars, and articles help on how to market your courses.
The platform also gives a free e-book to attract the instructors which explain many aspects such as course creation, slide presentation and many more.
 Cons:
No central list of courses hosted on the platform, thus the instructor is only responsible for the marketing.
The instructors need to do their marketing own. If you don't get traffic to your courses, you won't be able to sell your courses.
 Coursera:
Pros:
The classes on the platform are open to all learners.
The online courses available are mostly free and with high content quality. One can learn and cultivate the knowledge irrespective of their discipline.
There are many lectures for a single topic and the learners can choose their own teacher according to their wish.
Easy navigation within the courses is an additional advantage in the Coursera. You can access the videos, tests, and discussion forums easily.
The platform provides a wide variety of subjects related to many topics.
Many of the courses are either free or cheap to take. They provide official certifications higher cost courses.
Cons:
The course fees are not immediately shown on the Coursera course page. To know about the fee, you have to enroll and register for the platform. Then it will display the price for paid courses.
All the courses are not completely free. Most of the high demand courses don't have access to non-payers.
Udacity:
Pros:
The main focus in Udacity is on the IT courses which include topics like artificial intelligence, self-driving cars, data science, machine learning, and related technologies.
Well-structured content provided by Google.
This platform has a strong focus on technology.
The pricing structure allows you to pay monthly for your chosen courses.
 Cons:
Udacity is a pioneer among education providing platforms, but it offers a limited range of topics compared to other course platforms.
Though its pricing structure allows paying monthly, so when a learner wants to drop a program before completing it, he/she can pay the course fee up to that point, rather than the whole course. This makes a loss for the instructors in their course.
Edx:
Pros:
Good interface. It's a clean, simple and focuses on learning more. They have free access to course materials.
This platform was created by the Massachusetts Institute of Technology and Harvard University for students and institutions that seek to transform the innovative technology. The big catalog from these two universities as partners has an additional impact on courses.
The platform provides free-honor based certificates.
This eLearning platform provides a fast and modern feel to accommodate large enrollments.
Cons:
They don't provide a free certificate.
No good forum for discussions.
Too unstructured for some of the learners.
Takeaway:
The e-learning has the potential to make more personalized instruction accessible to more participants. All aspects of the best e-learning platform must center on the needs of participants and how to optimize the experience to meet the needs. Thank you for taking the time to know about the overview of the advantages and disadvantages. Let's select the best out of it.