How To Start A Profitable Online Course Business?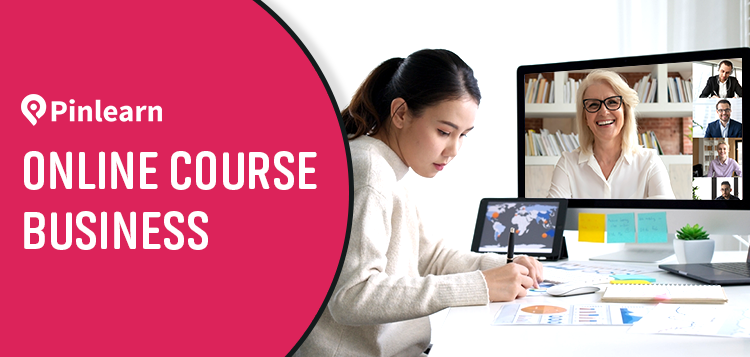 Do you know much about a topic (or topics) that others think is impressive? Can you write an eBook on your knowledge, skills, or passion? If these things are true in your case, you can likely use the knowledge you have acquired through your hard work to start an online course business.
Whether you are sharing technical topics, sharing photography tips, self-improvement strategies, fitness tips, or whatever be it, there is likely an audience out there that's eager to learn, and that's what makes an online course business a profitable business. 
Not just in 2023, but in 2027 and beyond, too, says this statistic. Millions of learners are buying online courses, inside and outside of the traditional educational system, to enhance their knowledge and skills. 
A step-by-step guide to start an online course business that thrives
Before we jump to the steps of starting an online course business, it is important to get the basics right.
By itself, an online course is not a business. You can't build a thriving online course business without high-quality online courses to sell. But again, creating an online course is just a part of your online course business. It has a lot of other aspects as well. 
For example, it involves:
Building online courses.

Email and social media marketing.

Branding and customer retention.

Project management.

Sales funnel.

Finance and account.

Content marketing.

Networking
With that said, let's jump into the steps of starting an online course business. 
Find the right opportunity
Launching an online course business like setting up a start-up. The first place to start from is finding the right market opportunities. 
And how to find the right opportunity? You can find opportunities to establish an online course business by finding and defining challenges faced by people. 
The secret to starting an online course business, a profitable business, is finding the results your target learners are searching for and the challenges they want to overcome. 
Do they want to learn data science to advance their career or want to take a course that allows them to look for better job opportunities? 
How to find opportunities
Conduct a survey: Create surveys and send them to your email list to see what challenges do they face and what concepts they would like to learn.
Interact with your social media followers: Create polls or posts to engage your social media followers. 
Search the internet: Look on Google Trends or use free SEO tools to find the topics people are interested in. 
Use forum sites: Forums like Reddit and Twitter allow you to understand what your target learners are looking for. Find out current trends around questions to understand specific questions from your target learners. 
Validate market demand
Once you have an online course business idea, it's time to validate it. Never skip these steps and start building online courses. While your business idea might be great, it doesn't mean it will succeed. You don't want to waste hours and efforts on people who don't want. 
Remember, the primary reason you are looking to start an online course business is to make money. And for that, you need to have paying customers. But validating an idea is more challenging than it sounds. For that, you can conduct pre-sales of your online course.
Bring out the pre-sales tactics
So how to do it? You have to build a landing page and bring in traffic to find anyone is actually clicking the "Buy Now" button. 
Build an audience for your business
If you are brainstorming about how to start an online course business, the most important part you must focus on is building your audience. 
Your audience is the people who can communicate with you through different channels like email lists, blogs, social media, personal networks, etc. 
Why is it important to build an audience base? 
With an audience who likes, knows, and trusts you, it will be easy to sell your online course. So the sooner you can build an audience base, the faster you can sell your courses and start making money. 
Selecting your course platform
Now comes the most important part of starting an online course business. To sell your online courses, your choice of a course platform to host your valuable content is as significant as the content itself. 
An online presence is mandatory to establish and run a profitable online course business. To fast-track your ways to create a successful website, you can use efficient online tutoring software like Pinlearn to build and launch your online course platform effortlessly.
If you want to build a course-selling platform like Udemy, Pinlearn is a readymade script you can leverage to develop and launch an eLearning platform for selling on-demand online courses. 
Here is what you can do with Pinlearn;
Create and sell online courses
Course creators can upload, sell and track self-paced online courses using the efficient training course management software of Pinlearn. 
Upload multimedia lesson formats
Create online courses using eLearning materials in different formats. 
Course goals and lectures
Course creators can create course goals and update the objective of lessons. 
Create and sell free and paid courses
Course creators can set desired prices on online courses or even set it free for marketing advantages.
Tutor dashboard analytics
Course creators get access to a dedicated dashboard with smart analytics displayed in a GUI.
Admin course manager
Admin can retain the ultimate controls of the course management software to manage uploaded online courses.
Advanced search filters
Search filters for hassle-free retrieval of data and information in the dashboard.
Email notifications
Build an email notification system to track different events on the course -selling platform. 
Find your first set of buyers
One way to test your online course business idea is to look for the first batch of course buyers. Then, build a test group to buy your online course and give your right feedback so that you can make the necessary adjustments before the actual launch. The first set of students of your online course can be your success stories and testimonials of your course business. 
But how to do that?
Give out your online course for free and give them an opportunity to offer personalized interaction with the educator. 
For instance, you can release short lessons and host a Q&A session to determine the audience's challenges. If you have addressed those in the online courses, it's great. But if you have left out core aspects, you can make the necessary changes before the course launch.
Sell online courses
When selling your online course, you can make your content free or cheap or price it premium. If you opt for the former category, people are less likely to trust it and have low expectations for results. 
If you increase the price, people feel that they are getting more value. The best bet is to price your online courses according to the value it offers. 
Now that it's time to launch your online course. Here is how you can promote it in advance of the launch day. It could be through
Blog posts.

Email and social media campaigns.

Paid ads on Google, Facebook, and Instagram..

Podcast interviews.

YouTube promotions.

Influencer marketing.

Affiliate programs

And more!
Conclusion
Starting an online course business is an excellent way to empower people through education and move humanity forward. You are making a positive impact in the world, building your own brand in the crowded eLearning industry, and of course, running a profitable business. .
Want to create an online course business but need help figuring out where to begin? Get in touch with us to build your online course platform using Pinlearn. Here is a free demo for your tryout.