Thinkific Alternatives: Feature and Pricing Comparison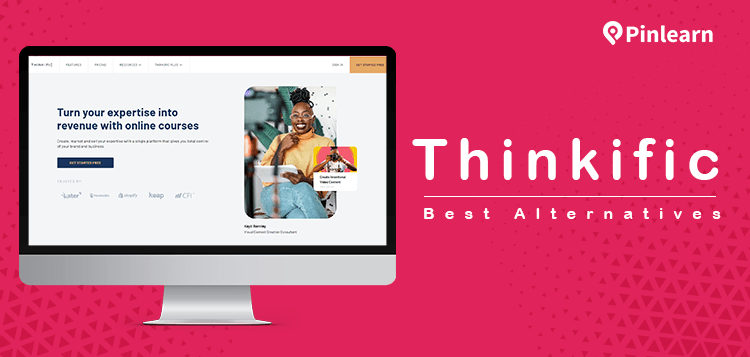 Online learning has had tremendous growth over the past couple of years as technology made significant contributions to the education industry. This opened up convenient ways for tutors and learners to effectively embrace online education. The COVID-19 pandemic has forced students across all levels of education to adapt to online learning rapidly. 
As a result, traditional education systems have been replaced dramatically with an incredible rise of virtual teaching conducted remotely on digital learning platforms. This rising trend has accelerated the growth of digital platforms like Thinkific to make online learning management convenient and uncomplicated. 
What is Thinkific?
Thinkific is a powerful cloud-based learning management system (LMS) that primarily caters to small businesses, professional educators, and solo edupreneurs. It is an online course platform that allows users to create, market, and sell courses in different niches. The platform defines itself as "everything educators need to run an online education business under one roof". Compared to other online course platforms, Thinkific focuses on one important and distinctive feature- Course creation. While the platform also has several other features for sales, email marketing, optimizing sales funnels, features to keep your data secure, those capabilities are less significant. 
What Thinkific gets wrong
Tech issues– The platform lacks white labeling as a general feature(is present only for premier plan), making your website less appealing.
Lack of good support– Thinkific doesn't offer the same level of customer support in all plans.  
Price- The pricing seems high when compared to other online tutoring platforms. 
Thinkific is one of the popular and well-known names in the eLearning industry, but it's not necessarily the best platform. If you struggle to decide whether Thinkific is the right platform for you, there are better alternatives. 
Well, in this blog, we will learn about Thinkific and better alternatives to Thinkific so you can make the right decision for your new online tutoring business. 
Let's get right to it. 
Alternatives to Thinkific to Sell Courses Online
If the shortcomings of Thinkific limits you as an Edutech business, here is a list of 5 sites like Thinkific for you to choose from. 
Pinlearn
Pinlearn is a powerful all-in-one online tutoring marketplace software that supports both live online classes and courses. The readymade software solution is a great Thinkific alternative and an excellent way to clone popular eLearning platforms like Udemy and Coursera and set up a notable space for you in the eLearning realm. Support for unlimited tutors, courses, webinars, etc., is the peculiarity of this tutoring software. Being open-source, Pinlearn allows users to take complete control of the platform to brand their website as their own according to their preferences and interests. 
Features 
Supports both one-to-one and live group classes.

Allows hosting self-paced online courses.

Interactive whiteboard for a real classroom-like tutoring experience.

Live session recording for online courses.

Dynamic and robust dashboard with analytics.

Allows tutors to track transaction details of all classes.

Easy migration as it is built on a custom script.

Quick deployment.

Multilingual feature to translate content to languages of your preference. 
Teachable 
Teachable is one of the well known online teaching platforms having a similar interface to that of Thinkific, but with better features. It focuses mainly on video-driven content to ensure the courses stand out and engage learners better. 
Features
Live one-on-one lessons.

Unlimited lessons and students.

Link existing sites to teachable under a custom domain.

Integrated email and affiliate marketing.

Supports over 130+ currencies.
Kartra
Kartra is another Thinkific alternative which is basically a marketing platform that allows creators to sell online courses and teach online. Users can benefit from the advanced features, including automated email marketing, affiliate management, and statistical analysis. The platform allows for tracking the progress and planning out the next moves, all backed by data. 
Features
Automated SMS/ email marketing campaigns.

Page builder to customize every page of your website.  

Kartra leads acts as a CRM to help build leads, prospects, and customers.
LearnDash
LearnDash is a WordPress plugin, which means you will have to create your own WordPress site and then use LearnDash to convert it into an online teaching platform. It will simplify things as you don't have to worry about migrating the website anywhere. You can access the library of add-ons available on WordPress, but you might have to pay for some of them. 
Features
Host videos on social platforms like YouTube and embed them on your website. 

Use SEO techniques to optimize your course website. 

Drip learning content to your students over time. 

See one-off purchases, subscriptions, bundles, bulk access, etc., to your students through a WooCommerce integration. 
Kaltura
Kaltura is a video hosting platform that includes a learning management system (LMS). Rather than creating your own website, you can host your eLearning content in your own space on Kaltura's system. 
Features
Host videos up to 1080p quality and live streams. 

Add branding to your player with a dual-stream view, chapter breaks, and closed captions. 

Share and embed Kaltura video to your own WordPress site. 

Monetize your content with ads or sell video downloads.
What makes Pinlearn a better alternative to Thinkific?
Pinlearn is a fully packed eLearning platform builder with all the essential features you wish existed on your online tutoring platform. Unlike Thinkific, it's not just a course creation platform. Pinlearn also allows tutors to host live classes along with self-paced courses. It is white labeled, self-hosted, customizable, supports drip feed content, and comes for a one-time fee instead of recurring monthly or annual fees. Thinkific focuses more on learners, and the features they offer, revolve around the same. Whereas, Pinlearn features a broad list of functionalities for both tutor management and student management in their solution. If you are looking for sites like Thinkific to launch your online teaching website, Pinlearn can be a great choice. 
Let's look into the details of what makes Pinlearn a better alternative to Thinkific. 
Pricing
No matter what type of business you are in, the platform you choose must give the best returns for the money you have put in. With the amount spent, you will have to select a platform that offers you more features, flexibility, and security. The basic plan of Thinkific starts at $49/month with just basic features, and it goes up to $499/month on its highest plan. It comes with a free version as well, which offers very few features expected out of an online course platform.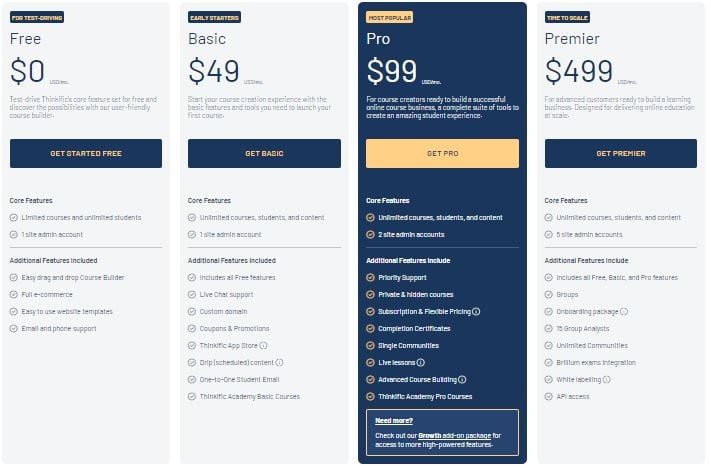 Whereas Pinlearn literally is a premium product available at affordable pricing. 
The regular plan comes at $699, and the premium plan is priced at $1499, which is a one-time fee with absolutely no transaction charges.
For the one-time fee, you get the following:
100% control and lifetime license to the script. 

Freedom to choose the web hosting provider of your choice. 

Absolute control over privacy and data.

Ability to host and sell as many courses.

Power to add unlimited learners and tutors.

Host as many live classes and group live webinars.

Ability to use Pinlearn on multiple domains. 
White-labeled solution
Pinlearn has its own unique capabilities, and this one shines the brightest. 
Being a white label solution,
It boosts the visibility of your brand.

Strengthens loyalty of clients.

Provides your brand with a refined product.
Thinkific offers white labeling only for its premier plan.
Marketing features
Thinkific features robust marketing features. However, Pinlearn has a few additional features that Thinkific doesn't offer as general features.
Dedicated coupons management system to create and share discount campaigns. 
Pinlearn allows you to send out web notifications at different stages of your student's journey to keep them engaged. 
Course Completion Certificates
Pinlearn provides certificates to students upon successful completion of an online course. The certificate is automatically generated when the course progress hits 100%, whereas Thinkific provides completion certificates only from the Pro plan onwards.
Customer support
Pinlearn will assign you a customer executive available over call, chat, and email no matter what plan you are in. 
In a nutshell, Pinlearn provides
Support over call

Chat support

Email
On the other hand, Thinkific offers just phone and email support for the free version and live chat support for the basic plan onwards. It also provides priority support from the pro plan onwards. 
Cutting edge integrations 
Pinlearn provides support for all essential APIs and can be integrated with all popular business tools. 
Here are some of the integrations Pinlearn supports for the best eLearning experience.
Pinlearn supports Stripe and PayPal (For tutor pay-outs) and allows adding other payment gateways of user's choice at an additional cost. 
Zoom live streaming API to facilitate live one-to-one classes and group webinars. Pinlearn allows users to replace Zoom with other video conferencing solutions like Microsoft Teams or GoToMeeting at an additional cost. 
Provides media encryptions to protect your eLearning platform's user data and resources. 
Conclusion
Honestly, to talk about the functionalities and capabilities of Pinlearn, there are many more. While we are talking about two different platforms specially designed for the same purpose, Pinlearn has many more features essential for building and growing an online tutoring business. Thinkific either lacks some of the features, or those are available only on its higher plans. 
In a nutshell, Pinlearn is a simple and flexible learning management system that equips educators to sell online courses and host live classes and manage tutors, learners, assignments, payments and transactions, certification, and more. 
If you want to know more about Pinlearn, check out our free demo or get in touch with us. It's our privilege to be a part of your entrepreneurial journey.