How to Start a Test Prep Business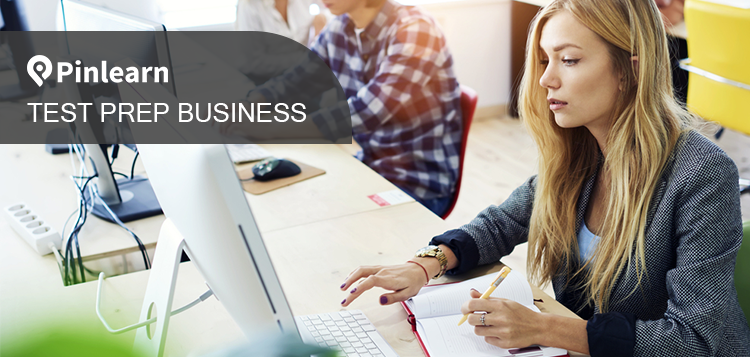 Test prepping is an entire business of its own in the vast online tutoring world. Test prep tutoring is not just sharing knowledge with people but helping them actually succeed and score good grades to be eligible for highly-paid jobs. That is one reason why more and more educators are moving their teaching online, as it opens great new opportunities. 
The global test preparation market is expected to grow tremendously during 2022-2027. 
If you are looking for how to start a test prep business considering its lucrative nature, this blog is an excellent guide to steer you in the right direction.
What exactly is a test prep business?
A test prep business is a company that specializes in helping individuals prepare for standardized tests, such as the SAT, ACT, LSAT, GRE, GMAT, and others. You can offer various services like individual tutoring, group classes, and online resources to help students improve their test-taking skills. The ultimate goal is to increase students' chances of higher scores on the exam. 
A typical test prep classes include subject-specific instruction from the perspective of cracking the test, test-taking strategies, and practice tests. The value of any test preparation lessons is mainly dependent on instructor quality and curriculum quality. 
What qualifications do you need to start a test prep business?
 It is not mandatory, but having a good business plan and a good marketing strategy will help you to attract more students and make your test prep business successful. To start a test prep business, there are several qualifications that may be helpful to have:
Knowledge and expertise in the specific test or subject area you will be teaching (e.g., SAT, ACT, LSAT, GRE, GMAT, etc.).

Teaching online will help you understand how to instruct and engage your students effectively.

A relevant degree or certification in a related field.

Strong organizational and business skills, as running a test prep business will require you to manage finances, marketing, and operations.

Strong communication and interpersonal skills, as you will need to be able to work with students and parents and build relationships with other professionals in the industry.
How much can the test prep business charge?
How much you charge for test prep services is mainly dependent on the type of classes, the competition in the area you work, and the nature of the test itself.
Test prep businesses can charge anywhere from a few hundred dollars to thousands of dollars for their services, depending on the type of test, the level of support provided, and the business's reputation. Ultimately, the amount a test prep business can charge is limited by the willingness of customers to pay for their services.
And here are some of the factors you need to consider when pricing your test prep classes:
The target market.

The level of demand.

The level of support offered.

The reputation of the business.

Cost of providing test-prep services.
Some educators charge a low hourly fee of approximately $21, but you can offer longer-term courses ranging from 30-40 hours, which helps you earn a decent amount. 
The lower charges are for group classes; for one-to-one sessions, you can charge between $40 to $75 per hour, with some educators charging $100.
Guide to launching a test prep business
Starting a test prep business can be rewarding and profitable, but it requires careful planning and execution. If you are brainstorming about how to start a test prep business, it is important to start with a business plan to build a successful test prep business. 
Here are some steps to guide you in launching your own test prep business:
Develop a niche
Identify the specific test or group of tests that you want to focus on and become an expert in that area. This could be standardized tests like the SAT, ACT, or GRE or professional certification exams like the GMAT or LSAT.
Create a business plan
Develop a detailed business plan outlining your target market, competition, financial projections, and marketing strategy. Map your business specifics to define your business and its goals clearly. 
Here are some of the things you can consider when creating a business plan:
What are the start-up costs and ongoing costs?

Who is your target audience?

How much can you charge customers?

What are the legal compliances you need to adhere to? 
Study your target market
While your target market can vary by area, your best clients are high school students and seniors preparing to crack SAT or ACT exams. This is because there is typically a large student base for these exams when compared to tests like LSATs and GREs. Based on the target market, you can design your lessons and strategies accordingly. 
Build a team
Assemble a team of experienced test prep instructors who have a proven track record of success in helping students prepare for the tests you will be offering. You can consider building an online tutoring marketplace where you can allow other educators to host their test prep lessons and online courses. 
Develop curriculum and materials
Create a comprehensive curriculum and materials that are tailored to the specific tests you will be offering. You can also create short lessons and tests that they can use for quick revisions when needed.
Establish a home setup 
Decide whether you want to run your business out of a physical location or operate it entirely online. If you choose to have a physical location, find a suitable space that is easily accessible and has enough room to accommodate your students.
Promote your business
Develop a marketing strategy that includes online and offline advertising, social media, and networking to promote your business and attract new students.
Monitor and evaluate your progress
Continuously monitor your progress and evaluate your business's performance. Use this information to make any necessary adjustments to your business plan and strategy.
Networking to promote better
Network with schools and colleges to promote the service you provide. You can also look for online groups to network better and promote your services to bring in new clients. 
Get Certified
Consider getting certified through professional organizations in the test-prep industry; it will help you to be recognized as a reputable and credible business.
Provide excellent customer service
Make sure that you provide excellent customer service to your students and their parents. This will help to build trust and loyalty and encourage word-of-mouth referrals.
Legal requirements for starting a test prep business
Starting a test prep business typically requires compliance with various legal requirements, including obtaining necessary licenses and permits, registering the business with the appropriate government agencies, and ensuring compliance with zoning laws and regulations. It is also essential to have liability insurance and to protect any proprietary materials or intellectual property. Consult with a lawyer and accountant to ensure compliance with all applicable laws and regulations.
Do you need a license to start a test prep business?
It depends on the location and type of test prep business you plan to start. Some states and municipalities may require specific licenses or permits for certain types of businesses, such as those that provide educational or tutoring services. Additionally, if your test prep business will offer preparation for professional licensure exams, such as the bar exam or the CPA exam, you may need to meet additional requirements set by the relevant professional regulatory body. It is best to check with your local government and regulatory bodies for specific requirements for your business.
How do test prep businesses make money
Test prep businesses generally make money by charging fees for their services. They can also generate revenue through partnerships with schools and educational institutions or by offering corporate training services. 
Test prep businesses make money by charging fees for offering test prep lessons which can include: 
Tutoring sessions
Test prep businesses can make money through tutoring sessions, either one-to-one lessons or group classes. If you are an educator who wants to start a test prep business, you can offer one-to-one classes or group classes. 
One-to-one sessions require more planning and effort, and hence you can charge a premium price for the same. Whereas group classes allow you to create lessons and instructional materials for a group that you can repeatedly use for several groups. Educators generally charge less for group classes, but you can take in more groups to make more money. 
Online courses
You can sell test prep materials as online courses to help learners prepare for tests. 
Course-selling platforms like Udemy, Coursera, and even Edx offer courses on test preparation. 
Alternatively, you can also sell online courses on your course-selling platform to make money and brand your services. 
Study materials
Educators focusing on test prep services can create and sell eBooks and practice tests. 
Enrolment in test preparation programs
If you are into the test prep business, you can offer test preparation programs with subject-related classes, mock tests, revisions, and more. Creating and selling packages is a great way to make money while giving the maximum value of money to your learners. 
Conclusion
Test prep business is a highly rewarding and profitable online tutoring niche. When entering the industry, you must be familiar with all standardized and practice tests. 
Considering the growth potential of this business, you have high scope to grow and scale your business. 
If you want to build an online tutoring business to host your test prep services, you can connect with Pinlearn team to get started.