List of Legal Requirements for Starting a Tutoring Business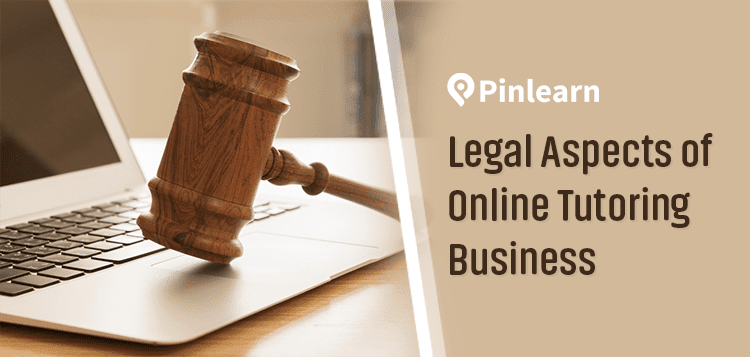 The global private tutoring market is estimated to be worth over $174.65 billion by 2028, and online tutoring is a major contributor to this growth. 
Whether you want to teach for fun or as a side hustle, the industry is very lucrative. But before you get excited and jump right into the business, there are certain legal requirements you must meet.
This post covers all the legal requirements for tutoring business, including licenses and insurance.
Legal Requirements for Starting a Tutoring Business
1. Choose a Business Structure
When starting a tutoring business, you can either register as a sole proprietor or a limited liability company (LLC). The structure you choose will determine your taxes and liability.
How to Start as a Sole Proprietor
If you're starting small or you don't intend to share profits with others, the sole proprietor option might be more convenient. 
You don't need any formal registration to start except you want to use a name that is different from your name. In this case, you will file a DBA (doing business as) name or a trade name. 
However, you have to check with the US Patent and Trade Mark Office and your county's Recorder's Office to be sure that no one is using your proposed business name.
After confirming the name availability, you can then proceed to register the business name with the Secretary of State.
Because the law does not separate you from your business, your business will not be taxed separately. You will pay personal and business tax using one tax return.
A sole proprietor is responsible for reporting his or her taxes to the IRS. This is done by submitting a form 1040 and a Schedule C (a profit and loss report).
Additionally, you will contribute fully to the Social Security and Medicare program since you do not have employees. Whenever you decide to hire employees, ensure you inform the IRS.
How to Start as a Limited Liability Company
An LLC is preferable if you intend to separate your personal finances from that of your business. It reduces your liability and allows you to decide whether you want to be taxed as a sole proprietor or a corporation.
To start an LLC, you have to register your business name with the Secretary of State, a business agency, or a business bureau, depending on your state.
In some states, you can register online while others require you to file your papers in person or through the mail.
If you're not sure of which legal structure to choose, it would be best to consult a lawyer. If you start as a sole proprietor, changing to another structure in the future will require a lot of procedures.
2. Do a Comprehensive Background Check
If you and your tutors will be working with minors, you need to check their criminal records. A comprehensive background check should include the following:
A copy of the tutor's passport

A copy of their Workers' Permit

Educational Qualifications

An FBI fingerprint

Accommodation history for at least 5 years

Clearance from the National Sex Offender's Registry

A minimum of 2 references
Ensure you do a comprehensive check even if the person will not have direct contact with minors.
3. Sign an NDA (Non-Disclosure Agreement)
When working in the homes of your clients, you need to respect their privacy. If you stumble upon any piece of personal information, you must keep it to yourself.
Signing an NDA shows professionalism and assures your clients that they can rely on you. 
Ensure your tutors sign an NDA, then provide clients with a copy. In some cases, clients may request tutors to sign the document directly with them.
4. Draft an Employment Agreement
As soon as you onboard a tutor, an employment agreement should be signed. It is a document that clearly states the terms and conditions of the job.
This document is important because it allows both the employer and the employee to know their rights and boundaries.
The agreement should include the following details:
The payment schedule, whether weekly or monthly

Whether employees are allowed to work full-time or part-time

Whether their income will be taxed 

The maximum number of hours they can spend on the job

The notification window if they can't make it to a class
Employment agreements are usually drafted with the help of a lawyer to make sure that every area is covered. 
5. Provide Clients with Written Contracts
Contracts are written agreements and are recommended when doing business with people. Even if the client is getting a free session, it is important to hand them your terms and conditions.
A typical tutoring business contract includes the following:
Tuition fees

Payment period

Cancellation and refund policy
In addition to the non-disclosure agreement, you can prepare this document as a welcome pack for your clients.
6. Assess the Safety of the Learning Environment
If you are using your home as a venue you're legally bound to ensure that it is safe for business. You will be held accountable if any issue arises in your home.
Also, if you will be tutoring in a rented space or the home of clients, you must analyze the risks and provide adequate protection for yourself.
Look out for hazards such as sharp table edges, loose cables, uneven surfaces, and loose carpet. 
7. Comply with Zoning Rules
Every state or county has rules for setting up a business. So, whether you plan to tutor from your home or in a public place, you must comply with zoning rules.
Some places restrict businesses from operating in homes especially if they will affect the neighbors negatively or pollute the environment.
Businesses are also restricted in certain areas to avoid a high influx of people or street parking.
To get more information about zoning, check the local ordinance, ask planning or zoning officials, or speak with an attorney.
Do You Need a License to Start a Tutoring Business?
You do not need a license for tutoring business, but you must have a business structure. You can operate as a sole trader, a corporation, or an LLC. 
You must also file the correct taxes. You can do this by keeping accurate records of your income and expenses or hiring an accountant.
Furthermore, you should have a college degree or formal education to be able to teach. Parents usually check the educational background of tutors before hiring them.
If you have a degree or previous work experience in a subject area, you can earn more money. You can also get a certification from the American Tutoring Association to increase your chances of getting higher pay.
Insurance for Tutoring Business
Although tutors are not obliged to get insurance, the risks involved in the business are high. Students may trip and fall in your home or rented premises. Parents may even sue you if their children fail exams or do not make significant progress.
The different types of coverage available to tutors are:
General liability insurance

Professional liability insurance

Cyber liability insurance

Commercial Auto Insurance

Workers' Compensation
1. General Liability Insurance for Tutors
This type of insurance protects you against lawsuits from a third party who got injured due to your negligence. For instance, if a client slips and falls on your premises, the insurance will cover the cost of medical care.
It also protects you if your employee damages a client's property.
2. Professional Liability Insurance for Private Tutors
This is also known as error and omission (E&O) insurance. Irrespective of how hard you try to be good at your job, things may not always go as planned. Mistakes may occur because you're human.
A client may feel that you did not deliver your services as promised or accuse you of misconduct and then file a lawsuit against you.
Whether the accusations are true or false, an E&O will protect your business.
3. Cyber Liability Insurance for Online Tutors
If you're offering your tutoring services online, you must consider the risk of a cyber attack. Your computer may be breached, giving hackers access to your client's personal information such as credit card details, email addresses, and phone numbers.
Cyber liability insurance covers the cost of notifying your clients when there is a breach, investigates data breaches, and monitors fraud on your site.
You may also want to consider insurance that covers hardware and software damage due to vandalism or theft.
4. Commercial Auto Insurance for Tutors
If you drive to the homes of your clients, you need commercial auto coverage. It covers any damage your vehicle causes to someone's property, bodily injuries due to an auto crash, and theft.
However, the insurance is valid if your vehicle is mainly used for your tutoring business.
5. Workers' Compensation 
Most times, private tutors do not need this coverage because they work alone. But if you will be employing other tutors, you must have workers' compensation.
It covers the cost of medical care and lost wages if the employee gets injured while working.
In Summary
Starting a tutoring business requires a lot, and you do not want to be on the wrong side of the law. From registering your business, getting the right certifications, to acquiring insurance, there's still so much to be done.
I shared a list of legal requirements for starting a tutoring business. This will help you to appear professional so clients can trust you.