How To Launch an Online Course (Ultimate Guide)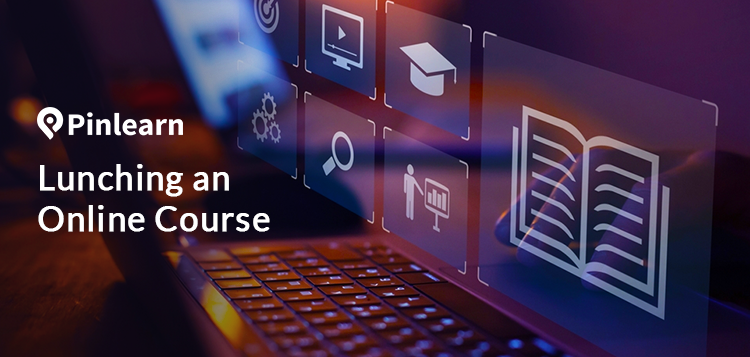 Have you ever considered creating an online course to generate a part-time income, passive income, or establish a business?
If yes, that's a smart move! The market for online courses is big- and it's growing bigger. 
According to Statista, the eLearning industry that includes online courses is projected to reach $370 billion.
So one thing is clear:
Online courses are in demand, and they are here to stay.
But let's be real, though. It's going to take a lot of work. The good thing is you have to create the course once, and you can get paid over and over again. With each and every course enrolment, you keep generating revenue. Often, you can sell the same course for years. 
Are you serious about launching online courses and are in it for the long term, if yes, this blog is for you!
If you are brainstorming how to launch an online course, let's create your online course and leverage a strategy to actually start making sales and getting paid before your course is even ready.
How to Launch an Online Course and Start Making Money
When launching your online course, ask yourself what's your personal goals to sell online courses. Is it to share your knowledge, scale your business, reach more people or make money?
If your goal is to make money selling online courses, you can make a lot more money. And reach out and help more people. 
Let's walk through the step-by-step process of launching an online course.
I have an elaborate guide on how to create your online course, where I talk about creating a course in detail.
Choose a profitable idea
Regardless of the subject, you select a course idea, and you must make sure the idea is profitable. 
The big mistake people make when creating their first online course:
They create and launch an online course, but the idea isn't profitable and doesn't have a valid audience. No wonder they struggle to attract clients.
Here are some strategies to find the right online course ideas:
If you are running a business, understand the struggles your customers face.

Find the challenge and come up with ways to help them overcome it. This means RESEARCHING the challenges your target audience face. In this way, you can tailor make your online course in a way it provides the solution to the challenges your audience face. 
Here are some ideas to test your course idea.
Testing strategy #1: Build free mini-email courses
Create a MINI-COURSE and send it to your clients via email. 
You don't need a course-selling website to begin with. But having a website where you can sell online courses from your own website is excellent. But you can start with emails as well. 
Free mini-courses help you validate your course idea and also build an email list for your paid course simultaneously. 
Testing strategy #2: Pre-sell your online course
You can create a sales page and pre-sell your online course or build a "coming soon" page explaining your online course. You can send it out to your target audience or run some ads on your sales page and see if you can sell it.
You can set a start date in the future and sell it or create a dummy "buy now "button and track how many people click on it. If it isn't perfect, it will give you insights into how profitable your online course idea is. 
Promise a result
When launching an online course, the first thing you must decide what result does your online course is going to deliver. What is the tangible goal your audience is going to receive? For example, what is that they are going to learn from your course if you are launching a "How to Learn" course? 
If you are selling an online course around a subject with an intangible result, understand what's the thing they can measure. You must know the exact result you offer to show people why they must specifically enroll in your online course.
C

reate the downloads first
When creating content for your online course, create the downloadable resource first. Because if you create downloads first, you can offer them for free and use them as a lead magnet to grow your email list and validate your idea, or you can actually start selling them.
Gap discovery
If you already know what your course is going to be about and who you are selling to, then here is the next step: Structuring and outlining your course. You need to identify the gap. So what is the gap? 
Imagine this scenario: Your ideal customer will be in position A, and they need to get to position B, and your course will be the bridge that gets them there.
It is going to have all the tactics, methods, strategies and information they need to go from where they are to ultimately where they want to be. 
So you must figure out what you could ultimately be about and what you can put into your course to make it more valuable than some other courses in similar niches.
What thing you need to do is list out all of your skills and give a quick description of what these skills are. 
Guess the figures right
If you are launching your online course for the first time, never expect to make a of money in the beginning. You must set clear and realistic goals and follow them, as you should be disappointed initially. 
Here is a sample realistic goal expectation: 
How many students will enroll to your online course: Number of email subscribers.

The revenue you will make: The total number of email subscribers * price of your online course
Choose your pre-launch activities
During the pre-launch phase, your sale page won't be live. You must choose the approaches depending on the size of your email list:
Soft launch
If you are going to leverage a soft launch strategy, begin by sending out a few emails and creating several social media posts to announce your online course launch.
This includes creating teaser campaigns and ongoing communication about your upcoming course launch. 
Full launch
The primary goal of these activities must be to build a sustainable email list of people who will engage with it. You can ask your audience to opt into a webinar, sell free video series, survey completion etc. 
You can also create Facebook ads to convert a cold lead to a qualified one. Another effective way to launch an online course is the Live launch webinar strategy. 
You can plan a one-hour or even longer webinar strategy, which you can offer for free, or where you elaborate on a specific topic, and at the end of the webinar, you can sell your actual paid online course. 
Online Course Launch Checklist and Plan
Here is how you need to plan the launch of your online course: 
Launch date:

Desired launch date when you want actually to launch the course
Content due date:

When you want to finish all the content to help you sell the launch.
Course name:

Name of the course; the title.
Course topic:

Topic of your online course.
Transformation:

the results you promise your course buyers
Price:

Price of your online course, be it one price or monthly price. 
Bonuses: 

Different bonuses you are going to offer throughout the launch.

 
Testimonials:

 

If someone has already taken your course, you could link to it. 
Goal: 

How many signups do you want or any monetary figure you have in your mind that you want to achieve? 
Online Course Creation Content checklist
The course creation checklist includes a bunch of content to start posting before the launch. This could include the following.
Nurture emails
Do not mistake your nurture emails for your sales emails. Instead, they are educational emails that teach the significance of your course topic leading up to your course launch. 
For example: If you teach a course to increase your Instagram follower base.
Your nurture email can be: Do I need to have 10K followers to get paid for brand collaborations? 
Nurture social media posts
Educational social media posts that include feel posts, reels, carousals etc. 
Webinar invites
Invite people to your free webinars; it could be 3 or 4 webinars.
Course promo emails
Course promo emails could include testimonials or what people are saying about your course. 
Course promo posts
Promo posts you post on social media that imitate your course promo emails.
Launch your online course
The final and most important part is actually LAUNCHING your online course.
To begin with, you announce that people can buy your online course while enrolment is open for a few weeks. To sell your online course the best way of launching it is to sell via your online course website. 
After the launch, announce the link on your course sales page and share the news with everyone who knows and your target clients. During the first initial weeks, engage with all course buyers. Invite your students to your social media groups so that you can answer the questions they have. Build and establish a personal connection with each of them.
Conclusion
That's all! Now you know how to launch an online course, and you have the online course launch checklist with you as well.
The success of your online course launch comes down to leveraging a launch plan and implementing it during every step of the launch. Your online course is a powerful resource you can sell over and over again. With every launch, you get close to your goal. 
You can trust us if you need guidance in selling your online course from your website! We are here to offer the proper assistance.