How to Create a Course Outline- A Step-by-step Guide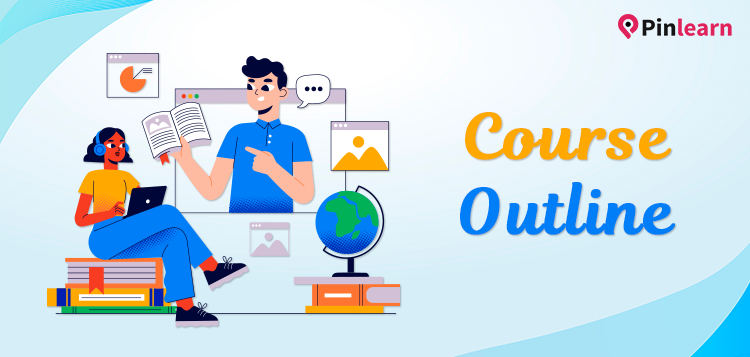 So you've got a terrific online course idea. Now you need to create a course outline that is equally terrific.
You boot up your computer, open a Word doc, and stare at the blank page for a couple of minutes before it suddenly crosses your mind that, Hmm…maybe I have no idea how to create a course outline from scratch after all.
Beginners often find creating a course outline difficult or more challenging than creating an online course. Everyone knows it must be done, but no one wants to.
Take it in stride, and don't let it get you down. First of all, why would you know anything about the course outline? For that very reason, we have 10 amazing course outline steps to share with you as inspiration. So keep reading till the end!
What is a Course Outline?
Course outlines contain a brief description of a course, its goals and objectives, the number of sessions required, the learning materials, and other essential information about the course in an easily understandable manner.
In addition, the course outline gives you an overview of your course, including assignments and deadlines, quizzes, exams, course schedules, live session timelines, and more.
It is basically a blueprint of your course that maps out how your course will play out as it develops and ensures that you are on the right track. 
Now that you know what a course outline is, let's find out how to create an online course outline. 
Step-by-Step Guide to Creating a Course Outline
An extensive, step-by-step guide on creating a course outline with just the right amount of information to define your online course's objective and the goals you want to achieve. 
Step #1: Know Your Target Audience 
As a tutor, the first step in creating a course outline is knowing your audience well. With target audience personas at their fingertips, you can better create valuable online coaching courses that address each student's interests and needs across their age and educational background.
You should include the following information in your learner profile:
Gender

Age

Educational level

Location

Goals

Challenges

Pain points

Preferred learning activity

Favorite learning channels
If you're unsure how to create your learner profile, you can simply ask them. For example, you can leverage email and social media to launch student surveys and obtain real-time feedback. Also, you can use Google Forms to conduct surveys, as it's free and easy to use. 
Step #2: Describe Your Course Topic
Once you get to know your target audience, it's time to describe your course topic. The information you provide may vary depending on the course topic you choose. But there are several questions you need to answer in your description, they are as follows:
What are the topics the course covers?

When was the course launched?

When was the last time the course got updated?

Do you offer any special features with your course?

Who can benefit from this course?
It is important to have a good description of your course because it is what most learners will rely on to decide whether to purchase it.
Step #3: Determine Your Course Outcomes
In many cases, successful online course creators say they succeeded because they initially outlined the course's outcomes in detail. 
A course outcome contains the knowledge, skills, attitudes and methods & means that your student is expected to obtain and demonstrate by the end of the course.
So you must outline your course with every possible learning outcome. Moreover, mention the proof that must be presented, which verifies that your student has completed the course.
The above steps help you gain both in-depth knowledge about your course as well as the behavior of your student so you can quickly write out learning outcomes.
Step #4: Choose Your Learning Approach 
Study results from Queens University indicated that 90% of students could remember the learning activity after doing it, whereas only 50% remembered after seeing and hearing it. Thus, outline your course learning activity in a practical way that's easy to follow for your students.
While you create your course outline, make sure the learning activity is student-centric, in which the student can take what they have learned from the activity and apply it to another context or even for a different purpose. Furthermore, the information provided should not overwhelm the student but deliver a high-impact learning experience.
The below list contains a few learning activities you can choose for your online course outline:
Live sessions

Recorded lessons

Multimedia presentation

Online quiz

Journal article/blog

Exams
Step #5: Frame a Course Schedule
Creating a course outline can be handy if you know how to structure your course schedule. The course schedule includes the timeline for topics with related learning activities. 
You must break down your course into smaller sessions to capture your students' undivided attention. For example, you can divide a specific topic into two or more sections with a time limit of 10-60 minutes. 
Just remember that you must increase the difficulty of the course slowly and steadily. Doing so makes learning easier for your students and allows them to exert more effort gradually. 
Step #6: Create Assessments Tasks
One of the essential parts of writing a course outline is to provide several assessments to test your students. These tasks should be given throughout the course so students can evaluate their progress. 
Let's look at some assessments you can adopt while creating your course outline.
Diagnostic assessments: Diagnostic assessments provide insight into your student's knowledge and also help them engage in your course.
Furthermore, these assessments facilitate benchmarking your student's progress. Here are a few examples of diagnostic assessments:
Student discussion

Student interviews

Journals

Mind maps
Norm-referenced assessments: These assessments are a type of test where students will be evaluated based on their exam scores. Here, learners will compete with their peers and allow them to scale their progress. 
At the end of the assessment, students will receive a certificate of completion. There are several types of non-referenced assessments, and we've outlined a few below:
Exams

Graded assignments

IQ Test
Step #7: Organize Learner Interaction
If you want to become a successful online course creator, you need to create courses where you and your students can interact with each other. Interactivity is vital because it helps students to overcome insecurity. 
For example, some students won't be active in the learning activities after subscribing to your courses. Instead, by creating a community with your students, those students will be able to participate more actively in your classes and enjoy learning.
For instance, you can connect your students to social networks like Twitter and LinkedIn and interact with them through Ask Me Anything sessions, Twitter space, polls, and many more.
Just remember, while doing interactive sessions with your students, consider using content that aligns with their interests. This engages them and allows them to participate actively.
Step #8: Explain the Course Requirements
When you create your online course outline, ensure to mention the course requirements. In this way, users are clear about what they need to join the course. 
Let's consider you're creating a course on Figma UI/UX design. The requirements of the course should be:
Who can join the course?

Does anyone need prior knowledge about Figma?

What is the basic technical skill required? 

What are the hardware requirements?

Do they need to install specific software?
In addition to these examples, you can add more if your course requires them. Don't overlook anything because your learners need to know what they actually need before purchasing your course.
Step #9: Acknowledge Your References 
The course outline must come with references. When you reference your sources of information in your lessons & assignments, you acknowledge their sources. So whenever you use someone else's words, ideas, or research, you must provide a reference, as plagiarism can occur without referencing.
There are multiple styles of referencing you can use, including the 'In-Text' referencing style, bibliography method, IEEE referencing, APA method, and Modern Language Association referencing style. 
Step #10: Get Feedback
Finally, when you're done creating your course outline, you can ask for feedback from your teammates and friends. If you have a good social media presence, you can use that to receive feedback. 
Conclusion
Creating a course outline is to streamline your idea, identify your course's content, plan for assessments, and make a list of learning activities for your course. Now you've got some tricks to create your course outline, so start working right away.