Case Study of EliteUKTutors | A Online Tutoring Marketplace UK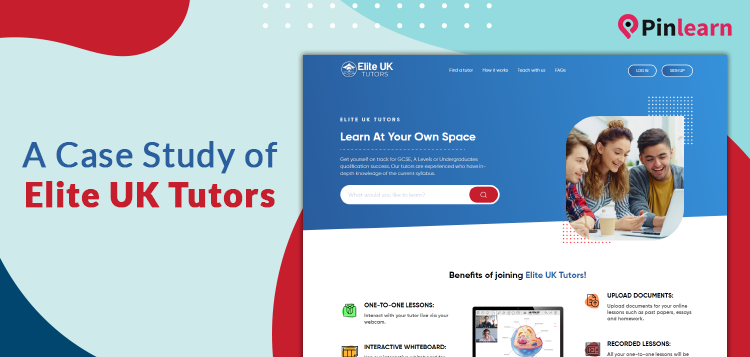 eLearning marketplaces that connect students and tutors have been a lucrative business model since post-pandemic. 
The Elite UK Tutors were launched during COVID-19 when the one-to-one tutors were dramatically affected. With the platform's launch, students and tutors could connect with each other and facilitate effective online learning. The Elite UK tutors aim to support students in finding the perfect tutor so that they can achieve amazing grades. Tutors don't have to worry about traveling as they can teach from their homes. 
Objective
With a goal of making online tutoring simple and straightforward and accessible, and affordable to all, The Elite UK tutors could achieve it with the help of tech partner Pinlearn. 
Elite UK Tutors strive to provide an exceptional learning experience to students. Lessons are tailored to each individual and fit the hectic schedule of both students and tutors. Yama and Nadim are the founders of the platform and have the vision to build an eLearning platform for students and tutors. Online tutors can help students boost their confidence, pass that final exam, and learn a new skill. 
Approach
Elite UK Tutors is a leading tutoring company based in the United Kingdom, providing high-quality educational services to students of all ages and academic levels. This case study explores the success factors, strategies, and challenges faced by Elite UK Tutors, highlighting their approach to delivering personalized tutoring services and their impact on student outcomes.
Customized Interface
Elite UK tutors use Pinlearn software with a custom UI UX to provide an excellent learning experience to students and an online tutoring experience to tutors.
Personalized Approach
Understanding that each student has unique learning needs, Elite UK Tutors focuses on providing personalized tutoring services. Students can access a fully personalized dashboard to communicate with tutors, upload study materials, join meetings, view past and upcoming sessions, and view the overview of bundle balances. Likewise, tutors also have a dedicated dashboard to view the sessions, revenue earned, analytics and more.
Interactive whiteboard tool
Pinlearn provides a real-time classroom environment with its interactive Zoom whiteboard tool. The Zoom integrated tool facilitates an immersive live learning experience.
Pinlearn integrated the efficient Zoom environment allowing students to conduct lessons directly through the Elite UK Tutors website. This will enable lessons to be controlled and manageable allowing tutors to share resources and materials during the lesson. The platform offers only 1-on-1 live classes, and it uses Zoom API for the live classes.
Custom payment gateway
In this project, we have implemented customized stripe connect as a payment gateway. It instantly splits the payment between the website owner and tutor. The payment is released to the tutor after the class is completed. 
Final product overview: https://eliteuktutors.co.uk/
 Experience the advance features of our software in action by scheduling a personalized demo.