Why Is Zoom the Ideal Solution for Your Live Tutoring Website?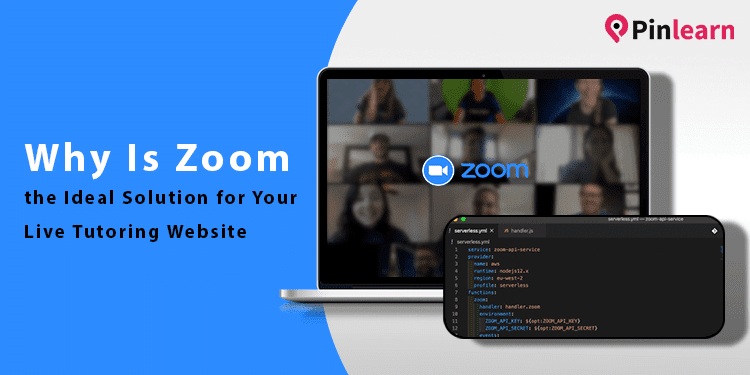 So, Zoom is it? There's a 40% chance that you've already chosen Zoom for your live tutoring website. But for the remaining 60%, you've not yet decided!
Well, sit back and relax! We'll fix that for you! This read is all about Zoom and six solid reasons why you should use it for your online tutoring website.
Now, we're not going in-depth with the basics here. We assume you already know that! We'll be starting with why Zoom is a better video conferencing solution for your live tutoring website – it helps get a perfect understanding at the end of the read!
And as we advance, we'll tell you how we at Pinlearn harnessed the power of Zoom SDK. (we'll explain what a Zoom SDK is shortly)
That said, let's start!
Why Is Zoom Better Than Its Competitors?
Speaking of Zoom's competitors, there are big players like Big Blue Button, Jitsi, Webex, and more. But Zoom did manage to become a dominant video conferencing platform, thanks to its features and pricing. 
In fact, Zoom has become so huge that in May 2020, Zoom witnessed 200 million meeting participants every day.
Unfortunately, Zoom isn't available in the free version. You've got to opt for the Zoom Pro Plan, which costs a minimum of $15 per month!
So, let's quickly see why Zoom is a better option when compared to its competitors!
1. Cost-efficient
Zoom is by far the most cost-efficient video conferencing solution that comes with salient features. When compared to its competitors, you save a massive amount of money annually. Truth be said, it's a fair deal!
2. Technical Scalability
Zoom won the competition hands down when questions like "Is the video conferencing platform technically strong and scalable?" were put out. Counting both free and paid users, Zoom has 300 million daily meeting participants.
The platform is well-established, and the technical scalability is something you don't have to worry about!
3. Zoom Platform Features
Remember, we're not talking about what you can do with the Zoom SDK here, just the platform features. Since you already might have a basic understanding of the Zoom platform, we'll quickly list out Zoom's most significant features here!
Group & 1-1 Chat

:

Whether it's a group chat or a 1-1 chat, you can do it seamlessly with Zoom. The free version allows you to connect with 100 participants simultaneously for a time duration of 40 minutes.

Screen Sharing

:

Zoom allows you to share your screen during meetings. Apparently, that's the feature you need when you're a tutor – share screen to students for a better understanding. 

Built-in Whiteboard

:

Apart from the screen sharing feature, you can use the whiteboard to simply draw or type text manually to explain stuff to students.

Internal Messaging System

:

Zoom provides a two-way communication channel where students can message in the group chat and private chat with the tutor.

Screen Recording Option

:

For convenience, Zoom allows participants to record the entire session. And the same gets stored in the participant's system.

Hosting in Sub Domain

:

As we use Zoom SDK, the sessions now can be hosted in the subdomain, which is easy to manage in-session functions from your browser and do more UI enhancements also, the whiteboard of the live session will be private.
While Zoom has many other features, those mentioned above are the most prominent ones and the reason why Zoom is better than its competitors. 
Clear, aren't you? So now, let's take a look at the use cases as to how Zoom can be helpful for your live tutoring website! 
There are two things you should take note of here – the Zoom API and the Zoom SDK. 
With Zoom API, you can seamlessly integrate many features into your live tutoring platform. But the users( both student and tutor )should have the Zoom app installed for that. 

Whereas with Zoom SDK, you can customize the User interface, manage in-session functions from your browser, and do more. There is no need for the Zoom app, as the classes can take place on the browser itself. 
Important Note: Top tutoring platforms like UrbanPro (with over 2.5 million students) and Outschool (with five million-plus students) use Zoom on their platforms for live tutoring! 
How Pinlearn Used Zoom SDK to Create the Best Live Tutoring Platform?
At Pinlearn, we'd choose Zoom a million times over and again! Such are the benefits and opportunities you get when you integrate with Zoom.
We've mentioned a few use cases on how we used Zoom SDK to make our platform better.
Use Case 1# – In-Session Classes
The classes happen inside the platform and not away from the platform, and we can also have subdomains to host the session SDK, which is embedded in our platform, and we can take advantage of its flexibility without running on Zoom's URL.
Use Case 2# – Automatic Zoom Account Creation
When a tutor wants to take a live class, he/she is supposed to have a Zoom login. The tutor is the host here, and the students are the participants. So, one has to sign-up for the Zoom platform to host a meeting. 
But we at Pinlearn, using the Zoom SDK, created a feature – when the tutor signs up for the live tutoring website, they'll have their Zoom account created automatically. The login credentials will be the same that they used to sign up for the tutoring platform.
This helps tutors save time. They don't have to create their Zoom account manually, and the automation makes your platform look sophisticated. 
Use Case 3# – Enhanced Tutor Calendar With Zoom Meeting Links
This is one of the coolest features we made with Zoom SDK. When a student books a 1-1 class or a group class with the tutor, a Zoom meeting link gets created automatically, and it appears against the respective time slot (for example, 9:00 AM to 10:00 PM) on the tutor's calendar. 
Once this is done, the Zoom link is sent along with the appointment email to both the student and the tutor.
We made this possible by linking the tutor's calendar with Zoom. Once when the student selects the time, the slot is blocked for further bookings. And the appointment email, along with the Zoom meeting link, improves the user experience for your students.
Use Case 4# – Attendance Tracking
Remember where we said links are being sent to the inbox? 
When a student clicks on the link in his/her inbox, the tutor gets to track it and knows whether they were present for the class or not. Similarly, unclicked links can also be identified, making the attendance tracking process easy for tutors. 
For example, if 35 links are generated for the class and only 33 links are clicked, the tutor can know that 2 of his/her students have not attended the course. 
Also, admins can know whether the tutor is present for the class or not when they click the link in their inbox.
Use Case 5# – Auto Record Feature
When a tutor begins to take a class, the entire session is automatically recorded in the background and uploaded to the Zoom Cloud. Once the session is over, the video can be pulled and displayed on the student and tutor's dashboard. 
Use Case 6# – Restrict Unauthorized Account
This is another feature we created with the help of Zoom SDK.
Assume a student is enrolling in a group class with a tutor. He/she will receive a Zoom meeting link to join the class. Now, if that particular student shares this link with a person who has not enrolled themselves in the class, he/she will not be able to participate in the meeting. 
The reason, we validate the student who has paid for the class with the help of Zoom SDK. Any third person trying to gain access despite having the link will not be authorized. 
Other Opportunities Zoom SDK Offers
Video Conference Within the Live Tutoring Platform
When a student or a tutor clicks on a link to attend a Zoom meeting, they'll be redirected to the Zoom app or a new browser window. 
But some might not want that! Instead, they'll prefer to have it on their live tutoring platform itself. And the Zoom Web Client SDK makes this possible. You have to install the client web SDK on their server, and they can have the session displayed on their platform.
Also, remember where we said you could customize your video conferencing UI/UX using Zoom SDK? Well, hear what Chase Shen has to say about this (for your convenience, we've hyperlinked it along with the timestamp)! 
Customization comes in handy when you want to hide the fact that you're using Zoom on your platform for video conferencing.
Zoom ISV Account
The platforms we mentioned above (Outschool and UrbanPro) use this model. Zoom ISV Account is where the client has to give a minimum commitment to Zoom. For example, the client has to pay a minimum of $5000 per month to Zoom, and in return, they'll get 200+ PRO licenses for their platform and 200,000+ meeting minutes.
The 200+ PRO licenses are randomly assigned to each tutor when they get a new booking. And here's the special part, tutors are not required to have a Zoom account to host meetings. They can simply click the "Join a Meeting" button and proceed.
**Note: The numbers mentioned are random for understanding purposes.
ISV accounts are suitable when you have hundred plus tutors and millions of students. Also, having a Zoom ISV account helps your tutors enjoy a seamless teaching experience.
Final Few Words
We're sure you have now understood how important and wise the decision it would be to choose Zoom for your live tutoring website. As we already said, Zoom is one of the best video conferencing solutions out there, and you need not have a double mind when making a decision. The opportunities are endless and what we showed you is just a glimpse! 
If you've already started your live online tutoring website, integrate with Zoom now! Or, if you haven't, check how Pinlearn can be an ideal live tutoring website solution for you – it comes integrated with Zoom SDK 😉!