Case Study of Edkazi | A Online Tutoring Platform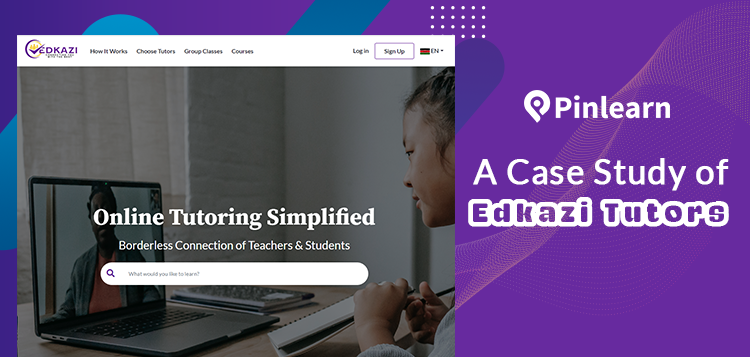 The online education market has experienced significant growth in recent years, with the increasing demand for flexible and accessible learning options. However, traditional online tutoring platforms often lacked personalized attention and struggled to match students with the right tutors. Edkazi Tutors identified these challenges and set out to create a platform that addresses them effectively.
Objective
The platform offers three types of learning models: Live one-to-one classes, live group webinars and online courses.
Edkazi allows students to choose from over 1000 tutors and 10000 courses, and hundreds of scheduled webinars. After selecting your preferred mode of learning, you can book private sessions or purchase a slot in upcoming webinars. 
Once students buy a course, they get lifetime access to its on your learner dashboard to learn at their own pace.
We successfully accomplished Edkazi's vision of building an eLearning platform tailored for the Kenyan Market using Pinlearn's customizable online tutoring solution.
Developed on a highly intuitive platform, Edkazi ensures an efficient and efficient collaboration between qualified tutors and students through live classes and webinars.
With a strategic approach and simplified UI/UX, Pinlearn redefined how the online learning platform. We also aim to elevate both tutors' and students' experiences.
Approach
Edkazi Tutors has successfully revolutionized online education by combining advanced technology, personalized matching, and a commitment to quality.
The robust and modern technology of Pinlearn helped the team Edkazi to support real-time classes, self-paced online courses, and live group webinars. Live sessions are powered by a virtual whiteboard where students can engage with tutors to make the learning experience easy and productive.
One-to-one live classes and live group webinars
Pinlearn simplifies one-to-one interactions between tutors and students. Students can book live sessions quickly and attend the classes at the scheduled time.
Similarly, students can choose between self-paced online courses and group webinars if they wish to.
Interactive whiteboard tool
Pinlearn provides a real-time classroom environment with its interactive whiteboard tools. The Zoom SDK integrated tool facilitates an immersive live learning experience.
Recording live sessions
We know how important note-taking is during a live session. To make it easier, we have implemented the ability for students to record live sessions and enjoy lifetime access to the recorded lectures.
Payment gateway tailored for Kenyan Market
This platform focuses on the Kenyan market and uses the Intasend payment gateway, offering credit cards, debit cards, mobile money etc. 
Final product overview: https://edkazitutors.co.ke/
 Experience the advance features of our software in action by scheduling a personalized demo.