Case Study of Penclusive | A Online Platform to Review Assignments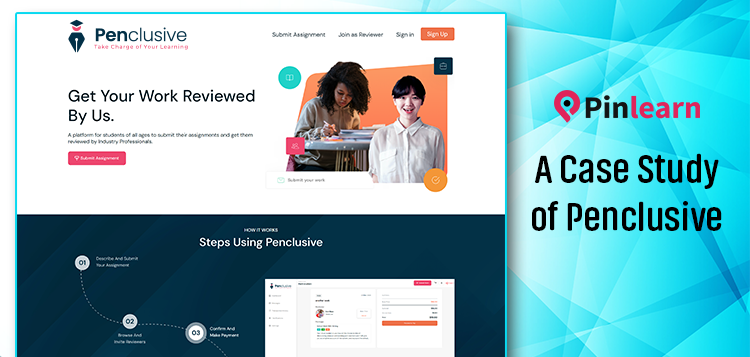 The eLearning market has experienced major growth in recent years, and many innovative platforms mushroom every year. Each platform has its own unique purpose, goals, and audience. 
Penclusive is an exclusive platform and one of its kind for students of all ages to get their assignments reviewed by industry professionals. 
The platform doesn't offer assignment writing services, but it provides review services where the assignments are analyzed and reviewed.
Objective
Penclusive envisioned an online platform comprising a community of self-motivated learners and offering them to learn beyond their textbooks. 
Penclusive serves as a platform to connect these students with industry professionals to think of the practical aspects as they learn and get a step closer to being prepared for the outside life beyond their schools or universities.
Penclusive achieved its vision by partnering with Pinlearn to build a custom platform to host its services.
Approach
Penclusive is an online marketplace that hosts and nurtures a community of industry professionals and students. The service offered by the platform is a review of students' assignments by experts in the industry. 
Students can submit their assignments and find tutors who can mark their assignments and give feedback. This platform works more like a service marketplace or Fiverr.
The industry professionals who review assignments on Penclusive are referred to as markers. Anyone can join the platform as a freelance marker. However, the platform mostly accepts those with good English proficiency, a diploma, high school certificate or GCE A level or equivalent. 
Markers need to undergo a skills assessment test to get a verified tag on the profile to boost credibility.
Here are some of the features of Penclusive, some of which are customized according to the unique requirements of the platform.
A vast pool of reviewers
Penclusive hosts many industry professionals, and students can choose their favorite professional based on the preferences of the assignment.
Simple feedback process
Reviewers need to fill out a feedback form and annotate on the submitted assignment to offer comprehensive feedback.
User-friendly dashboard
The platform has seamless navigation through the various functions to enable users to track their work.
Caters to different groups of users
The platform caters to users of different age groups, including K-12 students to adults. 
Custom payment gateway
In this project, we have customized Tazpay as a payment gateway. It instantly splits the payment between the website owner and tutor once the students make the payment. The payment is held in escrow and is released to the tutor after they mark the assignment and deliver. The payment is released to the tutor automatically after the prompt assignment delivery.
Final product overview: https://penclusive.com/
 Experience the advance features of our software in action by scheduling a personalized demo.