Teaching ESL Online: Tools and Techniques for a Successful ESL Course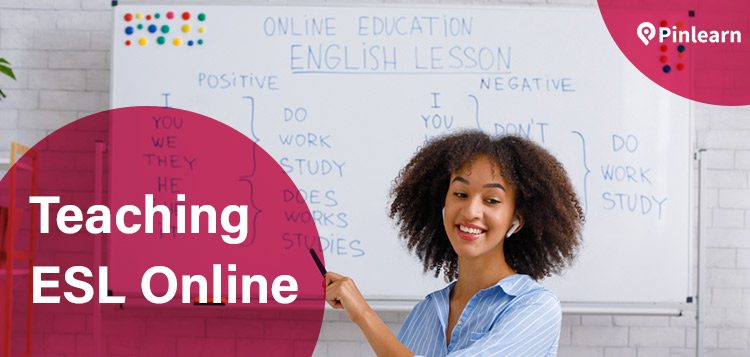 English as a Second Language (ESL) classes are specially designed to teach a variety of language skills to non-native English speakers. ESL courses can help both school-age children and adults improve their listening, reading, and writing skills in English. 
Teaching ESL online also helps college students who need to excel in English language tests to pursue advanced education and for professionals who need to learn specific English skills for their respective fields. 
A study conducted by J'son & partners found that the online ESL market was worth $10 billion in 2021. The main factor driving the growth is global acceptance of English, with over 20% of the world population speaking English.
There is no one best way to teach ESL, and in fact, there are many popular approaches adopted by ESL teachers across the world. Building a fun-filled and organized virtual classroom might be challenging for an online English teacher. You might have a lot of lucrative ideas for planning lessons and selling online courses, but you are unsure which digital tools to use and what approach to adopt to make them happen. If this has been a challenge for you, do not fret. 
We are here to simplify teaching ESL online by presenting the best tools and techniques through this blog.
What technology can you use for teaching ESL online
Whether you are teaching ESL online as an independent educator or working with an ESL company, you definitely have to equip yourself with the right tools and technology to conduct English classes and run online courses. 
When students are learning English online, it can be trickier to encourage student participation. Hence, it becomes important for ESL teachers to find solutions to keep learners focused and motivated. 
Here are some of the innovative digital tools to use when teaching ESL online.
Video conferencing tool- To facilitate powerful face-to-face communication
When teaching ESL online, you need a reliable video conferencing solution which is a medium to teach your students. When it comes to video conferencing, everyone seems to use zoom these days. Zoom is a great video conferencing tool that comes equipped with a lot of helpful features for ESL teaching online. 
The free plan restricts users to 40 minutes, but you can choose to upgrade to the premium plan for a longer time limit and additional features. While Zoom limits a session to 40 minutes per session, Lessonspace has no limitations in time as it charges based on the minutes used. If your ESL online teaching revolves around a small group of learners, you can upgrade to the premium plans if you want to conduct sessions with a large group. 
Google docs- Simplify document sharing
One of the most common and helpful tools that complement ESL online teaching is gdocs. It's an easy way for educators of all types to share documents and collaborate with students. Gone are the days when people used to send word docs back and forth over email and ended up with plenty of versions of the same document saves. Gdocs is a great way when teaching ESL online to share homework and activities during lessons. 
Online whiteboard- Collaborative tool to conduct meetings and lessons
When adopting online ESL tutoring, you might need effective ways to write, draw diagrams and explain concepts. For visually inclined teachers and students, a Google doc isn't just enough. That's why you need the best digital whiteboards for teaching ESL online. 
If you are looking for how to start an online ESL teaching business, you need a feature-rich solution that's beyond a whiteboard. One suggestion would be Lessonspace, a video and collaborative online whiteboard platform. It comes with tools like multiple boards, subject-specific tools, screen sharing and snapshot capture of video feeds, and many more useful functionalities. 
Online Calendar- To simplify class scheduling and management
When teaching ESL online, it is very important to be organized. You have to manage your teaching schedule and the appointments of your students. Keeping a calendar is crucial; you can use Calendar or even Google calendar, a great tool to schedule classes. Calendy is an excellent tool as you can share it with learners or even put it on your site, and students can immediately see the available slots. 
ESL tutoring website- To market yourself as an ESL teacher
When it comes to teaching ESL online, it is upon the educators to market themselves and bring in learners if they choose to work independently. When starting out, you need not do everything at once. Focus on doing a few things rather than trying to do them all at once. The first step of brainstorming about how to start your own online English teaching business is to build your own tutoring website. This helps your potential ESL learners to check out your services and book your classes easily. 
But starting a tutoring website isn't as easy as it sounds. It involves planning for the project, development phase, testing, and several other tasks; it is truly a hectic process. But, yes, there is an alternative approach to every elaborate task. And that is using tutoring software to build your tutoring website with all features essential to conduct ESL classes.
Pinlearn is the best tutoring software you need when teaching ESL online, as it is built exclusively for independent ESL tutors and edupreneurs. The best thing about Pinlearn is that it combines all the digital tools we have discussed above. It combines a video conferencing platform, online whiteboard, class scheduling tool, monetization, payment processing, and everything you need. It is an all-inclusive online tutoring marketplace software that can help you transition to the online ESL tutoring space. 
Tested and proven tips for teaching ESL online
Let's explore the ESL teaching tips and techniques that can help you run your ESL teaching business like a pro. 
Find your specialization
Being a jack-of-all-trades might benefit you, but not when it comes to teaching ESL online. It is possible to make a living out of your ESL teaching business but to truly grow your online tutoring business into a successful and profitable venture; you must consider specializing. 
Ask your learners what they expect
One of the powerful ESL teaching tips would be to directly ask your students what they expect from your English classes and how they want it to be. Direct feedback from your students can help you create online courses and conduct live English classes just how your students want them to be. 
The goals of each learner would be different; some would be looking to improve their listening or reading skills, whereas others would be preparing for an English job interview. The way you teach students varies greatly on student goals, and hence this part is really significant. 
Invest in good equipment
Teaching ESL online without good equipment is an exercise in frustration. At the very minimum, make sure you have a: 
Good background with proper lighting.

Comfortable sitting space. 

Great quality DSLR and a microphone. 

Fast and reliable internet connection.

Manage time when teaching ESL online.
It is critical to managing your time well when embracing ESL teaching online. Stay organized and make sure you give yourself enough time to prepare the lessons, evaluate tests, create online courses, and interact with your students. 
Don't forget about assessments
Teachers must regularly assess how well their students are performing to tailor the ESL lessons more specifically. Your students might need support in the following areas: 
Speaking

Reading

Pronunciation

Writing

Listening

Grammar

Vocabulary
For example, a student may have difficulty reading, using vocabulary, or using irregular verbs. Make sure you integrate personal assessment along with formal assessment to figure out where a student struggles so that you can improve it.
Conclusion
When considering what tools to use when teaching ESL online, consider the language classes you have conducted previously or attended when in school or college. Learning a language is far more than just learning grammar. It's about learning about a different culture and another part of the world. No matter how young or older your learners are, make the classes fun to keep their attention and spark their curiosity about your classes.
Be encouraging as an ESL online teacher; praise even small improvements of your students to keep up the motivation. Moreover, have some fun with your learners.