Top 5 Online Whiteboards for Tutoring: From Free to Premium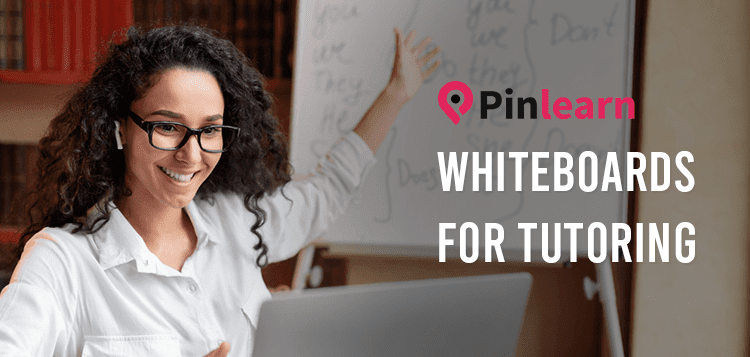 With plenty of online teaching tools now available, like virtual whiteboards, it's easier than ever to deliver interactive online classes. Online tutoring is at the forefront of education, and thus to excel in your tutoring business, you need excellent tools in your tool kit to enhance your tutoring experience. Online whiteboards are a digital version of real classroom blackboards that you can use to write notes during classes, draw diagrams, and interact virtually with your learners. 
Virtual whiteboards make a tutor's life easier
Online whiteboards allow educators and tutors to directly interact with learners through presentations and interactive lessons. With online learning on the rise, online whiteboards are becoming increasingly popular among educators. Research shows that the use of online whiteboards increases learner engagement and makes the learning process more fun and engaging.
So what are the benefits of interactive whiteboards in an online classroom?
Encourages learner engagement.

Makes the learning process more enjoyable.

Accommodates different learning styles.

Clearly explain the concepts.

Makes the structuring of lessons easies for tutors.
5 Virtual whiteboards to simplify your tutoring
There are a number of contexts in online tutoring where an online whiteboard becomes an unavoidable entity. Let's explore some of the best whiteboards you can choose from to complement your teaching.
1. Zoom
Zoom is a popular video chat platform that doesn't require any introduction. It is highly likely that most tutors choose Zoom to conduct online classes. Being free to use and accessible to large groups of video conferencing in a go, Zoom is the primary choice for many. 
Zoom has recently revamped its whiteboard product to work across a broad range of devices and apps. Zoom whiteboard can function as a visual collaboration tool that can serve as a space for remote teams to capture concepts both asynchronously and in real-time. New features include advanced shapes, adding, dragging, and dropping pictures, and sticky notes to highlight important ideas. The software has become more user-centric now, and visual collaboration will remain the main strength.
Here are some of the best features Zoom provides for online tutors to succeed in what they do.
A unified space for efficient collaboration.

Intuitive whiteboard features to simplify tasks.

Enhanced flexibility to manage teams.

Seamless scalability.

Enterprise-level security features. 
The basic version of Zoom is best suited for personal meetings and allows up to 100 participants. There are 3 other price packages for small businesses and large enterprises. 
2. Lessonspace
Lessonspace is a wonderful choice for online tutors who want an all-inclusive online whiteboard that has video conferencing features as well. It comes with a wide range of tools and functionalities, which comes in handy for all types of tutoring. While lessonspace doesn't have a free version, it comes with a free trial. 
Some of the best features of Lessonspace are:
Audio, video, and chat functionalities.

Screen sharing features.

Annotation and drawing.

Special features (To illustrate equations and graphs) for maths and science tutors. 

Unique lesson URL that can be shared.

Supports ZIP export.
Lessonspace is truly a premium product starting at $29.9 per month for its basic version. While the basic package covers many features, the best price package for a full-time tutor begins at $99/ month.
3. Miro
Miro makes a good choice for online tutors looking for a whiteboard choice that is slightly different from the usual options available in the market. Specially designed for users who work remotely, Miro comes with a broad range of tools, templates, and tips that can be beneficial in building dynamic learning content. 
Miro offers several different tools that are available on any online whiteboard. With the free version of Miro, you can utilize the following features.
User-friendly annotation and drawing.

Adding texts, shapes, and arrows.

Easy interface to add comments and feedback.

Screen sharing features and chat functionality.

Easy sharing options for collaboration.
Miro has a free version and other premium packages starting from $8.
4. Bramble
If you are looking for a premium tool, Bramble can be a good choice. The software comes with a broad range of features and tools for a smart whiteboard experience. 
Here are some of the features of the online whiteboard:
Real-time sketching.

Resource sharing of pictures and PDFs.

Live audio and video chat.

Screen sharing and recording of sessions.

PDF exports.

Easy URL access.
Brumble comes with a free plan supporting unlimited lessons and a recording feature. It also has different price packages for tutors and educational organizations.
5. Ziteboard
Ziteboard is a free and real-time online whiteboard that doesn't require any logging in, saving your valuable time. The whiteboard was specially designed with virtual education in mind.
It comes with the following features:
Simple and easy-to-use interface.

Display PDF files in a drag and drop format. 

Feature of locking content on the board.

Audio and video conferencing features

Export functionality to save your work in PDF format.
The free version of Ziteboard allows you to keep 3 whiteboards with limited data traffic, single-page PDF import, no audio/video/text, and just 3 basic colors to use. With the premium plans, you get enhanced quality image import, audio/video/text chat functionalities, and many other features. 
Conclusion
As we go through this pandemic, it is important for us not to let the challenges of online teaching stop us from providing our learners with the best. Adapting the best practices in the realm of online tutoring can be a way to continue improving your learners' potential, and an online whiteboard can be one of the most significant tools every tutors need in their virtual classroom.
If you are looking to equip your online classrooms better, we hope you need a fully-integrated solution that comes with an online whiteboard that isn't just a whiteboard but also has a virtual conferencing solution integrated. That is why Pinlearn is an attractive option because it is an all-inclusive software solution that truly makes online tutoring easy and simplifies the task of managing all users. 
If you are interested in giving Pinlearn a short, you can experience it yourself here or get in touch with us for more assistance.