Key Features in the Online Tutoring Software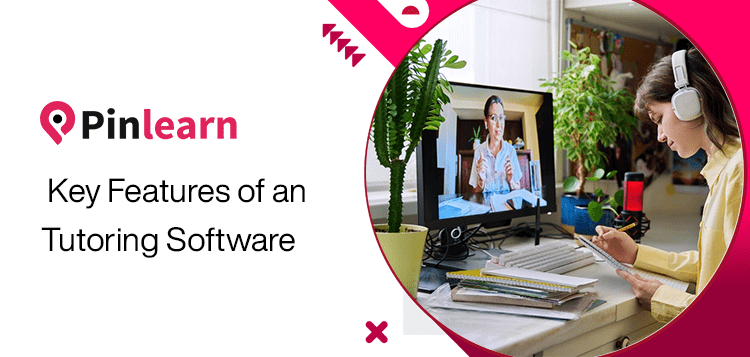 When choosing the right tutoring software for your edTech business, there are many factors to consider. Different software comes with different features, and deciding which one is best for you can be tricky. 
In this blog, we'll look at some of the key features of the best tutoring software, Pinlearn, which helps build an online tutoring marketplace for edTech businesses to power their services. 
Best Tutoring Software Features 
Online learning solutions are essential to keep learners connected with tutors in real time, deliver information effectively and help tutors manage the entire process of running a tutoring business effortlessly and cost-efficiently. 
Let's explore some of the best features of online tutoring software: 
Ability to conduct both one-to-one sessions and online courses
Online tutoring marketplaces these days are competitive and allow tutors to host both online courses and live classes. The online tutoring platform must equip creators with everything they need, from real-time sessions to self-paced online courses. 
Learner management 
Learner management is a great feature of the best online tutoring software. This allows the platform to keep track of students' progress and see how they are doing in real-time. 
Tutoring software with intuitive user management features is important for any tutoring business to monitor students' progress and offer them the best possible learning experience. 
Best online tutoring software must have a student dashboard with all critical analytics and hassle-free navigation across different interfaces. Some of the important features are:
Ability to search, browse, purchase, and manage online courses. 

Book one-to-one live classes or group webinars.

Browse the details of sessions and courses purchased. 

View cancellation and refunds.

Find featured listings of tutors, courses, and webinars. 
Classroom features
One of the amazing features of tutoring software is the classroom or learner management tools. With these tutors, tutors can deliver the best tutoring experience to students and ensure that they are engaged during the classes. 
The best software for tutoring online often comes with a virtual whiteboard that allows real-time communication and efficient collaboration between educators and tutors. 
Some of the cutting edge features for all-round teaching and learning are:
Discussion boards: To build a community of learners to collaborate and clear doubts with other users. 
Quizzing: A tutoring software must facilitate adding quizzes in online courses to assess the learning progress. 
Drip feed content: Allows tutors to enroll learners for long-term online courses and drip feed content based on a schedule managed by the tutoring business. 
Assignments with grading: Allows tutors to give assignments to learners, assess, and share their performance using an integrated grading system. 
Mock tests creation: Tutors can create mock tests for the learners to let them train before actually appearing for the real tests. 
Course points and gamification: This feature allows to make learning fun and engaging by gamifying the learning content.
Certificates and badges: Tutors must be able to provide course certificates and badges to students based on their participation.
Surveys: One of the best features of tutoring software is the ability to create a powerful survey to allow tutors to launch online surveys quickly. 
Class booking and Scheduling: Best tutoring software is fantastic for many reasons, and class booking and Scheduling is one among them. Tutors must be able to schedule tutoring sessions easily and quickly. It must be easy if learners need to cancel or reschedule classes. This feature makes it easy for learners to book sessions with tutors and fit online learning into their already busy schedules. 
Tutoring software simplifies the hassle of booking and scheduling and saves tutors from the trouble of double bookings. Double bookings are the most difficult challenge faced by tutors who manage class booking themselves. Simplifying the most challenging task can help tutors to focus on what's important- Providing the help students need to succeed.
Reporting and analytics: Tutoring software comes with several unique features and benefits, one of which is analytics and reporting tools. Analytics allows educators to track learner progress, identify the areas of improvement, and adjust their classes and teaching methods accordingly. The data reporting will provide valuable insights that can help teachers improve their tutoring techniques.
The tutor management sector must have an integrated dynamic, and robust dashboard with analytics with features like:
Dedicated tutor dashboard in front-end.

Easy to use navigation for hassle-free movement.

Integrated analytics in a graphical interface. 
Best Features of Pinlearn
Pinlearn is one of the best software which is an all-in-one software solution that connects learners with the best tutors in their niche. Pinlearn can help tutors conduct live classes by building an online tutoring marketplace to simplify the entire process of scheduling classes and processing payments. 
The software is a ready-made script that can be customized according to your business needs and is available at an affordable one-time payment with no recurring fee. 
Here are some of the best features of Pinlearn
White label tutoring software
Pinlearn is a white-label solution that helps you build clones of popular tutoring websites like Udemy, Preply, Cambly, etc. 100% access to source code and full customizability are peculiarities of the software. 
One-to-one live classes
Pinlearn makes it easier for educators to conduct one-to-one live sessions. The software has an integrated interactive whiteboard in all live sessions to support knowledge exchange between tutors and learners. 
Group webinars
Teaching a class full of learners has never been this easy. Pinlearn empowers teachers with an interactive group webinar classes and gets paid per participant slot. 
Interactive whiteboard tool
Pinlearn integrates an interactive whiteboard to facilitate a virtual classroom-like environment to support immersive live learning.
Live session recording for later use
Being the best software for tutoring online, Pinlearn understands that every learner has unique needs, and that's why we have added a live session recording feature. Tutors can record live private and group sessions and use the recorded sessions when creating online courses. 
To conclude
Are you considering building an online tutoring marketplace using the best tutoring software? If so, the features covered in this blog should help you make an informed decision. 
Understand that not all tutoring software is created with equal purpose; you must conduct your market research before selecting one. Make use of the free demo to get to know the tutoring software in detail and how it functions before buying it. 
And if you have any questions about building your own tutoring marketplace, don't hesitate to contact us. We can help you find the right tools to build your edTech business successfully.