The 5 Best Tutor Scheduling Software in 2022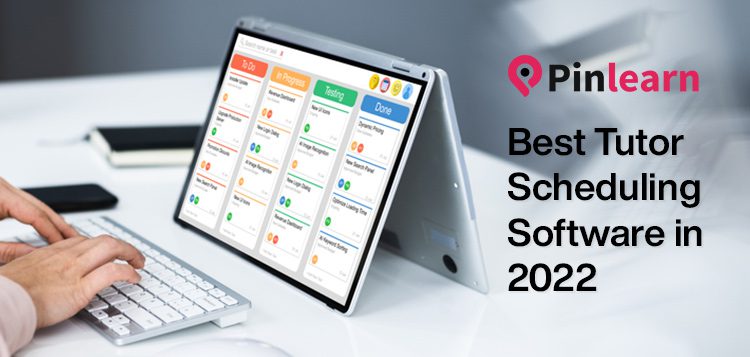 Looking for the best tutor scheduling software to manage and boost your tutoring business growth? You've come to the right place.
Tutoring scheduling software are useful in helping tutors manage their tutoring business. They are used to manage lessons, interact with students, and track students' attendance.
In this article, you will discover the five best tutor scheduling apps that you can use to save time spent on emails or calls to schedule lessons, automate scheduling, and efficiently operate your tutoring business.
Pinlearn
Pinlearn is a self-hosted tutoring marketplace program that assists tutors in establishing their learning marketplace platform similar to Outschool, Verbling, and others.
Pinlearn features cutting-edge technology and a comprehensive API and is simple to configure, even for non-programmers.
The software also offers some amazing benefits for picking their program if you want to get started with your business.
Sell Courses
Self-paced courses are available for tutors to sell. To keep everything organized, they can add subjects and course categories.
Similar to major markets such as Udemy, tutors can design, upload, and sell their courses.
Live 1-on-1 Training
When a tutor logs in, they may see and manage their schedules. They can also use the interactive elements on the site to conduct one-on-one live classes via video conferencing and instruct pupils.
The tutor profiles and subjects are available for parents and students to peruse.
Webinars for Small Groups
Group webinars and classes can be conducted in real-time by tutors. From their tutor dashboard, they may control the entrance costs, themes, descriptions, scheduling, banners, and participant count.
Internal Communication System
PinLearn has a built-in messaging system that allows tutors, students, and administrators to communicate effectively.
Features
Appointment Scheduling

Cancellation & rescheduling

Customizable appointment reminders

Multiple Calendar Sync Management

Admin, tutor, and student dashboard

Course tracking & completion

Course certification

Earnings history

Order history

Progress Reports

Lesson space integration

Mailchimp Integration

Coupons & Discounts

Class progress tracking

Detect tutors start time

Buy 1on1 classes as bundles

Multiple payment gateway addons

DST time detector

Gift a course/webinar

Social media profile sharing

Android/IOS App
Pricing
For a normal site, the pricing plan begins at $699. For the premium site, the pricing plan starts at $1499.
Benefits
The software allows you to quickly get your website up and running.

PinLearn makes it simple to train employees, teach students in schools, provide vocational training, attend live classes, or launch an online learning business like Outschool, Verbling, or Preply.

With a full suite of web and mobile apps, the software is simple to manage and offers lifetime upgrades. It exposes 100% decrypted source code for technical teams to build on top of what Pinlearn already provides.
TutorCruncher
TutorCruncher is a tutoring management software that allows tutoring firms of all sizes to manage tutors, plan lessons, receive payments securely, and more. It has built-in analytics that break down class hours, attendance, revenue, and other business performance statistics, as well as tailored client pipeline features that help drive sales. 
This solution allows you to sell tutoring services on your website, hire new tutors, and display available upcoming courses.
TutorCruncher makes scheduling easier by allowing tutors to apply for new possibilities based on their talents and/ or geographic area, using intelligent tutor-student matching criteria. Repeating courses can be tailored for online and in-person meetings to meet the needs of students and tutors. 
Online whiteboard teaching tools, automated appointment reminders sent by email or text, bespoke feedback reports after each lesson, client journey analysis, and more are just some of the other things that these tools can do.
Pricing
The monthly fee for TutorCruncher starts at $30. The software also has a free version.
Features
Scheduling of appointments

Invoicing and billing

Lesson notes

Class management

Attendance management

Client management

Online courses

Online payments

Student and parent portal

Progress report

Online registration

Student management
Benefits
The main benefits of TutorCruncher include the following:
Businesses can use TutorCruncher to sell their services by linking them to their existing website.

TutorCruncher's integrated payment methods for direct debits and credit cards enable users to charge payments securely and instantly.

Payroll can be automated to ensure that employees and contractors are paid correctly and on schedule.

Users can connect their website to TutorCruncher using plugins like Socket to list tutor profiles online based on data from the TutorCruncher backend.
TutorBird
TutorBird is a web-based tutoring system that assists private tutors and tutoring centers with class management and scheduling. There are a lot of things you can do with the app. You can book and manage lessons from anywhere, send notifications, bill students, track expenses, pay your employees, and even make your branding.
TutorBird helps tutors increase student engagement by sharing multimedia content and offering feedback on course progress. The technology allows administrators to manage many tutors, arrange private and group classes across several rooms or locations, and keep track of attendance. Students can use their portals to access online resources, look at the course calendar, register for open classes, record lesson notes, and look at the course calendar, among other things.
The software works with lots of other apps, like Stripe, Outlook, WordPress, PayPal, Google Calendar, Apple Calendar, and more.
Pricing
TutorBird costs $14.95 per month for one user account and $4.95 for each extra tutor (after a 30-day free trial).
Features
Alerts or notifications

Calendar management

Appointment scheduling

Appointment management

Billing and invoicing

Booking management
Benefits
TutorBird allows centers to keep track of late fees, produce invoices, and accept online payments.

Tutors can use the lending library module to add resources like files or assignments, set up candidate access permissions, and track borrowed books.

It allows tutors to keep track of student learning hours and receive questions after completing the classes.
LearnCube
LearnCube Virtual Classroom is a cloud-based learning management system that is appropriate for both business and educational institutions of all sizes. LearnCube provides live video and audio support, as well as a variety of classroom communication tools, class scheduling, and media sharing capabilities. During online classes, teachers and students can work together via video chat.
A text chat stream, an interactive whiteboard that allows students and tutors to contribute text and freeform notes to uploaded documents, and a virtual hand raise feature are among the other communication options. Online quizzes and examinations with different question formats can be included in courses. Students and professors can all upload PDFs, audio files, and video files.
Pricing
For new users, LearnCube offers a 14-day free trial of the following items. On the website, you will find pricing for the platform's whiteboard, virtual classroom, online school, and APIs.
Features
Course Management

Attendance Tracking

Corporate/Business

Academic/Education

Built-in Course Authoring

Calendar Management

Billing and Invoicing

Breakout Rooms

Blended Learning

Appointment Scheduling

Course Tracking

Brainstorming

Client Management

Content Management

Asynchronous Learning
Benefits
It has an easy-to-use interface, so you can focus on teaching rather than learning how to use online classrooms.

Group and private virtual classroom sessions are available on this online education platform.

Other interactive classroom features of the platform, such as hand raising, virtual ticks, file sharing, an interactive whiteboard, and text chat, make it appropriate for any size class.
Blackboard Collaborate
Blackboard Collaborate is an online collaborative learning tool aimed primarily at K-12 schools, higher education institutions, and government agencies.
To encourage interaction between instructors and students, Blackboard Collaborate provides a browser-based online conferencing solution. It has a classroom chatter feature that allows students to share text, audio, and video content via a chatting platform.
With the interactive whiteboard feature, you can show PowerPoint slides to numerous people at once. You may add or update whiteboard content right from Blackboard Collaborate without having to open PowerPoint.
Users can add photographs, videos, and other items to their profiles to make it easier for other members to communicate with them.
The solution can be used in conjunction with Blackboard Learn to create a full learning management system (LMS).
Pricing
The cost of enterprise access is determined by the institution's size and requirements. The cost varies depending on which flexible plan is best for your organization. A classroom license costs $300 per year, whereas a department license costs $9,000 per year and provides access to whole departments at universities and schools.
Features
Polls/Voting

Communication Management

File Sharing

Brainstorming

Content Management

Discussions / Forums

Presentation Tools

Interactive Whiteboard

Assessment Management

Learning Management

On-Demand Webcasting

Private Chat

Real-Time Chat

Live Chat

Electronic Hand Raising
Benefits
Blackboard Collaborate is an easy-to-use tool for keeping an online class alive.

Using the recording options, tutors can teach an online course, have it recorded, and then post it for students who were unable to attend live to view later.

For asynchronous classes, scheduling individual meetings or sessions for coaching students (especially for speech communication courses) is quite useful and simple to implement, and students can easily attend the meeting by clicking on a link.

It is adaptable and user-friendly for both teachers and pupils due to the file-sharing and screen-sharing possibilities.

Tutors can quickly invite individuals or a full class to a tutorial by sending them the link via email and setting a time limit for entry.

Its classroom chatter feature allows for quick and straightforward communication with other students, and it can be turned off as needed to help students concentrate.
Wrapping Up
Tutoring scheduling software can assist you in creating a difference in your students' satisfaction. This is because students will be able to plan their classes according to their preferences. Hence, the use of online tutoring scheduling software is a requirement for a tutoring firm to go beyond its boundaries.