8 Quick Ways To Find Students For Your Online Tutoring Business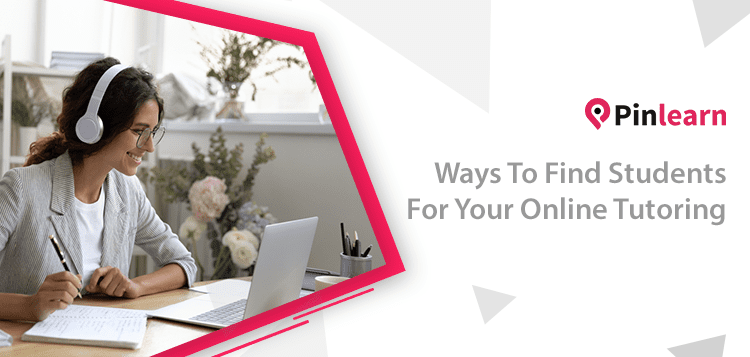 You might be familiar with the phrase, "Easy come and Easy go." This might be true when it comes to finding clients for your tutoring business. Students don't magically appear out of nowhere.
Educators need to find students for online tutoring themselves, but every teacher might be a marketer. The main challenge you might face is you won't get enough students to make online tutoring your full-time career. If you are here, don't worry. Everyone needs to begin from stage one to make their dreams come true. 
How to find students for online tutoring

?
We have compiled some proven strategies you can try out to expand your student base and tutor more hours, and grow a profitable and sustainable tutoring business.
1. Find learners through social media
If you want to find students to tutor, social media is the first place you must start your search from. Everyone is using social media these days, including your target audience. Spamming your friends' pool on Facebook and Instagram with your ads won't do the trick.     
But you can use social media for blogging or serious community engagement. Make sure you post content related to your tutoring business, what makes your service unique, what perks your students get, and the results achieved by your previous clientele on social media to attract new followers.
2. Get students through online directories 
Online directories have been the norm for search engine optimization (SEO) for a lot of time. While it might not be very relevant in the age of advanced AI google updates, you still can get students for your online classes through this.
If you are brainstorming about how to find students for online tutoring, here are many online directories where you can list your tutoring services. This is similar to posting free classified ads, but the only difference is that it's focused on the tutoring niche. 
Note:
Just make sure you choose reputed online directly, most of which are free.

Beware of some website that demands an upfront fee and promises to hook you up with students.

Look for reviews and see what people are talking about these sites before signing up for any of them. 
3. Find learners through SEO
Now SEO is one topic that most educators shy away from due to unfamiliarity. But if you are looking for ways on  how to find students for online tutoring, you must consider SEO. One common sense approach to begin your SEO journey yourself is to find your keywords. For example, if you are an ESL teacher, think about the keywords your blog posts contain. 
Find a phrase that clearly defines you and your services, like "French lessons online", "learn English with a private tutor". Experiment with a few keywords and phrases and look at the search results. If you feel it isn't working, try another combination and see the results. 
4. Create your brand presence through an online tutoring website
One important factor that helps establish the legitimacy of your tutoring services is a professional website that is your learner's first point of contact. The online tutoring platform is the first place where you can run your marketing campaigns especially if you are working hard on  how to find students for online tutoring. 
No matter how small or big your business is, the tutoring platform must have a home page, an about us, a service catalog, tutor profiles, a booking page, a contact form, and a great UI/UX and smooth site navigation. 
Building a website is challenging if you do it the wrong way. But the technology available today allows EdTech businesses to create a tutoring marketplace using online tutoring software which is the best approach to build the website effortlessly and in less time. Leverage professional tutoring software like Pinlearn, a ready-made script with all basic and advanced features where you can host both live classes and sell online courses. 
5. Get tutoring clients through blogging
Blogging is one of the effective ways by which you can find students to tutor. If you are looking for how to find students to tutor, start blogging by writing articles about your professional topic. When people like them, they will share with their peers and discover your tutoring services. Each blog you write is a potential entry point through search engines through unexpected and unrelated searches; learners can stumble to your site. 
You can also extend your efforts to vlogging by creating a YouTube channel where you can create videos intended for your target audience and introduce them to your online classes. This is a long-term strategy for building a professional blog, and a YouTube channel is a powerful strategy you need to adopt to get more people to sign up for your tutoring services and grow your business.
6. Invest in paid ads
Most educators rely on word of mouth to get clients for their tutoring business and to retain them. Word of mouth is sustainable as the first set of learners will tell others, and it goes on. Ask for testimonials from your students, which can help you get more clients in the long run. 
While referrals through word of mouth are still great, you can also invest in paid ads to enhance your marketing technique. Define a buyer persona to promote your tutoring business through search engines and social media. Begin with google ads and Facebook ads, all of which explain briefly to help educators create ads that actually work.
7. Offer demo classes
To bring your tutoring services to your target students, offering demo classes or a free trial of your services is an excellent option. Leverage demo classes as a way to help your target clients understand how your classes work in real. As there aren't any payment commitments, the chances are that your clients can experience and leave an honest opinion about your tutoring services. A demo class serves as an opportunity to build the first impression on both students and parents. Put in your efforts to leave a good impression and drive them to become your clients. 
8. Offer tempting discounts and referrals
There is absolutely no one who doesn't like good discounts. Provide special offers like referral discounts, early bird offers, group discounts, etc., for your learners to get the best deal out of your classes. 
Make sure you connect with your previous clients and get referrals from them so that you can gain new customers easily. When you want to find students to tutor, referrals work great even than paid marketing, as your previous clients will be your great advocates.
Conclusion
Establishing a tutoring business is a cakewalk if you get the basics right. But getting clients for your tutoring business takes time and hard work, especially when you are beginning from scratch. To retain your clients, ensure you provide a tailor-made online tutoring experience to your client. 
Begin by creating an online tutoring platform to simplify online class scheduling and deliver a wonderful learning experience to your students. This helps you to manage your clients efficiently and automate the admin process to simplify multiple tasks.