Finding Tutoring Clients – Know How to Find Clients for Your Tutoring Business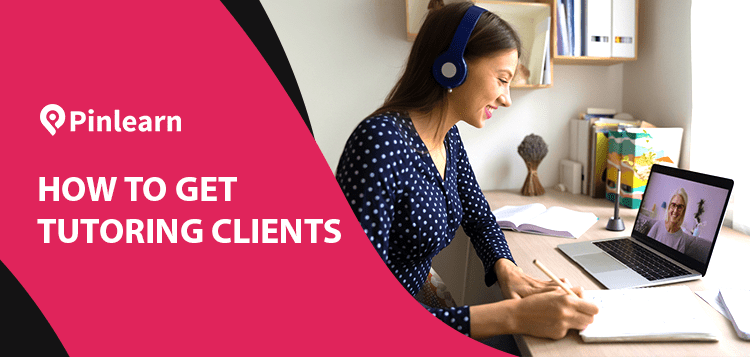 If you're reading this article, there could only be two possible reasons,
You are starting as a tutor and you want to know how to find clients for tutoring


Or

You are already a tutor, you've tried a couple of things to find clients for tutoring, but it didn't work out and you want to change that.
Anyways, you're here now. In this read, we'll be taking a look at the steps that will help you know how to advertise yourself as a tutor and how to find clients for tutoring. 
Tutoring, as a profession has gained huge traction in the past couple of years. With the advent of modern technology, tutors can now professionally grow and make huge revenue by tutoring – you probably know this and that's why you're a tutor.😉
That said, we'll get started with the article. 
P.S. We've also mentioned a solution that can help you build and run your own online tutoring platform.
7 Ways to Finding Tutoring Clients
We can split this section into two. In the first couple of steps, we'll be explaining how to advertise yourself as a tutor. And in the later steps, we'll discuss how to find more clients for tutoring.
1. Claim Your Listing on Google Business Profile
This is one of the first steps to advertising yourself as a tutor and finding tutoring clients – being visible on Google, the biggest search engine. 
Creating a Google Business Profile and appearing on search results can help you become more visible as a tutor, especially when you are looking forward to finding tutoring clients in a specific demographic area. When someone searches, say for example, "tutors in my area" or "tutoring classes", chances are high that you appear on the search results. 
All you have to do is, make sure your Google listing is well optimized and checks all the important boxes. Here are a couple of things you should look into,
Make sure to fill in details like name, address (

if applicable

), website and contact details. 

Add details like category & attributes, products & services, description from your side and questions & answers. 

Add photos that show credibility – customer testimonials, student achievements and anything that could be of help to you. 
Going further, make sure to ask for reviews from your existing students/clients. This can help improve your visibility as a tutor and paves the way to finding tutoring clients. You can create your Google Business Profile here.
2. Get Connected On Social Media
The next step when it comes to how to advertise yourself as a tutor is to create an online presence on social media and connect with students and parents. 
Social media is a powerful space and can help all kinds of professional people and businesses grow and build a loyal audience base. 
As a tutor, it is important that you be present on major social media platforms like Facebook, Instagram and any other platform that's suitable for your niche because there are high chances that you will be discovered by students or their parents. 
Make sure your social media profile is optimized and acts as a conversion machine, 
Have a professional username and add a unique bio that suits a tutor – mentioning what you specialize in and the experience you have would be a good idea. 

Make sure to add your website URL to your bio. 

Include Call-to-Action buttons like

"Call"

,

"Email"

,

and

"Book a Demo"

to increase the chances of finding tutoring clients. 
Once you are done optimizing your social media profile, make sure you stay active on it. Start posting useful and informational content about your courses, infographics about important lessons and more – this improves your authority and credibility as a tutor. The idea is to engage and drive the attention of potential students.
Also, make sure to address all incoming messages as quickly as possible. Because messages left unattended are customers for your competitors.
3. Have a Business Website
Here's the most important point on how to advertise yourself as a tutor – having a business website for yourself.
Remember where we mentioned adding links to your website on your Google business listing and social media profiles? 
Having a business website helps you get discovered more and increases your credibility factor to a great extent. After all, the first question when someone is looking for a service is, where is their website? 
Make sure that your website gives clear-cut information about who you are, what you do and how you stand out. Put simply, make the most out of your website – include services pages, an about us page, testimonials, a pricing page and plenty of options to get in touch with you. 
Speaking of a business website, what if you could make it much better? More like an online tutoring platform like Chegg Study and Skooli? Yes. you heard that right. 
By having an online tutoring platform with sophisticated features, you can easily find more tutoring clients for your business. And here's a solution for you to build an online tutoring platform. 
Pinlearn Online Tutoring Platform Software
Like the title says, Pinlearn is an online tutoring platform software that helps you build your own sophisticated online tutoring platform. You can easily sell courses, tutor students online and do more with Pinlearn. 
Here are a couple of key features of Pinlearn online tutoring platform software, 
As a tutor, you can create, upload and sell courses within the platform. 

Conduct 1-on-1 live classes for students. Built-in Zoom integration & whiteboard, a calendar to schedule appointments make live classes a seamless experience. 

Multiple monetization channels include selling courses, getting paid for tutoring and getting a commission on other tutors' payouts. 

A dedicated tutor dashboard to showcase your bio, skills, the courses you sell and more. 

An intuitive student dashboard that allows students to browse, purchase, look at their appointments, etc.
Know more about Pinlearn features here.
Having for yourself an online tutoring platform can prove to be a great benefit in finding tutoring clients and scaling your revenue. 
The above-mentioned steps come under the part "how to advertise yourself as a tutor". It does also help find students but mostly solves the first statement. Now that you have the basics in place (a good Google listing, well-optimized social media profiles and a sophisticated online tutoring platform), let's look at how you can find more tutoring clients.
4. Leverage Newsletters to Finding Tutoring Clients
Newsletters are an ideal way to stay in touch with your audiences. Not all your subscribers are your customers – they could be someone who shared their email address to get in touch with you or download some resource on your website. 
It's these people who you can turn into your clients. Send weekly or bi-weekly newsletters to potential subscribers with a diverse range of content,
Send recent accomplishments of your students to other subscribers

Information about upcoming events, free webinars, free live classes and more

Information about contests, giveaways and scholarships

Share clients' testimonials about your services and your recent accomplishments as a tutor
At times, you can also send your course syllabus and the outcome they might get by learning from you. Sending out such newsletters can help you stay connected with your subscribers and convert them into students. 
5. Getting the Word Out In the Community
Word-of-mouth marketing is powerful and free. When the word gets out in the community, you'll start finding tutoring clients from untapped sources. 
If you're quite new to the tutoring business, you can spread the word using your family and friends. And if you're already a tutor with some years of experience and you are shifting to an online platform approach, ask your previous clients to get the word out for you. Make them add reviews on your Google listing profile and try getting video testimonials to add to your website – this can help spread some awareness and add credibility to yourself. 
You can also try methods like sending out flyers, creating a listing on classified ads and more. Go creative and come up with ways that will help you spread the word and reach out to a large audience base. It's better if you include booking links in the form on flyers – adding a QR code can be more innovative and helps get the job done. 
You can create flyers easily with Canva, a free online designing software. 
6. Join a Tutor Association
Being a part of a tutor association can help you find tutoring clients. A tutor association is a place where popular tutors are present and being a part of the group will get you more recognized and some tutors may even help you get clients. 
Look for popular tutoring associations online and try to become a part of them. Share the same on your social media platforms, website and newsletters. This helps build more credibility for yourself as a tutor, leading the way to finding tutoring clients. 
7. Offer Your Services at Nearby Schools
We're down to the last way to finding tutor clients. And here, you can consider offering your services at nearby schools. 
The best tutoring clients are the ones you can find in your locality – you can connect easily, be familiar and they, on the other hand, will help you drive more students through word-of-mouth marketing.
Initially, you can offer your services at nearby schools and you'll eventually witness a huge number of students willing to learn from you.
So, those are the seven ways that will help you in finding tutoring clients. Let's head to the final part of the article now.
The Bottom Line
As we already said in the beginning, the tutoring business has grown to a great extent, especially after the global pandemic. And as a tutor, you can grow your tutoring career online and make good revenue with ease. 
Now that you know how to advertise yourself as a tutor and how to find clients for tutoring (and a solution to start your own online tutoring platform), what's remaining is for you to implement these steps. 
Also, since you're here, we thought these articles might be useful for you, 
👉Learn How to Become An Online Tutor
👉How to Advertise Your Online Tutoring Service
👉Learn How to Market Yourself As a Tutor
Once you have the basics set up (google listing, social media accounts, website) and you've learned how to advertise yourself as a tutor, finding tutoring clients is going to be a walk in the park!
Also, feel free to share more ideas for finding tutoring clients in the comments section below. 
Cheers!