Learn How to Market Yourself as a Tutor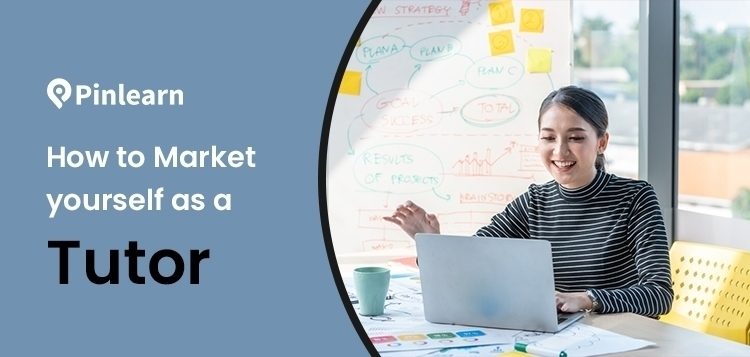 Many parents rely on supplementary learning for both preschooler's and college students. As a result, there's been a demand for private tutors. 
Besides teaching traditional students, the market has expanded to accommodate people who want to teach fun skills. You can find tutors teaching culinary skills, photography, music, and languages.
But the challenge tutors face is how to find clients or how to ensure they are visible enough so clients can find them.
This post will provide tips on how to market yourself as a tutor.
How to Advertise Yourself as a Tutor
With the number of tutors competing for clients, you should seek ways to market your skills. Most successful teachers have many referrals in addition to an online presence.
This implies that whether you teach online or in-person, ensure that people can find your business online.
Below are some tutor advertisement techniques that will help you to attract more clients.
Create a Striking Online Profile
Usually, people search Google when they want to find tutors near them. This is why you need to create an online profile.
A striking profile is all you need to turn the heads of parents and students in your direction. It should include the following:
Before you set out to teach others, it should be something you are already good at. Even if you can teach every subject, no one wants to hire a jack of all trades.
So, make sure you stick to a maximum of 3 subjects.
You must define to who you want to pass on your knowledge.
Do you want to teach grade-level students or high school students? Or do you want to teach adults?
If you claim to teach a subject, you should be able to prove that you can do it. For instance, you had honors in sciences or played a musical instrument professionally for a certain number of years. 
Your profile should reflect any experience or award that qualifies you to tutor others in that subject area.
Don't be shy to state how much you charge. This is one of the first things your prospects will look for so they can know whether your services are affordable.
Now, this doesn't mean that you should lower your price because you want people to choose you. You can always take a look at what your competitors are charging, then set your own rates.
Typically, tutors charge between $17 to $50 per hour or even more, depending on their level of experience.
Get Testimonials
Before people buy products or pay for services, they want to know whether anyone else has done the same. They scout for reviews and decide whether to go ahead with the purchase or switch to another service provider.
Reviews influence choices. So, if you've taught people in the past, this is the time to reach out to them. 
Get their feedback on your skill, then include it in your fliers, videos, or social media pages.
Create Sample Lessons
Creating sample lessons is an innovative way to show students what they will benefit from hiring you. They can be in the form of handouts, lesson outlines, or a chapter of the lesson.
If you create a video lesson, it will help prospects decide whether they are comfortable with you and your teaching style.
You can insert a link to your blog, website, or YouTube channel in the video.
Connect with Other Tutors
You can achieve a lot more with a network of professionals. Joining a community of tutors helps you to collaborate with other tutors and consultants.
If you teach music, a literature tutor can introduce you to a student who also wants a music teacher. 
Also, if you prepare students for exams, such as TOFEL, SAT, GMAT, and GCSE, consultants can connect you to people who require such services.
Although such collaborations may call for revenue sharing, it's still worth trying. Most of the time, you will get several long-term clients from your network.
Organize Free Virtual Training
You aim to get the clients, so organizing a free event won't hurt. Sometimes, people like to have a taste before they purchase.
Use Eventbrite, LinkedIn, or Facebook to advertise the event. When your prospects register, request their email addresses so you can keep in touch with them.
Send them tips or free resources regularly. This way, people will start noticing your brand and build a relationship with you.
When they want a tutor, your name will be the first on their lips.
Utilize Social Gatherings
Sometimes, huge deals are sealed in informal settings. If there is a school meeting or a gathering of parents, do not hesitate to grab your business cards and head down there.
Use every opportunity to connect with people. But do not sound salesy while at it.
Where to Advertise Yourself as a Tutor
In the previous section, I shared some tips for marketing yourself as a tutor. But where you post your adverts is important.
Now, let's see specific places where you can market your skills.
Online Tutoring Sites
Online tutoring sites are dedicated platforms for tutors. When you join, you get access to a large client base. 
Some platforms require you to upload a greeting video alongside a demo of your lesson. Others require you to fill out a bio where you will provide your experience, expertise, and educational background.
Do well to make yourself appealing to prospects whether you're submitting a video or bio.
Some tutoring sites you can check out are:
MyTutor

Preply

TutorMe

Cambly

Tutor.Com

Chegg
Market Yourself As a Tutor on Social Media
These days, if you want people to take you seriously, your business should be accessible on social media.
Some of the most popular social media platforms are Instagram, Facebook, Twitter, LinkedIn, and Pinterest.
Facebook has over 2 billion active users every month. So, if you can utilize this platform, you will never run out of clients. 
You can create an account for your tutoring business on any of the platforms mentioned above for free.
How to Promote Yourself as a Tutor on Instagram
Instagram is an image-based platform. So, you don't need too many words. The pictures should be high-quality and colorful enough to capture the attention of viewers.
You can also post clips of your tutorials and educational pictures. Each post should be accompanied by a relevant hashtag. Hashtags help your posts to gain visibility on search result pages.
Another thing that works on Instagram is giveaways. Who says "No" to freebies?
Giveaways bring all the attention you want. Make sure the participants follow your account and interact with your posts to qualify.
You can offer a discounted lesson session or other privileged services to the winners.
Do not also forget to follow other tutors on Instagram. They are more likely to follow back. 
Also, their followers will be able to see your account and follow you too. This will increase your number of follows and likes.
How to Promote Yourself as a Tutor on Facebook
Facebook is great for personal interactions. But consider keeping your personal account private, then create another one as a tutor.
Your profile picture should be professional, and your bio should contain your educational qualifications and awards, or any piece of information that is relevant to your tutoring service.
The next thing you want to do after setting up your Facebook profile is to grow your followers. 
You can attract people by posting content regularly. It could be educational videos, photos, or educational events that are relevant to what you teach.
Showing up every day to post content is a sure way to market yourself. Over time, people will view you as an inspiring figure in the education community. 
You can also utilize Facebook ads to increase your reach. While you're at it, ensure you follow other tutors to increase your followership.
Join Question and Answer Platforms and Online Forums
Q&A platforms and online forums work well for language tutors. However, other tutors can use them. You can explore Quora, Duolingo, and Reddit.
These forums allow members to offer tips and make recommendations to other members. It's a good way to market your skills and then convert readers into clients.
Students also recommend their tutors to other students on online forums. So, if you can attract clients on such platforms, they will help you spread the word to others.
Advertise Yourself on Your Website
Getting a personal website shows some level of professionalism. When clients hear about you, the first thing they want to do is search for you on the internet.
More often than not, clients take you seriously if you have a website. 
You can also design a professional logo for your website. This logo can fit into your business cards and fliers.
Your website should display your profile, availability, and rates. To increase the number of site visitors, ensure you post educational content regularly.
Conclusion
Being a tutor is beyond being good at what you do. You should be able to show that you're the best.
I shared various techniques that you can use to market yourself as a tutor. And if you're confused about where to start, you can sign up on online tutoring sites or utilize social media and online forums. Better still, set up a personal website.