Unveiling The Path To Becoming A Certified Tutor: A Step-by-Step Guide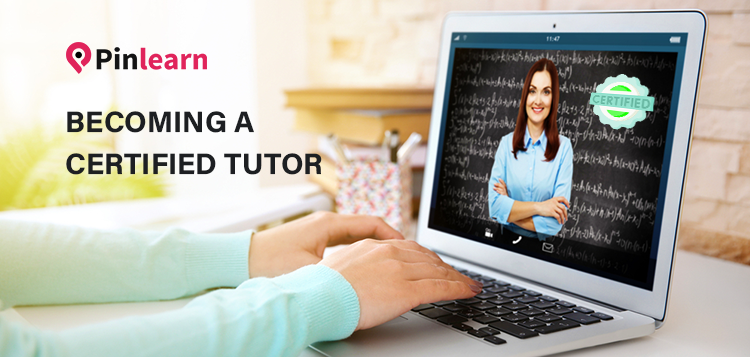 Tutoring and teaching online are popular side hustles because they allow tutors to run their own businesses from the comfort of their homes, set their own rates, and build their own brands while making money.
And there is no shortage of subject matter you can trach. Be it language, contemporary literature, math, history, or even non-academic subjects. 
Online tutoring side hustles are in demand and can pay up to $180, says this article.
If you have know-how in any subject area, there is likely someone or even a group of audience who will want to learn it.
Whether you are just starting out, tutoring full-time, or want to fill gaps in your schedule or take it up as a side hustle, we will help you get started.
How to Become a Certified Tutor?
Let's start with the basics; a tutor is an educational expert who specializes in one-to-one tutoring or group classes. Tutors are of different kinds- they help students with school work, preparing for tests and competitive exams, preparing for job interviews, and with language learning. 
They also offer guidance to students ( of all ages ) to help them improve their academic and professional skills.
Let's get into the main topic: How to become a certified tutor?
The whole journey of becoming a certified tutor online will be different depending on the type of tutoring you re going to adopt. 
Online tutors can be classified into two main types: 
School teachers who take online tutoring as a side job
School tutors who tutor alongside their regular job offer one-to-one- live sessions and group tutoring across different academic subjects to students after their regular school hours. 
These categories of online tutors are generally experienced, qualified and certified in their area of knowledge. 
Private and independent tutors
Private tutors who provide one-on-one tutoring sessions for general subjects and specialized subjects like coding, music, fitness, etc. 
This category of tutors may or may not have certification in their subject area of expertise. However, it is recommended for private tutors to become certified when teaching online as it increases the authenticity of online tutors.
What are the Different Types of Tutor Certification?
If you ask whether an online tutor must take up tutoring certification programs, no it isn't mandatory. But enrolling to any of the tutoring certification programs would always help. 
The certification programs are different in different parts of the country. 
Tutor Certification in the U.S.
For example, in the U.S., you must have to earn a mainstream degree and then earn the certification from the state's department of education; you will have to pass basic skill tests, finish a background check and get some real experience as well to become certified. 
After getting certified, you can find tutoring clients through your state's education system through any tutoring agency, Craigslist, or even through your own online tutoring website.
Tutor Certification in the U.K.
If you are in the United Kingdom, you must join any awarding body like The Tutor's Association (TTA). These boards provide tutor training and assessment programs, which can lead to certification techniques. 
As a next step, you need to complete an accredited Postgraduate certificate in an education program to gain teaching knowledge and valid experience.
Here are some of the other teaching certifications:
TESOL (Teaching English to Speakers of Other Languages): This certification is often pursued by those who want to teach English to non-native speakers.
TEFL (Teaching English as a Foreign Language): Similar to TESOL, TEFL certification focuses on teaching English to individuals whose first language is not English.
CELTA (Certificate in Teaching English to Speakers of Other Languages): Offered by Cambridge English, CELTA is a widely recognized certification for English language teaching.
Subject-Specific Certifications
Online tutors can earn certifications specific to the subjects they plan to teach. 
For example, a mathematics tutor might pursue certifications like Mathematics Teaching Certification or Online Math Tutor Certification.
Online Teaching and Technology Certifications
Some organizations offer certifications specifically for online teaching, covering topics like virtual classroom management and effective online teaching strategies.
With the increasing use of educational technology, certifications related to using various online teaching tools and platforms can be valuable.
National and International Teaching Certifications
Depending on the country or region, there might be national or international teaching certifications that hold value for online tutors.
Academic and Professional Qualifications
Holding an advanced degree in the subject you plan to teach, such as a Master's or Ph.D., can enhance your qualifications as an online tutor.
Tips to Become a Certified Tutor Online
Put together a strong resume
Your resume is the best way to showcase YOURSELF to your potential students so that they get a clear image of you as an Online tutor and your expertise. 
Source a couple of references and start selling your courses with a strong resume that highlights your skills and expertise. 
Choose your skill level
If your goal is to become a certified tutor and recruit new clients, you need to target your tutoring services at specific skill levels. 
Here are some of the different tutoring levels:
Primary school core subjects

Secondary school core subjects 

International qualifications

Language tutors of all levels

Test preparation for different age groups
By differentiating the skill level, you can offer a more specific private online tutoring service than comparing a lot of subject areas.
Pitch your tutoring service
To pitch your online tutoring service, you will have something like an introductory video. This is where you confidently state what makes you an ideal online tutor for someone looking to take up classes for your specialist subject.
Start advertising
Once you have a demo video, you can cut it to suit your target audience, match the requirements of your advertising space and start marketing your services.
The best places to start marketing your online tutoring services are:
In Facebook groups.

On your own tutoring website.

Social media.

On YouTube.

Through Google ads and Facebook or Instagram ads.
How much you should charge as a certified tutor
When you're just starting out, this is the common dilemma you would face
How much should I charge for my tutoring sessions?
I'm a newbie, and I have to settle the deal with a minimal amount.
It is completely wrong to charge less for your services. It isn't either great to start charging high when you are starting out.
So what is a good deal?
The best place to start is to charge according to the value of your tutoring services and the market demand. 
To make it easier for you to decide how to charge for your tutoring sessions, consider the following factors.
Current rates of online tutors in your subject area.

Number of hours you are teaching.

Number of students you are accommodating in a batch.

Are you offering one-to-one private coaching?

Number of subjects you would be teaching.

Grade and level of students you're teaching

The resources (both quantity and quality) you use to deliver your online teaching sessions promptly.

What time zone are you serving, and are you offering classes at odd hours?
Step-by-Step Guide to Become a Certified Tutor Online?
If you ask yourself ' How to become a certified tutor, yes, with or without an experience. Yes, it is entirely possible to start working as an online tutor even with no tutoring experience under your belt.
The key to success is to follow your passion for the success and growth of your students and your online tutoring business.
Here's a step-by-step on becoming a certified online tutor.
Choose Your Area of Expertise
Decide what subject or skill you want to tutor in. It could be academic subjects, test preparation, languages, music, art, programming, or any other field your proficient in.
So, how do you choose what grade level or subject you must teach?
Here's how you can do it:
Consider your passion

– ask yourself what satisfies you about the thought of teaching.
Narrow down your grade level

– A lower grade won't be the best if you want to teach advanced physics. Maybe elementary-level grades would suit your expertise better.
Think about employment and market trends

– Think about what's in demand along with what you are passionate about. 
Evaluate your future goals

– Set future revenue goals or expand your subject expertise and pursue a secondary certificate.
Evaluate your Educational Background
While not always necessary, having a relevant educational background or degree can add credibility to your tutoring services.
Make sure you have a valid degree and consider taking a secondary degree like a master's or adding additional certificates to make sure you offer the best tutoring services to your students.
Create a Profile
Set up a professional and detailed profile on the chosen platform. Highlight your qualifications, experience, and teaching approach. Use this profile to showcase your expertise and attract potential students. Your online tutoring profile must include an introduction or a demo video. 
Here are some of the best practices when creating an introduction or demo video:
If you are running your own tutoring business, you have the freedom to choose your topic, or if you are given a topic, make sure to be focused. 
If you have an idea of how long your lesson should last, make sure you stick to the time limit. Time management is an important skill all tutors need to master. 
The demo lesson need not be a demo lecture; you can integrate ways to engage and involve your students. Make sure you add interesting elements like charts, learning props, etc., to make the class engaging. 
Prepare your space and use props
When you are teaching online, show off your suitable space that is neat, quiet, and free of distractions. If your teaching job involves working with kids, make sure you have a colorful space with fun background and props. 
Certification and Training
While there isn't a universally recognized "online tutoring certification," you can enhance your credibility by completing relevant training programs. Look for courses focusing on online teaching methods, pedagogy, and technology tools for virtual instruction.
Research and find the best Online Tutoring Platforms
There are numerous online tutoring platforms where you can offer your services. Research and choose a platform that aligns with your expertise and preferences. When you are beginning your online tutoring journey, you can start with teaching on an existing platform. But you always have the choice to build your own online tutoring website as well.
The best way to build your online tutoring platform is to use an online tutoring software like Pinlearn. Pinlearn helps you create a customized platform that you can tailor based on your unique requirements. With Pinlearn, you can host one-to-one tutoring sessions, host online courses, host webinars, and successfully run your online tutoring business. 
Conclusion
So there you have it: the guide on how to become a certified tutor online. If you feel you have the necessary skills and can become a certified tutor and help students in your subject area-its not difficult as you might think. 
If you have taken the decision and want guidance on where to begin or how to set up an online tutoring website, reach out to us. Good luck!