Average Tutoring Rates: How Much Do Tutors Charge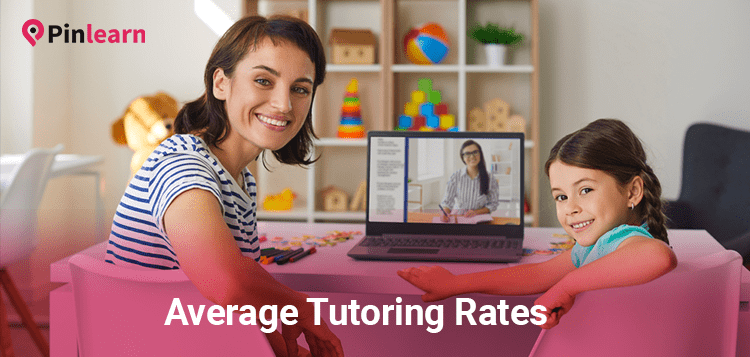 Online tutoring is an excellent side gig to generate extra income by doing what you love the most; sharing your hard-earned knowledge with the world. But when you are running a tutoring business by yourself, the most common doubt you must have is How much should I charge for tutoring.
Pricing is always a significant factor in online tutoring, but it can be hard to know how much a tutor should charge per hour. Given that there aren't any standard rates for online tutoring, rates can range widely.
So how much do tutors charge generally for private tutoring sessions?
The answer to this question can considerably vary based on the academic qualifications, your expertise, and the work experience you hold.
But there are some tips you can follow to ensure you are adopting the right online tutoring rates.
In this blog, we will explore some of the best ways to decide how much to charge for tutoring.
How much should I charge for tutoring
Now coming to the most common question that bothers most educators is, "how much should I charge for tutoring" it depends on various different factors. What are the factors that influence the average tutoring rate?
Demographic of your students
The average tutoring rate varies according to the demographics like age of your learners. For instance, if you are an elementary-level teacher offering tutoring sessions to class 1 students, your tutoring rates will be low compared to a university-level educator teaching college-level students. When an elementary-level teacher charges $20 an hour, an educator offering private tutoring classes to college students on any subject can charge around $50 an hour or more. 
Your academic qualifications
This one is again obvious; you can always charge higher if your academic qualifications are higher than an average online tutor. If you have a master's or double master's, your premium tutoring rates per hour would be justified when compared to an educator holding an undergraduate qualification.
Your tutoring experience
Do you have 5 years of experience teaching in the subject area in which you specialize? Then you can charge more than the average cost for tutoring. Compared to a newbie just starting out with online tutoring, an educator with valid experience in online tutoring and interacting with students has high demand and can charge higher.
The complexity of the subject
Another factor to consider when deciding how much do tutors charge is the complexity of the subject and its demand. An online tutor teaching a very popular subject like English literature will charge less than educators teaching more niche subjects like finance modelling or quantum physics.
It is important to consider the complexity of your subject as some subjects require a lot more preparation than others and demand a higher level of knowledge and expertise to deliver lessons as well.
One-to-one classes and group sessions
If you ask how much do tutors charge, it depends on the type of classes you offer. If you are teaching one-to-one sessions, you can charge higher rates. A general rule is that if it's a group of two students, you can set your tutoring rate per hour to $15-$25 per hour.
If there are three learners in the class, you can charge $12-$18 per hour, and a group with four or more students generally charge about $11 to $17 per student. This way, you can keep a healthy balance between what you can charge and how much learners can afford.
Timing
If you are an online tutor helping students to prepare for exams, you can hike your tutoring rates during the months or weeks before the exam. It is mainly because it is during this time the need for your online classes increases, and you can increase your tutoring rates accordingly. So how much should a tutor charge per hour varies also depends on the timing at which you offer your online classes.
Your location 
The tutoring rates per hour differ from city to city; hence how much do tutors charge per hour also differs. If there is a college near your location, you can charge higher for teaching university students, or if you are tutoring in an area where there is a higher supply of students, your rate must be priced a little lesser as the availability of tutors isn't scarce.
The amount and time of prep needed for lessons
Ask any online tutor: Lesson preparation takes up a major amount of their time. If you have to prepare a lot for your upcoming online classes, you can consider this factor to decide how much to charge for tutoring. 
How much to charge for tutoring
So how much do private tutors charge? Online tutors generally charge between $10 to $30 per hour and even more. The exact tutoring rates varies according to the factors we have discussed, like your academic qualification, experience, age of your learners, and a lot more factors. 
The more niche your subject you are teaching, the higher you can charge your learners. With that said, can you establish a full-time career an online tutor? Yes, you can surely establish your online tutoring business as a full-time career. It is easy for private tutors who have the privilege to charge higher tutoring rates. 
How can I generate revenue tutoring online?
To earn through online tutoring, here is what you can do to ensure you are making as much revenue as possible. 
Charge according to your qualifications or experience
It might seem silly but if you have any academic qualifications and experience in a particular subject, you must offer online classes in the same subject. In this way, you can ask for better pay if you are offering niche subject to your learners.
Offer private tutoring sessions
Your average tutor rate will be higher if you provide one-on-one private sessions. If making more money is your primary goal, put in a little more effort to offering private tutoring sessions rather than group classes to increase your revenue.
Launch an online tutoring website
Building an online tutoring website to represent your tutoring brand is the first step to adopt if you focus on making more money through online tutoring. Not just more revenue, having a tutoring website can help with your branding and offer the best learning experience to your students. Having a tutoring platform simplifies the process of class scheduling, payment processing, and more.  
To launch an online tutoring marketplace, leverage a professional clone script like Pinlearn to build a website to host both live classes and online courses. The white label solution comes with a customizable script to impart a unique brand identity to your eLearning marketplace.
Conclusion
To conclude, how much Should I charge for tutoring greatly depends on different factors which we discussed. Never go too high or too low thinking to earn more clients; instead, charge according to the value of your services. 
We do highly recommend that you conduct your research to find out what other online tutors are charging for online lessons in your subject area. This way, you can get a good idea of market rates and whether or not they are reasonable.