5 Top Edtech Trends of 2023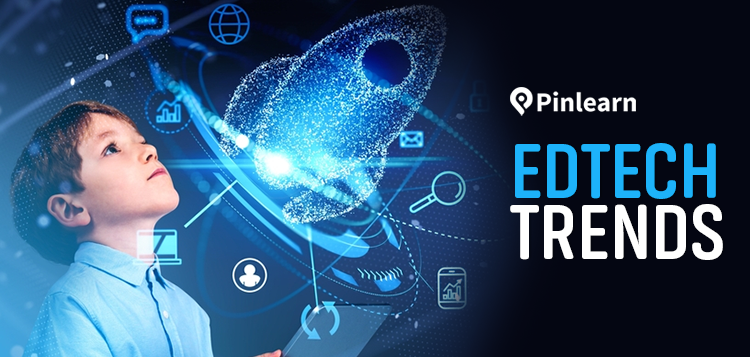 Technology is revolutionizing the education industry by addressing issues related to simplifying learning and making it accessible to all. Not just that, EdTech is clearly enhancing educational outcomes and classroom learning.
Throughout history, education has changed (positively) with evolving modern tech. 
As we enter a new decade, it's time we discuss impending trends we will likely see in EdTech this year and beyond.
EdTech trends to watch out for in 2023
EdTech is a short form of educational technology that introduces information and communication technology tools into the classroom (both online and offline) to create more engaging, inclusive, and personalized learning experiences.
EdTech looks like whiteboards, interactive projection screens, digital note-taking tablets, and student-responsive systems in the classroom. Outside the classroom, EdTech can extend to online educational services that allow students to learn at their pace, learn with instructor assistance, enjoy individual learning, and more.
Now that you know what EdTech is, let's get into 5 top EdTech trends in 2023, which is what our blog is all about.
Microlearning will gain traction
The micro-learning approach trains people through short lessons, which require less time to consume the content.
The reason why microlearning is trending is it relies on small bite-size training sessions enabling learning on the go on any device, not just computers.
Microlearning supports self-paced learning to construct learning paths with a short and informative piece of learning.
Here are examples of microlearning:
Micro lectures.

Explainer videos.

Brief interactive videos.

Text-based animations.

Question quizzes.

Different types of infographics
Gamification will become prominent
Mixing education and entertainment is what edutainment is all about. Though entertainment, like gaming, is believed to be a distraction from education, it can help students learn better.
Entertainment in education can be implemented in several ways, and infotainment will only increase engagement in the learning process.
The medium of edutainment varies from videos, games, online courses, modules, and everything in between. You can learn from here how edutainment is becoming the new learning model.
Community-based learning to gain traction
Community-based learning focuses on strategies educators use to connect young students with the community addressing a common challenge and working towards finding a solution. 
It is a teaching and learning strategy that involves community engagement to enrich the learning experience for the learners with an emphasis on reciprocal thinking.
Integration of Virtual and Augmented Reality
Virtual and augmented reality technologies are being increasingly used in education to provide immersive and interactive learning experiences. These technologies allow students to explore and interact with virtual environments, which can help them learn complex concepts in a more engaging way.
The application of VR can be highly beneficial in scenarios of language learning. For example, students who are learning a language can benefit from "realistic videos" where they can use VR goggles to immerse in the world of language. 
AI-enabled learning will evolve 
Artificial intelligence is getting smarter and is a fast-growing field attracting much commercial and educator interest. Of late, greater attention has been paid to ChatGpt, an intelligent AI assistant developed by open AI.
ChatGpt is a variation on GPT-3 9Generative pre-trained transformer) the largest language model that captures and analyses an enormous amount of text. 
An adoption of AI in offering personalized learning experiences would be Thinkster. This EdTech business helps learners grasp mathematical connections by constantly adapting to their skill level and raising a bar.
If you wonder how EdTech can be used, here is what it can be used for: 
Helping students choose the right educator.

Choose the right online courses.

Adaptive one-to-one coaching.

Automated assessments.

And more!
EdTech applications in different industries
EdTech is an intelligent combination of IT and education with the purpose of improving and facilitating learning. The Grand View Research predicted that the EdTech market will upraise at a healthy CAGR of 16.5% in the 2023-2030 cycle.
EdTech can be used in different environments; let's have a look at the different applications of EdTech in practice. If you are planning on developing an EdTech app, you must look at the features preferred by your target audience, the significance of the solution for them, and, most important, you need to choose the category that suits you.
Children's education
Innovators in the EdTech space have created more interactive ways to engage kids and make learning more fun. EdTech application to suit children's education often comes in the forms of games or highly visual learning. 
Examples: 
Scratch: an introductory programming language designed to help your children understand the fundamentals of programming.
Tinkergarten: Tinketgarten is an EdTech start-up that follows a play-based outdoor curriculum and guides parents in raising capable kids. They conduct weekly sessions and create a rich learning community making purposeful outdoor play doable. 
University education
Higher-level learning, for example, university education, is changing rapidly. A growing number of educators are using YouTube and Khan academy to teach. 
Examples: Online marketplaces like Udemy, Coursera, etc., is designed for instructors to teach people, making learning more dynamic and interactive.
Train educators
There are EdTech businesses made by teachers for teachers. Ranging from platforms specially designed to train educators to apps providing specific subject-based curricula for teachers, the options are plenty.
Example:
Mystery Science: Mystery science is an EdTech product made especially for science teachers to develop curricula to cater to grades K-5. The platform promotes open lessons for hands-on engagement. 
Conclusion 
It is important to check out EdTech trends, but it's hard to predict exactly where EdTech is going. The EdTech industry is one of the leaders in innovative technology and yet the hardest one to scale. 
There is already so much innovation that has occurred, yet there is so much more potential. Pinlearn believes in guiding and assisting socially responsible businesses at the intersection of education and technology. We welcome you to get in touch with you to learn more about launching an EdTech business of your own to revolutionize online education.