How to Build a Cohort-Based Learning Platform?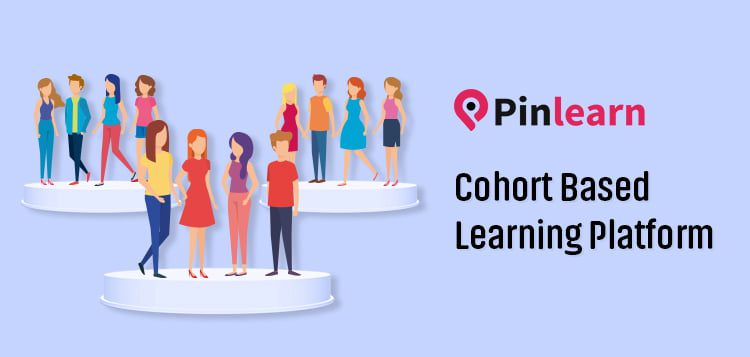 Cohort-based learning is a collaborative learning style where a group (cohort) of students learn simultaneously. This is typical for traditional classroom-based programs where students learn together and work on the same assignment on the same due dates. At the same time, cohort learning can also be used in online learning environments where students learn as a group, facilitating peer group collaboration in live classes under the guidance of an instructor. 
How does cohort-based learning work?
Cohort-based learning is the scenario where a group of students begin learning at the same time and progress through the content at the same time with a combination of live classes from the instructor, group-based studying and collaboration, and a lot more. 
Tutors will create a syllabus with live sessions, assignments, projects, and more for learners. What makes cohort-based learning different is that it greatly emphasizes a group of learners coming together to study the curriculum in real-time so that all of them will complete the classes at the same time.  
Cohort-based course vs self-paced course: What's the difference?
The fact that learners are studying together and its time-bound nature is what differentiates cohort-based courses from self-paced courses. Cohort-based learning presents a more engaging and immersive experience for learners where all members share and understand the concepts as they go. In addition, a cohort-based learning environment increases the chance that learners will complete a course as opposed to self-paced learning. 
Self-paced learning is a learning style in which learners advance through an online course on their own. You will take the course like others, but you will progress through the course on your own, at your own pace. A study has found that self-paced online courses show a dropout rate of over 96% over 5 years. 
While Cohort-based online classes have specific start and end dates and times, students learn on their own schedule in self-paced courses. In a self-paced course, students decide when to start, pause, and complete the course as they are just accountable to themselves. 
Cohort-based learning is great for students to get to know and apply soft skills, which is really important for their leadership development. Completion rates are another metric that makes it clear why cohort-based learning is so much talked about and special. 
Online communities are a great place to foster long-lasting relationships, and cohort-based learning supports that. Without further delay, let's get into the benefits of cohort-based learning. 
Build a network of fellow students
One of the major advantages of cohort-based online learning is the ability to connect with a network of like-minded individuals. Learning as a group prepares every individual to work well with people on their own team. 
Collaborating with fellow learners prepares students for real-life much more than studying on their own. Regardless of the subjects, students can mingle with excellent peers, leading to long-term relationships that can even positively influence their careers. Cohort learning prepares learners to become tomorrow's business owners, best employees, and best team players.
Take advantage of face-to-face learning
Face-to-face learning helps students to learn more efficiently in a familiar environment similar to a traditional classroom setup. Face-to-face learning makes learners feel a part of the community. 
Here are some of the benefits of face-to-face cohort-based learning:
Offers the right stimulation to grasp concepts taught in the class.

Chance to socialize and learn from fellow students. 

Fewer distractions.

Opportunities to observe tutors body language.
Enjoy support from group members and teachers
Support is one of the important aspects, especially in an online environment. Cohort-based learning allows students to communicate directly with tutors and discuss with fellow group members. 
As a result, students will enjoy better learning prospects and will have ample opportunities to receive help when struggling through the course. A research from MIT states that students who worked with their peers during an online course supported each other to score higher than learners who studied independently.
Experience robust structure
Unlike self-paced online courses, cohort-based learning follows a structured routine that involves set dates, times, and deadlines. In addition, learning with other team members will help students to be accountable, encourage them to complete assignments, and help them stick to the structure. For an extremely self-disciplined student, he/she can easily create structure when learning self-paced learning courses. However, for many learners, cohort-based learning would be more suitable and help to get better results. 
Cohort based classes have a clear start and end date
One reason learners struggle to finish an educational program is the absence of a specific start date or end date. However, when you enroll in cohort-based classes, there will be an exact start and end date. This helps students to plan their schedule around the course and know exactly when to finish it, resulting in higher completion rates. 
Cohort based courses have genuine status and recognition
In an online environment, there are a lot of free online courses that lack genuine status and reputation. Whereas cohort-based learning gives students a clear recognition instead of general courses that lack recognition. 
Experience hands-on based learning
As it involves a group, cohort-based learning is often hands-on, which offers excellent benefits to students. Most self-paced courses fail to encourage students to conduct hands-on experience. However, cohort-based learning encourages students to complete certain activities and take them before completing the course. The best thing is that students will have support to learn during the hands-on tasks. 
Learning is bi-directional
Cohort-based learning is bi-directional, where there is a valid exchange of knowledge and conversation between students and instructors. This type of learning often incentivizes tutors to make the learning resources more actionable and engaging for their learners. This, in turn, leads to great quality educational experiences. 
Must-have features of Cohort-based platforms
Cohort-based learning is a great way to teach online courses as it is the best way to create and build a community while helping students achieve their individual goals. But to implement it the right way, you need a cohort-based course platform.
Here are some features tutors will have to look for:
Cohort-based platforms have the tools tutors need within their tutoring software to create seamless learning experiences for students. Tutors need great features like the following to implement their online courses and ways for learners to interact with teachers and other students. 
Polls, Q&As, and discussion boards

Virtual events

Live streaming, recorded videos, and video storage

Paid online courses

Direct and group messages

Student profiles
Look for a Cohort-based platform that has these features and more so that you can customize the experience and use. Native features will help you provide your students with the best experience and spend less time and money in the long run. 
The next factor you must consider is the revenue generation options. When you create and run online courses, you would want to implement multiple payment methods so that your learners can purchase your content easily and you can make some income. 
Here are some revenue streams you can implement.
Paid memberships
If you want to provide cohort-based online courses to your students, you can consider offering paid membership. It allows you to charge your students a recurring fee to gain access to your online classes and the community. 
Paid live events
Another option to monetize is conducting a live event that learners can pay to attend. Conducting paid live events is a great way to increase your brand exposure and bring new learners to your online courses. 
Cohort-based online courses help tutors to create a dedicated community space for students to communicate and collaborate. Why is that significant? Fostering a community is the best way to keep learners engaged with your content even after they complete your online course.
In addition, you will have a dedicated community space where students can utilize discussion boards and private chats for efficient communication. Community space will also allow students to clear their queries, tutors to ask for feedback, highlight student achievements, results, and a lot more. 
Building a cohort-based learning academy using Pinlearn
If you want to implement cohort-based learning, you will need to build a cohort-based learning platform that will grow with you on top of providing all the essential features you require. Pinlearn helps you with the same! The powerful tutoring software will help you create your live online academy to schedule live group events with students. 
Pinlearn helps with the following:
Build your cohort-based online academy– To create, manage and sell cohort-based online courses. 
Engage learners with activities- Manage learners' activities and provide an active learning experience.
Grow and manage student community– Build a community around cohort online classes to connect students with tutors and with each other. 
Build course curriculum: Schedule live classes or upload videos and other learning content. 
Collect payment: Set the price of cohort-based classes and collect payments. Manage all the class enrolment processes from a single dashboard.
Zoom integration– Conduct virtual live classes and synchronize appointments with Zoom. 
Watch your academy grow– Analytics and revenue tracking to manage all the online activities from the dashboard.
Pinlearn also allows you to run self-paced online courses along with live classes in the same place under your own tutoring brand.  
Conclusion
Although online learning is quickly growing over the last couple of decades, the lack of quality content fails to produce an effective learning environment. However, when online learning is combined with traditional learning aspects like the involvement of an instructor, live classes, a structure, socializing aspects, and more, it becomes easy for learning to achieve optimum growth and success. This is exactly what Cohort-based learning is all about. 
We have covered everything tutors need to know about cohort-based learning. So the next step to adopt cohort online tutoring is getting started. So what are you waiting for, get ready to create your cohort-based online platform. If you need any further assistance, get in touch with us.