Where Can I Sell Online Courses? 6 Options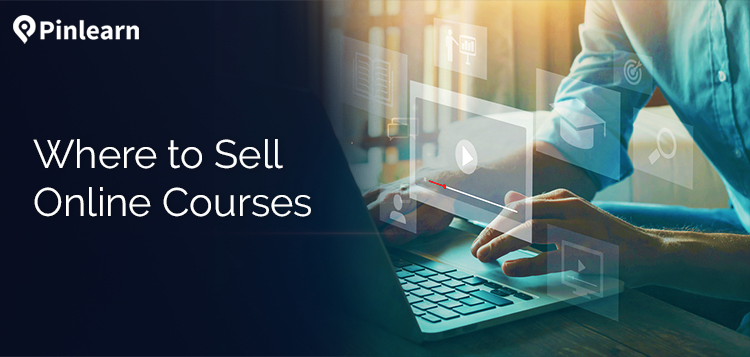 By 2028, the global EdTech market is expected to reach $230 billion, which indicates the demand for online courses isn't going to come down soon. 
So, if you have a skill that you can use to impart knowledge to people, now is the best time to start selling online courses to making money.
Today, anyone who wants to share their in-depth knowledge of a topic with the world, build a community, earn income, and grow a business can accomplish it by selling online courses.
But it takes a robust setup to host online courses, sell them to the right audience, process payments and promote the courses. 
But where to sell online courses? 
In this blog, we have compiled the list of 6 best platforms to sell online courses.
Where to sell online courses
Choosing your course hosting platform is a critical step as it determines your students' overall experience. More than just a place to host your online courses, it is the home to your content, it is the face of your course-selling business and the platform where you build and nurture a community of learners. That is why you have to choose your course-selling platform wisely. 
There are different online course platforms to choose from that offer a broad range of features. Here is the list of the best platforms to sell online courses that we suggest. 
1. Pinlearn
So, if you are looking for where to sell online courses, you need the perfect solution to host your online courses. Pinlearn is more than simply a course platform. It is an all-in-one exclusive software built with online course creators, coaches, and entrepreneurs in mind to help them build a course-selling marketplace. 
The solution can provide you with all the essential features and functionalities necessary for providing your students with a full eLearning experience. What is better than selling online courses from your own website? 
Pinlearn is a white-label solution that enables users to create, design, and sell online courses and host live sessions. 
The best part is that Pinlearn is customizable according to your unique needs, and that too for an affordable price.
Yes, Pinlearn is a premium product at a non-premium price! 
Pinlearn comes with a wide array of impressive and powerful features, including:
The white-label features allow you to promote your work under your brand.

As the best platform to create and sell online courses, Pinlearn allows you to monetize courses through.

Comes with impressive add-ons for every business to cater to varied needs. It helps to make the business stand out with impressive features that can be implemented with Pinlearn 

add-ons.

 

Pinlearn allows educators to create both free and paid courses and create discount coupons as desired.

It features a detailed and dedicated dashboard with all critical analytics with a list of uploaded courses and analytics of students enrolled for both free and paid courses.

Pinlearn has an admin course manager that allows the admin to control the course management software to approve and reject courses created by tutors, preview course details, and set up commission percentages for courses.
2. Teachable
If you are wondering where can I sell my courses online, Teachable is a platform to create and sell online courses without managing any software. 
Teachable is ideal for beginners but can work well for intermediate course creators as well. It does all the work streamlining the process of getting your online course live, saving you the time you would spend on coding, copywriting, marketing, and selling courses.
Here are the features Teachable offers its users:
Teachable hosts all course content in the cloud, giving students easy access without bulky software installation. As Teachable hosts all the content, you don't need a website to start building your course.

Features a collection of free basic templates to design online courses and webinars.

Teachable allows users to leverage a provided domain or connect to their own. 

The pricing plans depend on the total number of transactions you will need. For example, you won't be charged a transaction fee based on the number of courses you offer but rather on how many people buy your course. Scaling your course platform with teachable is rather expensive.
3. SkillShare
Another popular online course-sharing platform and marketplace that allows educators to craft courses through the platform also has other categories like writing and business. 
Skillshare is a membership website with a monthly payment, giving learners access to all classes, tutorials, and course content. The platform doesn't offer one-to-one classes, and most learners are interested in design projects that foster inventiveness.
But the platforms own your course and will sell it, paying you according to the minutes viewed by learners. It doesn't count the number of users who sign up for a course.
Here are the features that Skillshare offers: 
The platform is home to a community that comprises students, professionals, and even professors who share their expertise and make up a sizable, vibrant community of students. 

Skillshare allows educators to teach through interactive video lessons that are simple to follow. 

Ability to conduct workshops for two or three shared classes according to your schedule.
3. Udemy
One of the largest online learning platforms out there is Udemy, which offers over 2 lakh courses to more than 62 million learners. It is the vast marketplace for learning and instruction, offering access to thousands of courses produced by independent course creators.
One significant feature of the platform is that it's neither a pay-per-month platform nor a website plugin. Rather, Udemy is an online course-selling marketplace that works under a complex payout and fee structure for course creators, which includes revenue shares, referral fees, marketing fees, and percentage cuts to host your courses on their website.
Some of the attractive features of Udemy are as follows:
Supports video course content and different lecture formats.

Udemy has an exclusive service for businesses to empower them with relevant knowledge with content taught by expert educators.

Udemy comes with over 3400 different topics and over 60k educators creating their own unique courses on the platform.

The platform allows educators to sell certificates showing the accomplishments of learners.
4. Gumroad
Gumroad is an online course marketplace like Udemy with significantly fewer commissions and boasts a sufficiently large user base and decent traffic. 
The platform allows course creators to upload and start selling online courses for free. Educators can sell anything from video courses to PDFs, excel sheets, and PPTs.
The promise of Gumroad to its customers is that you can sell anything you want without the technical expertise and risk of building your own platform. 
Here are some of the features of Gumroad you can benefit from:
Allows course creators to build a storefront and customize the look and feel.

Creators can also use their own website under a custom domain under Gumroad.

Product set up to showcase digital products, lessons, newsletters, physical products, eBooks, podcasts, and more. 

Affiliate marketing network and mobile application.
5. Podia
Podia is an excellent course creation platform for educators to create online courses and sell memberships. The platform allows educators to host your website for a monthly fee, where they can fully customize the design.
Podia can be a great choice for new course creators with a small following that will respond well to their branding because it involves minimal commitment. 
However, it comes with a significant limitation you don't create your own website, and educators can't create unlimited online courses on a free or basic plan.
Here are some of the best features of Podia:
Course creators can build video courses and drip-feed them to your learners. 

Create packages and sell them to potential customers. 

Features some interesting marketing tools to promote lessons, but these are limited to your payment plan.

Allows educators to create automated email campaigns to help connect with the audience. 
6. Ruzuku
Ruzuku is a platform for passionate expertise to create online courses and learning communities. Popular for its neat and professional look, the platform has many resources to help educators set up and launch online courses.
The platform enables educational organizations to upload online courses, track their performance, and efficiently manage monetary transactions, facilitating better learner-professor interaction. 
Here are the features of Ruzuku you need to know:
Easy course setup reduces the time and effort needed to get your course up and running. 

Helps to set up and configure different course content types, including quizzes, videos, lists, etc. 

Comes with course analytics to track student progress through the courses. 

Boasts a flexible subscription system paid on a monthly or yearly basis.
Start selling your online courses with Pinlearn
Choosing the best platform to sell online courses is crucial in your journey as a course creator. If you wonder where to sell online courses, the best platform is the one that meets all your unique requirements and comes with features that allow you to sell your courses in the most efficient way on a budget that matches your preferences.
Each platform we have discussed here has its unique strengths and weaknesses, caters to different needs, and serves different purposes. 
If you are looking for the best platform to sell online courses, Pinlearn is a flexible and cost-effective choice to build your online course platform or marketplace to sell your online courses and build a community.  
One significant thing about Pinlearn is that it is an all-in-one tutoring marketplace that offers all basic course selling features, including additional tools for course management, learner management, admin management, hosting live classes, integrations and add-ons, and more. 
Here is what you get when you partner with Pinlearn:
100% open source code for complete ownership of the platform.

Ability to customize to impart a unique brand identity to your online course marketplace. 

Freedom to choose your own hosting solution to completely control your website.

Quick deployment and easy migration

One-time purchase with no recurring monthly or annual fee.
Conclusion
Remember, the best course-selling platform is the one that makes it easy for you to create, manage, and sell your course, providing a seamless teaching experience for you and a great learning environment for your students. 
Take your time, perform your research and select the platform that feels right to you. Choose the platform wisely, create your courses with passion, and you will be on your road to success. 
If you need any guidance, Pinlearn is here to help you get started.