How Does Outschool Work- Outschool Business Model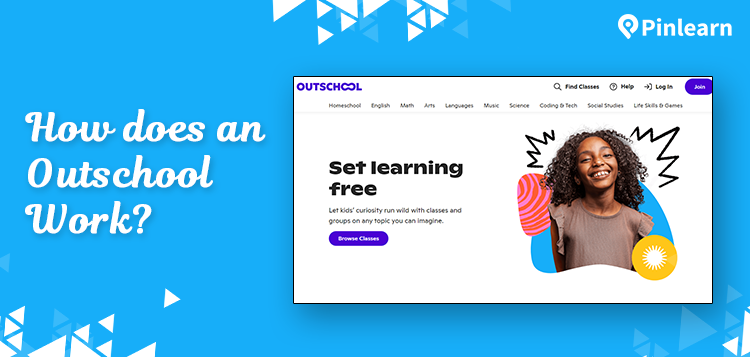 EdTech is receiving exponential attention and funding, thanks to the COVID-19 pandemic that revolutionize EdTech. Since then, innovative EdTech companies have found ways to thrive in an environment where most learning happens via the screen. 
If you are on Instagram or Facebook, and if you are an educator looking for online tutoring opportunities or a parent, chances are your news feed is inundated with ads from Outschool. 
You might have probably scrolled by or glanced at it. And I know you are more curious about knowing how Outschool works as you have landed up on this blog. 
What is Outschool?
You may be wondering what is Outschool and how it works. 
And if so, hold on. 
The more you know about how does Outschool works, the more you will be impressed with the business model and how tutors can make money on Outschool by teaching online classes.
Founded in 2015, Outschool was built to offer supplemental learning for homeschooled kids. But with the pandemic in full swing, the platform expanded itself to grow as a source of learning and social interaction for kids of all ages and all types of schools. 
The online platform hosts over 140,000 online classes around tons of subject areas in different themes for kids of age group 3 to 18 years. 
Parents can discover fantastic interactive online classes to suit kids' interests, whether they are looking for escape rooms, dance, reading, Fortnite, or the world's wonders. 
How does Outschool work?
Outschool is an educational platform that connects teachers of any subject with young students worldwide for various engaging small-group classes online. With Outschool, kids get the opportunity to explore their interests through live interactive videos by experienced educators.
Not only can kids learn with Outschool, but it is also a website that creates a space where teachers can make money from their creative passion. Tutors can create an online curriculum for 1-to-1 classes and small groups on topics they have expertise in.
In Outschool, teachers offer classes through Zoom and a wide range of subjects. It is primarily for homeschooling parents; they can enroll their kids in classes and pay based on the enrollment. For example, you can make a small payment of $5 or $6 for a single session. The average time for each session comes around half an hour but could change based on the class type.
Kids can also enroll for weeks or semesters that range from a couple of weeks after paying the fee set by the teacher. Outschool also offers the facility of drop-in clubs, which offers weekly subscription classes which follow asynchronous learning.
Outschool business model- How it makes money
Outschool, as you might have understood, follows an online marketplace model where it connects teachers looking for tutoring students with students who want to enroll for after-class lessons. 
But how much does Outschool take?
The platform deducts a commission of 30% which counts as a service fee and gives tutors 70% of what they have charged for the class.
The primary source of an online learning marketplace like Outschool is the commissions they earn from allowing teachers and students to host and purchase online classes. 
What type of classes does Outschool host?
The class topics on Outschool are super broad; there are online classes on dancing, painting, singing, mindfulness, gaming, pets, chess, guitar and even astronomy. And if your kid is into cartoons like Pokemon, several classes have interesting themes and concepts.
There are classes on subjects including English, math, arts, languages, Science, music, social studies, homeschooling and life skills and games.
Who Can Teach on Outschool
Outschool is open to both individual teachers and organizations. The platform doesn't require formal teaching experience; educators who can offer rewarding classes based on their interests and expertise can offer lessons. Outschool performs criminal background checks before you can host the first class. 
Most teachers on Outschool are either Ph.D. holders, experienced teachers, or retired professionals, while others have exceptional experience in teaching kids. 
In short, Outschool is a platform for educators to combine passion with practical business.
Besides individuals, educational organizations which offer after-school classes, theater programs, summer camps etc., for students can provide connections with families and kids through Outschool. The platform allows camps and organizations to bring their classes to learners all over the world through Zoom live online classes.
Here is a summary of the requirements for teachers and organizations to enroll in Outschool.
Organizations must hold a business entity license. For example, sole proprietorship, INC or LLC. 

Organizations that have at least two tutors who already teach on Outschool. 

Belong to the following countries: the United States, Canada, Australia, New Zealand, England, or Wales.

Teachers must be above 18 years old.

Teachers must have one or more expertise in the subject area they teach.

Must be familiar with running online classes.

Must pass a background check, ID verification, and criminal background check. 

Good command of written and spoken English
How Much Do Educators Make on Outschool?
An educator who is an expert in a given subject area makes around $60 per hour on Outschool.
But tutors' salaries on Outschool vary; the amount is just an estimate. 
So now, getting into the Outschool business model, let's see how Outschool tutor pays works. 
Outschool pays their tutors twice a month through PayPal. Payments are made according to the number of students enrolled in the class and the length of the class. 
Teachers can price the classes how they want, but it is recommended to quote the classes between $10 and $20 per hour. Once the payment is made, the platform deducts 30% of the amount as a service fee and pays the teachers 70% of the enrolment fees based on the number of learners enrolled.
The total amount an average online educator earns on the platform entirely depends on the hourly pricing and how many students signed up. Online teachers on Outschool can allow students to try out a trial class for $20 or less. This allows students to get a feel of the quality of classes before signing up.
Outschool also offers a referral program where teachers can earn additional revenue by referring other tutors to sign up and tutor with the platform. 
Really the sky is the limit for tutors with Outschool.
Outschool class sizes and how much does It cost for kids
One-time classes on Outschool costs as low as $5, and the 10-week-long classes can cost around $100 to $600. Educators can set their prices, which can vary according to the kids' age, subject range and total time taken. 
Now coming to the class sizes of Outschool, classes are capped at 12. 
Here is a brief of Outschool class size:
For kids aged 6 and below Maximum of 6 learners in a class.

Kids aged between 6 and 12 years: Maximum of 9 kids.

Kids aged 12 and above Up to 12 learners in a class. 

And there 

are flex classes

 that don't have scheduled meeting times. The total strength of a flex class can go beyond 12 students.
And now, coming to the technology required, you can use the platform as long as you have a stable internet connection. Outschool can be accepted on laptops, tablets and even on smartphones. 
It works on all major web browsers and leverages Zoom for live online classes. Teachers will need a high-quality webcam, microphone, and a solid internet connection.
Teachers can interact with kids in real-time and through chat as well. Depending on the tutors', students can use the hand raise function or ask questions in the chat. 
Teachers need to film the classes so that they can access them later. Parents and students must note that children and their names will be a part of the recorded sessions. But the platform has a disclaimer that recordings must be downloaded and shared.
How to build a learning platform like Outschool?
Considering the acceptance and popularity of parents towards our school, we anticipate the demand for such a learning platform to be high in the coming years.
And an Outschool business model would be a perfect choice if you want to build a full-fledged business.
For teachers looking for a side gig or a full-time career choice, Outschool could be a better resort. This is because the platform takes a commission of $30 from the revenue earned by the teachers. You can't keep all your hard-earned money by yourself.
The best solution to that is to launch your own platform like Outschool using readymade scripts to kick start your entrepreneurial journey effortlessly. Pinlearn is a 100% whitelabel online tutoring software that comes equipped with best-in-class tech to build a tutoring platform like Outschool hassle-free.
Here is what you are signing up for when partnering with Pinlearn:
100% independence and ownership
You get complete ownership of the script to build and grow your EdTech business on your terms. 
Buy once and forget about recurring monthly or yearly fees. You get a lifetime license for an affordable price.
Readymade script yet customized
Pinlearn is a online tutoring software that can be tailored to meet your business requirements and how unique it might be.
Quick deployment and easy migration
Pinlearn can be deployed quickly and can be migrated seamlessly.
Conduct, sell and manage live classes and online courses
With Pinlearn, you can schedule both live classes and sell online courses, making it easy to schedule classes according to the student's interest and availability. This includes one-to-one live classes, group webinar classes, and online courses. 
The platform owner or the admin has the authority to set commissions of their choice. He/she earns a percentage of the revenue earned by teachers on the platform.
And More!
Conclusion
Outschool is great for a family that needs supplement learning and for homeschooling parents. From an online teacher's point of view, the platform is a great place to offer children a unique learning experience tailored to their interests and learning levels while earning a side income for themselves.
I hope this blog answered every question you had in mind. If we missed something, you can drop your feedback in the comments. 
And if you are a tutor or an entrepreneur who the Outschool business model inspires, we can help you on creating an online tutoring marketplace like Outschool.
All you have to do is get in touch with us. A small interaction might make a big difference.