How to Start An Online Coaching Business
Building an online coaching business is something that has become inevitable these days.
Yes! You heard that right!
The internet is becoming an increasingly sophisticated space allowing advancements in all kinds of sectors. And the EdTech sector is undoubtedly one of the most benefited sectors.
One other reason that has made building an online coaching business inevitable is how the pandemic changed the normal into something unexpected. Person-person social interactions aren't encouraged like before – well, at least until the pandemic ends! 
This eventually paved way for the boom of the online coaching business. And many individuals are coming up with their own online coaching business to provide services like teaching, fitness coaching, relationship management coaching and more. 
Also, many other people want to know how to start an online coaching business! 
If we're right, you're one among them too! And guess what? You're at the right place! 
In this read, we've come up with the steps that'll help you start your own online coaching business. We've also covered other important stuff like the best online coaching niches, popular online coaching business models and more. 
So, let's get started with the benefits of starting an online coaching business, shall we? 
5 Benefits of Starting an Online Coaching Business
Speaking of the benefits you get when you start an online coaching business, there are many! We didn't want to pin you down by listing them all out, which is why we've mentioned the most prominent ones here! 
1. Very Low Investment Cost
Like the heading says, the cost of building an online coaching business is meager when compared to running a coaching center. The only thing you're going to need is a website with a set of features for your online coaching business.
And if you're offering ready-made courses, many free tools will help you create a highly sophisticated course. 
Note: The investment cost depends on the approach you choose to build an online coaching business. We'll look at this in the later sections of this read.
2. There's No Cap on Revenue
Unlike other 9-5 jobs, you don't have a cap on how much you can earn. The revenue potential is unlimited and it all reflects how hard you strive to grow your online coaching business. 
Imagine getting 1000 students/clients on board! That particular month's revenue is going to be spectacular! 
Though you'd have to start with very little or no revenue, down the lane, you're going to make significant revenue! 
3. Coach Globally By Being Anywhere
This is one of the most incredible benefits of building an online coaching business! 
Starting an online coaching business means you can teach any individual from any part of the world as long as they have a stable internet connection. A lot of people have been greatly benefitted by learning virtually so far! 
4. Personal Freedom
You don't always have to be glued to your PC or generate monthly reports and send emails. Of course, there's going to be work, but here, you're doing it for yourself! 
You can choose to accept/reject coaching sessions as per your choice and you don't have to reason it out to anyone!
If that's not freedom, we don't know what is!
5. You're Building An Asset for Yourself
Building an online coaching business is building a long-term asset for yourself. 
In most cases, you're going to be the face of your business and this can help grow yourself as a brand, creating the pathway for new opportunities. 
Or, if you're planning to run a coaching marketplace-like model, you're building a sustainable business for yourself! 
Either way, the benefits are going to be nothing short of extremely rewarding! 
So, those are the benefits you get when you start an online coaching business! We see you getting motivated😉!
Now that you are let's head to the next part of the read! 
Profitable Types of Online Coaching Businesses 
If you've already decided as to what niche your online coaching business is going to be, well and good! But if not, this section can help you out! 
We've mentioned the most popular (and profitable) types of online coaching businesses here! 
1. Health/Wellness Coaching Business
Reports state that the health coaching market is expected to grow over to a massive $7 billion market by the end of 2022. 
The Health/wellness sector is always one of the most profitable business sectors. And the pandemic has pushed this to a whole new level. 
With most people staying indoors due to the curfew, they are tuning online for health-related consultation and fitness coaching. 
Some of the renowned doctor consultation businesses today are iCliniq, Plushcare and more. 
If you're a fitness specialist or a nutritionist, you can start your own online coaching business and start training people – it's as simple as that! 
2. Financial Coaching
It's funny thinking how the pandemic has changed the way people think and act
No wonder most people need financial advice at one point of time in their life and the pandemic has made people look for expert advice to manage their finances. 
Starting an online financial coaching business could also be a good idea these days! 
3. Digital Marketing Coaching 
Digital marketing is becoming the skill of the decade and every direction you turn, there is a person who is willing to be a digital marketer! 
If you're not willing to cover the entire spectrum, you can concentrate on specific topics like content marketing, social media marketing, online reputation management and more. It's totally up to you! 
There's potential and there's competition as well! So, it's up to you to decide! 
4. Education Based Coaching
Apart from learning what is taught in school, it's always good for students to get extra coaching.
You can teach specific subjects like math, science, logical reasoning and more. Or you can also train students to attend specific online exams like IELTS, TOEFL and more. 
5. Spiritual Coaching
If you're an expert in this, you should definitely go for it! 
You can offer coaching for individuals to find inner peace, meditate, reduce anxiety and more. 
If you're a great speaker and have proper qualifications, this could be an excellent online coaching business idea for you!
6. Skills Coaching
Any skill you're an expert in and if you think that's a skill people need to learn, you can start your own online coaching business! 
It could be anything — photography, life surviving skills, dance, chess, and more. 
Like we said, any skill you think is important can be a profitable online coaching business idea! 
It all depends on your marketing activities and how hard you work!
We're pretty much done here! Let's move on to the next section of the read!
Types of Online Coaching Business Models
Once you are done choosing a nice for your online coaching business, it's time you choose the business model! 
There are a lot of online coaching business models out there! You have got to choose the best one that works for you!
We've listed and explained them for you here!
1. One-One Online Coaching
This is how most tutors start initially and so should you!
The reason why you should go with a 1-1 online coaching business model initially is because you can give undivided attention to your clients. Since you're just starting, you can get used to coaching people online and be an expert after a couple of months. 
On the other hand, individuals who you coach appreciate the efforts and attention you give. You can use this as an opportunity to get reviews and testimonials from them – it helps with increasing awareness of your online coaching business.
2. Group Coaching
Once you are ready and experienced giving 1-1 coaching, you can switch to the group coaching model. 
Here, you'll be giving coaching sessions to a group of people unlike the previous model! 
Going with the group coaching model doesn't mean you have to give up the 1-1 coaching model. Certain individuals prefer learning in private. 
You can still offer 1-1 coaching sessions for an increased price – it's a win-win situation here! 
3. Programs and Courses
Once you're an expert in offering 1-1 and group coaching sessions, you can convert the same into a course and start selling it on your website. 
You can sell your courses at a lower price when compared with the coaching sessions. 
Letting your website audience choose from multiple options makes it a sure conversion! 
4. Membership Site
When you've grown enough and a couple of people online start recognizing you, you should consider starting a membership site! 
Though this business model is more profitable, the work that comes along with it is equally challenging. You have to produce content more often for the subscribed members.
Unless and until you're very confident, you should not opt to go for this model!
Based on the level and knowledge you have, you can choose to opt for a particular model! 
You now have an idea of what niche you're going to choose and the popular online coaching business models. 
It's time we look at how to start an online coaching business!
How to Start Your Own Online Coaching Business
Before we look at the steps to launch your online coaching business, you need to know the features your online website should have!
Features Your Online Coaching Business Should Have
Clean UI/UX – Your platform users should get a clean online learning experience. Make sure your online coaching business website is clean and easy to navigate!
Seamless Login – Also, the login should be a memorable experience – in a good way! You should give your users the option to login with social accounts.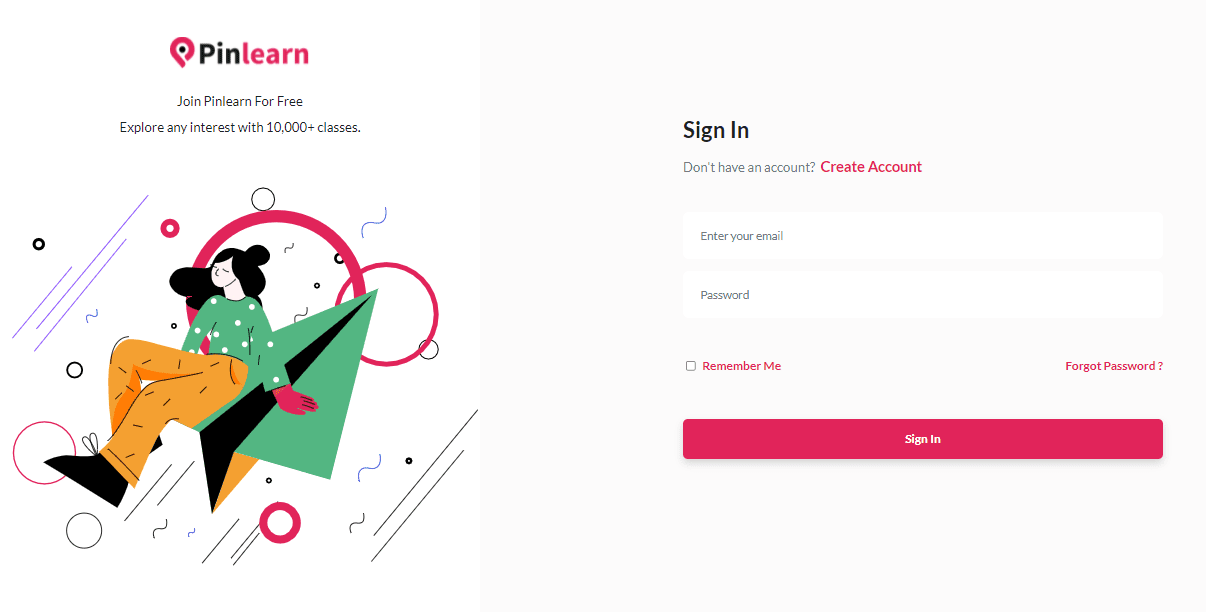 Search & Filter Options – If you're running a coaching marketplace business, your platform users should be able to find what they want – add extensive search & filtering options.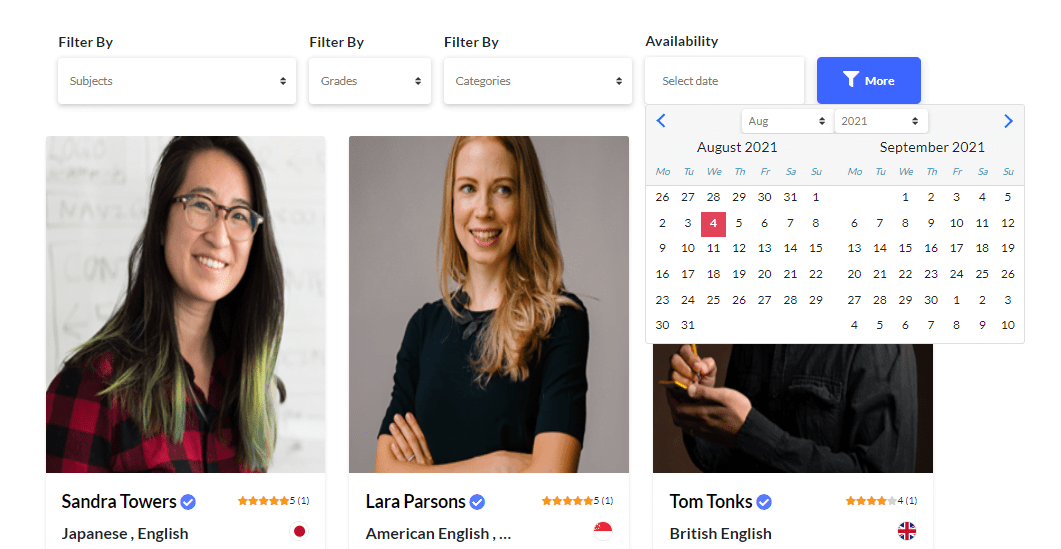 Video Calling Features – When you take 1-1 or group sessions, your should be able to see the person on the other side of the screen. For this, your online coaching website should have the video calling feature.
Android & iOS Application – This is the best part when it comes to Pinlearn. You get dedicated Android & iOS applications to grow your business.
Payment Gateways – The primary thing your platform needs – a payment gateway! Make sure your platform has multiple payment options to suit the comfort of your user's needs! 
Those mentioned above are the basic features your online coaching website should be having. 
Let's look at the different approaches with which you can build an online coaching business!
Building Your Online Coaching Website from Scratch
Remember where we told about the investment cost? You'll be facing a huge investment when you choose to go with this method! 
You'll have to build the features mentioned above from scratch and it is going to take at least a couple of months and cost you somewhere between $30,000 – $40,000!
The option that is to come next is a way better alternative!
Building Your Online Coaching Website Using Pre-existing Solutions
When compared to the building from scratch method, this is a way better option. 
You use pre-existing scripts that come with all the features you need to build an online coaching website.
And one such solution is Pinlearn!
Pinlearn – Online Coaching Platform Solution
Pinlearn is a sophisticated online learning platform that lets you build online coaching platforms with ease. The platform is built with clean code and since it is a 100% white label solution, you should have no trouble customizing or branding it!
The platform has multiple monetization features like memberships, subscriptions, course bundles and more.  
Pinlearn comes with built-in features like, 
Live Tutoring Feature –

1-1 classes and group class options

Course Management –

Option to upload and manage courses

Multiple Dashboards –

Separate dashboards for admins, tutors and students with in-depth analytics

Marketing Features –

Discount coupons, push notifications, Google analytics integrated and more. 

Intuitive Features –

Whiteboard tools, appointment booking options and more

Payment Gateways –

Integrated Stripe & PayPal payment gateways 
The platform is highly customizable and you can create an online coaching business website just the way you want! 
Using Pinlearn, the process to create your online coaching website is really a walk in the park! 
Steps to Building an Online Coaching Business Using Pinlearn
No more chit-chat! 
Let's look at the steps directly! 
Step 1: The first step is to buy a domain name for your website. Make sure it is a clear reflection of your online coaching website. For example, if you're starting a fitness online coaching business, names like FittyCoach, Coacher Fit would be appropriate. 
Step 2: Choose a hosting provider for your online coaching website once you've brought the domain name. 
Step 3: When done with the above-mentioned steps, buy a suitable Pinlearn plan and install it on your server.  
Step 4: Once installed, you should start customizing your online coaching website. Since Pinlearn is a highly customizable solution, you should have no trouble adding new features or tweaking existing ones. 
Step 5: Your online coaching website is almost ready now. Set the payment options, carry out a few marketing campaigns and your online coaching website is all set to go live! 
Note: The Pinlearn customer support team takes care of everything right from installation and customization – no design or development skills needed!
That's how you should create an online coaching business! 
Since you now know how to create an online coaching business, we thought why not let you know a couple of marketing tips! 
Quick Tips to Promote Your Online Coaching Business
This is a completely different section! We'll look into them in-depth in another read. For now, here are the quick tips! 
Create social media handles for your business and start posting informational content. Come up with unique hashtags for your business. 

Answer questions on social forums and organically promote your business. 

Build an email list organically – offer lead magnets, give freebies and do more. 

Carry out paid marketing – Google Ads, Facebook Ads, LinkedIn Ads, etc. 

Offer a money-back guarantee if students are not satisfied with coaching sessions
These are only the basics! Like we said, we'll come up with a more detailed read on this. Meanwhile, you can let us know a couple of marketing activities that you know in the comments section below! 
So, that's pretty much all about how to create an online coaching business! 
You've got everything you need right from the business models to an online coaching business solution! Why wait then?