Case Study of IB-Doctor | An Online Tutoring Services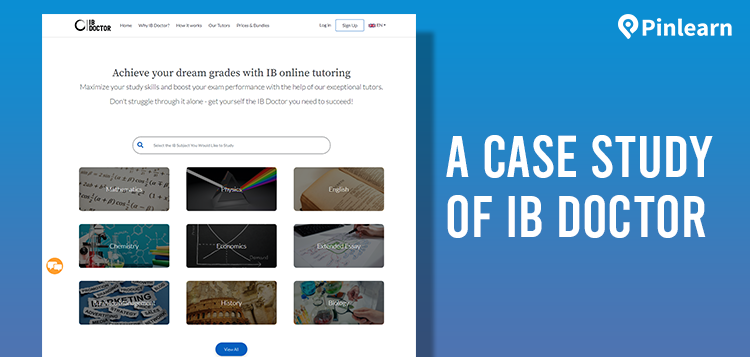 Online tutoring marketplaces have revolutionized the education industry by unlocking easy access to personalized learning at half of the cost of traditional education. 
IB Doctor is an online tutoring platform that connects students with expert tutors in the IB education program. 
The International Baccalaureate Organization, popularly known as IB, offers high-quality and challenging educational programs for a community of schools across the globe.
Purpose of the project
Launching IB doctor aims to help students across the globe unlock their full potential to get into their dream universities. 
In addition to offering academic support, tutors on IB assist learners with all their doubts about the program, subject selection, and the university application process.
The struggle of managing internal assessments, extended essays, and ToK essays are real, and the team IB doctor gets that. IB doctor provides students with the right support to facilitate effective learning and help learners achieve the IB grades they deserve.
Tutors listed on the IB doctor platform are from the most prestigious universities in the UK. 
Objective
We aimed to build a platform to shape the future of online tutoring in the Middle East for the team IB doctor. We enable our clients to lead the change in their industries.
We successfully accomplished the IB doctor's vision of building an online tutoring platform for hybrid learning using Pinlearn's customizable online tutoring solution.
Developed on a highly intuitive platform, IB doctor ensures an efficient and efficient collaboration between professional educators and students. 
With a strategic approach and simplified UI/UX, we aim to elevate both consultants' and students' experience.
Approach
Pinlearn provides end-to-end quality tech solutions to launch your own online tutoring platform. Here are certain things Pinlearn implemented on IB Doctor's tutoring platform.
Pricing bundle
The classes are sold as bundles, and once a learner has purchased a bundle, he/she can schedule the first sessions with a tutor with personalized lesson plans.
Bundles are value packages where tutors can combine several classes together and sell access to several classes and learning materials as a single-price package. 
The advantages of bundle packages are as follows:
The tutor can post a bundle class apart from individual classes on his own price choice.

Sometimes this may be the economical package for the students if the tutor offers it at a lower price and hence the students may end up getting more bundle packages from the tutors.

For e.g., these bundle packages can be for 10 classes costing $80, whereas if students buy it individually, then each class can cost them $10 for each class i.e. 100$, so the student can save 20$ here.
This way this is a win -win for both parties.
Pinlearn implemented the bundling of classes in the following way:
Tutors create the bundle with details, including name, number of classes, and pricing.

The admin commission percentage will be calculated based on the classes completed by tutors.
Cloud Recordings
Lessons on IB doctor are recorded and uploaded to the learner's IB Doctor Zoom Cloud for easy access. Students can revisit the learning materials anytime to review unclear topics.
Personalized Dashboard
Students have access to a fully personalized dashboard to communicate with tutors, upload study materials, join meetings, view past and upcoming sessions, and view the overview of bundle balances.
Integrated Zoom environment
Pinlearn integrated the efficient Zoom environment allowing students to conduct lessons directly through the IB Doctors website. This will enable lessons to be controlled and manageable allowing tutors to share resources and materials during the lesson.
Live session recording
The live learning experience thrives on active engagement and endless questions. All lessons will be recorded and sent to learners so that they get the most out of every class.
Project duration: 2-3 months
Final product overview: https://ib-doctor.com/
 Experience the advance features of our software in action by scheduling a personalized demo.