How to Create an Online Learning and Teaching Marketplace?
A few weeks ago, I happened to meet John, one of my clients. John is a renowned academician with immense expertise in programming, databases and web designing.  He happened to ask me this question – "Steve, What do you need to create and launch your courses?" I answered, "You require an online learning and teaching marketplace." I also shared my two cents with him and today, I am here to share my insights on everything you need to create an online learning and teaching marketplace also known as the eLearning marketplace.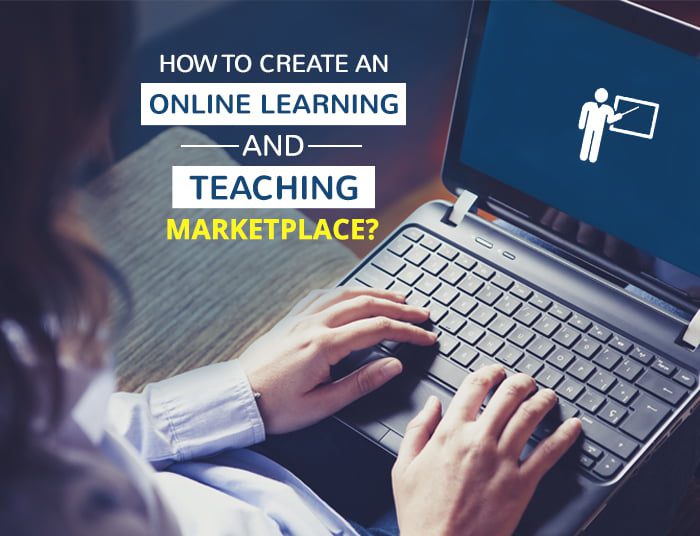 A good online learning and teaching marketplace should encompass the following features:
Course Creation features

Design and Customization features

Teaching features

Student Experience features

Site Administration features

Security and Support features

Advanced Features
Rich Multimedia tools
There are various responsive authoring tools that let you create content such as surveys, quizzes, presentations, attachments etc., on the fly. Some of the tools are Adobe Captivate, Articulate Storyline, Typeform, Google Docs etc. An ideal online learning and teaching marketplace should be compatible with such tools. Online learning management system has numerous benefits that you should definitely know.
Voice over tool
You might have imported slide presentations created in Microsoft PowerPoint and Apple Keynote. In the absence of suitable audio narration, presentations make zero sense. Online learning and teaching marketplace should enable you to record audio narration for your presentations.
Drag and Drop
Learning and teaching marketplaces should include WHSIWYG (What You See Is What You Get) screen interfaces. Drag and drop features make the lives of instructors and students easy.
Content hosting
Content can be in the form of a plain text stored in a simple document or in the form of videos. It can be in various formats – PDF, MP3, PPT, DOC etc. Regardless of the format of the content, content hosting should be hassle free. Otherwise, chances are that participants and instructors may never vouch for your online learning and teaching marketplace. The secret to get repeat customers is to ensure seamless content hosting.
Import your courses
Importing courses from other platforms should be smooth. For instance, if you have created a quiz in Adobe Captivate, you should be able to import it to your learning and teaching marketplace learning management system.
Technical Expertise
An ideal online learning and teaching marketplace is that marketplace which enables even a layman with zero technical expertise to concentrate on teaching and learning. In other words, participants need not learn how to build a marketplace. They just need to learn how to navigate from one slide to another, one frame to another, one course to another etc. The marketplace learning management system should be intuitive and user-friendly.
Ownership of the content
Ever wondered if you are in-fact the owner of your own content? More often than not, in self-hosted online learning and teaching marketplaces, content creators and curators are bound to be the owners. In case of SaaS (Software as a Service) third party solution providers, there will be several restrictions and enforcements. Always vouch for that learning marketplace that respects your hard work and efforts. There is no reason why a third party random guy should enforce his / her ownership on your content on the elearning marketplace.
Instant launch

 
Your marketplace should let you launch your site almost instantly. It should take not more than 10 minutes. Once your site is launched, it shouldn't take more than 3 seconds to load the courses. Remember, online visitors do not have enough patience to wait for more than 3 seconds. They just want immediate access/results.
Landing Pages
An online learning and teaching marketplace should have plenty of options of landing pages. Each and every landing page should come with CTA- Call To Action buttons and promotional videos. Promotional videos, though an optional feature, play a vital role in converting visitors into customers.
HTML and CSS Editor
This is for those who intend to customize their website by tweaking certain sections of HTML (Hyper Text Markup Language) and CSS (Cascading Style Sheets) code.
Custom Domain

 
Who doesn't like having a custom domain name? This is a prerequisite.
Website Branding
Steve Forbes, the renowned American executive once said, "Your brand is the single most important investment you can make in your business." A brand is not about a product. It is a worthwhile and lifetime experience. To create an integrated brand experience, you should have enough options to customize your logo, banners and color scheme.
Students Community
Participants can discuss with one another and share insights. To facilitate interaction and communication among the students, Disqus or third-party discussion tools should be leveraged.
Teachers Community
Apart from student teacher interaction, there should also be a provision for teachers to communicate with one another. This enables them to arrive at effective solutions to queries and doubts that students ask. Third party discussion tools should be integrated within the online learning and teaching marketplace learning management system.
Course Completion Certificates
Once a student completes a course, he/she should give an assessment test. Depending upon his / her performance, course completion certificate should be issued.
Customized Student Emails
A generalized email will not enable instructors to develop rapport with the participants. Therefore, a feature-rich online learning and teaching marketplace should have a provision for sending customizing emails that foster relationship and trust between teachers and students.
Multiple Instructor Support
Your online learning and teaching marketplace should display different instructor profiles. Course creation and modification should be a matter of minutes.
Hassle Free Course navigation
Students must be able to navigate from one chapter to another without any hassles. Apart from that, they must be able to resume learning on any device- be it a mobile, laptop or desktop. They should also have the privilege of viewing the courses in any language in the online learning management system.
Pinlearn is an online learning and teaching marketplace that comes with all the aforementioned features. If your goal is to educate your employees on organizational frameworks, policies and procedures, or to educate your customers or to grow your brand by engaging audiences and subsequently earn revenue, Pinlearn makes it extremely easy for you. Pinlearn helps you publish courses and sell them at competitive prices. Apart from world class customer support, Pinlearn has a lot more to offer.  To know more about Pinlearn, contact contact@pinlearn.com. Cheers!