How Did UrbanPro Become India's Leading Online Tutoring Marketplace – A Case Study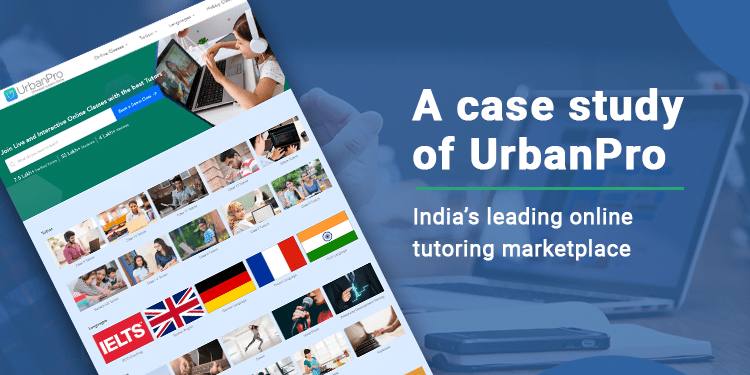 "UrbanPro is the largest marketplace in India for finding tutors, trainers and training institutes." These were the words of Rakesh Kalra, the founder and CEO of UrbanPro in an interview. 
And he was right!
UrbanPro has grown to such an extent that it is the one-stop solution for individuals who want to learn something – both adults and students!
So, how did they make it? How did UrbanPro become the best online tutoring marketplace in India?
Well, we did a bit of research and were able to figure this out – most of the parts at least! 
So, here you go – the UrbanPro case study!
What Is UrbanPro – An Overview of the Online Marketplace
UrbanPro is an online marketplace learning network that helps individuals learn from the comfort of their homes. 
Students get to choose what they want to learn and from whom they want to learn. UrbanPro has more than 1000+ learning categories for students to choose from. 
The platform, since its launch, has helped more than 2.5 million students and has over half a million verified tutors, trainers and training institutes now. 
How UrbanPro Works?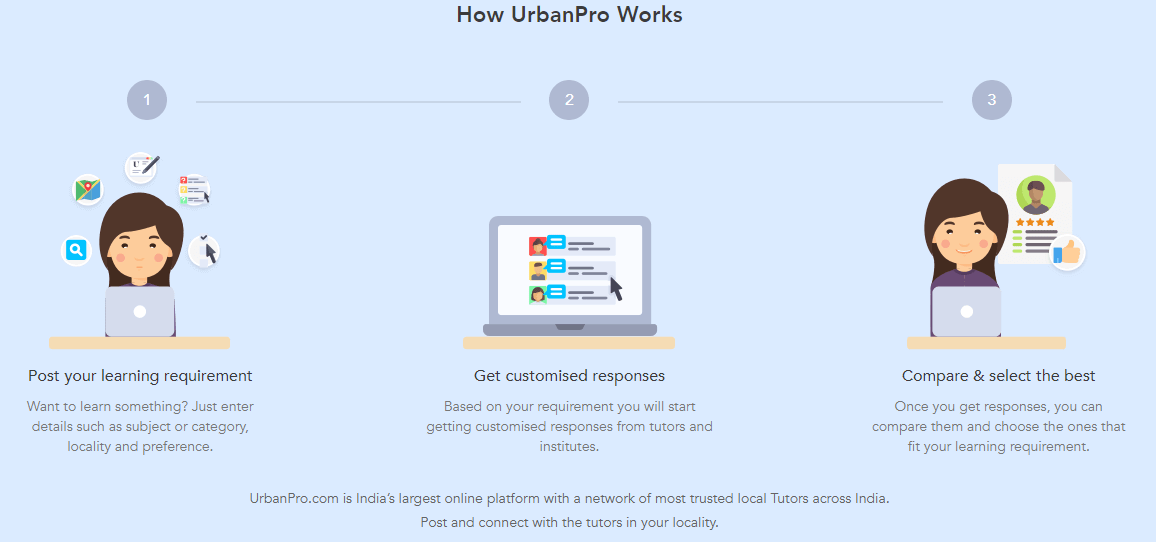 When a student visits UrbanPro, he/she creates an inquiry by entering details like the course they want to study, their location and the contact details. Also, they will also specify how much they are willing to pay per hour.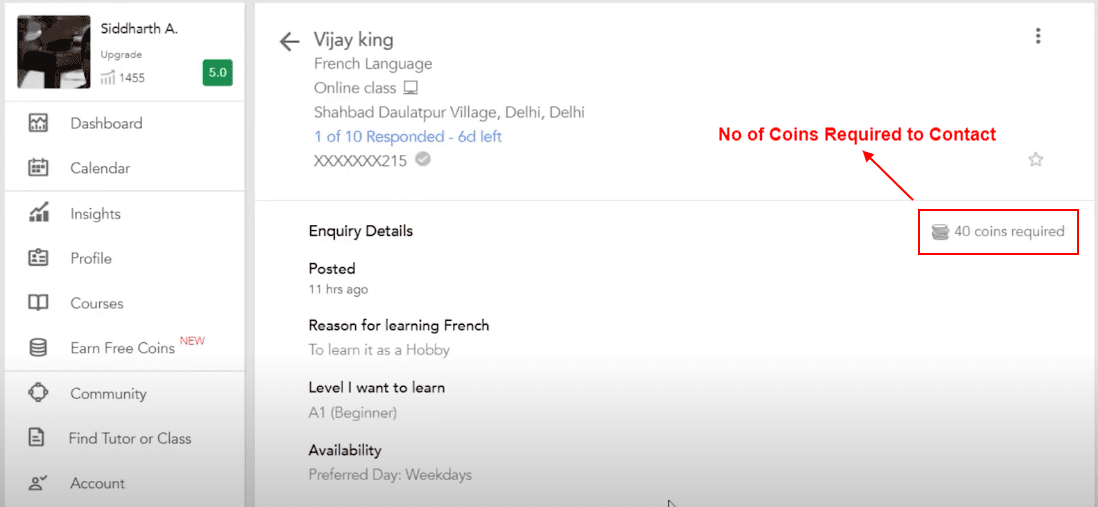 This appears on the dashboards of relevant tutors along with how much coins are required to spend for contacting that particular student. 
Yes! That's how UrbanPro makes money – at least for the beginning. UrbanPro charges tutors money for revealing the contact details of students. If a tutor ever runs out of coins, they purchase anytime they want. 
There are also multiple membership options for tutors if they wish to upgrade – comes with premium benefits!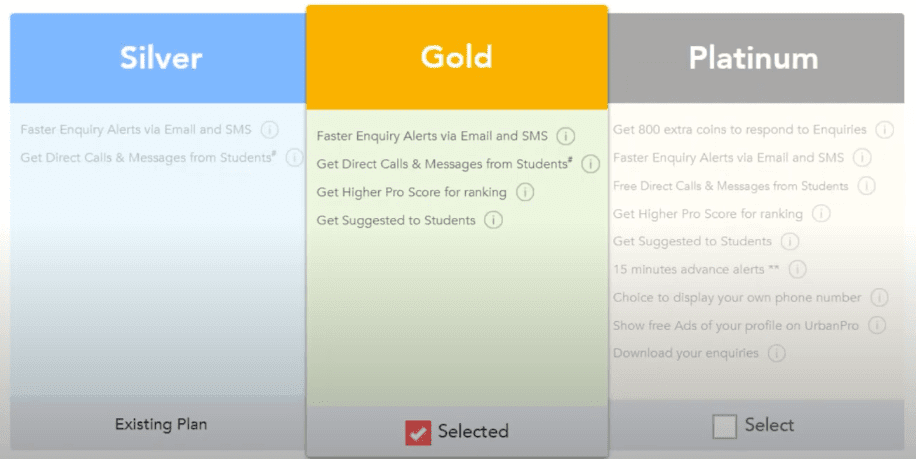 The best part is, the UrbanPro team verifies all contact details by sending an OTP or conducting callbacks. This helps tutors not waste their time on fake inquiries.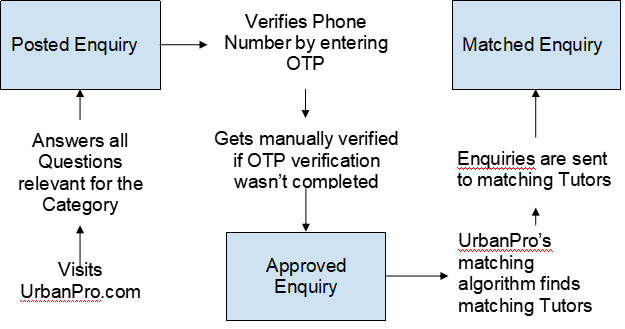 That's UrbanPro and how UrbanPro works in a nutshell!
Why UrbanPro – The Reason Behind the Online Marketplace
It all started when Rakesh Kalra moved back from Boston, U.S.A!
He found out that it was difficult to get quality education and tutors for his two kids. 
In the interview, Rakesh  Kalra stated that "The Education system has actually failed! This has led to the rise of a huge amount of supplemental training that was unorganized and fragmented." 
Rakesh wanted to organize the sector using technology. And thus, UrbanPro! 
He also stated UrbanPro works to bridge the existing gap between the student & teacher. 
Quick Fact: UrbanPro was initially started as ThinkVidya, but down the road, they changed it to UrbanPro, for more of a global approach!
Challenges Faced by UrbanPro During The Initial Stages
Back then, the Indian offline education system was vast but the online scenario was totally opposite! 
The Affiliate Onboarding Challenge
When UrbanPro was started, they had a hard time finding affiliates. But later, they were able to crack it! 
UrbanPro's affiliate partners now make 50% more revenue each month and there are more than 300,000+ service providers now. They get to promote UrbanPro links on their Facebook pages, websites and blogs! 
Finding Relevant Tutors for Students
This was another challenge UrbanPro faced during the initial stages. 
Parents preferred and felt comfortable if tutors were available from the same locality. This became a hurdle for UrbanPro. But later, the platform started to grow and they came up with a more sophisticated process. 
Like we mentioned above, students had to give specific information that helped relevant tutors reach out to them. 
In fact, Rakesh Kalra mentioned this, "Our business has been growing primarily due to our strengths in matching demand with the right set of tutors and trainers available closest to the location of the student."
Good for UrbanPro! 
Making People Aware of UrbanPro
Like every business, UrbanPro initially found it difficult to make people aware of the business. But with things falling into place, it was no biggie at the end! 
The company has grown huge that they now run ads for top keywords like "Teachers Online", "Study French Language" and more. Also, they do Display Advertising. So brand awareness is no longer an issue for UrbanPro! 
The website also has a tuition fees calculator, which makes it pretty convenient and cool for parents & students! 
So, mentioned above are pretty much the challenges UrbanPro faced when it started out! 
UrbanPro Founder – A Quick Run
Rakesh Kalra completed his Mechanical Engineering at Punjab Engineering College which was not his first education choice. 
Later, he undertook a computer technology course in Bangalore and started his career software engineer in LG Soft India Ltd. 
Later, he went to the states and worked in multiple startup companies. The last company he worked for was Care.com, the Vice President of Technology. During that time, he also completed his MS Computer Science at Boston University. 
He returned to India in 2011 when his kids were ready to go to school! And that's when UrbanPro (earlier known as ThinkVidya was started). 
Here's a quick piece of advice from the founder himself! 
When you're from a tech background and you're looking forward to starting a business, you need someone with entrepreneurial knowledge onboard. The team factor is very important in the long run! 
There's that! So, to the next part! 
UrbanPro Revenue & Funding Details
UrbanPro was a bootstrap company for the first three years after which the funding started to come in. As of now, UrbanPro has $2.47 million in funding. 
Here are the details of Urban Pro funding rounds, 
The first funding round was on the 31st of January, 2014 by Raman Sud valued $108k. 

The second round of funding was on the 31st of March, 2015. The seed investor was Nirvana Ventures Advisors and valued at $1.91 million. 

The final round of funding was held on the 6th of March, 2017. The seed investor was Nirvana Ventures Advisors again. And it was $449k this time. 
As of 2017, UrbanPro is valued at $7 million. And the company's annual revenue during 2018 was $1.25 million. 
The Bottom Line
UrbanPro continued to do what they were best at! What started as an initiative in 2011 grew to become the best in its category. 
They helped students find tutors according to their wishes, bridged the gap we mentioned and grew to become the best online marketplace in the process.
So, what do you think? Great strides, right? 
Here's a little extra something for you! Starting a business like UrbanPro is quite easy today! 
All you need is an online tutoring platform like Pinlearn to get started with. Pinlearn is a sophisticated eLearning platform that lets you build your UrbanPro like online learning marketplace with ease – no design or development skills needed! 
That said, it's time to wrap up the read. Let's do it with something the UrbanPro founder said himself. 
If you're not happy about something, you've got three options, 
Accept the situation and learn to live with it

Move away completely from the situation

Do something about it and fix it! 
It's all about being happy and finding peace! 
Cheers until we get back to you with another case study!