Case Study: How Classpass Evolved as world's leading wellness services marketplace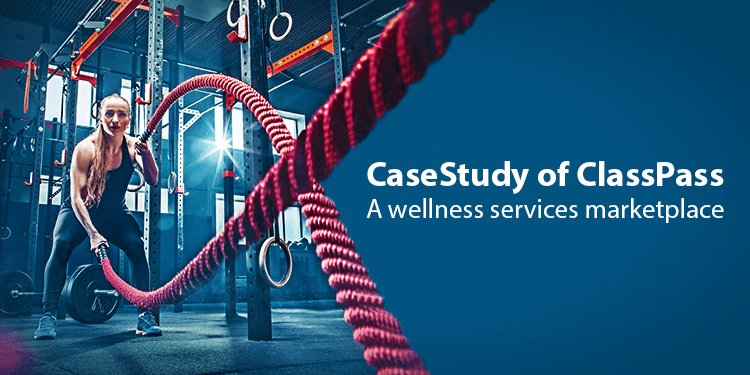 Over the past few years, online businesses have become a norm for global success. While most of the unicorns are online businesses, a proportion of them is also the 2-sided online marketplace. Be it TikTok, Instacart, Shein, Oyo Rooms, Ola Cabs, Zomato, Radiology Partners, Udemy, Coursera, Unacademy, or Snapdeal, two things are common in all these names:
2-sided marketplace, connecting providers with the consumers.

Online businesses, helping traditional businesses move to the internet.
The fitness industry is one such segment with a thriving history in the traditional offline mode. With everything transitioning to the internet, this segment too caught some speed and pointed its direction towards eCommerce and online delivery of the products and services.
Understanding the Boutique Fitness Industry
For the past few years, the fitness and wellness industry is experiencing a significant impact of web technologies in its core business model. The traditional fitness and wellness industry is fragmented into local marketplaces. Consider the following example:
If you are looking for a gym, you visit a GYM, purchase a membership, and start going there every day. What if you decide to move to a new city after a few months?
If you have purchased a yearly membership, you lose your money.

If you have purchased a monthly membership, you stop your current membership and begin your hunt all again for a new gym at the new place.
Traditionally, this sub-segment of the fitness market is dominated by big-box gym facilities. However, for the past few years, boutique fitness studios have made their way. Unlike traditional gyms, studios specialize in group training in fitness activities such as yoga, boot camps, cycling, dancing, barre, etc.
Compared to traditional big-box gyms, studios are smaller facilities and make money by selling monthly memberships or class packages to specific activities. This specialized outlook allows studios to charge 3-4 times more than traditional gym memberships. No wonder, IHRSA reported that one-third of the total $25.3 billion revenue of the fitness industry in 2015 came straight from fitness boutiques alone. 
Following the trend, several new specialized chains and franchises have emerged over the last few years. Still, a majority of them are fragmented, as they are usually run by small business owners in local locations. As a result, most of these establishments hardly find themselves earning enough to even meet their fixed operating cost, which includes rent, utilities, teacher & staff pay.
With limited accessibility due to geographical constraints, most of these studios often operate under capacity. They are limited by resources to attract more customers through the door and converting them into loyal members.
Understanding the Evolution of the Fitness Consumer Mind-set
Managing a fitness and wellness business is not a cakewalk. Especially when you are trying to pace up with a fast-moving market and competing with those in the online world. It's not hidden that the internet is the new marketplace and traditional businesses have either expanded into the online media or have lost their seats to those who jumped on the first train to this new marketplace.
Paper systems, while convenient, can readily limit the scope of your business: ranging from lost paper works to misplaced spreadsheets, broken punch cards, and difficult attendance tracking mechanisms, you need a better way to not only streamline your management processes but also your movement towards a new era of online businesses.
One attempt was made by Groupon in the past to bring fitness studios online for better exposure and more customers through the door. They in fact were successful, as studios saw a significant increase in the numbers of new customers after joining Groupon.
However, it also brought some serious cons:
Most of the customers through Groupon used the big discount coupons but never converted into loyal members. They would either look for more discounts or discontinue after availing of the free trial or first-time offers.

This resulted in an influx of trial customers, often leading to overclouding of the small spaces, which consequently degraded the less-crowded image of the specialized fitness boutiques.

Customers who would come through Groupon hardly paid much. On top of that, studios were required to pay a portion of that little money to Groupon for its services.
The only way studios could generate profits was to convert these leads into long-term commitments, but they struggled to do so for N numbers of reasons. For example, they couldn't find enough time to launch marketing and promotional campaigns to attract customers into buying memberships after the offer period or a trial.
Classpass, with its unique business model, came out to fill this exact void for not just boutique fitness studios but also for the wellness and beauty segments, which were facing a similar kind of situation in the traditional setup.    
With exactly the same kind of aim, more and more fitness, wellness, and beauty businesses are turning towards advanced management solutions for assistance in their endeavor. Classpass is one such marketplace that is helping thousands of fitness, beauty, and wellness businesses not just transition into the online sphere but also expand their business globally and generate long-term commitments, irrespective of the geographical and traditional constraints.
The History, Evolution, and Value Proposition of Classpass!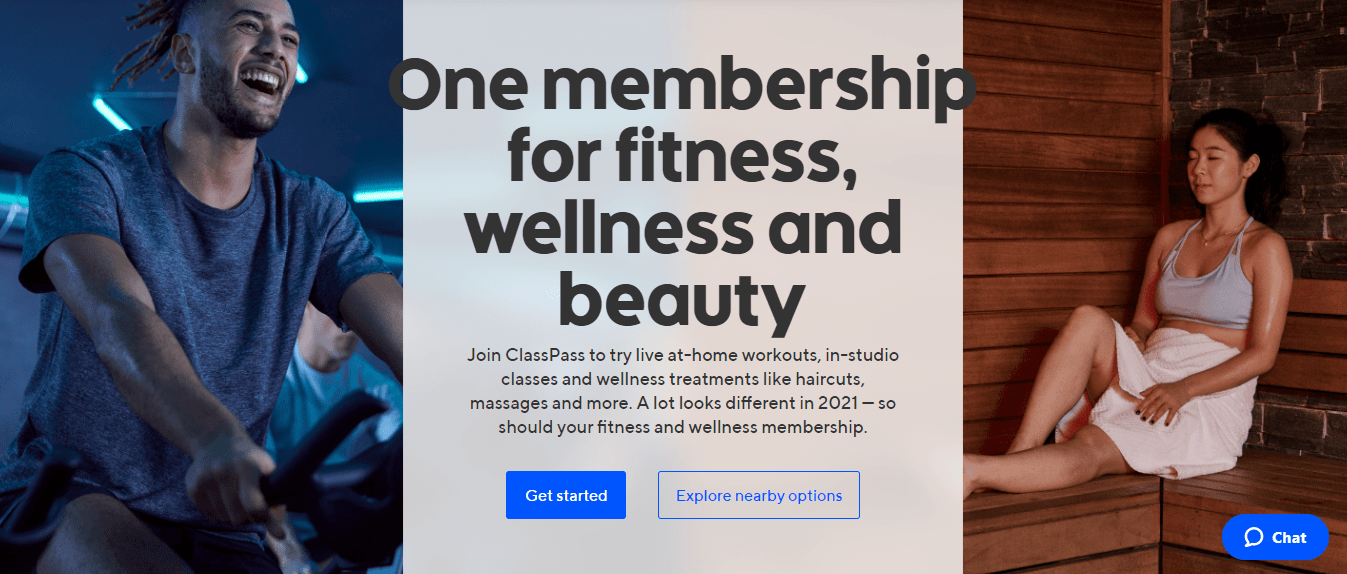 Classpass is a global leader in not just online fitness, beauty, and wellness services, it also helps traditional studios leverage digital mediums to manage their offline consulting processes. For example, you can find not just online fitness classes but can use the same platform to find and access local fitness studios to go to your area.
It was founded by Payal Kadakia in 2013. Classpass powers thousands of online health, wellness, and beauty consulting businesses from over 90 countries. The female-founded business was the first Unicorn of 2020 with a 1 Billion in valuation.
As of now, the studios on the platform have served over 100+ million hours of fitness, beauty, and wellness services to the members spread across the planet. The platform features over 30,00 fitness and gym partners and 5000 beauty service providers.
The biggest USP of Classpass is it offers you a consolidated way to manage everything about all your fitness, beauty, and wellness requirements on one central platform. With this comes the flexibility to choose from thousands of service providers and hundreds of thousands of specialized services.
The Evolution of Classpass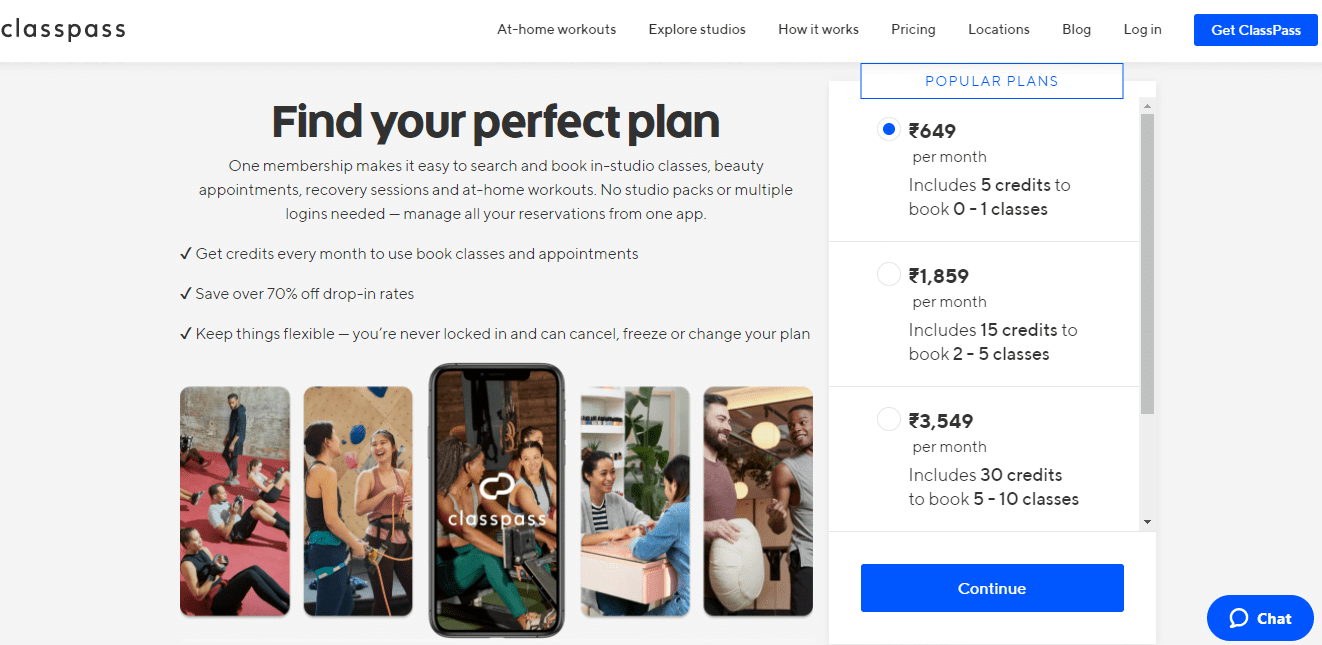 Before Classpass became this global leader, the founders struggled for traction and getting the consumers to appreciate their offerings. Initially, it was known as DabbleNYC, which was later renamed Classtivity. Under this brand name, the major product consisted of a web portal that allowed users to schedule appointments with different aggregated studios on the platform.
Users could book individual classes with different studios through the web portal. Later they introduced a 10 class pass for $49, which was soon replaced by a monthly subscription plan of $99. The new subscription plan allowed members to attend as many classes in any partner studio, but with a cap of 3 visits per studio per month.
This new model collected enough traction, enabling the company to raise $82 million within 14 months. The platform now expanded from 2 cities to 25 more cities. To fuel this growth, they offered a low-priced trial for the first month, which was marketed extensively using Google Search Ads and Social Media Ads.
Over this period, Classpass also built their dedicated iOS and Android mobile apps, which further boosted their revenue from $200,000 in 2014 to $10 million in 2016.
Then came the 'Unlimited' monthly membership pass as a cherry on top. The new unlimited plan allowed users to access hundreds of different studios in a city. Unlike traditional gym memberships, Classpass users were not limited to one establishment. They could pick from hundreds of studios for hundreds of kinds of fitness activities. Besides, users could exercise whenever and wherever they want, as they could find appointments somewhere nearby from some studio at any time of the day. 
They added one more revenue channel by creating a marketing channel for studios. With a small monthly fee, studios could opt for a performance-based marketing channel on the platform that would promote them and help them fill up empty seats quickly. This allowed not only the studios to fill up to capacity but also the users could see the highlighted studios with empty seats.
However, Classpass also allowed the studios to choose how many seats they want to fill using Classpass. For example, a studio could choose if they want to fill 5 out of 20 seats using Classpass memberships. This provided an opportunity to the studios to pitch the studio's own membership to the users who came through Classpass. This way the platform managed to keep a constant demand while also keeping the supply side happy.
Then came the controversial year of 2016 when Classpass first increased the premium for Unlimited Membership, only to drop the entire unlimited pass eventually. We will discuss the reason behind this decision later on in this post. For now, remember that this was the time when they introduced multiple limited packages based on the number of classes per month, which are still in circulation to this day. 
Understanding the Classpass business model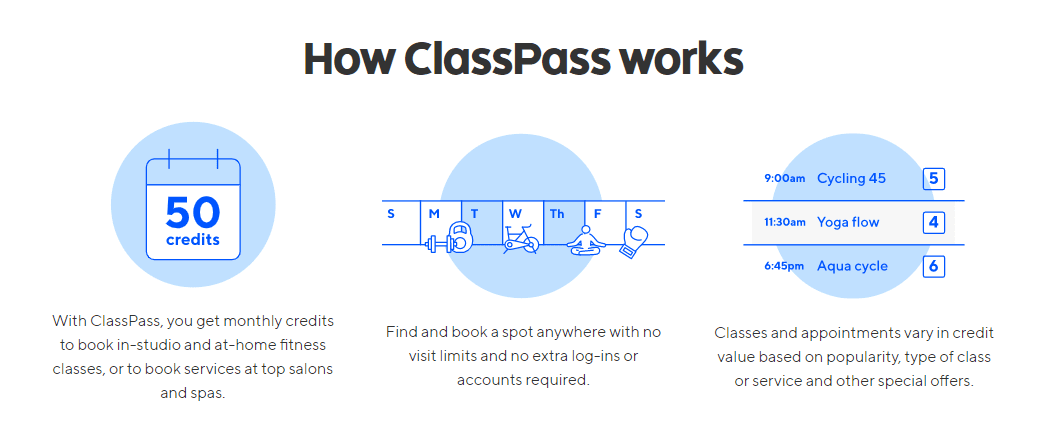 To understand the Classpass business model, we must first understand how Classpass pays its studio partners, and how Classpass slides between profit and loss margins with simple user behaviors.
Here is the deal.
Classpass pays its studio partners only when its users visit a studio.

Classpass does not pay equally but cuts an individual deal with each studio.

Studios are not allowed to reveal how much Classpass pays them.

Hence, to increase its profit margin, Classpass tries to cut a deal as low as possible while also paying the studios enough to keep them interested.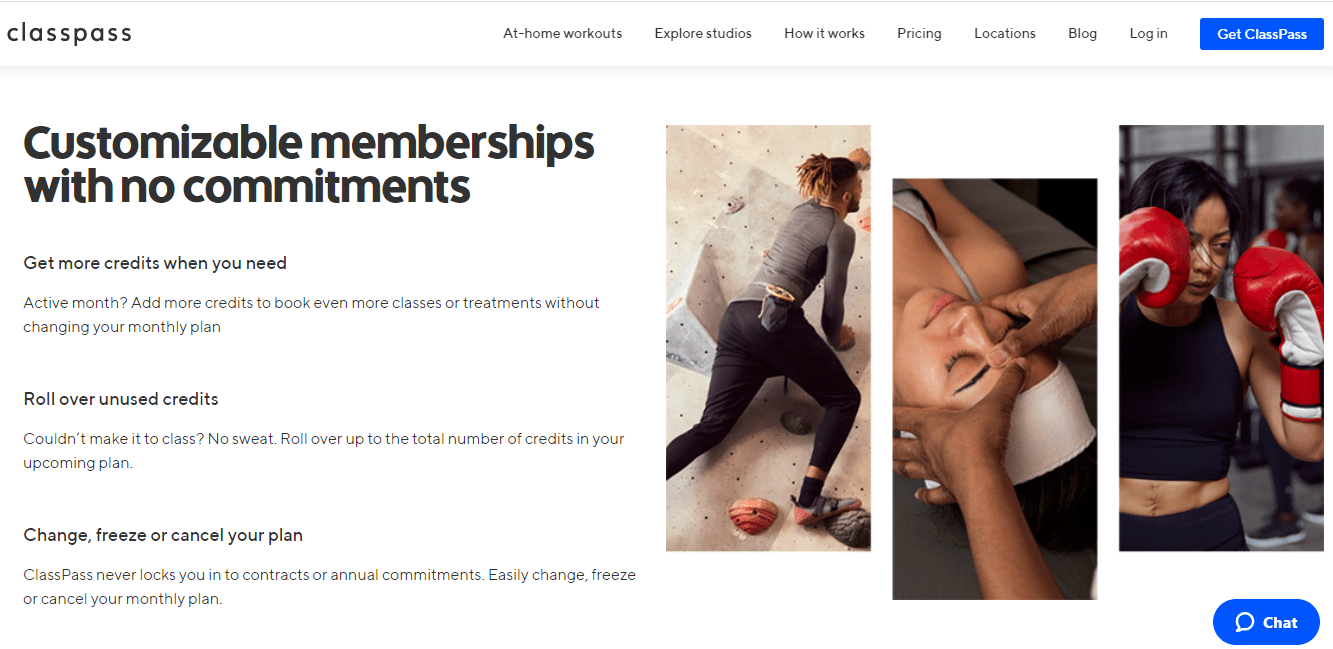 For example:
Let's say Classpass cuts a deal with 'Studio A', where they agreed to charge $7 per class from a Classpass user.

Let's say User A purchases a 3-class pass from Classpass for $79.

If User A attends all 3 classes in the month, Classpass would pay Studio A 7×3 =$21.

That means, Classpass here made a profit of $79-$21 = $58, which is 73%.
It's all about the deal with the studios. Classpass charges a user for all the classes they are supposed to visit in a month. However, they make more profits when a user does not attend a class for which e or she has purchased the pass.
Say, a user purchased a pass for 3 classes but visited only 2 classes before the pass expired. Hence, Classpass here makes a straight profit, as they need not pay to the Studio, although Classpass was pre-paid by the user for it.
Looks profitable for Classpass, isn't it?
Yes! It's profitable, but only if the users purchase limited-class passes.
The case just takes a rough turn if we consider Classpass' 'Unlimited' pass program.
Let's say Classpass cuts a deal with 'Studio A', where they agreed to charge $7 per class from Classpass user.

Let's say User A purchases an unlimited class pass for $70.

Everything is fine until the user attends less than 10 classes.

The moment User A goes for his/her 11 class, it disturbs the balance.

For 11 classes, Classpass pays $77 to the Studio, but it charged only $70 from the user.

Hence, Classpass has to pay $7 from their pocket.
What if a user ends up taking a '30-day Challenge' and goes to the studio 30 days that month?
210-70 = 140, an upfront loss of $140 for Classpass if User A turns out to be more active some month.
On ground zero, this estimation can go beyond or stay on the lower levels, too:
A user may visit multiple studios in a month with a class pass.

Depending on the deal that Classpass cuts with different studios, the company creates profits or goes in the loss for specific users, depending on how active they are.

Although all users pay the same membership fee, individual users may show a different level of attendance for the classes.
The unlimited model works just like the Insurance model, where Insurance companies take profit from under-utilizing customers to subsidize the over-utilizing customers. The profit margin for the company depends on the overall balance between the two types of consumers.
That's why Classpass dropped Unlimited model
With the unlimited model, the entire balance sheet of the company depended on a gamble that Classpass played every month. While consumers loved the unlimited plan and it gave unprecedented growth of 50X to the platform, this model wasn't sustainable in the long run.
Classpass, therefore, switched to a limited membership model and diversified it into multiple packages to target every kind of user. The pricing of the membership packages varies in different cities, depending on the fixed operating cost and deals that Classpass cuts with the local studios.
Although there was a big rage among the most loyal customers after Classpass eliminated the Unlimited package, it's has been 5 years now, and the platform is still growing exponentially to date. In fact, Classpass became the first Unicorn of the year 2020. This brings us to yet another addition to the list of services of Classpass.
Especially after the COVID 19 pandemic, Classpass focused on offering online fitness training to sustain this tough period. All the studios started offering online fitness training using two major modes that Classpass introduced:
On-demand fitness training: Members can access recorded training videos anytime.
Live Streaming: Members can book live streaming of real-time training sessions.
Apart from this, members can also top-up their memberships to access additional classes if they have used all their class passes given under their membership. Although the pay-as-you-go channel generates some good revenue, the platform still relies on selling its membership packages to make most of the money.
Hence, we can summarize the business model of Classpass as follows:
Business model: Insurance model
Revenue model: Memberships and Pay-as-you-go.

Multiple limited membership packages

Pay-as-you-go to access additional classes

Payment to partners: Pay-as-you-serve (pay-per-class)
"Each class (prepaid by the users) that the Classpass does not have to pay to the studios for results in profit. The more active a member is, the lesser is the profit that Classpass makes from him/her."
The Challenges and Risks faced by Classpass
Challenge #1: Losing Execution Momentum
Venture-funded start-ups like Classpass need to show exponential growth within a short period. Failing to do so may result in investors pulling the plug. Introducing the Unlimited package and then eliminating it was not a trial and error but a strategy to face this challenge.
By giving out the unlimited pass, the company secured a massive base of loyal customers in a short period. The insurance model with unlimited passes proved to be highly profitable for this period. However, to drive more sustainable growth, Classpass chose the limited model for the long run, which may have created some rage, but worked in their favor ultimately.
Challenge #2: Becoming "just another Groupon"
Instead of sucking away the profits from the studio partners by offering cheap passes, Classpass took the initial losses on itself. Unlike Groupon, the Classpass partners did not have to carry the burden of freeloaders or trial-only users. Thanks to the unlimited plan, most users happily extended their relationships with the studios beyond the first visit.
Challenge #3: Failing to build a new band of loyal Classpass fans
After the 2016 fiasco, it felt like the platform would not survive the heat. Discontinuation of the unlimited package resulted in an upfront loss of 10% of the loyal users. You could notice the pissed-off users expressing their discontent on the Play Store for the Classpass app. Luckily, the platform managed to retain a majority of the loyal customers by offering multiple limited packages. Most of the users who did not attend classes very often seemed not to be worried about the new model. Besides, Classpass now also gave an extra focus on acquiring new users, which I think worked, as Classpass achieved the Unicorn status 3 years from then.
Challenge #4: Being crippled or disintermediated by the frenemy Mindbody
Classpass uses Mindbody management software to run its online platform. However, Mindbody itself is a giant in the online fitness and wellness consultation segment. Apart from software solutions, Mindbody runs its own service similar to Classpass.
There is no evidence that Mindbody and Classpass have developed any kind of conflict of interest yet, as their target audience is a little different from each other. While Mindbody mostly targets fitness and wellness franchises in a B2B model, Classpass targets fitness enthusiasts in B2C setup. Yet, there is still a significant proportion of operations that Mindbody does in B2C mode. This could eventually put Classpass in a fix if Mindbody changes its mind or pull its plug from Classpass.
The Opportunities that Classpass and New Ventures may take Advantage of
Opportunity #1: Take over the fitness marketplace and serve the sub-segments
This business model could apply to an assortment of segments in the market. Besides fitness studios, businesses can target wellness, health, beauty, and other kinds of markets. A wide range of experts can be targeted for partnerships: doctors, Gym trainers, beauticians, dentists, and dieticians, etc.
Opportunity #2: Dominate the online marketplace
A majority of these businesses can operate purely in the online mode as well. For example, online dance training, cardio workout training, telemedicine consultation, diet consultation, etc. Businesses must utilize the opportunity to grow beyond geographical boundaries and offer online services across the planet.
Opportunity #3: Going after the 80% of consumers who do not typically exercise actively
The membership model is a cash cow if you go after 80% of the consumers who although purchase full memberships, but hardly avail of the 100% of the benefits. Pay the partners per consultation, but ask the consumers to purchase a full bundle.
For example, you can give an option to the users to purchase a medical consultation package of 5 sessions. However, it is more likely that most of such users will get their resolution in 2-3 sessions. The rest of the 2 unused sessions add up to your profit margin. 
Opportunity #4: Going after the Corporate Wellness opportunity
Classpass did it after a long time. They now also offer corporate fitness programs that organizations can offer to their employees. These corporate bundles are often sold at expensive prices and for every employee of an organization under their CTC packages. However, not every employee uses his/her benefit to the fullest.
For example, say you sell a corporate package to a firm with 100 employees at $70 per employee per month and payout to the fitness studio at $7 per session. If 80 employees avail all the benefits and 20 employees turn out lazy, you still make 70×20 extra without spending a penny. Besides, out of those 80 active employees, most of them might not even attend all the classes in the package. So, you make some more money on them, too.
Opportunity #5: Decoupling from Mindbody and building an independent platform
With SaaS, there is always a possibility that they might pull the plug from your business, leaving you to deal with all the lost customers all by yourself. I know, building your own platform is not an easy job, that's why most start-ups choose SaaS platforms to kick-start the business. Not every entrepreneur can afford the upfront cost of the development of a platform. 
That's where such businesses can stop relying on a SaaS solution and build an independent online consulting and bookings management platform using yet another way: Use Pinlearn to set up your platform without writing a single line of code.
Pinlearn is a ready-made solution like any other SaaS such as Mindbody. However, it's not SaaS but a self-hosted solution. That means:
You will get the source-code of Pinlearn by making a one-time payment.

You need not pay any kind of commission or recurring fee to Pinlearn.

You can host your Pinlearn-driven platform on your chosen web server.

You can access the source code and customize your platform in anyways.
In short, you remain free from any kind of dependency on your software provider, which is not possible if you choose a SaaS solution. Besides, Pinlearn is a turnkey solution, which builds you are ready-made platform by simply installing the script on your web server.
Pinlearn's turnaround time is as quick as any SaaS-based solution, but it also gives you additional customizability and independence, which you generally expect from software developed especially for you from scratch. It offers you can perfect balance of pros from SaaS as well as custom development projects.
How well is Classpass doing in 2021?
Overall, I think Classpass has acquired a position where it can start capturing opportunities without depending on SaaS anymore. I don't say that SaaS is undesirable, but it does limit your prospects. SaaS solutions are excellent mediums to test and idea or build a temporary MVP. However, if your business goal is to go further up beyond the boundaries of the Unicorn level, building an independent platform should be your next big sprint. Choose Pinlearn, any other turnkey solution, or develop from scratch, but refrain from putting your prospects in a third party's hand.
That's my opinion, what do you think?