What is Cambly? Cambly Business Model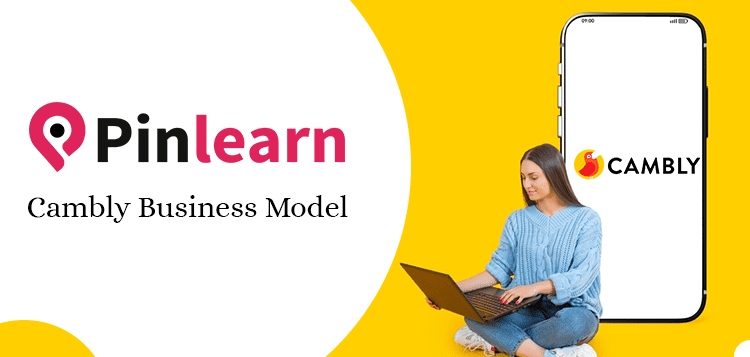 As a popular language ESL (English as a Second Language) service, Cambly is an undisputed provider in the language learning industry. Founded by Sameer Shariff and Kevin law back in 2012 when ESL learning was still in its infancy, Cambly is quite different from its peers. 
If you wonder what is Cambly, it is more like a digital networking platform that allows learners across the globe to connect with native English tutors to master the language. 
What makes Cambly special?
Cambly is an Online ESL teaching and learning platform that matches Native English tutors with English learners. All sessions are conversational-style and are one-to-one classes. Students include adults and kids of different levels in their English learning journey. 
Some of the great advantages of Cambly are:
Students get one-to-one tutoring sessions with educators. 

You can choose any tutors and schedule time based on their free availability. 

Cambly is flexible- Students can work with tutors anytime and for as long as they like. 
If you wonder how does Cambly works, learners can work through one or more of the available courses and practice English speaking skills through conversation-based classes. The platform provides learners with an opportunity to practice English with native speakers. This helps to shift the focus to a natural and informal conversation rather than formal teaching.  
Unlike other ESL services, Cambly doesn't just focus on the Asian or Chinese markets. A major percentage of students are from European and Middle countries. Learners coming to Cambly are mostly adults, but you might see teenagers and young children from time to time. Cambly is different from teaching platforms that use a "log-in-and-talk" system. 
What are the requirements of tutors to teach for Cambly?
The Cambly business model is coined in a way that it is easy for tutors to join the platform. To work as an ESL tutor on the platform, you just need two things: 
Be a Native English speaker.

Meet the requirements set by Cambly. 
The second point means you will need a laptop that hosts video chat software, a web camera, a headset, and a stable internet connection. If you want to know what tools you need to teach ESL, check out this guide. 
A degree, teaching certificate, or previous experience isn't mandatory. Of course, exceeding the minimum requirements is great; a professional degree and additional certification can help you grow as a successful ESL tutor. This is how Cambly works. If you have any qualifications or teaching experience, you must mention it during the application process, as it might help things work in your favor. 
How much does Cambly pay?
Now you know what is Cambly; let's see what does Cambly pays its tutors. Cambly pays not per hour or by lesson; instead, the platforms pay you based on the minutes paid. 
This is because the platform doesn't have any set length, and tutors can end their classes at any time. That is why Cambly pays tutors per minute to ensure they get paid for their efforts. Cambly pays around $10.30 per tutoring hour. 
Yes, it's true that the pay is less than the industry average, but you need to consider the fact the requirements for tutors are set low, and the system is flexible. Cambly isn't probably not enough to support yourself if you want to adopt a full-time tutoring career. However, it can work as a supplementary income. The platform pays out tutors every week on Mondays through PayPal.
The minimum amount you must have in your account is $20 to request for a payout. 
Tutors who become Cambly Ambassadors can make additional bonuses through the platform's referral incentive scheme. 
When the platform approves the "tutor whom you referred to, both receive $10. 
When the tutor who has been referred completes at least 10 hours on the platform, you who referred him/her receive an additional $20. 
What is Cambly Kids
If you are an online tutor who teaches children between 4-15 years of age, Cambly has a separate service for kids called Cambly Kids. Cambly Kids works based on reservations and follows 30 minutes lessons from the Cambly curriculum so that you can modify the materials. When teaching young children, tutors are expected to use props, TRP, and a reward system. Cambly Kids offers slightly higher pay for kids, which is priced at 20 cents per minute or $12 per hour. 
While "Cambly Classic" doesn't require tutors to upload demo videos, Cambly kids ask for demo lessons. You are expected to show your ability to engage children in classes with a 3 or 5-minute video highlighting your tutoring style. 
How to become a Cambly tutor?
The application process of Cambly is short and straightforward, taking only 15 minutes without any formal interview process. To become a tutor on the platform, one must first sign up with an email address or social media platform, or Apple account. When doing so, you must ensure you have the latest version of Google Chrome from a laptop. 
After signing up, you will be asked to choose between "Cambly Classic" or "Cambly Kids." The next step is to fill out the tutor profile with the necessary information, including: 
Profile picture

Basic Info

Cambly Introduction video

Written Intro

Teaching style

About me

Languages know

Education

Work experience

Teaching certificates (If any)
Cambly Pros and Cons
Pros
No Bachelor's degree, teaching certificate, or prior teaching experience is needed. 

The platform is flexible in schedule with no minimum hours. 

Cancellation of classes was easy; just notify 12 hours prior.

The platform provides teaching materials but also gives tutors flexibility to tutors to use theirs. 

Simple job application process without a live demo or formal interview process.
Cons
Hires only Native speakers. 

The hiring process can take even months during low student demand.

Low pay rates
Is Cambly legit?
Cambly is a well-established and legitimate platform that has grown to become one of the biggest names in the ESL industry. Trust pilot has given Cambly a score of 4.3 out of 5. Headquartered in San Francisco, USA, Cambly has tutors from over 170 countries and caters to learners in 190+ countries. 
Final Thoughts on Cambly
That completes this guide about what is Cambly and how it works. If Cambly sounds like an ESL service you must work for, go ahead and try it out right now. If not, there are plenty of other online tutoring opportunities out there; you can check out those.