Teaching Art: A Guide to Teach Art Online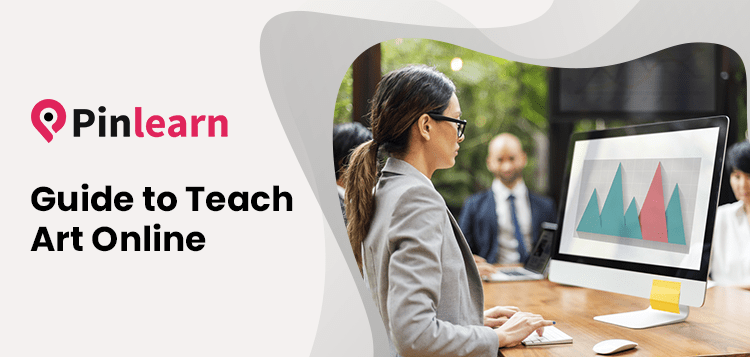 After extensive planning and soul searching, you have taken the leap. You have made the decision to become a professional art teacher by following your passion.
What an incredible realization! Congratulations!
You believe in your skills, and that's the important step. Because most artists back off due to fear- Fear of taking risks, fear of failure, that stops them from even trying. 
But, despite the excitement, you know the challenges that lie in front of you. That's why you landed upon this blog.
Teaching art online and establishing your own art business to make an earning isn't going to happen overnight. But by no means it's impossible. It takes planning, dedication, efforts, time, and commitment to lifelong learning and adapting to new technological advancements.
How to Start Online Art Classes
Teaching art online is an excellent way to leverage your skills while making some extra money. When you run your own art classes, you can stay small and conduct classes in your free time. Or you can choose to grow it on a big scale so that you can hire other teachers to help keep up with the demand.
Can you break out art into small digestible steps? If yes, you can; you have the potential to make money teaching painting to students. 
Here is the guide on how to become an art teacher online.
Decide who you want to teach
Choosing who to teach is as important as choosing what to teach. There is a significant difference between conducting a class for 5-year-olds and training adults. So before you start, choose the age category you want to teach art classes to. 
After deciding who you want to teach, you can create a curriculum or piece of art for your learners to recreate. The age group you are teaching to will also play an important role in choosing the medium you want to use.
Choosing the niche to begin with
You are skilled in different forms of art. You have immense knowledge, but if you want to teach online art classes, you need to choose one thing to begin with. This will make things simpler for you, and you will be able to demonstrate techniques to your learners if you choose an area you have expertise in.
When starting to teach art online, pencil or even acrylic paint is enough. Getting straight into charcoal or oil painting in your first class might not be a great idea. 
Choosing a platform to teach art classes
Earlier, artists used to travel to conduct classes in a location convenient for their students, or they would have come right to their studio. However, today everyone is moving to teach online art classes; you need to have a live class platform to conduct. 
To conduct live art classes, you have to choose a video conferencing platform; the popular choices are Google Meet and Zoom. 
If you are brainstorming about how to teach online art classes, Zoom can be the best choice as it has features for online tutoring. With Zoom, its free plan can cater to up to 100 participants limited to 40 minutes. Premium plans start at $14.99 every month. 
On Google Meet, you can create a video meeting and invite up to 100 members and hold the meeting for 60 minutes per session for free. The premium plans with additional features start at $10 per month. 
But wait, these platforms aren't enough if you want to become an online art tutor and grow to the next level. Hold on; you will know why in the coming section. 
Why video conferencing tools or social platforms are not enough
You can leverage social media platforms like Facebook and Instagram to promote your artwork and conduct online art classes. Being an active member of social media can be a good idea and might be a significant part of your online strategy.
Here's why you need to create your art website for the best chance of success.
You need control over the design and appearance.

Your students must be able to view your content in a single place.

You need your artwork to be celebrated, not lost in the crowd.

You need control over how you monetize your work.

You need to measure the number of visitors and other statistics.

You need to optimize your services to rank high on Google. 
Build your online art School- to scale your online art business 
When you are just starting teaching art online, you can choose Zoom, or Google Meet, or other video conferencing solutions available on the scale. But if you truly wish to grow your online art business, you must consider building an online art school. 
Online art school is an online platform where you can allow your students to book your appointments, buy the class bundles, process payments, and do everything you would do in a normal classroom setting. 
Pinlearn was designed to serve businesses that drive on class-based and schedule-driven art classes. Being a ready-made script to create your own art class, you spend less time behind the scenes and can direct your focus on other aspects like expanding the online school's reach both offline and online.
When running an online art school to teach art online, you must make enrollment easy for our students. Pinlearn's unique software can help you automate and streamline online appointment scheduling and other administrative tasks. 
Pinlearn can help you to:
Build an online marketplace for your art business to run a team of art teachers.

Handle online class registration with one solution.

Set up convenient one-time payments or recurring subscriptions. 

Send automatic class schedules, email newsletters, and other communication to new and existing students. 
Now it's time to promote
Now that you have chosen what to teach, have your target learners, and a website, it's time to let the world know about your services. Marketing can be one of the biggest challenges for those who want to teach online art classes.
Find effective ways to ensure your potential audience will hear and see you. Select a catchy name for your art lesson business; if you already have a website, you can use the same name to maintain the branding on all the platforms.
Establish your presence on social media platforms and constantly post things related to art and your art itself to attract more followers who can turn into your potential students. 
Teach your first art lesson
Don't expect a huge turnout from your first class. Treat it as an opportunity to let the world know about your services and your expertise. One of the best promotion tools is the word-of-mouth market from your previous students. And for that, you need to teach your first art lesson! Give discounts on your first class and ask them to give a review. Make sure you do a stellar job with them. 
Do you think you can? Then you can
Owning your own art business is rewarding, and with the right business and following a strategic approach, you can reach the "I did it" phase. Teaching art online at your own art school is an excellent way to make a side income or even turn it into a full-income career. Good luck with your new online art school! If you need assistance on starting your own online art school, we are here to help! Get in touch with us.