Creating an Online Course for Free: Utilizing Software and Tools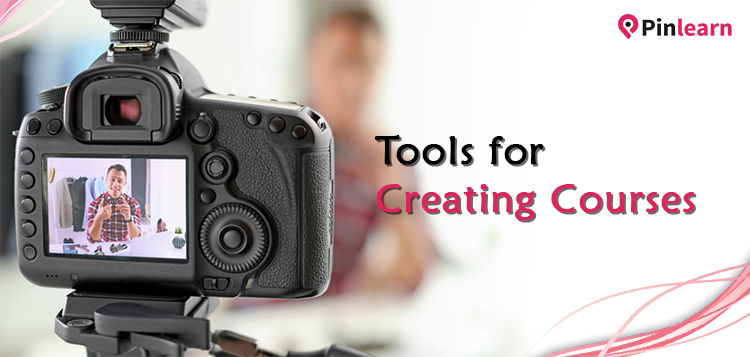 Can I create an online course for free? 
The plain answer is "YES"; you can create online courses for absolutely free. It is understandable that you would ask, "How?". The answer is there are several free tools and software available online that can help you record, edit, animate, design, and do a lot more. 
In this article, we'll reveal the top 5 free course creation tools and software you can use immediately to start creating your course! But before we go any further, we would like to share a few tips on how to create an online course for free. So let's take a look!
7 Top Tips for Creating an Online Course for Free
Creating a free online course may be easier than you think when you focus on knowing your audience better and choosing the right software or tool. Here are some tips that help you create a free online course quickly and effectively:
1. Find your course topic
When you start creating your free online course, you probably end up with 10 to 20 ideas. But you can't actually create courses with 20 different topics at the same time, right? So what you have to do is filter down your ideas to find the right course topic you want to pursue. 
How? Identify the topics you can easily complete based on your skills and resources. Next, find a topic that you can do it fast. Because you're about to create online course for free, you don't need to spend more time researching the subject and collecting materials. 
Additionally, the topic you select should also be able to solve a problem for your audience. No matter how free it is, your audience will not buy your course if it doesn't solve a problem they have
2. Research your audience 
Now you have the perfect course topic you want to pursue. So spend some time researching your target audience. 
For starters, you can start by defining your target audience and their demographics. For example, the target audience of digital marketing courses can be people who want to learn the subject to market their business themselves or those who hope to pursue the field professionally.
When you're clear about your target audience, find out their desires, motivations and obstacles and their current needs and wants. Knowing 100% of your target audience is impossible, but even if you can discover 10%, it will undoubtedly impact your online courses. 
In order to create an online course for free that aligns with your goals and objectives, you must select the right course format. This is because scripting your course will become easier if you choose the right one. 
Say you want to create a free online course, but you do not have the equipment for filming; then you can use your written content to structure your course
3. Make a course outline
Creating an online course can be daunting and overwhelming if you don't know how to begin. In order to prevent this, you'll need to map out your course, which consists of crucial elements like learning objectives, modules, components, resources, and assessments.
The first step in creating a course outline is to choose a format that aligns with your goals and objectives. Here are a few popular online course formats you can use: 
👉 Webinar
👉 One-on-one course 
👉 Video online course
👉 Email course
👉 Mini-course
👉 Certification course
👉  Written courses
👉  Interactive online course
Once you decide on your course format, start outlining your free online course. The course outline should be like a step-by-step guide that takes your learners or clients from point A to point B ( the end goal). 
Every step must contain an assessment to test the progress of the participants. Furthermore, you should include your students' learning outcomes in the course outline, as this will allow both you and your learners to know where they stand. 
4. Choose a free online course software
Before you start recording your free online courses, you need to choose a software or tool that helps you create or edit your courses for free. Using these tools, you can create infographics, pie charts, animations, and more to make your course more visually appealing. 
Remember, you should select a software or tool that is suitable for your course's format. For example, if your online course is solely audio-based, you could use tools such as Ardour and Audacity, which are designed specifically to record and edit audio.
You do not need to be a video editor or designer to use the free tools and software to create online courses. Instead, you can learn it easily by watching tutorials on their websites or YouTube and begin using it right away.
Now that you're ready with your course outline and a free online course software that meets all your needs, you can start creating your course.
5. Make your free online course
It's time we get to the fun part – making your free online course. This step involves recording, editing, or sometimes, live-streaming your courses. Make a checklist to ensure that you have everything you'll need for filming the course, as forgetting your key material or notepad may cause unnecessary problems later on.
In case you've chosen an interactive live course format, then make sure to check your audio and video setups before you go live because interruption caused by your microphone or camera will disrupt the learning process. 
To create online courses free, you may need to spend from a couple of days to 1-2 weeks, depending on the number of lessons you've got. But once you finish creating your free courses, it's only a matter of time to upload them on online course platforms. 
6. Promote & get feedback
The final step is to promote your free online courses and get feedback from your audiences or customers. Your free courses can be promoted through social media, podcasts, and YouTube. If you have enough budget for promotion, consider utilizing Google ads, affiliate marketing, or collaborating with an influencer.
Once you start promoting your free online courses, you will eventually receive valuable feedback. In order to scale your free online course and steer you toward your long-term goals, you need feedback from your customers, so make sure you get it. 
5 Tools for Creating an online course for Free
Now that you've learned how to create an online course for free, let's explore the 5 best tools that help you create it. 
1. SmartBuilder
SmartBuilder can be your ideal choice for creating live interactive courses. The free online course builder lets you create custom online courses with graphics and videos and craft the perfect content. This is one of the best software tools that let you make unique course interfaces with easy navigation. You can also create layouts of different screen sizes so that your course will look great on any device. 
Works with: Mac, Windows
2. Voki
With Voki, you can create engaging and interactive animated presentations for your free online courses. Using this software, you can add the recorded clip to your shared classroom folder, allowing your learners to revisit the lessons whenever necessary. Additionally, Voki's avatar feature is quite intriguing, as it keeps learners interested and eliminates boredom.
Works with: iOS, Android, Web
3. Camtasia
Camtasia is a versatile software application that combines screen recording and video editing capabilities, making it a valuable tool for content creators, educators, trainers, and anyone who needs to create professional-quality videos with ease. Camtasia allows users to add interactive elements to their videos, such as quizzes, knowledge checks, and clickable links. These features enable the creation of engaging and interactive educational content.
Works with: iOS, Android, Web
4. Snagit
Snagit, one of the best free online course builders, allows you to screen record your entire desktop, add arrows and numbers to emphasize important information about the course, and more. With Snagit, you can create a workflow for your course and create animated GIFs, annotations, and edit video clips. 
Works with: Mac, Windows
5. Pixlr
With Pixlr, you can leverage tons of design templates for your presentation. The tool is primarily used for image editing, but now it provides AI-generated images for users – like DALL-E2. You can also remove backgrounds, make collages, and animate designs for free using Pixlr.  
Works with: iOS, Android, Web
Conclusion
While all of the software and tool builders listed above offer free services for online course creation, they are also viable options. Some are better for video recording, while others are best for animated presentations and stunning templates. Regardless of your needs, you can use our top picks to find the best free online course builder.