Duolingo Alternatives: Our Top 5 Picks with Pros and Cons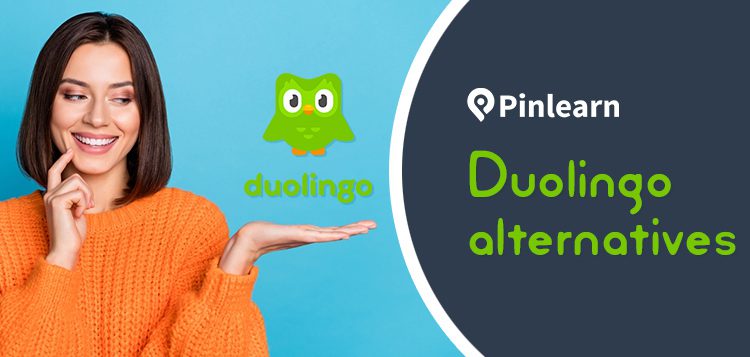 Before getting into the best Duolingo alternatives, let's see why some of you might want to look for better alternatives. 
Learning languages is very interesting as it gives you an opportunity to learn a lot of new things besides the language itself. It opens the door to related countries and cultures and helps in personal development as well. Learning a language these days has become much easier than in the past with access to modern technology.
Thanks to language learning apps like Duolingo, you can learn your desired language effortlessly at home. But it's not the only one available for language learners. 
And that is the whole purpose of this blog- If Duolingo is not working out for you, we will discuss some of the best Duolingo alternatives. 
Not just that, besides Duolingo competitors, there is a lot of information you are going to come across in this blog. You can be a tutor who is looking for opportunities to expand your reach to your target audience, we have got you covered. Let's get started. 
Why look for a Duolingo alternative?
Learning a language has been a popular activity among people during the COVID-19 pandemic, as shown in the Duolingo report. It shows that 30 million new people have taken up language learning in the weeks after lockdown. Out of which 33% have chosen to learn a new language due to school curriculum, 15.8% due to work and the rest due to various other motivations.
Duolingo's monthly active users through Google play store crossed 6.6 million worldwide.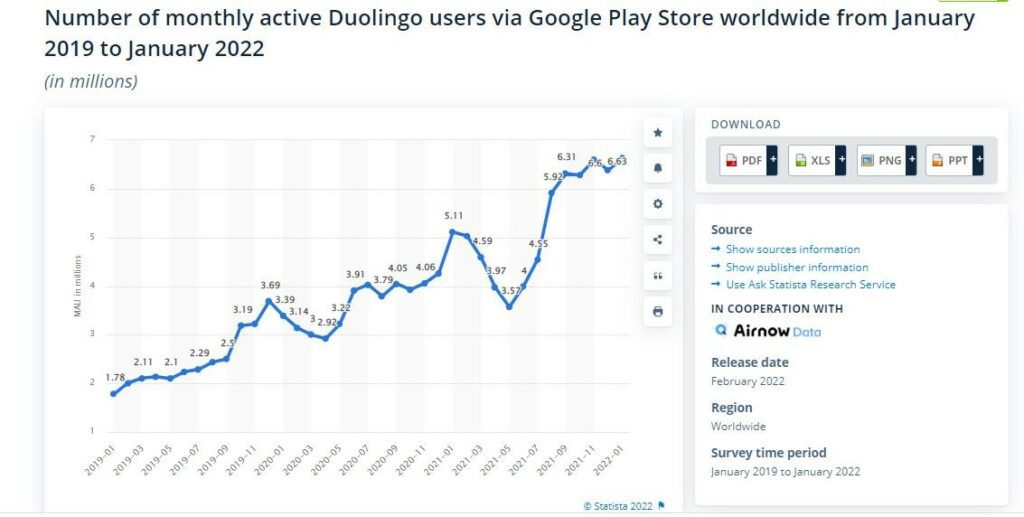 Duolingo is one of the most popular linguist apps people choose to learn a foreign language, but it's not the only one. And it's mostly text-based teaching style is not perfect for everyone and that is why most of the users are looking for Duolingo alternatives. 
Unlike many Duolingo competitors, Duolingo is a free language learning app, which is amazing. Duolingo business claims that 34 hours of Duolingo is equivalent to a full semester of language education offered in universities. This implies that taking Duolingo courses is more effective than learning a language in college. 
This is not true as it lacks the interactive learning sessions which other apps like Duolingo offers. 
Best alternatives to Duolingo
Learning a new language with Duolingo is great. However, if you have already tried Duolingo and want to explore more alternatives to Duolingo, we have the best picks for you. So without further due, let's start. 
Preply
Preply is a tutoring platform that allows learners to easily connect with different tutors around the globe. Being a great Duolingo alternative, taking a language learning class at Preply is this simple:
Choose the right tutor by price, language or nationality. 

Schedule the class and take your first lesson. 
Preply is not just great for learners but for tutors who want to turn their language expertise into income too. The process of becoming a tutor on Preply is relatively straightforward as well. 
Pricing
The price of a class is not fixed and depends on the rate the tutor sets. The overall price varies depending on the rating and experience of the tutor. Now coming to the tutor's side, the platform takes a 100% commission for the first class, and the first 20 hours' commission is at a rate of 33%. The commission rate comes down to 18% as the experience of the tutor increases. 
Pros
The number of users on the platform is impressive. High traffic increases the chance of tutors getting easy bookings and learners getting the right tutor match. 

The number of languages a student can learn on Preply is high. 

Tutors can choose their working hours, which results in better work-life balance. 

Learners can conveniently make appointments with tutors. 
Cons
Most tutors who work with Preply aren't happy about the fact that the platform takes 100% compensation for the first class they teach. 
Cambly
Cambly is a language learning platform, another Duolingo alternative that gives English learners on-demand access to English tutors over video streaming. It provides learners with an affordable and convenient solution to practice their English and gain confidence. ESL tutors also get opportunities to make money by helping learners from around the world practice English. Cambly helps learners with things like:
Conversations.

Structured English lessons.

Business English.

Survival English based on role-playing.

Exam preparation assistance. 
Pricing
Being a Duolingo competitor, it also works on a subscription-based pricing model where learners can set up the weekly schedule of how many minutes they wish to study every day. Based on their chosen input, a subscription fee package is to be paid monthly, quarterly, or annual. This section is similar to choosing a commitment level for learners. 
The 15 minute per day, twice a week plan comes around $52 per month on a monthly plan, $47 for a quarterly package, and $39 for an annual plan. As the time you choose increases, the plan gets expensive as well. 
When it comes to tutors, Cambly pays $0.17 per minute, which equals $10.20 per hour. It's not huge but considering that no experience is required for tutors makes it a nominal fee to earn a little extra.
Pros
One-to-one-video streaming.

24/7 access to on-demand sessions for both students and tutors.

Tutors and students can log in at any time and connect with each other. 

Every lesson is recorded so that learners can view it later. 

In-chat translation features that allow both tutors and learners to chat in their native language.

Certificates awarded after completing 10 hours+ of private lessons.
Cons
Tutors don't have to be qualified, which compromises the quality of classes delivered. 

Difficult to find students' reviews.

Compensation for tutors is not great. 
Verbling
Verbling is another Duolingo alternative, which is an American-based tutor marketplace offering over 80 languages to learners. The platform hires experienced Native and Non-native speakers without a teaching certificate at a commission rate of 15%. 
Learning a language is conducted on Verbling video, the video chat platform of Verbling. Verbling is very strict about online tutoring being conducted only on their video platform and not on other platforms like Zoom or Skype, even at times of technology failure. 
Tutors can offer learners a half-an-hour trial lesson to attract them to buy batches of Verbling classes in their single or in 5,10 or 20 sessions. The platform doesn't assign students, nor can tutors contact learners who haven't visited their page. New tutors are helped with a temporary boost in ranking to put their profile at the top of the tutor's list. Otherwise, tutors have to market themselves to attract students when using this Duolingo competitor platform. 
Pricing
Verbling works on a marketplace model, and what learners pay varies based on the tutor and for what period of time. Learners can pay per lesson using various payment methods supported by the platform. It applies a 15% on tutor rates from the tutor's earnings. Tutors can set their hourly rate and will receive the amount shortly after the lesson is completed. Tutors can cash out their earnings once a week. 
Pros
Very few requirements for tutors to apply for the job. 

Low commission rates compared to other tutoring marketplaces.

Provides access to a wide range of languages. 

No interview process.
Cons
The hiring of tutors is periodically frozen.

Difficult to attract learners. 

Tutors can teach only one language. 

Restrictions on using other video streaming platforms to teach.
Memrise
Duolingo falls short in many areas. Fortunately, Memrise scores in those areas boost language learning efforts of students and hence works as a great Duolingo alternative. It guides learners through individual words and phrases through flashcard-like systems. This helps to expand learners' vocabulary and other language learning opportunities. 
Many learners acknowledge that Memrise has helped them speak the language like a native, which is one perk many language learning apps don't have. 
There are mainly two types of courses on the platform, the officially curated programs formulated by the Memrise team and user creator content created by the community members across the world. 
Pricing
The app comes with 3 pricing plans, monthly, annual, and lifetime packages priced at a range of $8.49/month, $119.99.
Pros
The free version of Memrise offers access to most offerings. 

It uses a spaced repetition system and mnemonics to memorize language more efficiently. 

Appealing interface and game-based system to make learning an enjoyable activity. 
Cons
The quality of user-created content varies.

The learning experiences get repetitive. 

Memrise is not for advanced level learners
Pinlearn
While reading about similar apps to Duolingo, the most important thing is that all these language learning platforms put a lot of restrictions on the efforts of the tutors. Additionally, they don't offer much control to them over their activities on the platform and the money they make. 
Considering these facts, the best language learning platform a tutor can rely on from a business perspective is to own their language learning tutoring marketplace. The fifth Duolingo alternative we will talk about here is a ready-made software solution to build your own online tutoring marketplace for language learning. 
Pinlearn is capable enough to meet the diverse requirements of online tutoring businesses and efficiently manages all related challenging tasks. The fully customized software comes equipped with a lot of features that empower its users with their constantly evolving requirements. 
It is a self-hosted software solution where you have the flexibility to choose your hosting solution and enjoy the independence of customizing code without relying on script vendors. Pinlearn allows tutors to conduct both one-to-one live classes through video conferencing and host self-paced online courses. 
Pricing
Pinlearn comes at a one-time fee with no transaction charges. There are mainly two plans; regular and premium-priced at $699 and $1499, respectively. There are no other recurring fees.
Pros
Interactive whiteboard for an engaging live learning experience. 

Dedicated management features and functionalities for tutors, learners, and admin.

Professional online course selling features and monetization tools. 

Multilingual feature to translate content. 

Live session recording for online courses. 
Cons
Building a language learning website
Instead of using other alternatives to Duolingo, the best approach is to build your own language learning site. Building a language learning platform is the obvious method, but it is a challenging task as it takes a lot of time and effort and is an expensive affair. As we discussed, the recommended approach is to use an online tutoring software like Pinlearn to create a customized self-hosted tutoring marketplace.
Coming equipped with pre-integrated features like Zoom API, a virtual classroom with high-quality video and text chat, whiteboard, powerful reporting features, and monetization features, it is all you need to run your language learning platform successfully and profitably.
Conclusion
Where Duolingo falls short is where other alternatives to Duolingo can outperform it.
After all, it's quite common for new language learners to leverage more than a language eLearning app at a time which gives scope to creating a Duolingo alternative. If you are a tutor who wants to turn your subject expertise into a full-time career, choosing an online tutoring software to build your tutoring marketplace would be the ideal choice. 
What are you waiting for? It's time to take charge of your tutoring skills. To get assistance on building your language learning platform, get in touch with us.