How To Create An Online Language Learning Website Like Verbling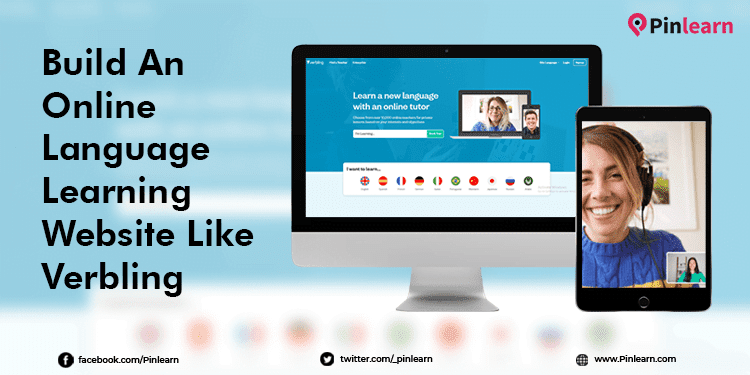 With a CAGR of 18.7%, the online language learning market is expected to reach $21.2 billion by 2027. It's a rapidly growing market, mostly due to the globalization of economies and cost-effective online learning solutions going accessible to all.
Globalization has encouraged people to learn new languages for seamless communication, where aspects like growth in the eCommerce industry, IT outsourcing, and foreign migration for higher education have added to the scope of online language learning marketplaces. Besides, the ever-growing investment in the education sector and expansion of MNCs into diverse global locations are also responsible for this learning frenzy. 
The COVID-19 pandemic restricted the entire world with lockdowns. All thanks to accessible remote working solutions, many businesses were able to work efficiently in the lockdown, too. The online learning industry is one such sector that not only grew in the pandemic but also came out with one of the most critical applications of remote working and collaboration technologies.   
The same online video chatting and collaboration tools that facilitated remote working also paved the way for thousands of schools, colleges, universities, and other educational establishments to remote teaching and learning possibilities. Apart from students, working professionals utilized their time at home to learn new skills, and language was one of the highest in demand.
Start an Language School Online
With the learning features you want for your audience
Check our Demo
The language tutoring companies like Sanako Corporation and Rosetta Stone Inc announced free language learning programs during the lockdown. They offered unlimited access in both self-learning and live tutoring modes:
Rosetta Stone Inc. offers language training for over 28 languages at a subscription cost of $7.99/month.

Duolingo Inc. offers free language courses with an optional subscription plan for an ad-free and offline learning experience.

Babbel provides language training for over 14 locales at   $6.95 – $12.95 per month based on different subscription models.
Last but not the least, Verbling is a language learning marketplace, and one of its kind. It offers language training for over 70 locales in a real-time environment with different tutors. Here, you can connect with language experts in live one-to-one mode, and pay based on the per-hour charges fixed by the tutor.
If you look at the growth of some of these language learning platforms, it's clear that financiers are keen on investing in this promising sector: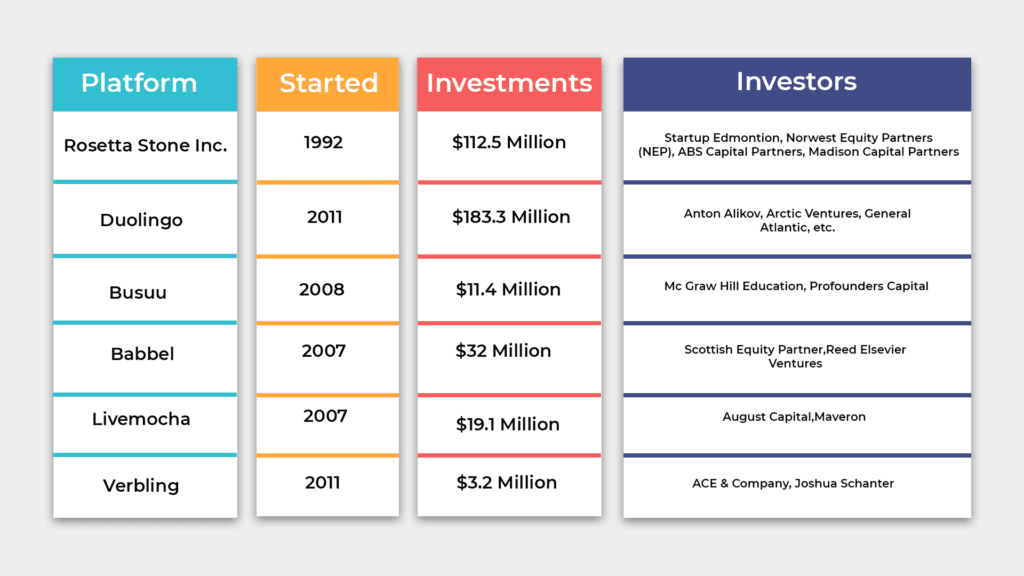 Looking at these numbers, it is clear that the language online learning market is definitely profitable. While most of these names have introduced themselves in the self-learning environment, Verbling stands apart with its live language training model.
Verbling was recently acquired by Busuu for an undisclosed amount. However, there are rumors that it was a double-digit million-dollar deal. Busuu is a self-paced online language learning platform like Duolingo. Its acquisition of Verbling- a live video tutoring platform –is an indication that the language training giant acknowledges the potential in live learning environments.
Busuu, which boasts of over 100 million users, is now offering an all-round language learning experience by targeting both self-paced and live video tutoring modes, thanks to Verbling.
Verbling focuses on a business model that offers a solution to one of the biggest barriers in online language learning. Online language training platforms, which mostly follow the self-paced mode, utilize interactive instructional designs by combining text-based user-experiences. However, when people are learning a language, the actual interaction with the native speakers is more important, which traditional self-paced modes can't offer.
Live language training platforms like Verbling fill this gap by offering language training via real-time audio and video chats with native speakers (and trainers). Before Verbling, most of the language training portals relied on ready-made instructional designs or text-based chat interactions at most.
Verbling offered a next-generation language learning platform that connects its learners with native speakers of over 70 locales through live video sessions. Learners can audio/video chat with native speakers, enroll in video language classes offered by hundreds of tutors on the platform. One can choose from both 1-on-1 or group sessions. The per-hour fees for the classes are decided by the tutors themselves.
A typical language training marketplace works on the same revenue model that every online marketplace follows these days, including Verbling –which is a commission-based revenue model.
The tutors are free to decide how much per-hour fees they want to charge, which the platform collects from the learners using online payment gateways. Each tutor gets a dashboard on the platform from where they can track their earnings. The platform makes periodic pay-outs to the tutors after deducting a percentage cut as commission for services it provides.
The following flow-chart explains Verbling's business model in detail :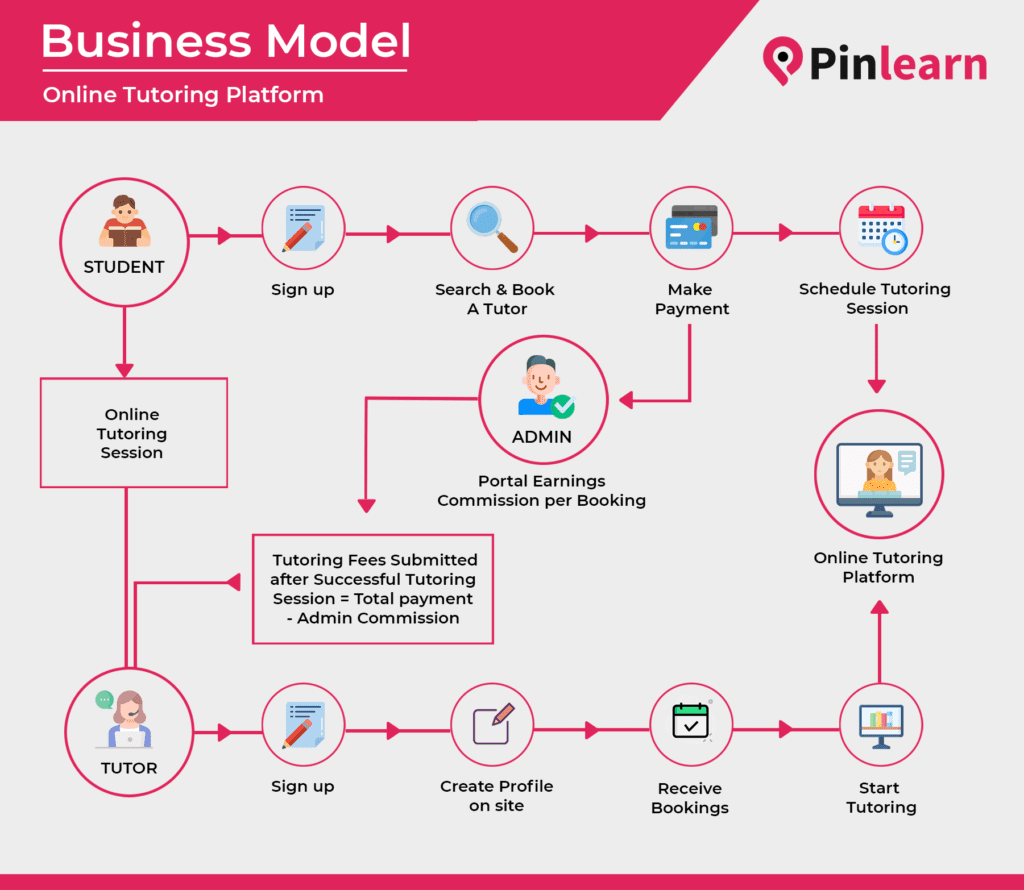 Apart from the basic commission-based model, such a language tutoring platform can also utilize additional revenue streams to increase the bottom-line. For example-
Subscriptions for students: Platforms may charge an optional subscription fee from the learners by promising additional benefits, such as free 1-2-hour sessions per month, access to recorded live sessions, the ability to DM tutors for doubts clarification, etc.
Subscription for tutors: Platforms may charge an optional subscription fee from the tutors for added benefits like reduced commission cuts, free promotional tools, banner ads, dedicated domain address, and access to advanced features like selling recorded videos, etc.
Promotion package: Platforms can sell additional promotion packages to the tutors where they can offer exclusive benefits like space in the Featured Tutors and Featured Courses sections.
Thinking about starting an online language school? It's indeed a good idea. This section will give you an idea of all the essential modules that you should include while building your online tutoring marketplace like Verbling.
Homepage Highlights
You need to think of your homepage from a two-dimensional perspective – One for offering seamless browsing and navigation to the learners, while another for expanding your revenue by offering prominent sections for tutors to pay and book a space; for example, Featured Tutors, Featured Courses, Featured languages. Here are some more suggestions:
Place key links to your website's other pages in the top navigation bar: Classes, Tutors, Sign-Up, Pricing, etc.

Use a slider banner or single banner to highlight a catchy message along with your primary CTA just below the top navigation bar.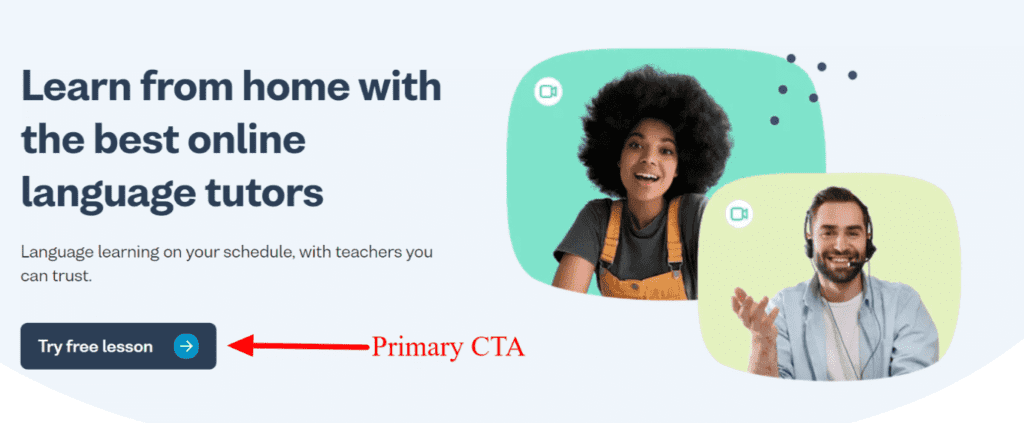 Add a block that drives learners directly into the conversion funnel. For example, link to getting started with the language learning process (your primary offering) by choosing the language they want to learn. This block may feature a brief catalog of languages or the most popular languages on the platform.

The space below the fold can be used for highlighting further information like featured tutors, testimonials, how it works, why choose us, etc. Basically, everything that can strengthen the attention and confidence of the user can be placed strategically below the fold.
All other essential information can be linked to the footer section. For example, social media, FAQs, discussion forums, and quick links to popular languages.
Type of Classes
The live language classes can be diversified into subtypes to target most kinds of language learners. The following three live learning modes are the major ways to diversify your offerings:
Live group sessions: Students can book slots in scheduled group sessions of the languages they want to learn.
Live 1-on-1 sessions: Students and tutors can connect to schedule private sessions as per preferred timings. 
Recorded sessions: Students can access/download recordings of the previous group and private live sessions if the tutor has allowed it.
Tutor Discovery
Tutors are major stakeholders of your platform. It will need intuitive features for tutors to enjoy teaching on your platform and learners to discover relevant tutors in the easiest ways. Here are some features you shouldn't miss if you are thinking about how to create a language learning app with overall targeting:
An advanced search box to return tutors results based on the searches made by the users.
Filter search results on multiple aspects: Language, price, availability of slots, upcoming group sessions, etc.
Sort search results based on multiple aspects: ratings, timings, name, nationality, etc.
Option to browse tutor profiles, schedule demo sessions, book a slot in a group session, and connect via text chat.
Tutor Profile & Booking a Private Lesson
Learners may want to vet a tutor's profile before committing. For that, they need access to see all the necessary details of every tutor on the platform. Make sure a tutor's public profile offers the following details and features:
Demo or introduction video.
General information: Name, Age, Nationality, Experience, Ratings, Student Testimonials, etc.
Share tutor profiles with others via SMS, email, or social media.
Tutor's per-hour fee and applicable discounts (if any).
Option to book a demo class.
List and details of upcoming group sessions (if any), and option to book a slot.
Teacher's resume showcasing professional details and career.
Students
Students are the key actors on the platform. You must add the following features to make the most out of them:
Students dashboard offering access to the details like-

Active subscription plan (if any)

Option to invite users to join the platform using a referral program or social sharing.

Option to request refund (if applicable)
Video conferencing and Chat
Since video conferencing is the primary mode of communication on your platform, you must make it as complete as possible by including every useful feature:
1-to-1 video calls.

1-to-many broadcasting or webinars,

Live text chat for added ease of communication.

Interactive white-board for digital illustrations.

File transfer among the participants.

Screen sharing for seamless webinars and presentations.
Events management and notifications
The entire workflow of a live language learning platform is based on scheduling and attending online events in 1-on-1 or 1-to-many modes. It is important to have a robust workflow that not only manages events but also notifies relevant participants when required. You must ask the developers of your online tutoring marketplace to include the following event management controls for both the tutors and students:
Integrated calendar management.

Calendar view of the upcoming and completed events.

Automated email notifications with direct access to upcoming events.
Thinking about how to start an online language school like Verbling? Use Pinlearn.
Pinlearn is a turnkey eLearning platform builder, which allows anyone to build Verbling-like language learning platforms without writing codes from scratch. You can use Pinlearn's live learning features to run and manage a language learning marketplace. It's basically a one-stop, ready-made solution that saves months of development, weeks of testing, and millions of dollars that could go if you were to build a platform like Verbling from scratch.
It's 100% customizable,

Comes with open source-code,

Can be self-hosted on a web-server,

And you can get 100% ownership by paying a one-time cost; no recurring fee at all.
Upon simple installation on a web-server, Pinlearn gives a set of solutions and features to run your live language learning marketplace seamlessly. Here is a glimpse of some of the in-built features that you get with the script:
User Registration and Verification
The platform features two types of end-users: Tutors and Students.
There is a simple, consolidated user registration form, which anyone can use to sign up as a student or Tutor on the platform.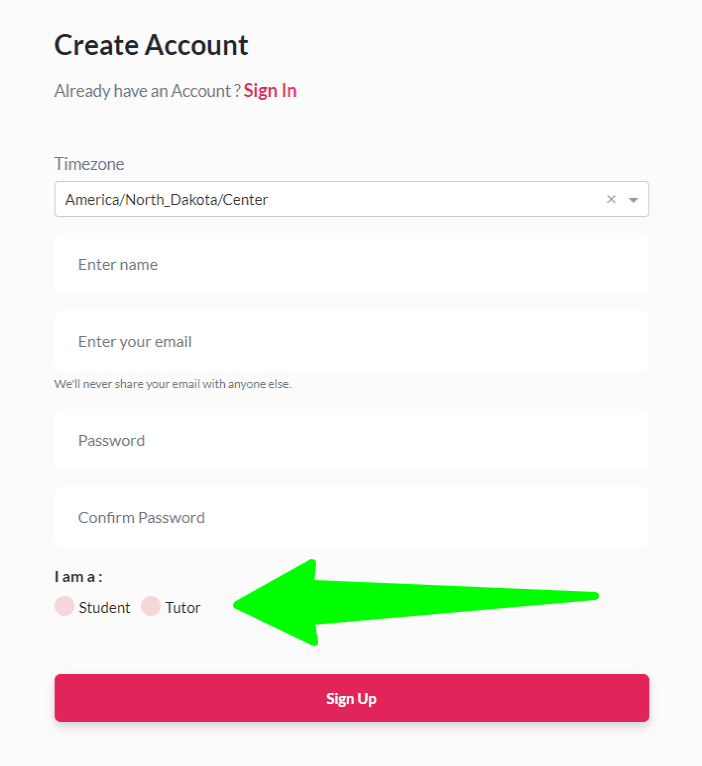 Upon successful registration, the user can use the login form to access respective dashboards (student or tutor).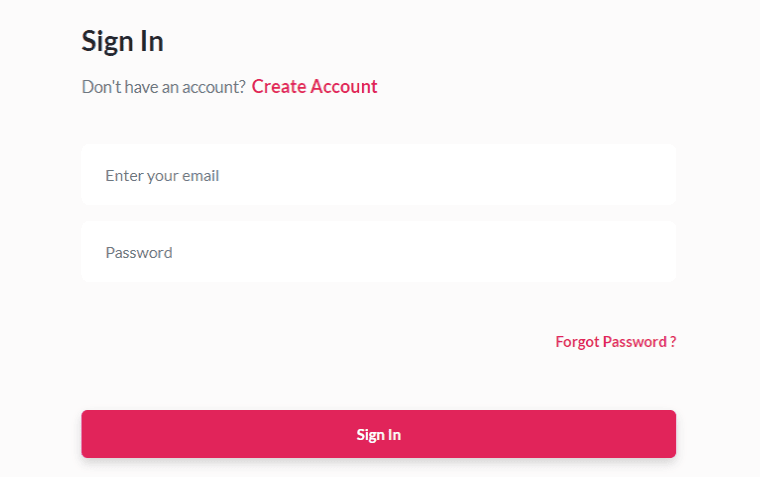 User Profiles and Dashboard
There are two types of dashboards on the front-end that feature controls from the Students' and Tutors' perspectives.
Student Dashboard:
After login, the student is taken to 'Student Dashboard', which features controls for student account management, classes management, transactions management, etc.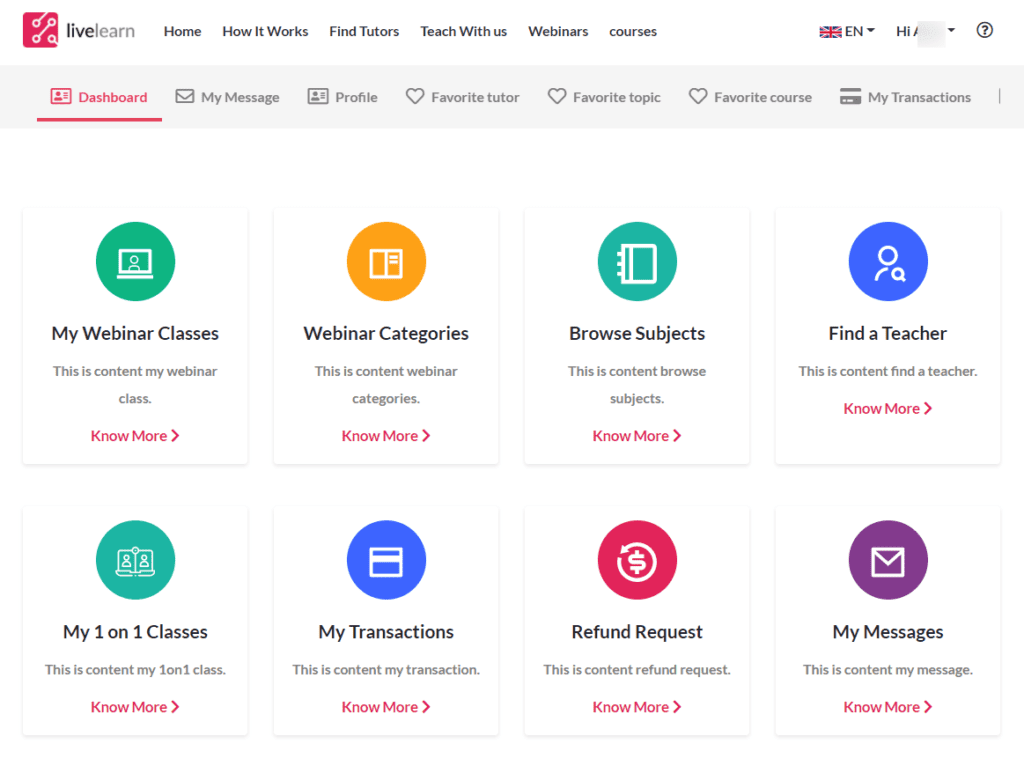 The Student can also visit different tabs to browse: messages, favorite tutors list, favorite language list, profile management, and transaction details.
Here is a view of the user profile management page. The student can see their profile details, manage notifications, invite other users, or make changes to the profile by clicking on the 'Edit Profile' tab: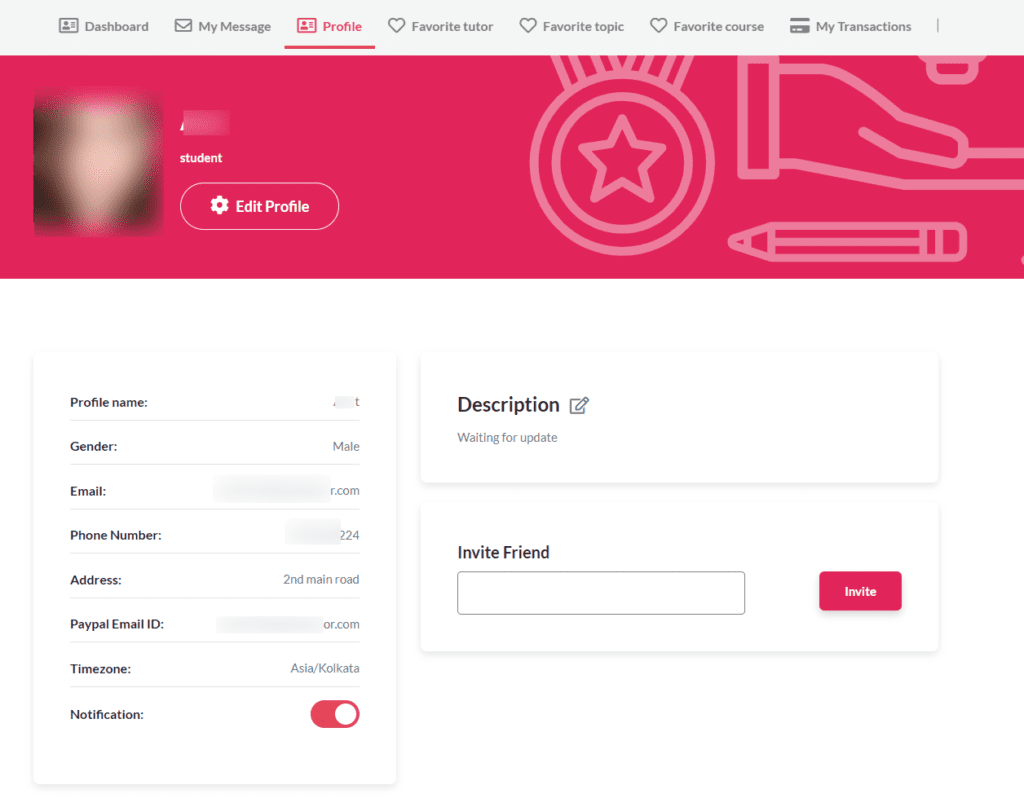 Tutor Dashboard:
A dashboard similar to the student dashboard (with some extra controls) is offered to the tutors to manage relevant workflows. The dashboard gives all the options to a tutor to manage controls such as-
Tutor profile
Webinars and appointments
Pay-outs and earnings
On-site messages etc.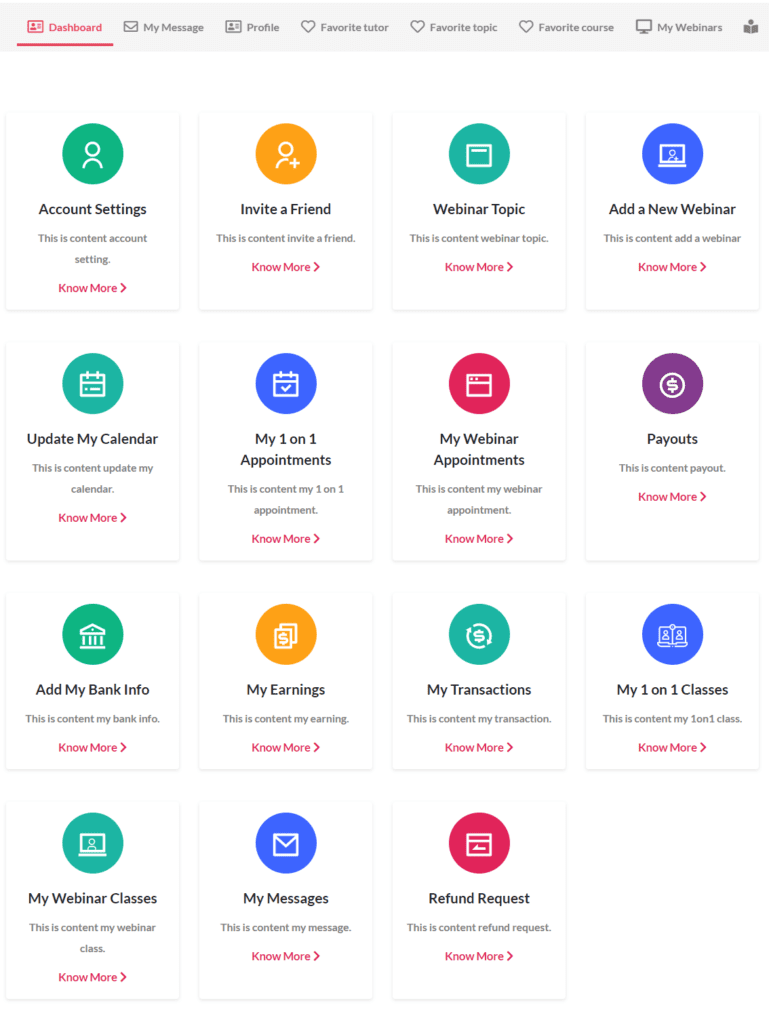 Search System
As stated earlier, an intuitive search system is the backbone of a language learning platform. The users must find language courses and tutors in the easiest and quickest ways possible: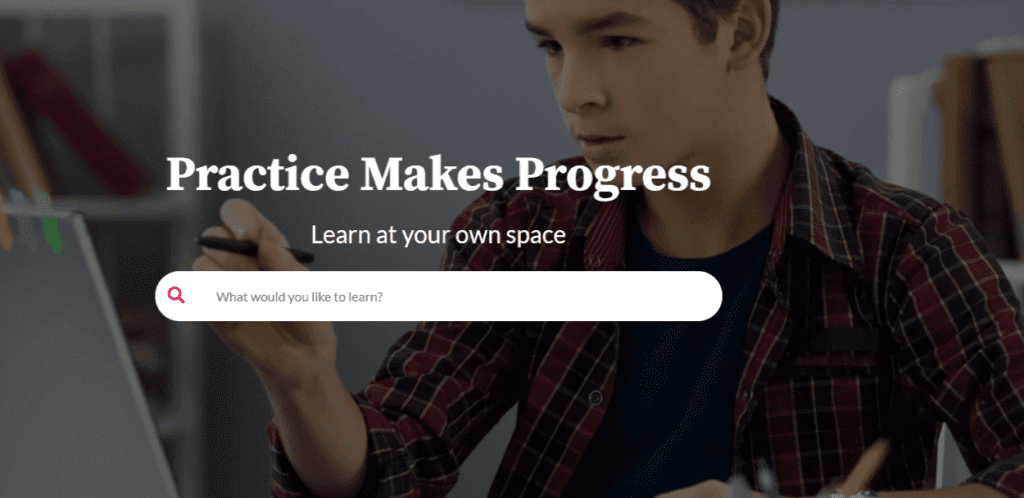 The platform features an advanced search filter, too: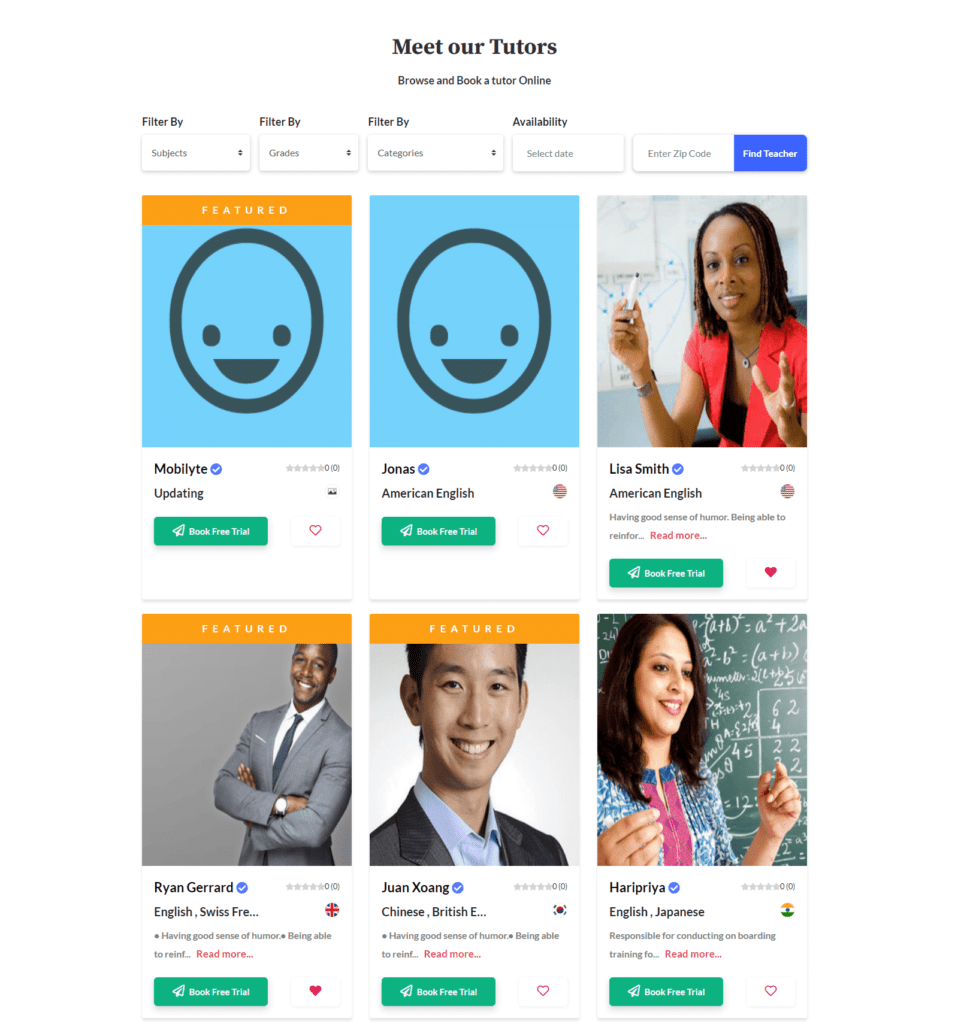 Students can also visit each tutor profile for a detailed overview:

Scheduling System
It's a feature used by both students and tutors in their respective ways. The integrated calendar management system in Pinlearn offers synchronized event scheduling throughout the platform for both private and group sessions.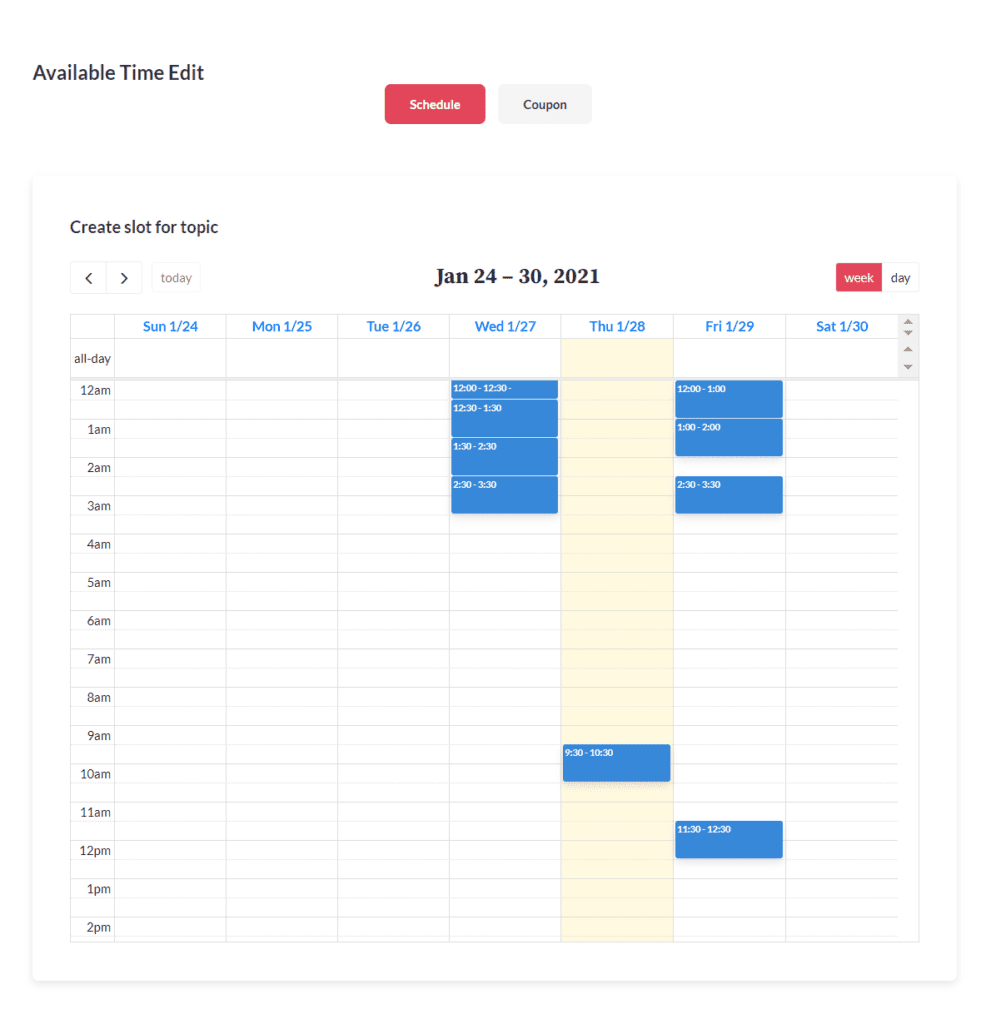 Even the tutor-booking workflow is simple. Look for the language or tutor, visit the profile, select from the group or private session, pick a time-slot, confirm it, and wait for the tutor to accept.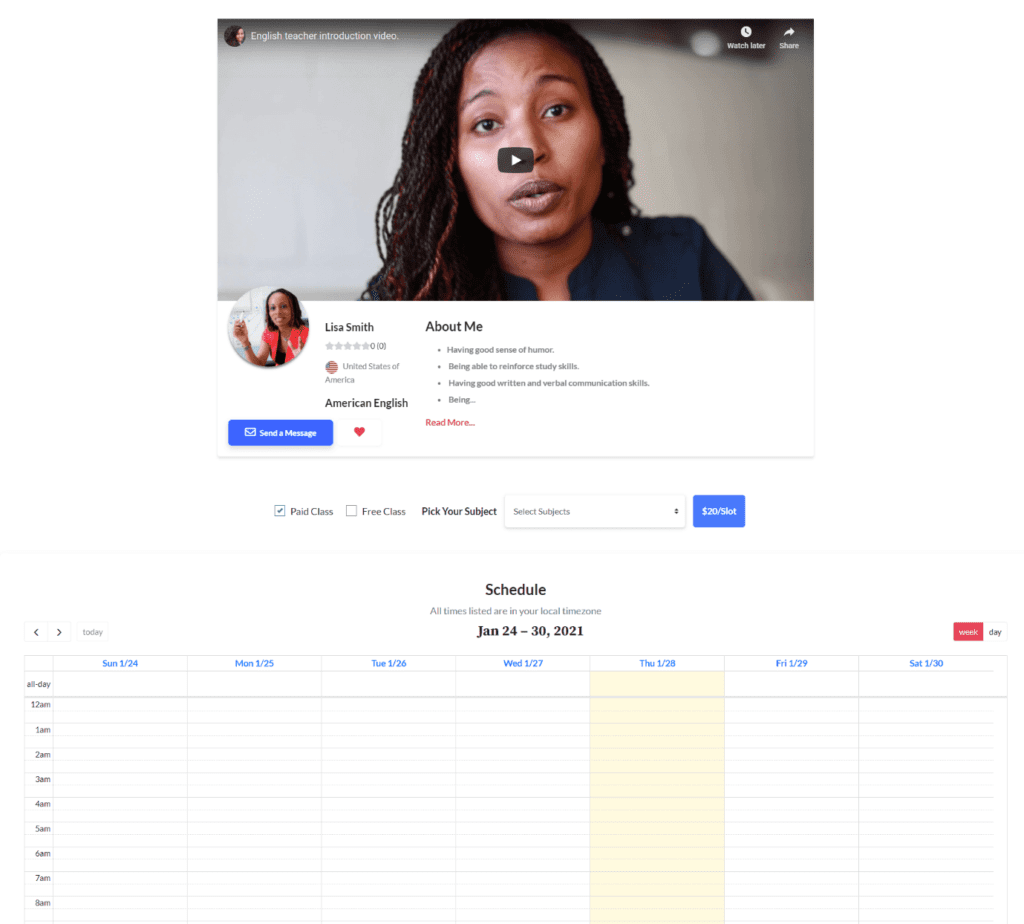 Video Conferencing
Pinlearn uses Zoom API for managing video conferencing and webinars. However, the platform is customizable to add any other API on your request.  
Payments Management
Pinlearn manages payments on the platform using online payment gateways. The payments from the students come first to the admin. The admin makes regular pay-outs to the tutors based on the earnings and commission calculations, which are visible on both Admin and tutor dashboards:
Tutor's View: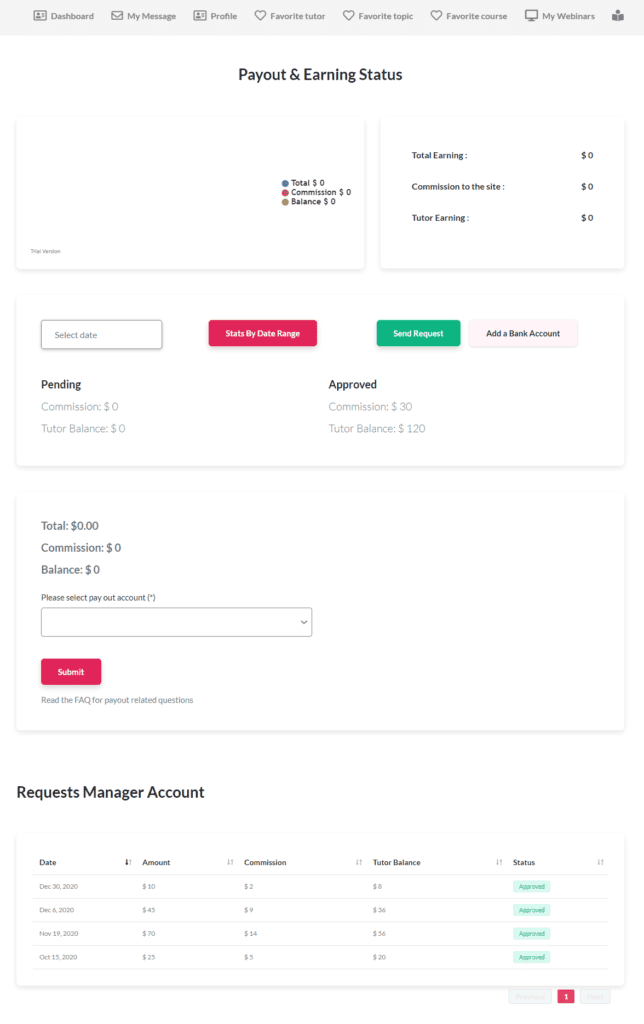 Admin's View: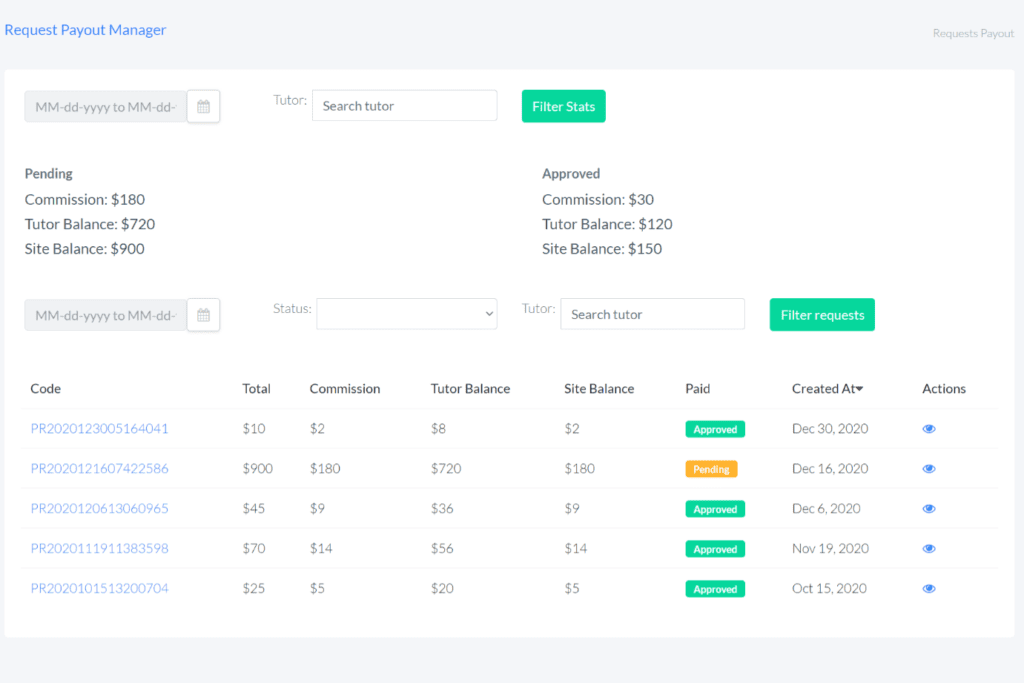 The balanced payments are transferred to the tutors digitally using the bank details provided by the tutors in the 'Add My Bank Info' section of the tutor dashboard.
Review and Ratings System
The students can write reviews and rate tutors, which are shown in the tutor public profile as viewed by users in the front-end.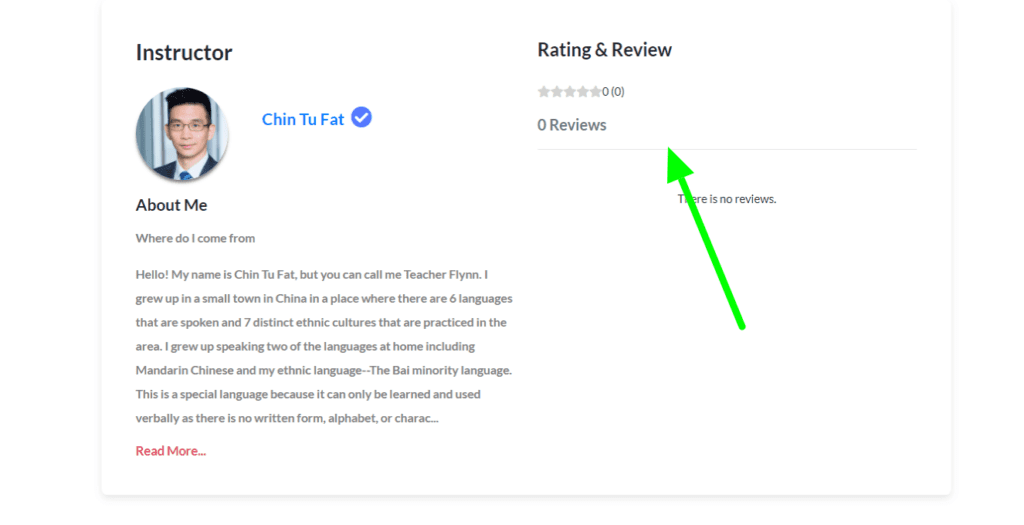 Got an Idea for an Online Language Learning Platform?
We'll consult you on the options and help building the platform.
Contact Us
Building an online language training platform requires in-depth planning and development. To develop a Verbling-like platform and compete with existing players, you need something extra that others miss out on. This is where Pinlearn can be useful. You can acquire an advanced MVP for a fraction of the cost, while you can invest the saved time, money, and resources in marketing, research, and further development.
Nevertheless, everything you need for building and running an online language learning platform is available out of the box with Pinlearn. Do test out the live demo of Pinlearn to get a hands-on experience. Let us know if you are seeking any kind of customization.