Pinlearn Partners with Lessonspace- Online Video and Collaborative Whiteboard Tool
If you were asked to pick one vital component of any online tutoring platform, the obvious answer would be a virtual video conferencing and whiteboard tool. Online tutoring is a burgeoning market for educators and edTech businesses, but the virtual classroom is not a simple fix. Educators need to maintain the quality of the tutoring sessions, and the virtual classroom plays a significant role in the same. Online whiteboards are essential for real-time collaboration and asynchronous teamwork. 
With years of close collaboration with clients in the tutoring industry across various niches, we understand the importance of a powerful virtual tool to power your online sessions. Today we are bringing a special addition to our tutoring platform to transform your tutoring experience. The Pinlearn team is delighted to announce our new partnership with Lessonspace.
Pinlearn Integrates Lessonspace -Video and collaborative whiteboard platform
With clear and reliable video calling and chat functionalities, Lessonspace is beyond a normal online whiteboard. WebRTC-based video chat and screen sharing functionalities and integration of visual tools for collaborative learning makes it an excellent virtual classroom suitable for modern educators.
Let's see how Lessonspace can be seamlessly integrated into the Pinlearn platform.
The Tutors can conduct classes on Lessonspace now  
Engage your learners by running your classes on the easiest and efficient online video and collaborative whiteboard platform.
Automatic generated of Lessonspace link
The lessonspace links will be automatically generated against each appointment of the tutor and student.
Lessonspace: The Best Online Tutoring Tool
Lessonspace is a simple yet highly functional virtual classroom with tools like multiple boards, subject-specific tools, and other important resources. 
To understand the advantages of Lessonspace, let's explore the other whiteboard integration we support- Zoom. 
In Zoom, the tutor has a time limit of 40 minutes per session in the basic plan. The tutor must upgrade to PRO license to conduct 1-to-1 live classes exceeding 40 minutes (effective from May 2,022). The tutor must also have the pro-license to conduct group classes which again has a limit of 100 users. 
With a free Zoom license, tutors can take sessions for up to 40 minutes. If you want to go beyond 40 minutes, upgrading to a PRO license is mandatory. Again if you're going to accommodate more than 100 students in a single session, it is necessary to upgrade to the next level- The Enterprise level. 
Now let's come to Lessonspace; it has no limitations when it comes to the number of users, as it charges solely based on minutes used. While 1-to-1 classes in Lessonspace don't limit users, the group classes can support only 10 students. If your tutoring business revolves around small group tuitions, choosing Lessonspace as a whiteboard is excellent. However, if you want to accommodate a large group of participants, like in a large group webinar, it is recommended to switch to Zoom. 
Lessonspace Features Outstanding Whiteboard Functionalities
Being an online whiteboard tool, Lessonspace is quite effective in making online tutoring much more effective than other teaching tools. Designed to make online tutoring as easy as using a real blackboard, there are a lot of features that make it the best online tool for tutors. 
Sharing screens and snapshots for your video feeds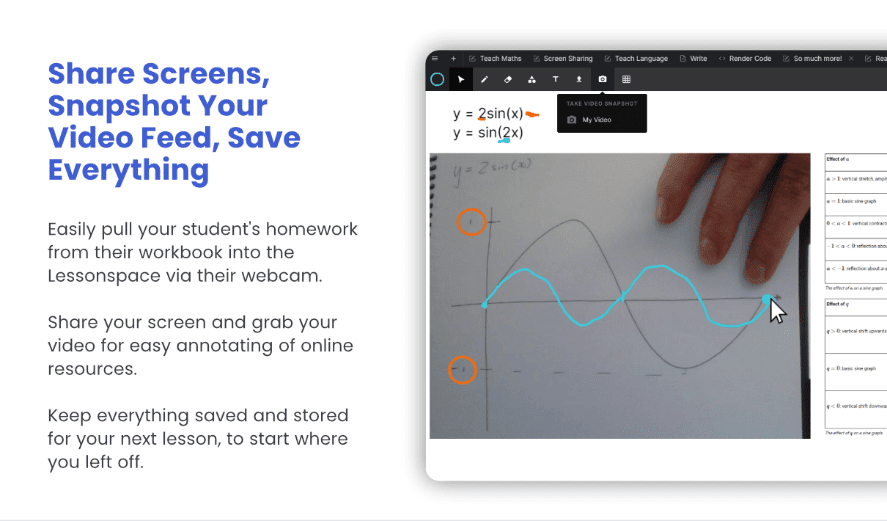 Lessonspace integrates a Video Snapshot tool that can capture a snapshot of a webcam feed. 
By combining the video snapshot tools with the screen sharing feature, tutors can capture screenshots of their screen as any student computer screen.
Subject specific tutoring tools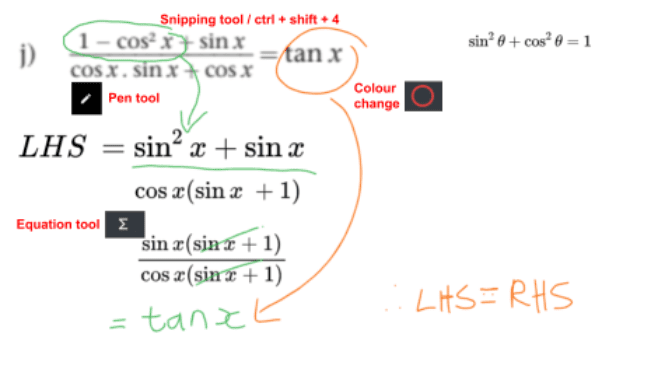 Lessonspace have plenty of tools to make online tutoring better than real classroom experience. It comes with equation tools for graphical and formula based problem solving, upload images, pen tools, and a lot more, making it ideal for maths tutors. 
Manage lessons from a central dashboard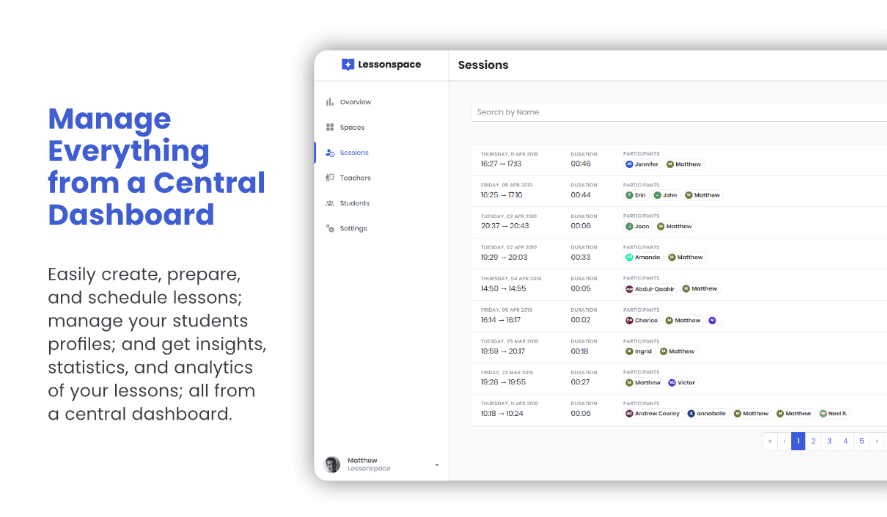 With Lessonspace, you can easily save, store, and easily retrieve your lessons from the dashboard. 
Import ready-made docs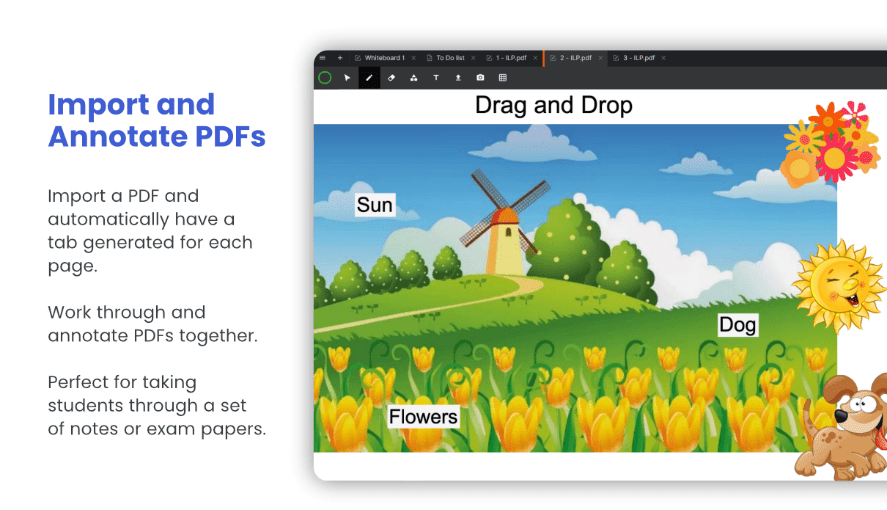 If you have ready-made PFDs, images, power points, or infographics, you can easily import them to your space. 
Use your tablet to draw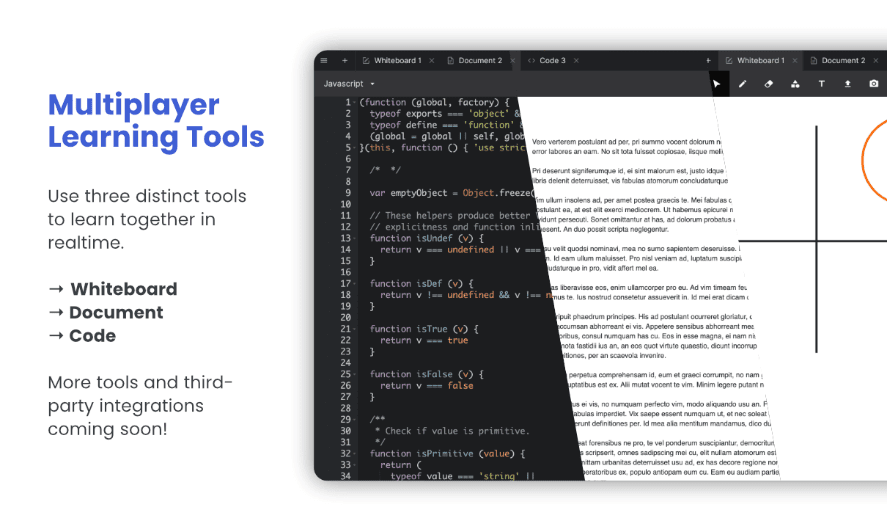 With Lessonspace, you don't need any fancy drawing tablet; you can just connect your smartphone, iPad, or tablet and start writing away.
Switch between 4 video layouts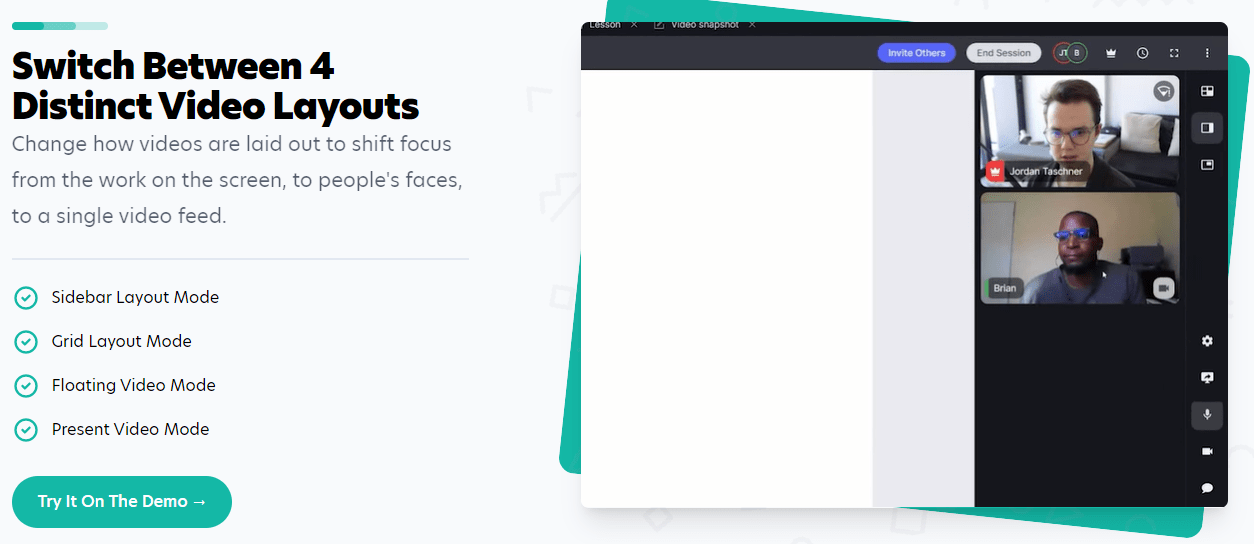 Lessonspace allows users to switch between distinct video layouts, sidebar layout, grid layout, floating video, and present video modes. 
Efficient automated troubleshooting tips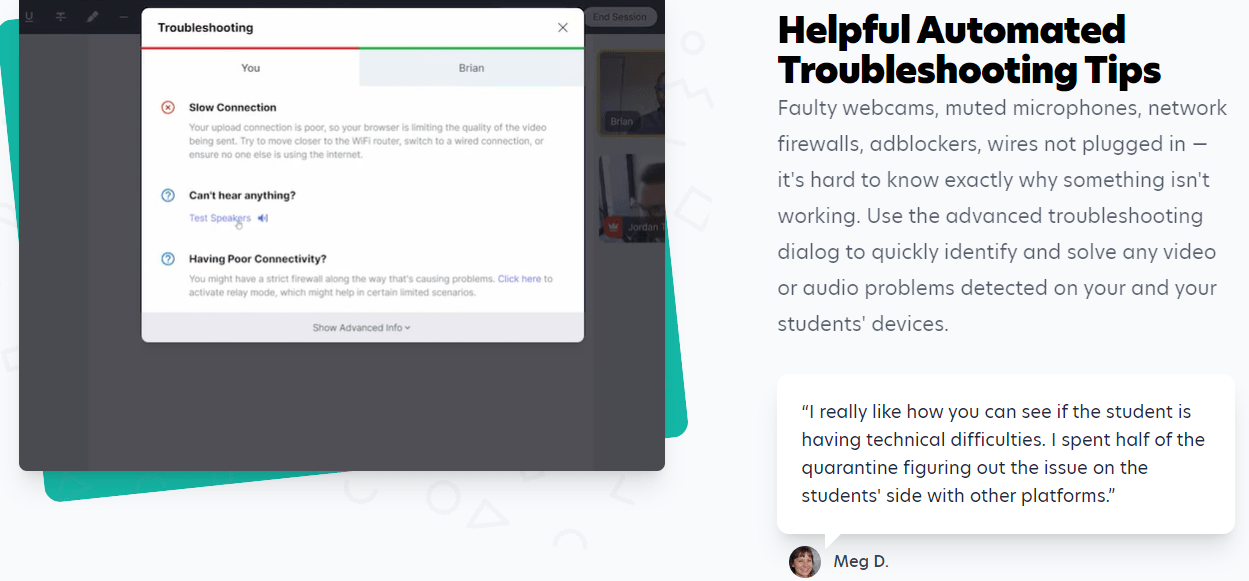 Don't worry if you face any issues with your webcam, microphone, network firewalls, or anything of similar sort. Lessonspace integrates automated troubleshooting tips to help solve your problem instantly. 
The feature list doesn't end here, here are a few more for your reference. Check out the entire feature list here. 
Lessonspace- Pinlearn Exclusive Discounts
Creating a Lessonspace account is simple and it comes with a free trial. Additionally, if you are a Pinlearn customer you can get exclusive discounts on various plans including starter, pro, and advanced plans, which are shown below.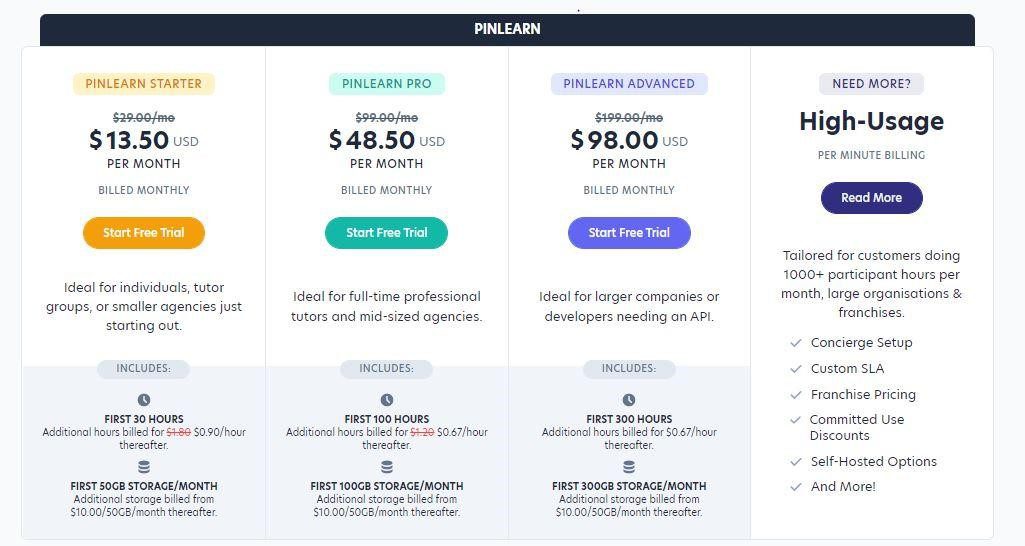 This Lessonspace offer is exclusive to Pinlearn customers only! Get industry's best self-hosted online tutoring marketplace software and steal this deal!
So What's Next?
The Pinlearn platform leverages Zoom as its primary video conferencing and whiteboard tool and we have Lessonspace as an addition to our tool kit. Customers can choose between Zoom or Lessonspace as a virtual classroom integration. 
We would like to demonstrate how Pinlearn can help you build an online tutoring platform with exceptional features and functionalities. You can contact us for expert guidance on building a tutoring platform for your business. We would love to assist you in building your profitable and sustainable tutoring marketplace.