How Does Italki Work: Business Model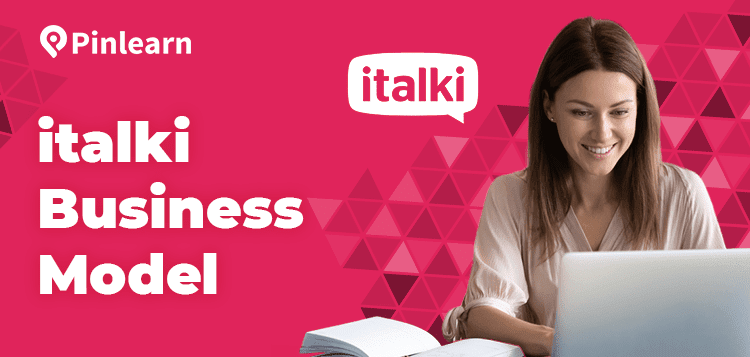 The importance of learning foreign languages has never been more critical than now, thanks to the diverse career possibilities. The world is becoming a globalized space, and nothing improves your chances of being prosperous in this world, like learning a language other than your native language. The global online language learning market is expected to exceed $28.5 billion by 2028, at a CAGR of 18.8% between 2022 and 2028.
From casual, free apps to software geared online language learning apps, there are several, which can cost as little as a few dollars each month. One such language learning platform is Italki, a Hong-Kong based company that isn't much affected by the changes brought by the Chinese Central Government. Italki, an online platform for language learners across the globe, adds the element of real human-taught classes and interactions to practice more than 130 languages. 
Interested in starting a language learning app,  but don't know where to start. That's why we have put together this guide. In this blog, we will be looking at the italki business model in detail. 
What is italki
Italki is a language learning platform that connects language learners to available teachers online. Italki connects over 5 million students and more than 10k tutors through one-to-one sessions. 
Italki was built by the struggling experience of its co-founder Kevin Chen with mastering Chinese. Transitioning from classes to real application of a language is challenging and the team clearly knows this. Making language-related mistakes can sometimes be embarrassing, but italki helps students transition from theory based learning to actual conversations with fluent and native language speakers. 
Conveniently, during the times of the COVID-19 pandemic, italki can learners easily connect with language teachers across the world. The teachers on the platform are professionally certified educators as well as native speakers who aren't certified. The online classes are affordable and start at $4 per hour, and can be booked according to learners' schedules. 
How does italki work
While the language learning platform caters to over 130 languages, the top languages that are popular on the platform are English, French, Japanese, Spanish, Chinese, Russian, Italian, Portuguese, and so on. The platform is also renowned due to its efforts to revive endangered languages like Blackfoot and Basque. 
After the signing up process, learners will be asked to choose a preferred language, and italki takes you to the list of tutors who are available. 
Learners can choose between two types of teachers available on the platform. The first category is the professionally certified tutors who are experts in foreign language teaching. The second category of tutors belong to informal language instruction who aren't certified but are native and fluent speakers. 
The hourly rates,, upcoming availability, video introduction etc., of tutors, will be displayed. Learners can also filter tutors by the hourly rate, type of language instruction, country, and other factors. 
In the Italki platform, tutors are allowed to use different video conferencing services for their classes. The following are the platforms most teachers use:
Italki classroom.

Zoom.

Google hangouts.

Zoom.

WeChat.

Facetime
Italki business model- How it makes money
If you wonder how does italki works, Italki is a free to use platform. After registering on the platform, users can choose two roles at a time: As a learner or a community tutor. But, if you are registering as a professional tutor, you must provide evidence of relevant academic qualifications, which will be verified and later approved by the platform. 
Professional tutors can decide the fee they want to charge for private classes and group webinars. Teachers can also choose to offer a free trial class. Being an online language learning platform that connects learners with language tutors, italki business model isn't; just one, it follows a few different approaches. 
Commission model
The platform will receive all the payments made by learners, and depending on the number of credit earners, italki pays out tutors after deducting their commission. The commission can be around 15% of a teacher's fee from every completed session. 
Monthly subscription model
Additional subscription fees can help them receive exclusive perks like extra features, banner ads, social media promotion, dedicated domain, and much more. 
How much do classes on italki cost?
The italki business model is designed in such a way it brings language lessons at affordable costs. As told before, Tutors can set their prices on the platform but classes cost between $10-$30 per hour. However, based on the experience and qualifications of the tutor, a lesson can also cost around $80 or more.
Build your online language learning marketplace using Pinlearn
If you are inspired by the italki business model and want to start an online language learning marketplace to make it easier for you, we have done half the work. Pinlearn is explicitly built for independent tutors, and edupreneurs who want are looking for how to make a language learning website. 
Pinlearn is a 100% customizable language learning marketplace software without having to build the platform from scratch. You get full ownership of the source just by paying a one-time fee. Being a self-hosted software solution, you can choose the hosting service provider of your choice. Pinlearn equips you to build your online language learning marketplace with the customizations you want and invite as many tutors to teach languages on your platform. It comes with features like:
Front-end web interface.

Dedicated tutor and student dashboard.

Admin panel.

Zoom and Lessonspace integration (You can choose between both).

Supports live learning- 1-to-1 private classes and group classes.

Free trial classes.

Course management features.

Secure payment gateways.

Integrated marketing tools.
Conclusion
Italki is a flexible language learning app that is truly student-centered. However, the price and quality of the language tutor vary depending on the tutors' learners' choices. At the end of the day, finding the right ( and experienced) tutor is possible with italki, but only with a vigorous search as the platform allows teachers who are just native speakers as well.
If you feel you have much to contribute to the online learning market by developing a language learning marketplace like italki with much better features and tools to simplify and modernize online learning, both for tutors and students, you are on the right track. 
Are you inspired by the italki business model? Everything you need to build and successfully run your online language learning platform is made available to you by Pinlearn. Acquire an advanced MVP for the best competitive price in the market while saving your valuable time and efforts. 
Try out Pinlearn's live demo to get a hands-on experience of the software. If you want to integrate any customizations or want to know about Pinlearn, feel free to get in touch with us.