A Complete Guide On How To Sell Fitness Programs Online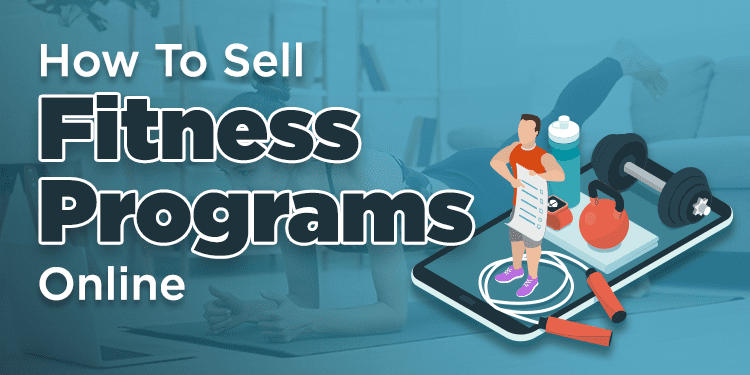 The fitness industry is highly competitive and if you are a qualified fitness trainer, you will make great money doing what you are passionate about. Consider taking your fitness business online to enjoy greater control over your time and improve your earning potential. Even if you are running your fitness classes successfully, creating an online community for your members is an additional benefit.
It is the best way to connect with your members outside of the class and keep them updated and connected with each other. Moreover, the importance of taking your fitness programs online has increased during the current COVID-19 pandemic where almost all businesses have come to a halt.
By fostering a supportive fitness community unique to your brand, you can stay digitally connected with your members while continuing your business even in times of pandemics where running traditional fitness classes becomes challenging. However, successfully selling your fitness programs online requires more than just certification and qualification- it calls for a well-planned business strategy and preparation.
You need to use something you love to change the lives of your clients from anywhere in the world. Use your online fitness programs to help your clients create a healthy lifestyle while making along the way with your expertise.
In this blog, we will discover why it is important to sell your personal training online, and we will also guide you through how to start an online personal training business and how to sell fitness programs online successfully. Let's get started.
Why You Should Sell Your Personal Training Online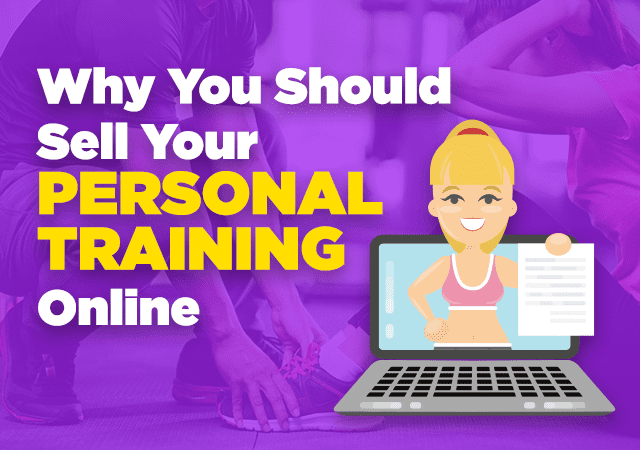 If you have never taken your fitness classes online, you are missing out on one of the lucrative ways to popularize your brand globally and create an additional revenue stream. Well, it is advised to start small and work on bigger strategies if you are looking for how to sell fitness programs online. The online revenue of the eService fitness segment apps globally is expected to hit $3,116.3 million by 2024.
With the concepts of a healthy lifestyle and wellness becoming ever more important for people, fitness has become a priority for many. Technology development in the fitness industry is growing and increasing customer interests are driving the growth.
People with busy schedules are increasingly utilizing online training programs which make online fitness a lucrative market. Moreover, customers find online training programs to be fun, more engaging, and more connected. You will also be able to interact with your customers in real-time and get in-the-moment coaching cues.
If you need more to convince yourself on selling fitness programs online, here are some reasons why you must consider starting an online fitness business.
Online Training Is Extremely Convenient
For people who are leading busy lives, it is really convenient to work out from home with online training programs. So if you are looking for how to sell workout programs online, you are in the right track. With a stable Internet connection, members can access online workouts 24/7, which is a convenient option for people who want to integrate fitness into their busy schedules.
People Are Searching For You Online
The advancements influence almost every industry in technology and fitness is no different. If you are looking for one strong reason to sell your fitness programs online, your clients are probably looking for you online. For example, when a person comes across a fitness brand either through word of mouth or other channels, the first thing he/she does is to search it online.
If you have a look at the search results of online personal training, the results are overwhelming. So if you are not having an online presence, the opportunity will be soon grabbed by your competitors.

To Reach More People And Build A Better Relationship
Fitness centers or gyms are always limited to finite resources like the amount of studio space, the trainers available to teach, members attending a workout at a given time, etc. However, when selling a fitness business online has no such constraints. It allows you to create vast digital fitness archives with very little extra overhead.
You can reach more people without worrying about space constraints and connect with people globally. The Internet gives you the flexibility to reach more people and personally interact with them at a deeper level.
Expand Your Revenue Stream Outside Of Your Classes
When you are running a fitness class, how many people can make it to a session? Even if you conduct multiple sessions, the number would still be very small. However, online training gives you the flexibility to train any number of people provided that the software you use allows them to accommodate all of them.
Among your members, there would be people who love to experience your professional fitness programs in their own schedule. Think of your clients who live too far away from your gym but would still like to join your training sessions. Selling your workout programs online will help you to accommodate a lot of members to your classes regardless of the geographical distance and stretch your revenue earning potential further.
To Stop Trading Your Time For Money
We are convinced to work extra hours just to receive a stable paycheck. This is one of the biggest misconceptions, that we have to trade our time for money. Time is our most important commodity, which money cannot replace. If you are seriously thinking about how to build an online personal training business, the major benefit is that the day's commitment is up to you.
With online fitness training, you are not committed to a particular time on a given day. You have the ultimate flexibility on how to make a workout program and run classes based on your time frame and energy levels. While producing workout videos, offering distance personal training, and collaborative workout training, etc. take more time often, in the long run, it will help you build the fitness business you have always dreamt of.
How To Start An Online Personal Training Business?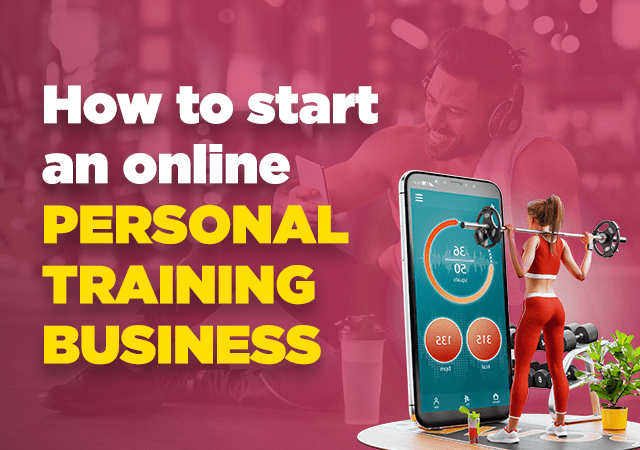 It's rare to find people who are not active online- which makes an online fitness website a valuable platform if you are starting to train online. You can use social networks to drive interest in your online fitness training programs. Use all the tools at your disposal to grow your online fitness business. Here is a quick guide on how to start an online personal training business.
Choose A Business Model
Before learning how to sell workout plans online, you need to choose a business model for your fitness platform. A business model or a revenue model is how your fitness business will generate revenue. It explains the pricing of your services, the type of clients you are selling your services to, the value you are delivering for the price paid, and finally the cost to create the product or service.
One of the primary components of a revenue model is the value proposition that you are going to use to describe the services and products your business will offer. It is what differentiates your products and service from your competitions in the market.
For example, the following image shows how TheBodyCoach monetizes its services.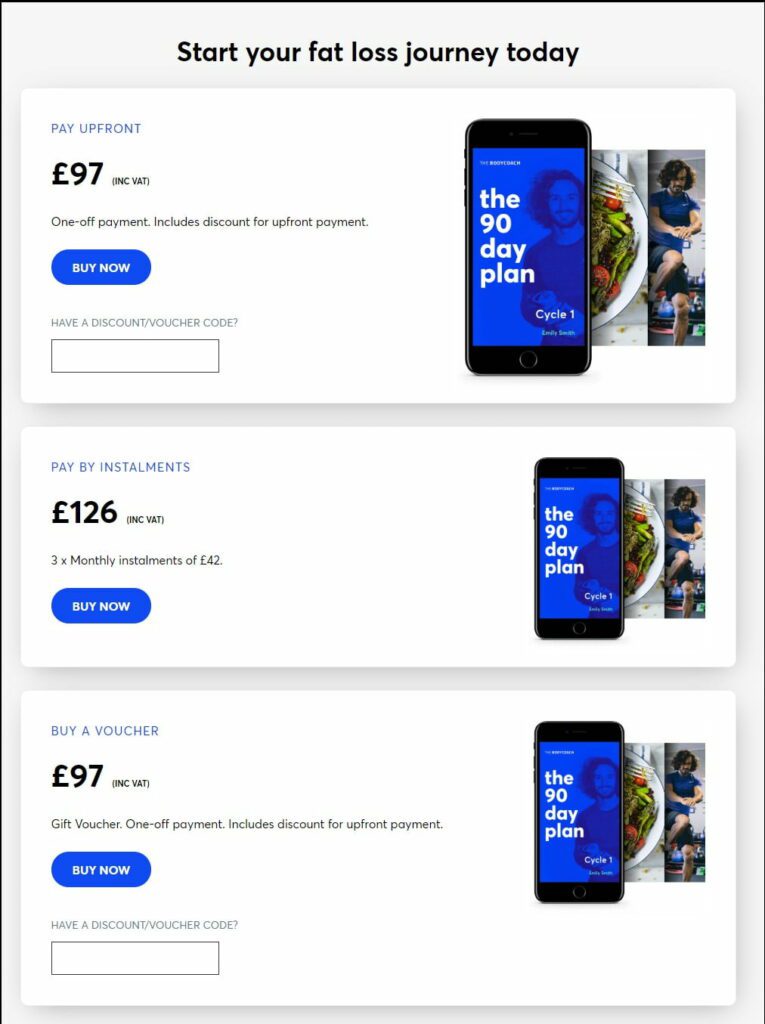 Let's look into some of the most common business models of a fitness business.
Membership Model
Selling a fitness business using the membership business model allows users to access your fitness classes for a recurring monthly fee. It works just like a subscription service where they can no longer access your videos when they stop paying their fee. The membership or the subscription model is the most basic model and the easiest for users and businesses alike to understand.
Along with the subscription, you can offer perks like regular promotions, exclusive payment plans, bringing a new member, and getting a month of membership for free, etc. The business model can be customized to your requirements and goals to set you apart.
Here are some of the advantages of this business model:
A consistent revenue stream that avoids revenue fluctuations

Signing for a subscription promotes commitment

The income is more predictable

Provides an opportunity to create affiliate offers for third-party fitness trainers to sell
Like any business model, there are some disadvantages as well:
Customers can drop the membership quickly if they perceive the value offered is poor.

Highly competitive with many cheap fitness services already exist on the web.

You must invest time into regular content creation to make the packages compelling enough for a subscription.
Pay As You Train
If you are looking for how to sell gym memberships, this is the best model you can follow. Pay as you train is a transactional business model where your members pay a one-time fee to access the ownership of the videos you create. It is just like buying a fitness DVD and getting access to those particular videos. The transactional revenue model works great if you want to teach a specific workout routine, particular classes, a fitness workshop, etc.
You can just charge your customers for what they use.
There would be some members who just want to access your particular classes or say group classes. Some members don't want to pay for extra amenities. There are nearly limitless ways to customize your pay-as-you train model.
Here are some of the perks of this business model:
You can earn more customers as members don't feel overwhelmed by a contractual commitment.

Members feel satisfied to not to pay for services they don't use.

You can charge a premium price which increases the overall revenue generated considerably.

Eliminates the pressure to market subscriptions.
Now here are the cons of this business model:
The amount of money you can generate is less predictable.

Marketing can be a bit difficult and time-consuming.
Plan Your Content
Once you have decided how to sell your fitness programs online and your business model, you need to choose your content. You need to consider how you will structure your content and deliver it to your clients. You also need to choose a niche that would be the area of your expertise and plan your content accordingly. By clearly defining your niche and buyer personas, you will make your content production more effective.
Another important thing to consider when planning your content is determining your unique selling proposition (USPs). The USPs are unique aspects that make your business outstanding compared to your competitors. By articulating your USPs, you will also be able to market your services more efficiently.
For example, when brainstorming about how to sell workout programs online, you can consider offering the following services:
Cross-fit workouts

Strength-based training

Workouts for busy schedules

Holiday workouts

Videos that focus on any particular technique

Recovery sessions

Nutritional information
Build Your Website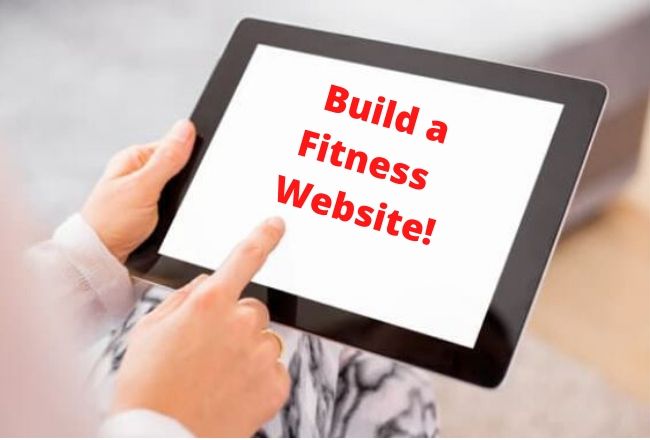 When you're learning how to sell fitness programs online, the very first step is to develop your fitness website. With a compelling brand in place, you need to give your fitness business a home online: A fitness platform. Your fitness website should be at the heart of your online business where you will be selling your services and products to your clients.
However, before starting, it is worth spending some time planning to develop your website and ensure it is professional, user-friendly, and functions flawlessly.
Besides attracting new customers, your fitness platform must keep your existing members engaged. If you want to sell your workouts and online fitness coaching sessions directly to your customers, it is recommended to use efficient online tutoring software to create online fitness classes, process payments, and manage access to your fitness platform.
Building your fitness platform if you are looking for how to sell your workout programs online can be classified into two types.
Selling subscriptions to access pre-recorded fitness courses.

Selling subscriptions for live fitness classes
Let's start with the first category
Selling Subscriptions To Access Pre-recorded Fitness
As the name implies, selling fitness programs online is related to selling pre-recorded videos. The main idea here is to offer courses based on the level or goals where users can move to the next level of courses when they complete the previous level that consists of a certain type of pre-designed workouts.
Selling Subscriptions For Live Fitness Classes
Live classes can be offered to all types of users based on the beginner, intermediate, and advanced levels. Design your live sessions to feature more body weighted workouts as your users can work out with little or no equipment for the exercises. When it comes to live fitness classes, you can consider offering one-one personal training or offer live group classes.
The live classes can be accessed on mobile devices, desktops, or watch on a TV screen. The live fitness sessions offer the benefits of getting real-time feedback from instructions and allow users to compete with fellow members in the class and stay motivated. For example, amidst the COVID 19 pandemic Cult fit has started to offer live classes to motivate its members.
Core Features Of Any Online Fitness Platform
Ability To Sell Pre-recorded Courses
If your goal is how to sell workout programs online, Your fitness platform must allow fitness instructors to upload, manage, and sell pre-recorded fitness videos and allow members to access them.
Online Live Class Sessions
Live fitness classes are the current trend, making it one of the essential features of any fitness platform. Allow fitness instructors to conduct live sessions from the platform to train members in real time.
1 To 1 Personal Training
One-one personal training allows fitness platforms to tailor workouts according to each member. Members must be able to choose from a stage of a complete set of fitness activities according to their preferences.
Assignments To Achieve Goals
One of the essential features of any fitness platform if you are looking at how to sell workout programs online is a variety of workout programs based on different levels like beginner, intermediate, and advanced. Users can choose a goal, whether it is to get fitter, gain muscle, or lose weight. You must also offer the users different assignments based on the goals and advance to the next level once the goal is achieved.
Track Their Goals Using Various Metrics
This is a must-have feature in the fitness app that helps users to track their workouts and aim for the better. Users must be able to compare their actual performance with their goals to gauge the viability of the fitness plan. Integrate this feature to make your fitness platform unique from others.
Calendar Scheduling & Class Management
The feature allows fitness instructors to schedule their classes and edit accordingly as per the requirements.
Analytics
Fitness analytics help to make intelligent and data-driven decisions and position your business ahead of the competition. By leveraging analytics, you can answer key business questions that help you to make researched data-driven decisions. It can also help to analyze member engagement and retention and hence offer personalized experiences to boost customer satisfaction.
Payment Gateway
Integrate secure payment gateway to your fitness platform to allow your users to pay for your classes inside the platform or app.
Reviews And Ratings
Reviews and rating systems function as a powerful tool for fitness businesses to get feedback from users. This will also help business owners gain new customers. When users see good reviews on your platform, users would be empowered to try your classes which helps to stand out amongst the crowd.
Set Your Prices
Deciding how much to charge for workout plans is a tricky area as it decides the sellability of your fitness classes. While it might be easy to price your workout on your gym floor, it could be hard to figure out how to price it when it comes to online classes.
It is great if you can start from a nominal price point and then later increase it based on your customer's feedback. Consider offering a free trial for your fitness classes so that your subscribers can use your products in real and choose whether to subscribe or not to subscribe.
When it comes to pricing, you can allow your members to access your fitness program for monthly subscriptions or allow them to buy individual fitness classes or personal training. For group classes, you can set monthly subscriptions like $10 per month for 10 classes or so.
While monthly subscriptions work great for pre-recorded fitness videos, individual classes and live classes can be set at different prices based on the type of workouts and value offered.
Additionally, personal training can be priced a little higher than group classes as you are offering exclusive one-one classes to members. In short, deciding how to charge for workout plans must be based on the nature of your classes and the value it offers.
Find Your Audience
Once you have figured out how to create an online fitness program; you must find your audience and connect with those who will love taking part in your classes. Your fitness platform must be a community that brings members around a common goal of training and following a healthy lifestyle. Search for your customers on social networks and other platforms to grow your online fitness platform. The group consists of members who are spread globally, or you can just focus on local clients alone.
How To Sell Fitness Programs Online?
Between busy schedules, getting started on how to sell workout programs online to achieve your goals is difficult. However, the good news is that technology has made it easier for you to sell your fitness classes online and spread the word about your services. Ready to take your fitness classes online? Read on to know to get started with your online fitness business.
Build A Community
Considering the vast user base of social media users globally, social networks are the best platform to start building a community for your fitness business. Connect with professionals from the same industry, share exclusive discounts, and find your followers, using social platforms.
You can create branded Facebook groups to build relationships in a way that is personable and convenient. Take it a step ahead by sharing blog posts to share exclusively with your followers. This will not only make the content valuable to your clients, but they will impress when the content is exclusively offered to them.
You can also leverage live streaming to get the most engagement and exposure to your videos. Offer discounts to your community- but make them exclusive. Offering discounts and promotions in the fitness industry can be a little tricky. While you don't want to make your offers seem less valuable promoting your services at discounted rates can be a great way to drive your first few customers and earn more referrals, reviews, and testimonials.
To boost the effectiveness of your offers, you must make it exclusive. Instead of offering a common deal for all your users, share it with exclusive groups. To take it a step further, allow your existing users to extend the offers to their friends. Your users would love it when the offerings are exclusive. Drive the interests of your users further by building specific programs according to the current trends.
For example, you can offer:
New year workouts

Holiday fitness challenge

Beach ready workout programs

Six-pack fitness classes
Besides leveraging social media marketing like Facebook marketing or Instagram marketing, email is another marketing channel that will help to build your online fitness community. Start by creating fitness email newsletters to your subscribers and include a clear call to action to sign up for your online training classes or to buy on your workout plans.
Another effective channel to gain more followers is through blogging if you have a passion for writing.
Marketing Your Fitness Platform
When looking for how to sell fitness programs online, learning how to promote your fitness platform is important. Even if you leverage social media to promote your fitness class and market your brand, you need to have a solid marketing strategy to grow your business to the next level. Driving quality traffic to your fitness platform is important to successfully run your business and there are a lot of ways to do it.
You can use content marketing tools like blogs, eBooks, videos, and live streaming to share your fitness experts with your customers and offer valuable information that attracts new clients.
The best way to increase the exposure of your fitness training classes is by offering season-specific workout plans that your customers would be interested in so that you can target a specific area to work with. Starting out is going to be challenging, but having a large database of fitness sessions can keep your clients coming back for more.
Cross-promote With A Complimentary Professional
The fitness industry is tightly packed with a lot of professionals be it personal trainers, nutritionists, health coaches, yoga gurus, etc.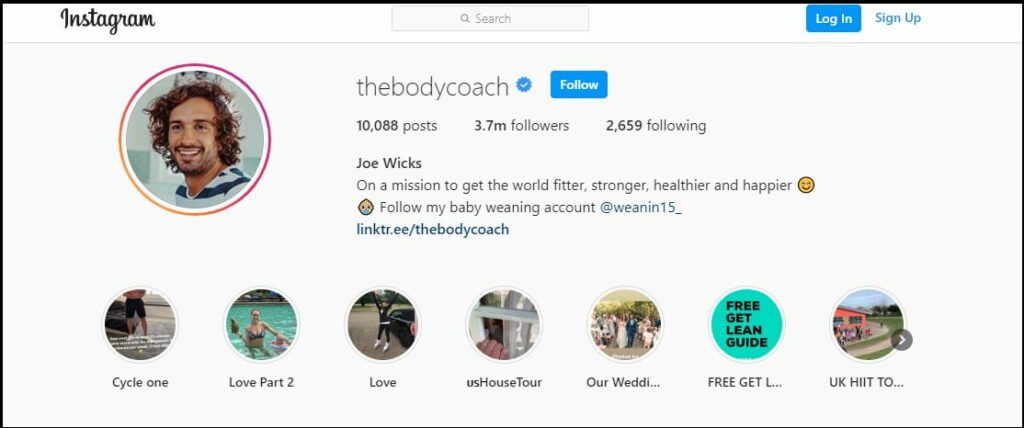 Leverage this to facilitate cross-promotion on social networks. Try collaborating with complementary professionals so that you can mutually promote one another on the internet and gain exposure to both follower lists.
If you are looking to find out how to start an online nutrition coaching business and run it successfully, you can collaborate with a fitness professional to sell nutritional coaching classes along with workouts that can make the whole program effective, that too at an attractive discount. When working on cross-promotions, make sure you add appealing images, a link to your website, and attractive CTAs. CTAs must be well-positioned so that it captures user attention.
Continue To Focus On Growth
Are you planning on how to sell online personal training to become a prominent brand in a specific niche? If you are planning to become the top online trainer in dance workouts, you need to constantly focus on improving your offerings.
When working on how to sell fitness programs online, don't stop once you have achieved a few milestones, the key to continued success is to keep improving your services and products. If you struggle with an online-only fitness approach, you can choose the hybrid method. Offer a mix of in-person training and online training to satisfy the requirements of all your clients.
Start Selling Workout Programs Online
The demand for online training is rising in the fitness industry and it becomes important for you as a fitness brand to establish your online business. Use this guide and ideas when starting your online fitness business to attract more clients and grow your business. When you use digital tools and advanced technology to power your services you can show your customers that you are fully equipped and able to help them to find fitness success.
If you need any assistance in building a fitness platform to sell your online training programs, please get in touch with us. We have experts who are willing to assist and guide you through the process.