How to Hire a Tutor: Guidelines to Recruit Professional Tutors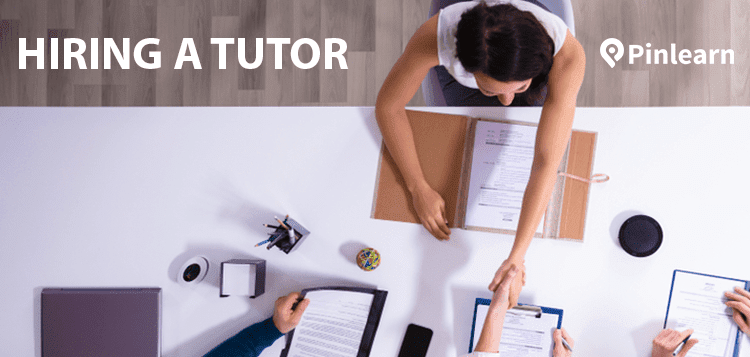 The 2022-2021 academic year is undoubtedly like no other in the entire world history. The demand for tutors in the era of the pandemic has increased drastically considering the acceptance of virtual eLearning by both parents and students. This makes the process of hiring a tutor significant and tedious at the same time.
As the world continues to battle the COVID pandemic, tutoring businesses are flourishing and trying to help learners embrace full-time remote learning or hybrid learning. Along with a slew of scheduling tutors, tutoring businesses must also be looking to ease fears about academic backsliding to run the services efficiently. 
Today, we are going to discuss all about how to hire a tutor, important things to consider and the mistakes to avoid during the process. Let's get started.
Hiring a tutor- 6 Important things to consider
As you embark on your journey of hiring a tutor ( the right one) for your online tutoring platform, keep these considerations in mind. So let's straight away see what all are the 6 important things you must count.
1. Subject expertise of the tutor
If you want to hire a tutor, the first thing to consider is how proficient the tutor is in his subject. For example, if an ESL tutor isn't correct in his grammar, then they might not be the best fit for your tutoring platform. Also, a maths teacher tutoring younger students must know all the problem-solving strategies, different tools, and methods to solve a particular problem. 
Pro Tip: Don't forget to check for undergraduate or graduate degrees in the subject they teach. 
2. Enthusiasm & passion for the subject
When you want to hire an online tutor, hiring the one who is passionate about what they teach is more important. Hiring a tutor who knows the subject well just because it was their main subject in the university is not the best approach.
Passion will make sure your tutor stays on top of subject trends and teaching strategies. If you hire a tutor who is passionate about what they teach and wants their students to love the subject like they do, it becomes easier. Enthusiastic and passionate tutors will know how to build confidence in students. 
Pro tip: To see how enthusiastic and passionate an online tutor is in their class, conduct a demo class where you can see how they perform in real-time. 
3. A good reputation
When you have found the right tutor, say, for English or Math class, make sure they hold a great reputation. If they already have a social listing or a website, they will have testimonials and reviews about their classes. Check out the social media pages or social listings where you can see reviews about them. 
Pro tip: If you can't find testimonials or reviews or want to dig in deep, get the contact details of the parents of their old or new students. Don't forget to conduct a background check to ensure your choice is right.
4.Teaching mode of the tutor
If you want to hire a private teacher for online tutoring classes, make sure you choose the one who is well-versed with online tutoring. While choosing tutors who are experienced in offline classes is also good, selecting tutors who already have valid experience in online tutoring will be the best bet.
Online tutors will have a more flexible schedule, and they will be familiar with the tools required for effective teaching. They will also know how to keep students engaged in an online environment, an important skill gained over the years.
6. Accountability of the tutor
Not all teachers take responsibility for a student's underperformance. But a good tutor will put their best foot forward when executing a lesson plan and will also be ready to take accountability for the student's performance. In an online class, there would be cases when students don't take much effort and lack motivation. It is the duty of tutors to handle such scenarios well. 
Pro tip: Analyze the behavioral pattern of the student and add an element of surprise in the teaching method. 
7. Availability and schedule
When hiring a tutor, consider tutors who match all the above qualities and have a flexible schedule. There might be situations when the tutor has subject knowledge and experience but doesn't have time to take the syllabus at an eased pace. Hire a tutor who has ample amount of time to allot multiple slots during a day.
Pro tip: Make sure your tutor has time to interact with students beyond the allotted slots for classes.
Mistakes to avoid when hiring a tutor
Knowing the mistakes to avoid when hiring a tutor is as important as the things to consider when looking for tutors. Not all tutors are equal, and that's why you need to scrutinize the process of hiring to find the right tutors.
So here are some of the mistakes to avoid when hiring a tutor. 
Don't mistake qualification with experience
The difference between being knowledgeable and being able to teach is really big. Though they might sound similar, these are entirely different attributes. Being able to break down a tough subject and clearly communicate with students is far more effective than just having a degree in a subject that you learned a decade ago. 
Hiring a tutor with limited subjects or levels
Choosing an online tutor who offers a few subjects will help you cope with the changing students' needs. By hiring a tutor that offers a couple of subjects and instructions at all levels, you can save time and the efforts associated with hiring several teachers for the same subject. 
Don't forget to check your references
There are many factors that must be outweighed before knowing how to hire a tutor. 
Speak to previous clients, read testimonials, and research about a tutor's reputation. Perform a background check to ensure that you choose tutors who are legitimate. Knowing that the tutor you chose has worked with many students in the past and has shown real results is an indication that he is the right one. 
Conclusion
When hiring a tutor, look for qualified, experienced, and compassionate candidates, and don't settle for less. An online tutoring business's success depends greatly on tutors' quality; hence making the recruiting process fail proof is important. Once you find the right pick, talk to them directly about your expectations, guidelines of your tutoring platform, and your concerns, both education-related and general things. Together, you can help your students build a healthy relationship with learning which will last a lifetime. 
I hope this blog has given valuable insights on the process of hiring a tutor for your tutoring platform. Have any further questions on building your online tutoring business you would like us to answer. If yes, please get in touch with us.