Top 10 LMS Platforms Comparison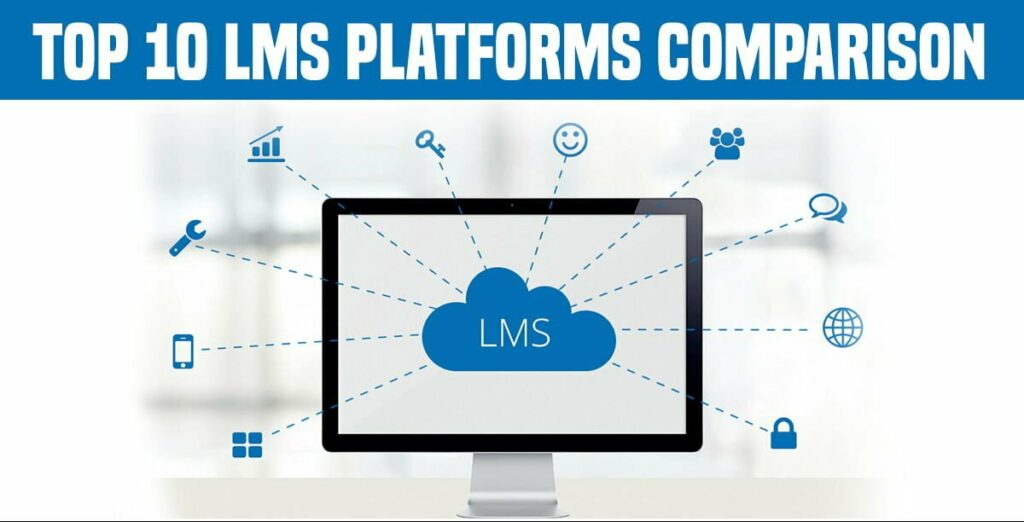 The mobile phones we possess today have come a long way and evolved throughout history to cater to our lifestyle and needs. The internet is a trendy and gimmicky word to conquer the ultramodern world.
Nowadays, the hot stuff in the World Wide Web is LMS: A powerful tool that lets people perceive their business in a different way. That's exactly we're here to shine up about the learning management systems (LMS platform comparison).
The idea of an LMS has directly emerged from the concept of e-learning. As teaching and learning procedures continuously making head away, LMS helps to create powerful analytics to drive the success and performance by making the whole process easy and accessible.
What is an LMS?
 An LMS acts as the brain that powers the e-Learning process. It is a software application for organizing, reporting, and delivery of educational course contents just like, MS word helps you in writing a document and Gmail to manage a mail.

It enables individuals and groups to upload content that others can view and interact with. It provides an easy-to-use and preferable workflows for educators and students for a better teaching and learning experience.
Read more what is learning management system? Who uses LMS?
In this article, we will help you to scrutinize the best learning management systems with the help of LMS comparison in the market according to the features they offer.
Categorization of LMS:
It's not surprising that LMSs have become the corporate secret to enhance business performance. There are many types of LMSs available depending on your needs, target audience, implementation level, and investment budget.
There are lots of things to consider when it comes to opting for the best learning management system in the market. The basic choice is to choose between the Cloud-based Deployment and an Open Source License. Moreover, pricing models, customer support, and any additional features are equally crucial factors to consider while doing an LMS platform comparison in the market.
While comparing different learning management systems, you would encounter with two popular options. You can choose a SaaS LMS or buy and host the software yourself.
Cloud-based LMS:
Cloud-hosted LMSs are regarded as the most popular and cost-effective options among the companies.

There are no implementation and maintenance costs as they come readily hosted solutions on a cloud server. Thus, making the upfront cost least expensive for online training implementation.

If you choose a SaaS LMS, you become dependent on the LMS vendor for any updates and upgrades, as you don't get the source code of the software.
Self-Hosted LMS:
Self-hosted LMS's are the most relevant choices for enterprise-level companies.

If you're hosting the software by yourself, you can control it, manage it and inspect the server specifications.

It gives you the freedom, but also more responsibilities for keeping the maximum uptime and managing the security of your server.

It had to be maintained by your own IT team or else you can also outsource it.

The cost is quite expensive because of the exclusive benefits like customization, scalability, and access to the source codes..
The additional factors that help in finding the best LMS include
Content Management System (CMS).

Compliance with the standards like SCORM.

Authoring tools like audio video editors, word processors, slide makers, image editors

Audio-video conferencing tools

Possibilities and tools for gamification

Feasibilities for code customization

Integration with popular APIs

Mobile learning and social learning features
In this article, we shall present the top 10 LMS platforms and a detailed LMS comparison which will help you choose the ideal LMS option and take your learning to the next level.   
Adobe Captivate Prime:
$4 per month for every registered learner
Deemed one of the best LMS platforms, Adobe Captivate Prime lets you set up, deliver, and track learning modules in a self-sufficient manner. By dint of some of its attributes like gamification and mobile learning, it ranks as the first choice of the new generation of learners.
Adobe Captivate Prime has options to present the learning content in 10 different languages, which helps the administrators to manage native versions of a single content item. It, therefore, largely serves the global audience.
Equipped with a Fluidic Player and Intuitive Dashboard, this LMS platform is easy to install and manage. The best part is, you can even download the content and work offline, which will automatically sync and track the progress when you log in the next time.
Docebo LMS:
$370 per month for 1000 active users
This is one of the best learning management systems and is endorsed by some of the renowned companies like Thomson Reuter's, Bloomberg and Sharp. The three main principles of this popular LMS platform are- Learn, Coach and Share.
Following are the separating variables that make Docebo stand out-
Attractive gamification and Instructor-led classroom training features

Third party integration and web conferencing

E-commerce and unique certification design
Talent LMS:
Free version available to 5 user and 10 courses
One of the easily operable cloud-based Learning Management Systems, Talent LMS is widely known for its enterprise-friendly attributes like course management features, mode of delivery and white-labeling.
Given below are some of the salient features of Talent LMS-
Customization, Mobile Accessibility, Analytics: Owing to its responsive design, Docebo can be accessed from any device. It also provides a simple and detailed analytics report.
Course Management and Content Interoperability: With Talent LMS, it is easy to integrate existing material into LMS.
Blended Learning: Pupils may opt for either ILT or blended learning as per their requirements.
The Academy LMS:
This was first developed by Growth Engineering, a UK-based learning provider in the year 2016. It is mainly known for its intensely gamified and riveting social Learning Management System. This top LMS platform is characterized by-
Intuitive learner dashboard: Its learner dashboard includes to-do lists and an open library.
Gamification and engagement: A unique feature of its gamified modules is the badges and leaderboards ensemble that attracts all categories of readers.
Classroom management and assessment: Compared to the contemporary LMS platforms, the Academy LMS has a superior assessment toolkit. Its classroom management features support both instructor-led and blended learning.
ExpertusONE:
Comparison of top LMS platforms is incomplete without a mention of ExpertusONE. A user-friendly LMS software, it finds wide applications in industries like Software and Technology, Retail, Energy and Utilities and Manufacturing.
Some of the key features of this popular LMS interface are as follows-
Mobile Application Features: Users are offered a mobile-friendly interface with add-ons like voice-based search, integrated e-commerce tool, location mapping and mobile analytics.
Reporting tool: "ExpertONE Insights", the reporting tool, give you access to learner statistics and knowledge asset demand.
Built-in virtual conferencing tool: With this tool, you can host meetings without the need for third-party web conferencing tools.
Administrate:
Basic plan: $50 per month

Plus plan: $75 per month
A critically acclaimed cloud-based LMS software, Administrate has multi-lingual support features and is responsive, that is, it can be accessed from any mobile device.
Two unique features of this top LMS platform are-
Multi-lingual support: Administrate offers lessons in multiple languages spanning from Hindi, Spanish, Japanese to Chinese, French, Portuguese and so on.
Customization and reporting: Users can filter data as per their needs by virtue of the reporting tools. One can also choose from a wide variety of colours and themes to customize the LMS interface.
Dokeos:
$100 per month for 1-50 users
One of the most popular and professional Learning Management System in the market, Dokeos has worked miracles in the Healthcare and Manufacturing sectors. The following features make it one of the best LMS options-
Dokeos Manager:
Dokeos Manager offers a number of attractive features like-
Lessons offered in 10 languages

Portal Customization

Feedback

Social learning tools
Dokeos Live:
This is a useful tool for online facilitators who wish to seamlessly host their online lessons and carry out HD video and audio communication with their learners.
Dokeos Game:
This is a learner engagement tool that helps you assess the soft skills of your learners.
PROPEL Enterprise+Distribute:
Packages start from $2500
PROPEL is a top Learning Management System and a distributed software that manages your learners and also helps expand your customer base.
Two distinct features of PROPEL are-
Distribution: The unique distribution features of PROPEL enables you to sell your courses through B2C and B2B channels.
Business support services: PROPEL offers business analytics and strategic planning tools along with reporting features and financial services to increase your sales.
LearnUpon:
Bronze plan- $249 per month

Silver plan- $499 per month

Gold plan- $749 per month
This is another learner-oriented cloud-based LMS platform with the following unique features-
Integration: Popular integration features like API, Webhook and SSO are present.
Security and Scalability: This is ensured by HTTPS TLS data encryption.
Fuse Universal:
The top LMS platforms comparison necessarily entails Fuse Universal and its features. Based on a robust content management platform, it has the following features-
Unique customization and communication features

Reports, Analytics, and e-Learning content uploading
The best learning management software:
 So far, we have covered the basics and categorization of LMS platforms comparison.  Admittedly, an LMS identifies, accesses, tracks, and delivers the organizational learning or training goals in a more organized and centralized manner.
By blending the ability of the best e-learning management software with many other solutions and platforms that businesses use, we can enhance the overall productivity in the corporate environment. For example, businesses can integrate an LMS with their Talent and Acquisition Management System, Accounting System, and ERP software to additionally impact the overall effectiveness of their corporate learning programs.
The LMS can streamline the document and report learning activities.

It can also help in customization of learning and training procedures.

The LMS also helps in collaboration based interface, optimization of content management, delivery, and centralization of the online activities.
Takeaway:
I hope this guide helped you navigate the best learning management systems in the market. Now make a wise choice accordingly from the given overview of LMS platforms comparison. However, you need to think clearly about the strengths and limitations of each LMS platform.