How To Start a Cooking Business?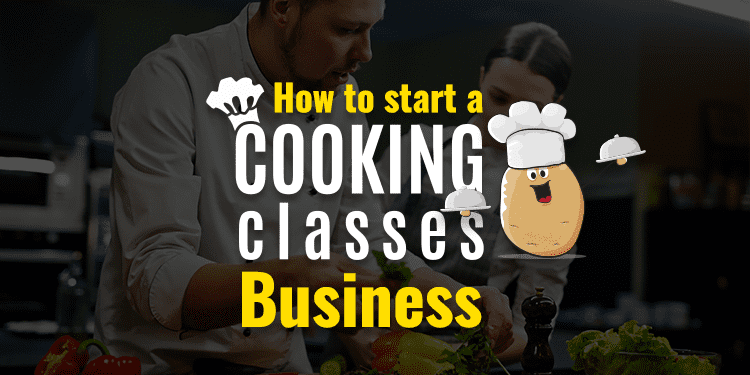 Are you often told by people that your cooking is great? Do you often impress your family and friends with the food you make for them? If you are passionate about food and love cooking interesting recipes, why not share your knowledge with the budding chefs who want to learn cooking? Teaching cooking classes is a great way not just to share your knowledge with the world, but also to make a living working with food as well. 
Whether you have your own restaurant or you are just a home chef, you can start offering cooking classes. Your cooking business can be as simple or as big as you choose, offering anything from normal recipes, instruction for small parties to a full-scale schedule with guest chefs.
But there is more to it than just knowing how to cook though, which we will be exploring in the coming sections. This blog is a comprehensive guide on how to start a small cooking business from home and transfer all of your expert knowledge of the culinary arts in a presentable way to your students across the globe. 
How To Start A Cooking Business
Let's get started with the steps:
Choose Your Niche
If you are looking for how to start a cooking business, there are different types of classes that you can offer including basic cooking classes, niche cooking classes, or advanced cooking lessons. The best type of class to offer is the ones you have expertise in.
As an example, if you are good at cooking Italian food, you can consider offering Italian-style cooking classes. Or say you have great baking skills, knife skills, or you are skilled at cooking Keto or gluten-free recipes. Consider offering a series of classes on what you are really good at. 
You can also take exclusive classes to teach parents to involve kids in cooking activities focusing on kitchen safety. Rather than trying to offer classes on random topics, gain a deep understanding of a specific topic or style. Here are some of the different cooking classes you can adopt to power your online business. 
General Cooking Classes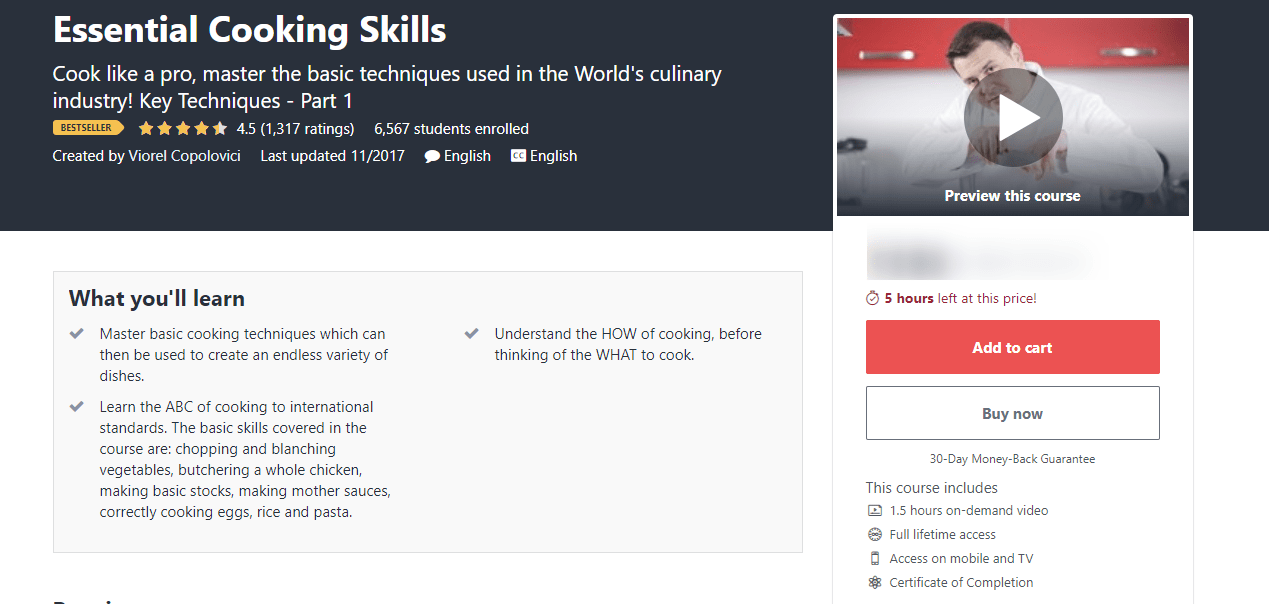 General cooking classes focus on recipes that are prepared using basic ingredients that are easily available in your pantry, getting your kids to try cooking, making appetizers or desserts, 5 min or 10 mint recipes, etc. These types of cooking classes are quite basic and require you to take a hands-on approach and often follow a traditional cookbook to try out your own recipes.
Technical Cooking Classes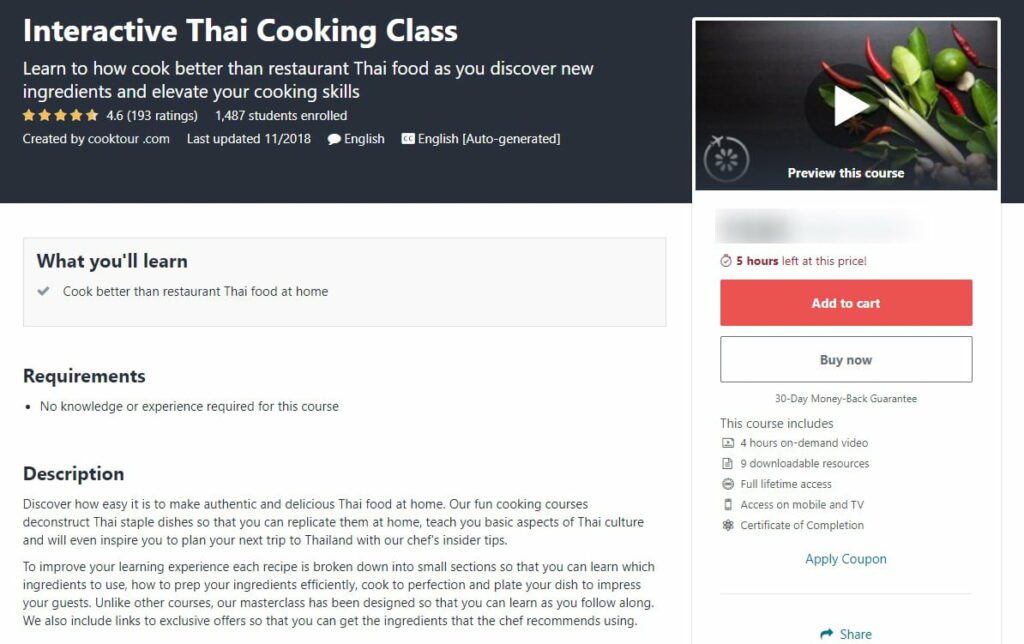 These are the types of technical cooking classes that teach people to use advanced cooking techniques like preparing sushi, making restaurant-style dishes, mastering different cutting skills, etc. As the students who sign up for technical cooking classes already have a good level of knowledge, you can consider running these types of classes as advanced workshops with a group of students.
Cooking Prep Classes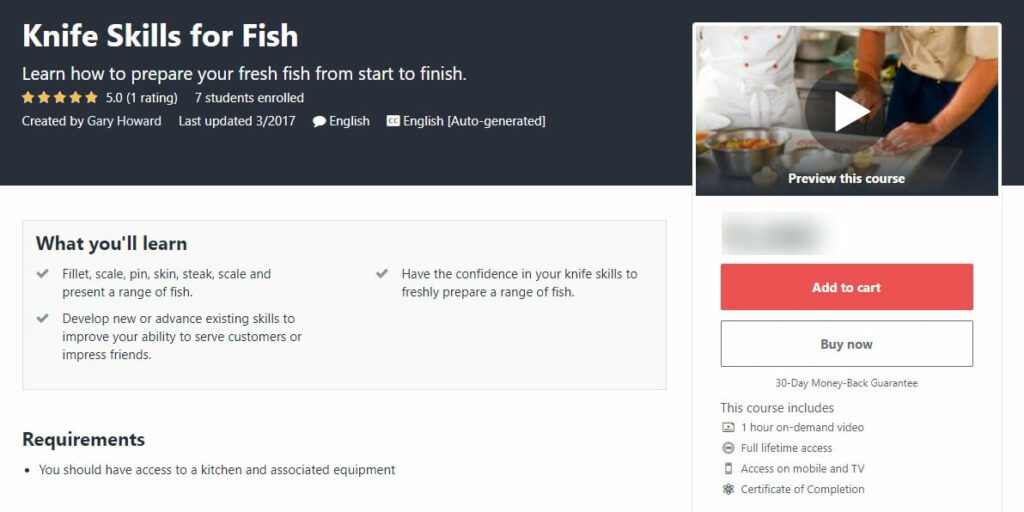 These types of cooking classes focus on preparing the ingredients for making cakes, desserts, time management skills, and other basic things taught in a culinary school before mastering advanced cooking skills.
You must plan your cooking classes ahead of time even before you market them. Take time to create a plan for you to follow during the schedule. While you don't have to plan every single minute of your class, you must ensure you cover all the important points.
Viewers must leave your class with a positive experience and cooking knowledge to take home with them. It must also urge them to sing for another class. A well-planned cooking class will make your teaching easier and help the class go smoother.
Conduct Your Market Research
The ideal way to learn about how to start online cooking classes is to conduct market research. Analyze the market and take a look at the cooking classes of popular chefs in the same niche as yours. The food industry being very competitive, it is important to do your business research before starting your online food business.
Attend online cooking classes, yourself, and see how they run the class, how the classes are organized, and how well the instructor works with their audience. Understand how they present their classes so that you can adapt useful techniques to enhance your own teaching skills.
Sign up for hospitality programs that provide continuing classes in cooking. If you cannot do comprehensive market research, start with taking the opinions of the local community you are connected with like friends and family to test your food recipes on. Every small feedback and information you gain is beneficial.
Outline Your Goals And Objectives
Once you have got a clear idea about how to start teaching cooking classes, now it's time to look at the bigger picture. Start by defining your goals and objectives, both short and long terms. Are you considering teaching cooking classes full time or just during your free time?
If you are planning to take it up as a full-time job you have dreamt of, how much are you willing to invest and expect as returns to achieve your expectations? To be successful, ensure that your goals are clear and specific otherwise you won't be able to focus on your efforts in the full swing.
Ask yourself the following questions to set specific goals and objectives:
What do I want to accomplish with my online cooking classes?

Why is this goal important for me?

Who all will be involved?

Which all resources would be involved?

The overall budget needed
It is also important to have measurable goals so that it is easy to track your progress, stay focused and motivated, and meet your deadlines. Your goals must also be realistic and achievable to be successful. When you set achievable goals, you can easily identify overlooked opportunities that can bring you closer to your goals.
Formulate A Business Plan
Prepare a business plan as it helps you to take a vague idea for your online cooking business and develop a more concrete business plan to accomplish it. Plan about your budget ad if you need any financing backing devices, plan to convince your investors by presenting your business strategy.
After deciding to enter into the cooking business and planning how to start a cooking class, you need to consider who would be your potential audience. Once you go forward, you need to establish your powerful presence in the industry to be the market leader. Bringing a unique element to your business is very important to make a powerful existence in the market.
If you broadly think, there are plenty of popular cooking schools which make it difficult for you to get an audience. The catch here is, not be a one among the crowd. Instead, be the most demanding cooking brand that is hard to find online. Consider all these aspects of your business plan to show yourself more than ordinary.
Licenses And Permits
If you are seriously thinking about how to start a cooking class business at home, you want to get legal. Before you start your business, check with your health department and local authorities to see what you need to start a business.
Check whether you will need any special permits, relevant facility, equipment, and safety standards to run your online cooking class abiding by the law of your country or state. Although you are not selling food like in restaurants, you still need to follow the rules as commercial establishments do.
This becomes important if you are considering running physical cooking classes along with delivering online programs. For example, you might be expected to upgrade your security system in the class to comply with the rule and regulations.
Purchase Your Equipment
The basic setup to taking online cooking classes is to have space and gather up essential equipment and things you will need. If you are offering classes where you will have your students cooking as well, make sure you have enough kitchen space and materials to accommodate everyone.
If you are at home, gather essential materials, and keep everything handy before the classes start. Try playing around with staple ingredients to create basic recipes and repurpose them to create new recipes. Set your home kitchen to be accessible and functional for teaching cooking classes. Whereas if you have a large kitchen, you can choose to install multiple video cameras and monitors to offer your students a closer view.
When buying cooking utensils and pans for your online cooking class, you can contact manufacturers to know whether they are interested in a sponsorship arrangement so that you can arrange requirements at a reduced price, and in return, you can recommend their products to your students.
Create A Platform To Showcase Your Videos
When brainstorming about how to start a cooking class, the first thing you need to consider to develop a platform to put up your online cooking classes. Your professional website is the first place where your existing members can come in search of your online classes.
The platform must not only be appealing in looks but must also feature basic and advanced features like creating cooking classes, managing access, processing payments, accepting reviews and set ratings, etc. Before starting out, choose a business model that suits the requirements and goals of your cooking business as well.
The two common revenue models for your cooking business.
Pay Per Class
When students join your online cooking classes, they must pay a certain amount of fee to enroll for the particular class. Integrate secure payments on your website so that your customers can pay for your classes on the website itself.
For example, Airbnb Experiences features cooking classes that follows this monetization strategy.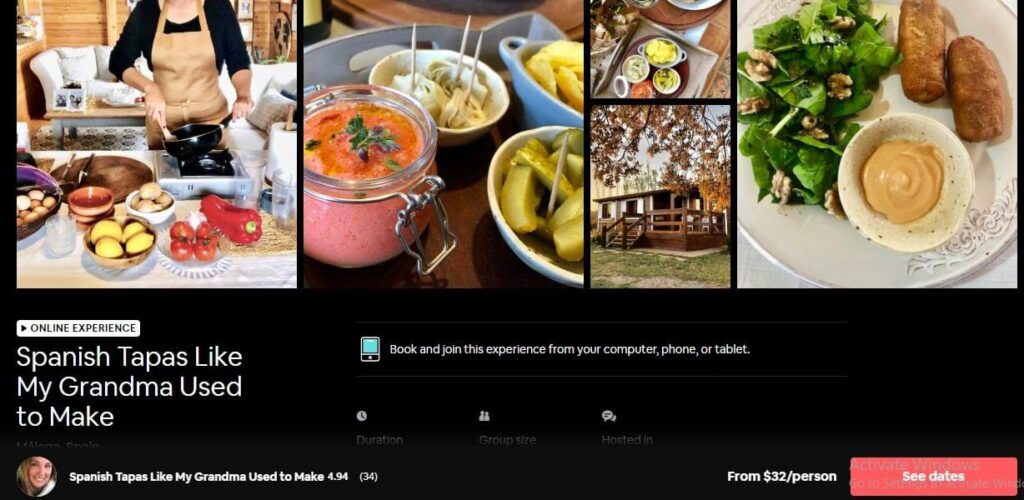 Membership 
If you are conducting a series of culinary classes that included a couple of courses that teach your students about a particular cooking style of skills, consider allowing your students to sign up for a membership to access all of the courses. The membership model ensures that your cooking business will always have a steady income coming in.
For example, America's test kitchen cooking school offers a membership of $180 per year for an unlimited class or for $20 per month. Additionally, it also allows users to gift memberships at an offer.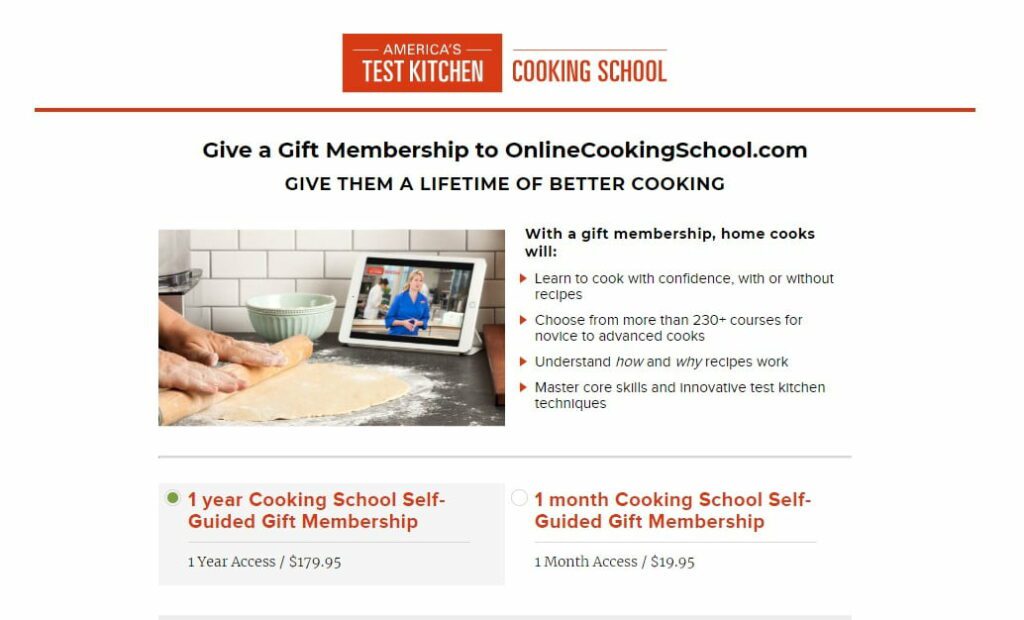 Certifications
Offering cooking certifications is a flexible approach to monetize your content. You can combine certifications with membership models so as to offer individual classes and certification courses to interested students.
For example, Rouxbe offers this flexibility to its users by offering a membership model for those who want to complete classes on their timeline and certification courses for the more committed users.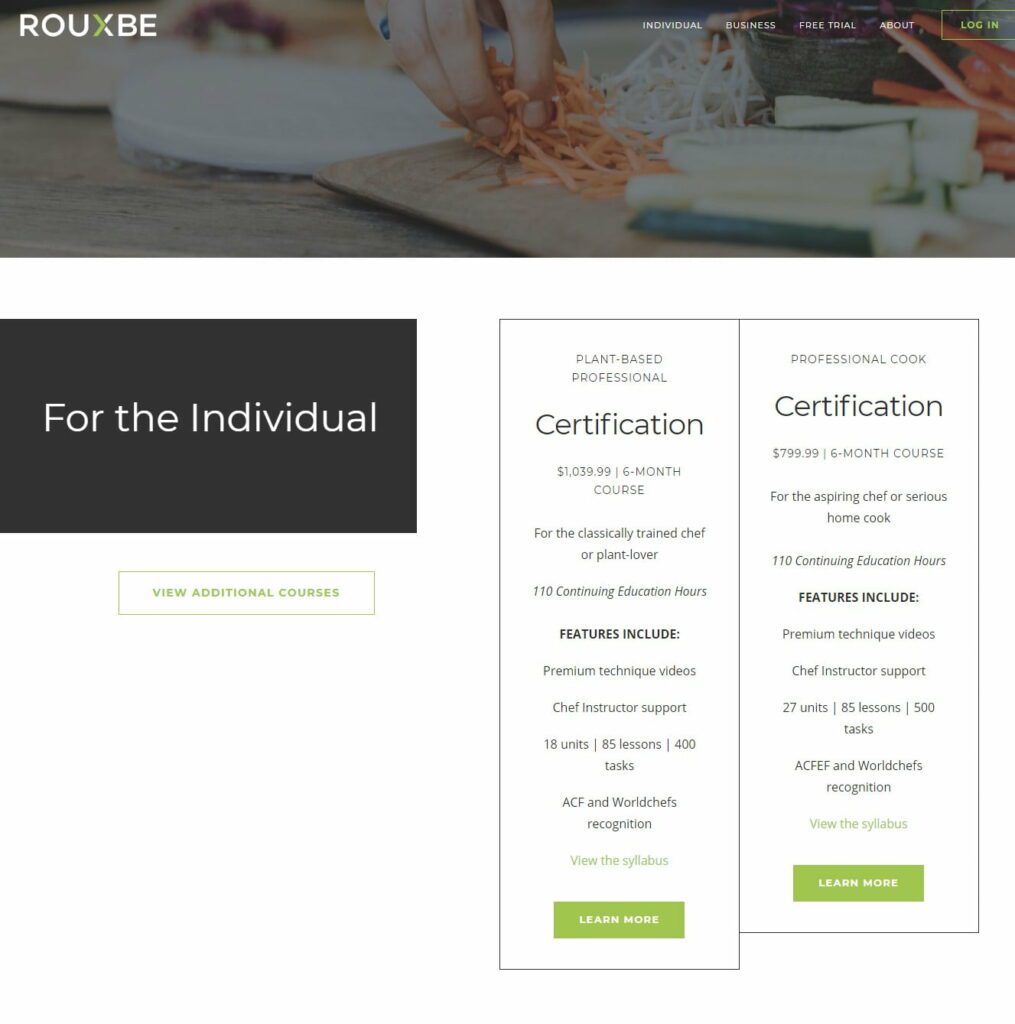 Ecommerce Model
If you are planning to sell eBooks in your cooking classes, you can consider integrating an eCommerce store to your website so that your students can buy the products directly from your website. This brings in additional revenue to your website. Once you have set up the business model you need to decide the features of your cooking platform.
Here are some of the basic features of any online cooking websites.
Online live cooking classes.

Single courses on a specific topic like baking or cooking style.

Calendar scheduling and cooking class management.

Analytics

Secure payment integrations

Reviews and ratings
Promote Your Business
It doesn't matter how great your cooking classes are and how well planned you are if no one signs up for your class. Once you have planned about how to start teaching cooking classes, you need to treat your classes as a real business. You must create an appealing brand name and logo. Then start exploring marketing opportunities to market your cooking classes.
Find a platform or consider creating a website to deliver your classes and use social media to get the word out to your global audience. Marketing is really important to achieve a constant stream of members, especially if you are based in a niche with more competition.
Start with building a website with high-quality content created by you. Promote your website by highlighting the best aspects of our cooking classes. You can organize free events for your potential clients when you just begin to attract new customers.
This will also be a good chance for you to showcase your skills and engage an interested audience. Spread the word to your followers and promote special offers on social media. Share exciting videos, discount coupons, and start posting the images of meals prepared by you and your students. This way you can showcase the exciting experience your attendees are enjoying in your cooking classes.
Conclusion
If you are thinking about how to start a cooking school, it can be a challenging task. But, the good news is that there are professional online platforms that have streamlined parts of the process. A cooking platform offers essential tools to create and manage your classes and provide guidance on the best practice to run your cooking business successfully.
even with access to expert guidance, it is better to start your business small. Starting out with large classes or trying to plan out complex cooking styles or recipes could result in not-so-good outcomes. The first few classes must aim at establishing your business and get new students for your class.
Do your best to give them a feel of what it's like and keep making changes in the future as you run your business to hit new success heights. If you need any expert assistance on starting your online cooking business, get in touch with us. We are here to help and guide you.
Have a look at our Online tutoring software to easily set up your online cooking business.
Further, read: How to Sell Fitness Programs Online