How To Build A Platform Like VIPKID / SAYABC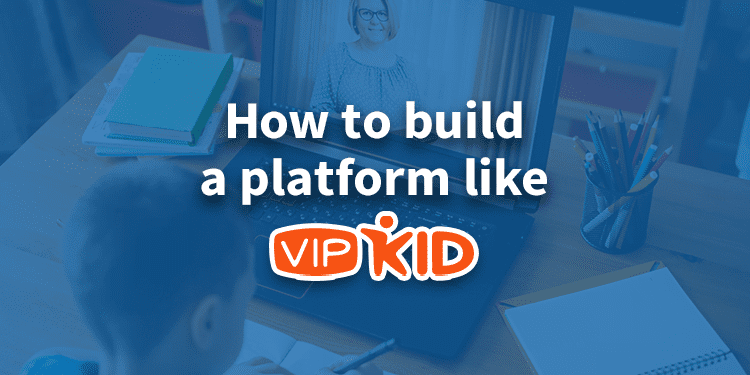 With the tremendous growth of China's economy and rapid globalization, the Chinese education market is on the rise with rapid acceleration. Moreover, now as a result of the COVID 19 outbreak, online education in China is witnessing robust growth as both schools and universities began to explore online education options.
Deloitte estimated that the size of annual revenue in private education is expected to rise to 1.6 trillion (US$240 billion) yuan in 2015 to 2.9 trillion (US$450 billion) yuan by 2020. Whereas the online education market that was valued at 251.7 billion yuan ($37 billion) in 2018 is expected to reach 380.7 billion yuan in 2020.
Here is the market size of online education in china from 2012-2020, according to Statista.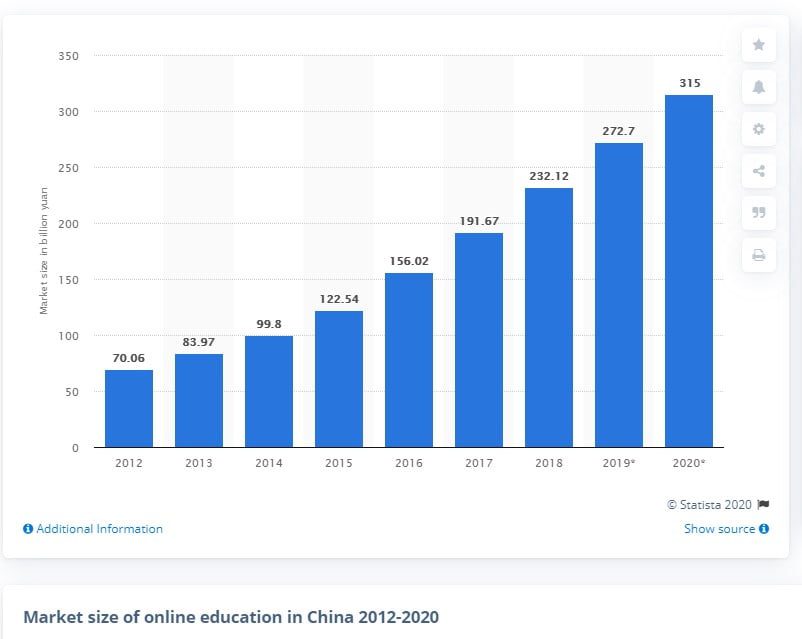 According to Deloitte's estimates, online learning will account for over 10.41% of China's education market. The largest segment in China's online learning industry is K-12 and STEAM education which accounts for over 44% of China's online education market, up from 37.1% in 2018.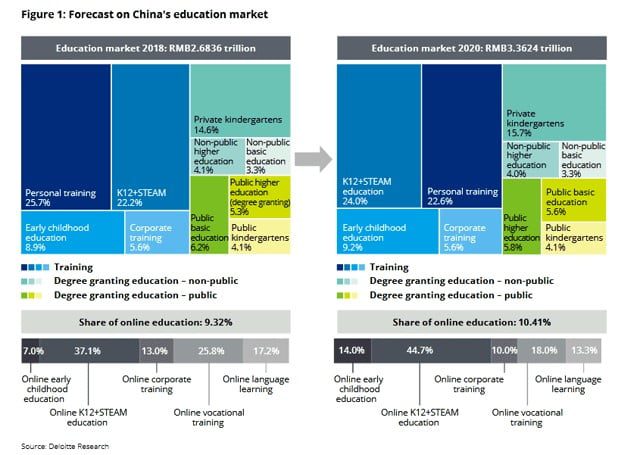 STEAM is an educational approach to learning that combines technology, science, Arts, Maths, and Engineering for guiding students. 
The inception of online tutoring platforms like VIPKID opens up great opportunities for students in China's rural areas that have been underserved in terms of education when compared to their urban peers. This causes significant performance gaps between China's urban and rural Youth.
In this blog, let's explore how VIPKID works, its business model, what you can learn from its success, how you can build a platform like VIPKID, and more. 
How Does VIPKID Work– How It All Started
VIPKID is a one-one online ESL (English as a second language) platform for Chinese children to learn English from teachers proficient in the language from the comfort of their homes. Founded in 2013 by Cindy Mi, the global education company strives to inspire and empower every child for the future. 
So how does VIPKID teaching work? It is a real-time one-one online teaching platform in China that connects students aged 3-14 years with the world's best (North American) teachers to English immersion learning. 
The venture was started with the sole objective of making English education available to kids from the world's best native English speaking teachers. Not all kids have the luxury to pursue the best education from the best teachers. 
VIPKID connects kids with the best instructors from North America and other parts of the world to simplify things for both students and parents. 
It is also an efficient after-school tutoring space where children can continue learning after their regular school hours. It also aims at making pursuing education simple and at the same time affordable to parents as most of them spent a lot of money on in-after school tutoring services. 
VIPKID offers live one-one 25-minute classes with online tutors teaching remotely from the comforts of their home. Today, VIPKID has grown to a level where it is associated with over 20,000 teachers in the US who are selected through a highly selective interview process. 
Over 200,000 students are learning with VIPKID, 98% of students are from China and 2% of them are from the US, Japan, Germany, Indonesia, and Australia.
The Business Model Of VIPKID
VIPKID is one of the biggest online English learning platforms in China with a worth of over $1.5 billion. The business model of VIPKID is in a way it connects both teachers and students in their platform to facilitate online teaching and learning respectively. Teachers are hired on a contract basis for a minimum of 6 months. They need to create a tutor profile and upload videos of their classes on the platform. 
Parents and students can also register on the platform and find the tutors and then book open slots for a specific time period, say 2 weeks. Students can choose teachers based on their experience, hourly rates, and open time slots.
Teachers will receive a notification once they have been booked. The entire lesson plan will be provided by the platform prior so that teachers can do a little pre-class preparation. 
Here is what a teacher profile looks like.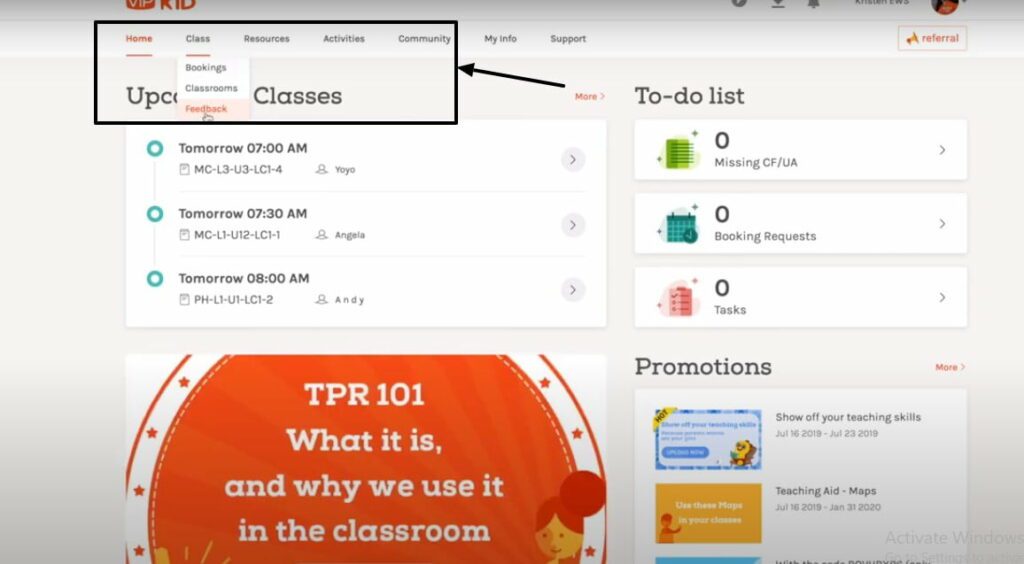 VIPKID pays its teachers a base rate of $7-$9 per class which makes up $14-$18 per hour on an average based on their performance and consistency. Teachers require a bachelor's degree, a smooth online set up for delivering classes, a reliable internet, and a minimum of 1 year of teaching experience.
VIPKID also offers bonuses to teachers based on their abilities and availability.  Besides, it also features referral and affiliate programs to boost the monthly salary of teachers. 
The Hiring Process In VIPKID Online Platform
Voted as one of the top ten places to work in 2020, many teachers are interested in joining VIPKID. VIPKID delivers its lessons and the US-based curriculum via a proprietary learning management system. For teachers, this means they should have relevant US-based teaching experience. 
VIPKID is admittedly strict when it comes to their hiring requirements for teachers. While you might see other online tutoring platforms hiring tutors without a defined criterion, VIPKID follows a well-defined process that has earned the reputation of being very thorough with their screening process. 
Here is the hiring process and requirements of VIPKID. 
Teachers need a Bachelor's degree and a teaching license.

If you do not have a teaching license, you most likely will have to complete a TESOL program (VIPKID offers it for free). TESOL is an accredited professional teaching qualification awarded in the field of English language teaching and learning. This is facilitated through the

partnership of VIPKID with TESOL International Association

, the trusted global authority for expertise in English language teaching. 

Fill in the online application form. 

Join them for a 30-minute session to showcase your teaching skills to a VIPKID recruiter or record a demo lesson and submit it for evaluation.

VIPKID pays between $7-9 per 25-minute class plus $2 per class if you hit a minimum of 45 classes each month and are on time for all of them.

VIPKID pays once or twice every month, prior to the time period, via direct deposit.

Teachers have to sign up for a 6-month contract. 

After 6 months, your contract may or may not be renewed based on the reviews and feedback from students and parents.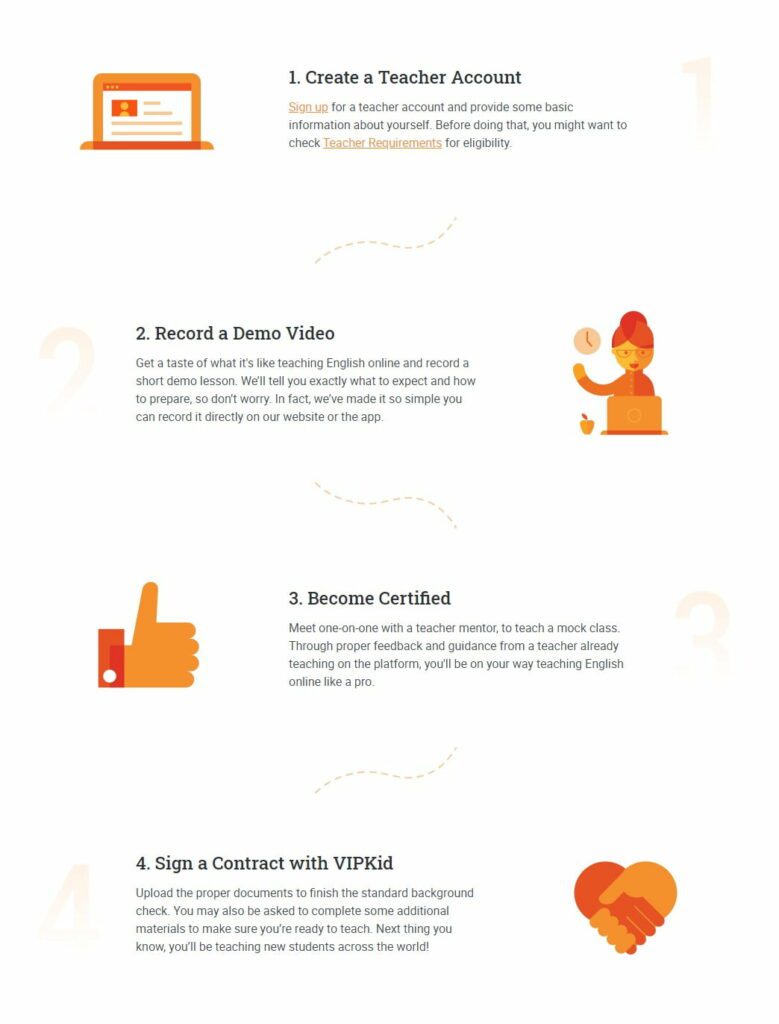 Here Is An Overview Of Tutor Requirements For VIPKID. 
How Do Affiliate And Referral Programs In VIPKID Work?
Whenever a new teacher applies to the hiring process with a referral link of a teacher who is already teaching on the platform, the former will get access to the extra resources created by the existing teacher and a bit of guidance to pass the interview. For every successful applicant who used their link, the teacher gets a pretty good bonus. 
For every new teacher who used the referral code, the teacher who referred get:
$10 for every new applicant passing the demo class.

$100 for every new applicant who delivers their first lesson.
Here Is An Overview Of Their Affiliate Program.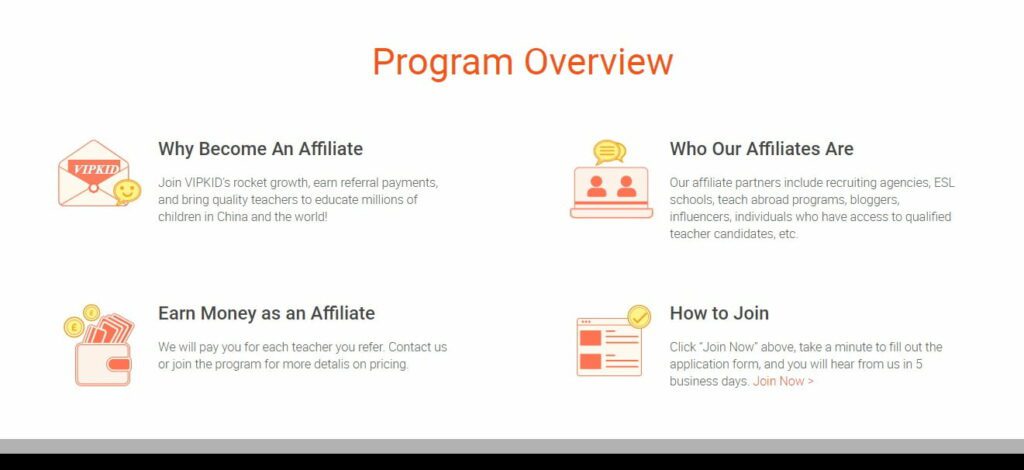 VIPKID And Its Funding Opportunities
VIPKID fills an interesting niche that connects students and experienced English teachers with a unique twist on the traditional educational model. Being a revolutionary business model that shapes traditional education on a global scale, VIPKID receives financing support to power its services.
In the first half of 2018, the Chinese K-12 education sector received a total of $1.5 billion in funding with VIPKID bagging in alone $500 million. 
With its $200 million in series D funding raised in 2017, VIPKID received $700 million in funding in less than a year, rewriting the funding record for online education. 
According to the founder, Cindy MI, the raised funds were utilized for the following. 
Enhance the online learning experience of students by adding a premium education curriculum and products like online textbooks. 

Provide additional tools and assistance to support the community of teachers.

Leverage the latest technological advancements in machine learning to pioneer the future of learning. 
Being the online education brand with the major share in the domestic real-time English tutoring market, all the actions of VIPKID attract attention from investors and the public in general. In a sense, VIPKID was able to rekindle confidence and passion in people both internally and externally which attracted sponsors to the business. 
What To Learn From The Success Of VIPKID?
As you might have already figured out, VIPKID is one of the biggest online tutoring companies in China. Not just that, the tutoring platform has an incredible student retention rate of 95% and it is ranked as one of the world's most innovative companies. 
When comparing against the Chinese companies, it is ranked second on the list, right after Tencent, the multinational conglomerate company. If you are looking forward to building a platform like VIPKID, you need to look into its journey to learn significant things from its success. 
VIPKID succeeded in the industry with its niche offerings, smooth booking process, the distinctive quality of teaching, and affordable pricing. The quality of teachers and curriculum also played a crucial role in the success of the business. The brand also came up with the idea of analyzing the learning process of the students and carefully studied it. Based on the observation, the VIPKID was structured step by step.  
 Here are 3 silver bullets that contributed to the success of VIPKID. 
Like we discussed earlier in this blog, VIPKID follows a strict hiring process for teachers. To become a teacher in the online tutoring platform, an educator needs to have a bachelor's degree while it doesn't have to be in the education field. They also need to possess a minimum of one year of teaching experience and a smoothly running computer with a reliable internet connection. 
During the online classes, the teacher and students engage in a live video chat. While students take the lessons independently, the parents will also receive a recording of their kid's performance to help them measure the progress of their children. One-one classes also help teachers to give sole attention to each student which will help students to grasp the subjects with more precision. 
Enrolment Of Right Educators
This is one main reason why a Chinese online tutoring platform emerged as one of the best online learning platforms for the English language. VIPKID makes sure they hire the best teachers who are proficient in English to teach students. The platform makes it possible for students to learn English from the best teachers who are well versed in the language conveniently at an affordable price.
Building An Online Tutoring Platform Like VIPKID
VIPKID envisions a global online classroom that empowers students and tutors through personalized learning and connection of cultures across the globe and passion for quality education. It is believed that education is not one-size-fits-all, rather all students have unique skills and need to be connected with expert tutors who can personalize learning and spark curiosity in their young minds. 
Now that you know how does VIPKID teaching works, we will see how to build an online platform like VIPKID. 
Business Models To Adopt
As already discussed here, VIPKID connects students who want to learn English with North American English teachers who are knowledgeable in the subject. When launching an online tutoring platform, you can choose the business model that suits your unique requirements and goals.
For example, you may consider charging your students for individual classes. You can allow tutors to set hourly rates based on their skills and valid experience as shown below. 

Or you can charge for membership where your students pay a recurring membership fee for ongoing classes for say 3 months, 6 months, or even for a year. Offer a 50% discount on membership to make it appealing to your students.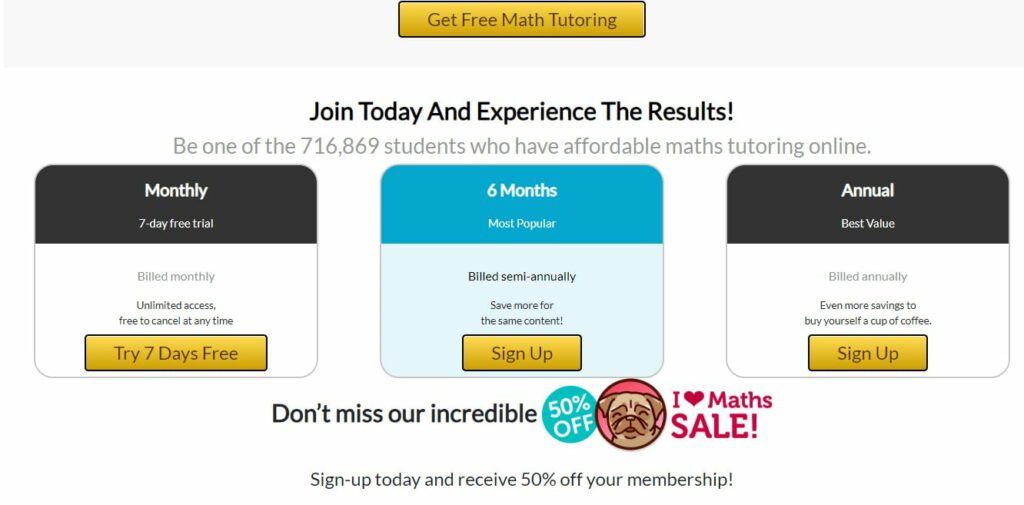 How LiveLearn Can Help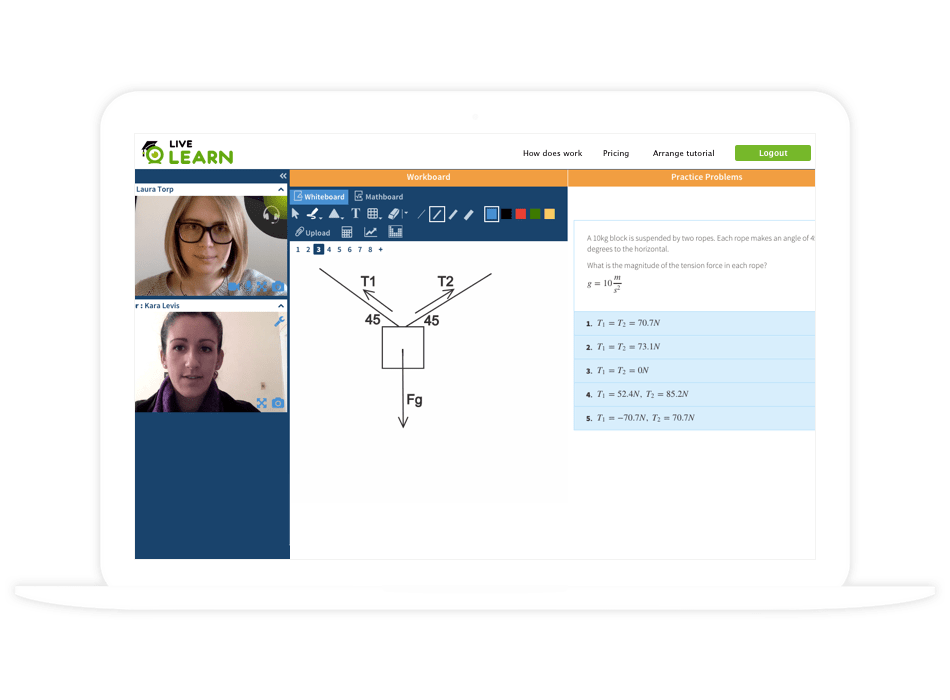 To build a live online tutoring platform like VIPKID in any niche, you need to choose the best development approach. The best approach can be building your own customized online tutoring platform using ready-made scripts like LiveLearn. 
LiveLearn from Pinlearn is a professional online tutoring software to create a full-fledged online tutoring site that can be customized according to your requirements as you get 100% access to the source code. Integrated with professional tools for live video conferencing and interactive whiteboard software, the white label solution is great to start a professional online tutoring website.
You can also choose different revenue models to generate a significant amount of income with as many teachers and learners joining your online tutoring site. LiveLearn comes equipped with all essential features that allow you to build an online tutoring business with your branding. 
Here are some of the features of the LiveLearn software that helps you develop a fully customized online tutoring website. 
Create And Manage Online Classes
LiveLearn offers features for tutors to create and manage their online classes, set prices, decide on the number of participants, add a description, and images of classes like webinars. 
Dedicated Tutor And Student Dashboard
A dedicated dashboard for both tutors and students allows them to enjoy features and functionalities like scheduling appointments, earnings, and booking an appointment with a tutor respectively. 
Interactive Zoom Whiteboard Tool
LiveLearn features an interactive whiteboard tool for organizing, communicating, and collaborating in real-time with students easily. The whiteboard feature is a flexible canvas to upload documents that can be used as a background for the classes. 
Live streaming is an integral feature for live online tutoring that facilitates real-time interaction of teachers with students. Live tutoring can be conducted on a one-one basis like VIPKID or even for a group of students. Live learn features zoom live streaming API for real-time teaching with low latency and many essential features.
Payment Gateway Integration
All online tutoring platforms require a secure payment gateway integration that makes it easy for students to pay for the classes within the website. 
The admin panel is yet another important feature of an online tutoring software to gain complete control of the site. It helps to manage the details of both teachers and students, handle appointments, manage discounts and payments, manage reviews, and a lot more. 
Final Thoughts
VIPKID is a one-one online English tutoring platform that connects English teachers with Chinese children. In other words, it is an ESL tutoring platform designed to help students (non-native) who are looking to learn English as their second, third, or maybe fourth language. 
The success of VIPKID is a powerful example of how you can emerge as the number one online education platform (English based) in your country even if your country's first language is not English. 
This new method of online tutoring is not only changing the way education is delivered but also transforms the lives of students and teachers too. Online tutoring opens up brand new educational opportunities that traditional classrooms cannot offer. Students who live in remote areas can still pursue their education and teachers who cannot travel to places, can still teach from the comfort of their homes.
Real-time one-one tutoring that can be adapted to suit the unique needs of every learner is a great business opportunity. If you need to build an online tutoring platform like VIPKID, get in touch with us for expert assistance now. We are here to help you turn your innovative business idea into reality! 
Further Must Read Articles:
How to start an online tutoring business
How to start a cooking business
How to sell fitness programs online