Self-hosted Online Tutoring Marketplace Software with Live Classes & Self-paced Courses
Have 100% Control. No Design and Development Skills Needed.
Check Demo
Build a Sophisticated Online Tutor Marketplace Just Like the Way You Want
Next Generation Teaching Platform.
Download eBook
Free eBook- Learn from Udemy's Success Story
Sell Courses
Best online tutoring software with course-selling features that allow tutors to sell self-paced courses. Admin can add subjects and course-categories for tutors to create, upload, and sell online courses to the learners. Comparable to eLearning marketplace platforms like Udemy.
Sign-up tutors to create, sell, and manage self-paced courses.
Dedicated tutor dashboard for course, profile, and sales management.
Set and manage commission percentage on courses sold by the tutors.
More Course-Selling Features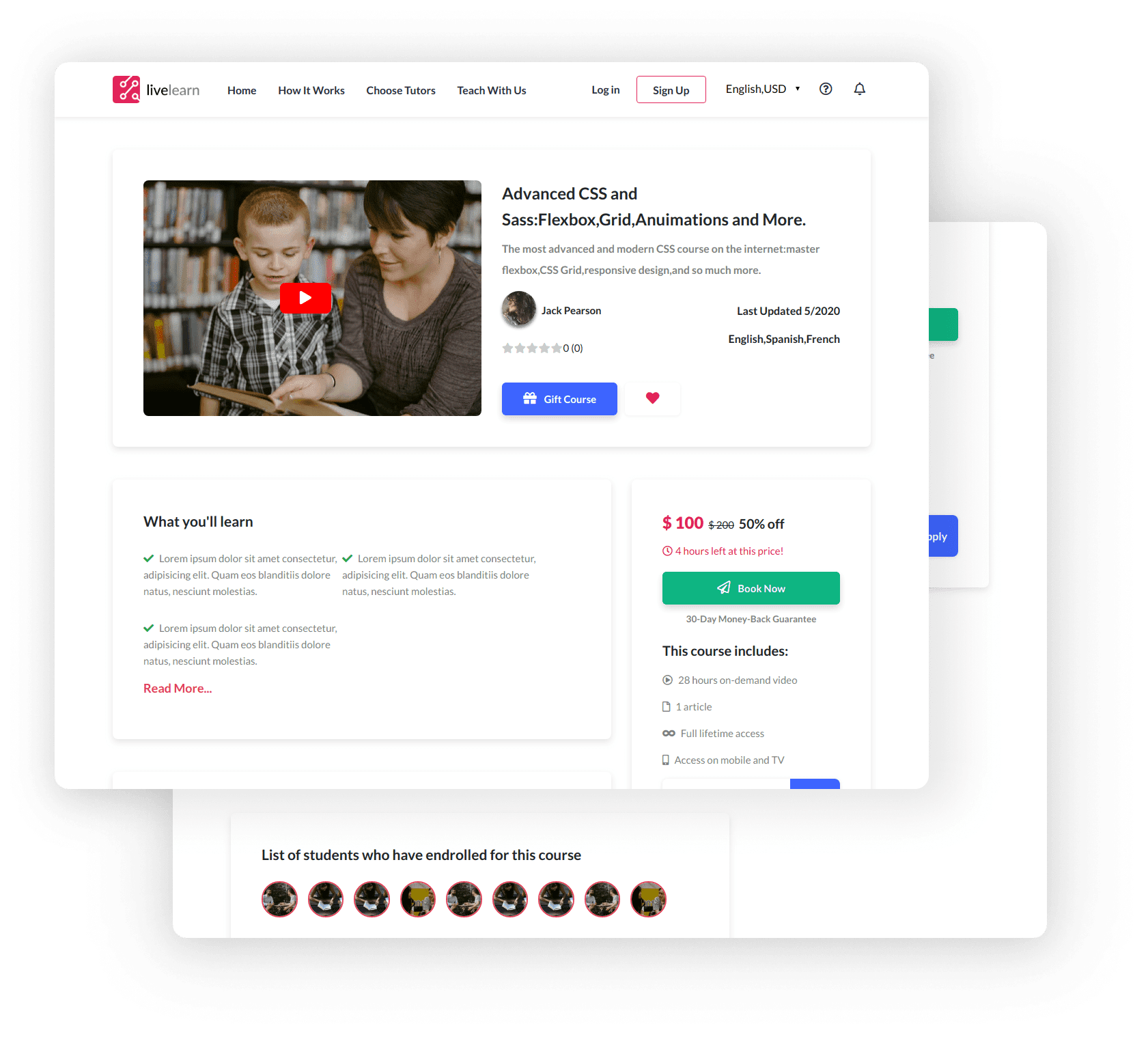 1-on-1 Live classes
Live tutoring software to let tutors conduct 1-on-1 Live classes via video conferencing and teach students in real-time using interactive features. Students/Parents can book live class appointments after browsing through tutor profiles and their subject expertise.
Add tutors to conduct 1-on-1 Live classes and lectures.
Appointment Manager to coordinate live classes scheduling.
Integrated interactive white-board for real-time immersive learning.
More Live Classes Features
Group Webinar classes
Allow tutors to schedule and conduct 1-to-many live webinars and group classes in real-time. Tutors can create webinars, set topics, description, banners, schedule, entry fee, and maximum participants allowed from the tutor dashboard.
Dedicated webinar management controls for Admin, Tutors, and Students.
Create categories for the tutors to add webinar topics for students to see.
Calendar view event manager to track and manage webinars.
Live Demo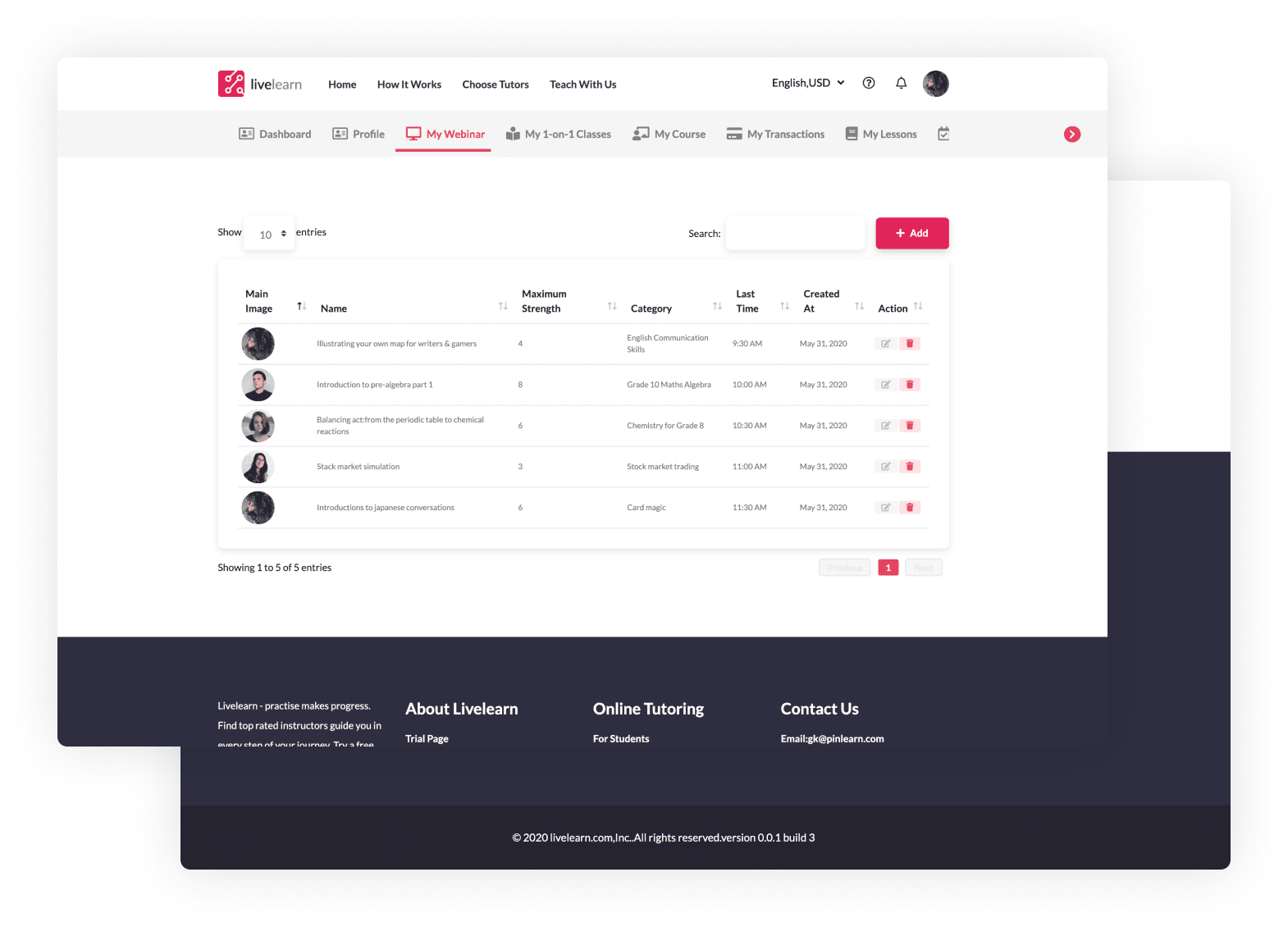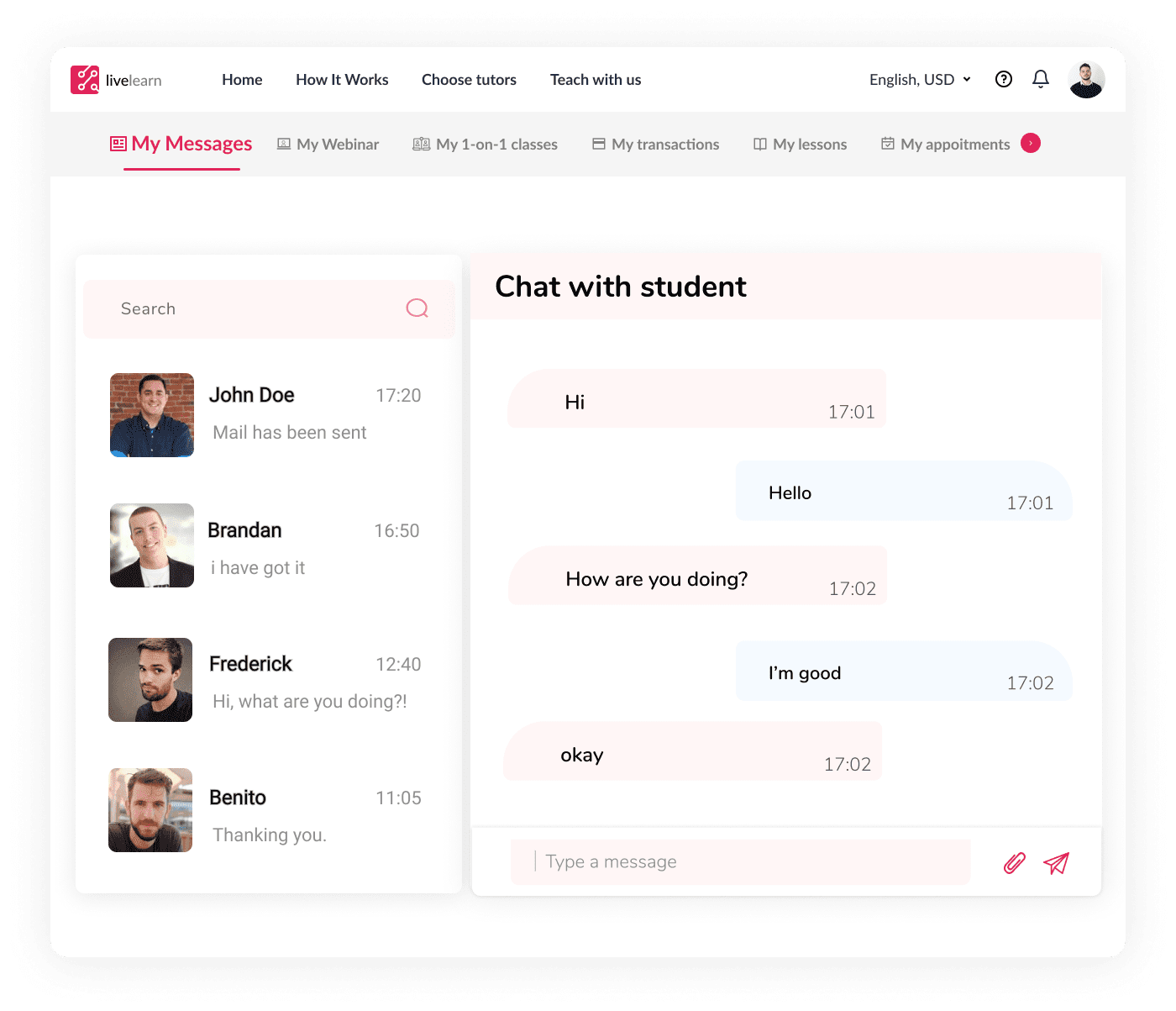 Internal Messaging System
A multi-channel internal communication system on your eLearning marketplace for all users to stay connected. Integrated admin-to-tutor, tutor-to-admin, student-to-tutor, and tutor-to-student messaging system for seamless communication, support, and grievance handling.
Learn More
From our happy customers
We are very proud of the service we provide. Read what they have to say.
White-labelled
Build your own eLearning marketplace business like Udemy, Coursera, Outschool, Preply, etc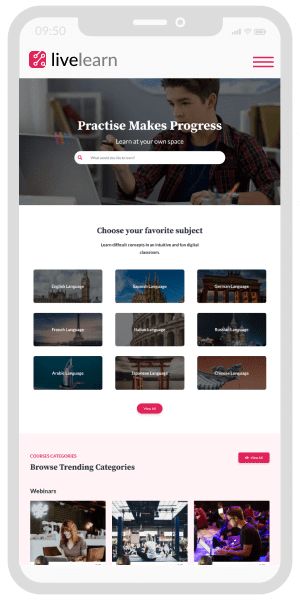 Why should you choose a Self-hosted e-Learning solution over a SaaS solution?
Let's get in touch
Give us a call +1 408-909-5136  or drop an email below.
Pinlearn Sales Team
15 Minute Meeting
15 min
Phone call
This 15min call gives you time to let us know about your needs to see if our product is right for you.
Schedule Now
Why Choose Pinlearn?
Pinlearn is an online tutoring platform solution that is 100% customizable and comes with the source code. You get built-in options to sell courses, conduct 1-1 classes, group classes and more. Put in a phrase, Pinlearn is a power-packed all-in-one online tutoring software!